It has been anything but a happy holiday season for the Duggar family.
The "19 Kids & Counting" stars have been hit with a tidal wave of negative publicity, starting with Josh Duggar's guilty verdict in his child pornography case.
One day after he was found guilty, Jana Duggar was charged with misdemeanor child endangerment.
Now, the patriarch of the Duggar family, Jim Bob Duggar, is losing a few battles of his own.
Jim Bob Duggar gets scathing review from son-in-law
View this post on Instagram
On Wednesday, December 15, it was announced Jim Bob lost in a special primary for a seat in the Arkansas State Senate.
According to poll results, JBD only drew in 15% of the votes. Jim Bob previously served one term in the Arkansas House.
If that wasn't too harsh of a blow to take, JBD's son-in-law, Derick Dillard, took to social media to accuse JBD of some gnarly things. The accusations Dillard made are pretty shocking too!
Dillard is married to Jim Bob's second oldest daughter, Jill Duggar Dillard.
Derick & Jill Duggar keep their distance from Jim Bob
View this post on Instagram
The relationship between Jill, Derick and her parents is strained to say the very least.
In March, Jill revealed she had not been to her parent's house in years in order to prioritize her mental health.
Dillard and Jill have been estranged from her parents for years after Dillard accused JBD of withholding money from his children.
The couple has also broken away from her family's more conservative choices, including sending their children to public school and drinking alcohol.
View this post on Instagram
On Tuesday, December 14, Dillard responded to a Facebook post about Jim Bob's Arkansas State Senate campaign ahead of the special primary, which we previously revealed he lost.
"I used to have much respect for Jim Bob, as my father-in-law, and I wanted to give him the benefit of the doubt for years," Derick wrote on the post. "Unfortunately, it's only become clearer to us over time just how deep this man's manipulation and deceit will go for his own gain, at the expense of others."
Derick Dillard SLAMS Jim Bob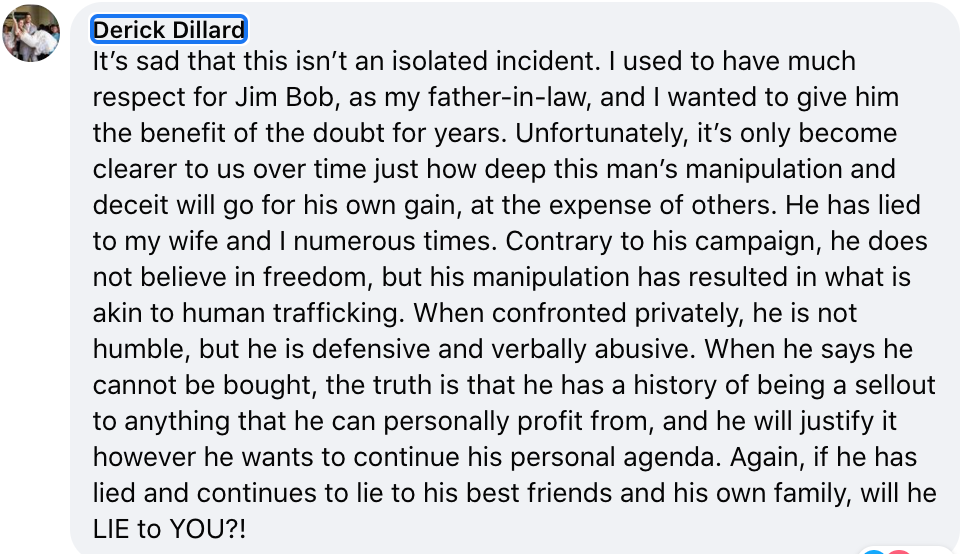 Dillard accused JBD of "lying to my wife and I numerous times," but didn't provide any examples.
"When confronted privately, he is not humble, but he is defensive and verbally abusive," Derick alleged. "When he says he cannot be bought, the truth is that he has a history of being a sellout to anything that he can personally profit from, and he will justify it however he wants to continue his personal agenda."
Jim Bob has not responded to Dillard's accusations.