Four months ago, Jennifer Lopez and Ben Affleck rekindled the flame of their long-lost love by getting back together after their breakup nearly 20 years ago.
Ever since the makeup, fans have seen them acting all mushy in public places, and from the looks of it, they do not intend for this flame to go out. They have taken several trips to exotic cities and even took their kids on excursions to places in Hollywood. Affleck's kids are Violet, 15, Seraphina, 12, and Samuel, 9, while Lopez's kids are 13-year-old twins, Max and Emme.
The superstar's fan base got wind of the news just weeks after Lopez disclosed her disengagement from Alex Rodriguez, her former fiancé. Their breakup occurred in March this year, after two years of engagement. A month later, the ex-couple went on to confirm the breakup via their social media platforms.
View this post on Instagram
Getting with someone who already has kids of their own can be quite difficult because there are many things involved. Lopez might be dating Affleck, but she has to get along with his kids, and the same goes for Affleck.
So the question on everyone's mind now is; are the stars' kids cordial with one another? Keep reading below for more information.
The Kids Have Spent Time Together
With all the numerous outings and trips, it seems that the superstars really want their offspring to get along great.
They have gone out of their way to get super expensive gifts and played tag team on their outings.
Seraphina and Emme were seen holding hands, and several pictures were posted on the internet showing the happy family having fun together. It is only natural that the kids will gravitate to themselves as planned by their parents.
Despite this being a new experience for the kids, they are aware that their parents love each other, and if they are willing to make it work after such a long time, then they would indulge them.
Affleck and Lopez are a lovely couple, who have no doubt raised beautiful and loving children, so they are good in this aspect. Fans should expect more outings now that the reunion seems to be for real, giving the children more time to love up. Everything seems super cozy now, and we hope it continues that way.
Can We Compare?
We could compare this new bubbly relationship with Lopez and Rodriguez's ill-fated love, as fans can clearly remember shared captions that depicted how well the Rodriguez and Lopez family got along when they were together.
View this post on Instagram
Lopez even disclosed to People in 2018 that the kids had "become best friends" and "embraced each other right away." She said, "We couldn't have asked for anything better than the four of them getting along as they do."
The relationship between the professional baseball shortstop and the superstar singer and actress lasted for five years after the couple first bumped into each other during an outing, then started dating after that meeting.
The big question on everyone's lips is, just what do Lopez kids really think of Ben Affleck's children after being buddies with Ella and Natasha?
Love Wins In The End
The breakup between Lopez and her ex seemed to take a toll on Lopez kids, as it killed off the quality time they would spend with Rodriguez kids, Ella and Natasha, but reports have shown that Affleck appears to be settling into his soon-to-be stepdad role quite nicely when he took the actress' kids on a fun trip to Universal CityWalk in Universal City, Calif.
The couple also united their families over an entertaining weekend trip to Magic Castle in Los Angeles. The popular clubhouse and restaurant for magicians and magic enthusiasts hosted the family and even Affleck's mom got to tag along.
"Since Jennifer and Ben are in it for the long run, it's just a natural step that they all spend time together with the kids, they are not trying to rush anything, but they want all the kids to get to know each other," a source said. "They are making the last few days of summer as fun as they can. Soon it's back to school and work," the source continued.
"Everyone seemed to get along great. Seraphina and Emme were walking around with their arms linked, Ben and J.Lo held hands and were affectionate in front of the kids." another eyewitness told EOnline.
"They all got along very well and seem like a blended family unit; Lopez was very chatty" with Affleck's daughters. They were all talking together, laughing, and smiling," the person added about the two families.
Should We Expect Another Hollywood Wedding?
Emme and Max are "onboard with starting fresh in Los Angeles," a source close to the couple told People.
"They are slowly getting to know Ben; everything seems to be running smoothly. It's obvious that J-lo is serious about Ben. She hasn't looked this happy for a long time," said the source.
Affleck was also seen looking at engagement rings at the Century City, Calif with his mom, Sam, and son, presumably for his new lover, Lopez. It is also safe to assume that the actor is also serious about Lopez as their previous relationship did not really end on a bad note.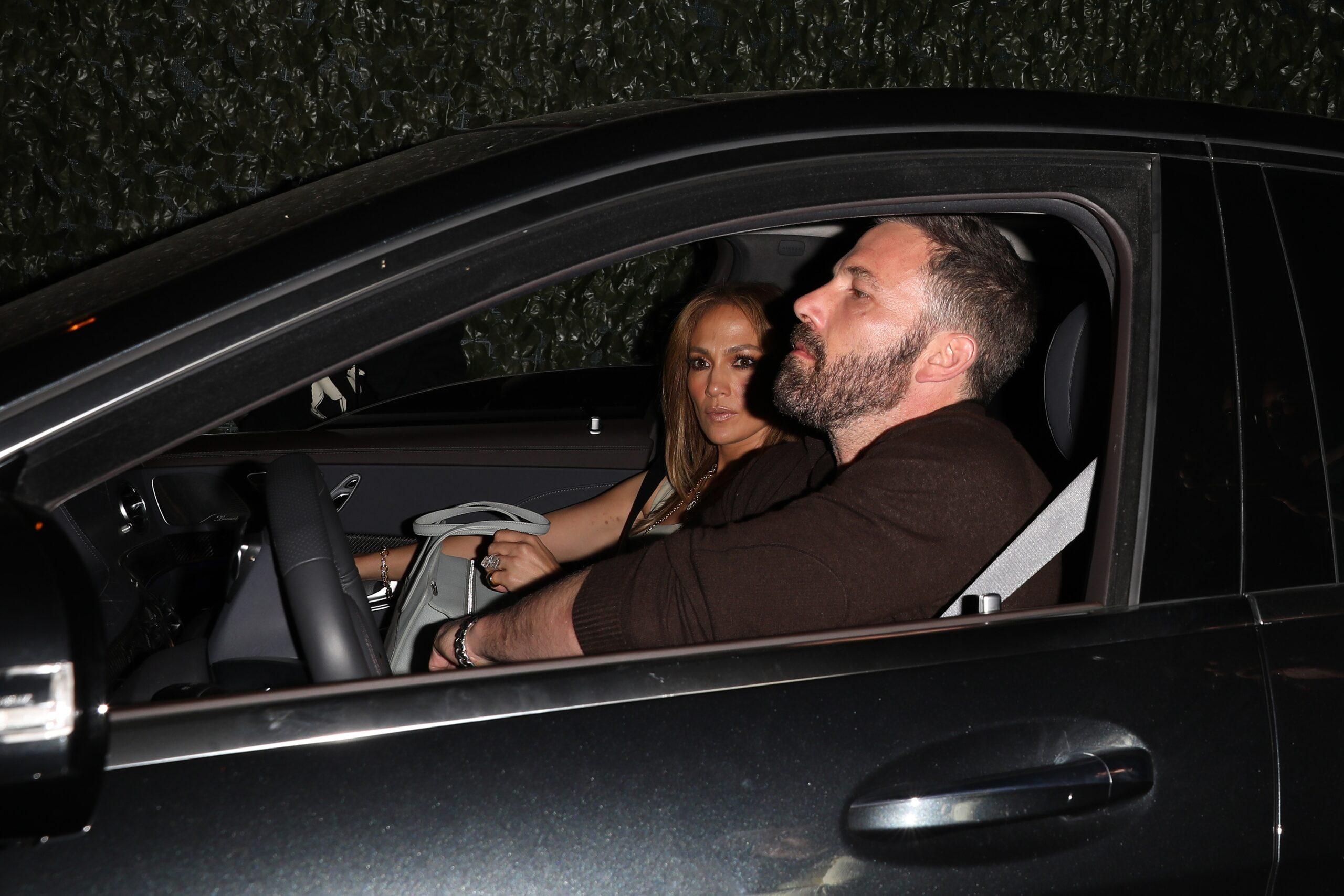 Fans can also recall Affleck first got engaged to Lopez back in late Autumn of November 2002 with a 6.1-carat pink diamond by Harry Winston that reportedly cost over two million dollars. The couple then broke things off in 2004 because Lopez was overwhelmed by the publicity their impending marriage was generating at the time.
Keep your fingers crossed, for now, we might just get to see another Hollywood wedding.