Elizabeth Olsen may be stepping out on the limb here, as she recently praised Avengers co-star Scarlett Johansson. Claiming that the actress who plays Black Widow in the Marvel Universe is "tough" for taking on Disney in court. No doubt about that, most people who have tried to go at Disney in court don't come out of it looking great. In this case, Olsen is potentially still under contract with Mickey Mouse and is set to appear in new Marvel projects. That didn't stop her from backing Johansson's push against her employer.
What's The Issue?
Just to recap, what's going on between Johansson and Disney. Scarlett filed a lawsuit against the company for a "breach of contract". Apparently, the way that Johansson's last movie Black Widow was distributed was not the way it was set in her contract. Johansson was potentially looking at bonuses from Box Office success. Instead, Disney decided to push the movie mainly through their streaming platform Disney Plus. Considerably hampering the numbers that the movie put forth at the conventional box office. Something that the Black Widow actress was certainly not on board with!
Olsen's Response
In the midst of this, Olsen is asked about the issue, Olsen is asked to comment on the situation on Vanity Fair. Olsen did not sidestep the issue at all. Which could've been the wisest path, since she's still in plans to resume her work with Disney. She even went on a full rant about how issues like this could affect all sorts of movies. Olsen told Jason Sudeikis of Vanity Fair,
"I think she's so tough and literally when I read that I was like, 'Good for you Scarlett,'"
Are Streaming Services Going To Kill The Movie Going Experience?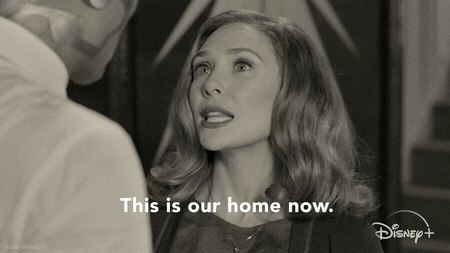 Ever since Netflix got massive, there's been a concern that streaming services could ultimately kill off the traditional movie theaters. The concern grew to new heights through the COVID-19 pandemic that saw movie theaters closed for more than a full year in some places. Elizabeth Olsen is worried that low-budget films are also going to be hurt by the rise of streaming services and the lack of support for conventional movie theaters. Saying,
"Not worried on Scarlett's behalf. But I'm worried about small movies getting the opportunity to be seen in theaters. That was already a thing pre-COVID,"
Just a reminder that Elizabeth Olsen's biggest career role was accessible only through a streaming service. Isn't she a part of the problem?
We've had our calendars marked ❤️ All episodes of Marvel Studios' #WandaVision are now streaming on @DisneyPlus. pic.twitter.com/pjmWa9O4QR

— WandaVision (@wandavision) August 23, 2021
It's A Contract Issue
After backing Johansson, Olsen probably realized what we mentioned, about her being part of the problem. As well as the fact that she also works with Disney. Backtracking her original support a bit in a later comment where she mentioned,
"But when it comes to actors and their earnings, I mean, that's just, that's just all contracts. So it's either in the contract or it's not."
As far as Johansson's lawsuit goes, the latest news is that Disney is looking to settle the dispute in private with the actress. Instead of having the issue drag out in the public eye as it has done so in previous weeks. We know how much Disney hates negative press!