So, what! She's still a rockstar.  She's got her rock moves, and she don't need your ignorant insults online.
P!nk had some words for an online troll who came after her appearance, and took a negative and turned it into a positive.
The singer, whose real name is Alecia Beth Moore Hart, celebrated her 44th birthday on September 8th.
P!nk Celebrates Her 44th Birthday!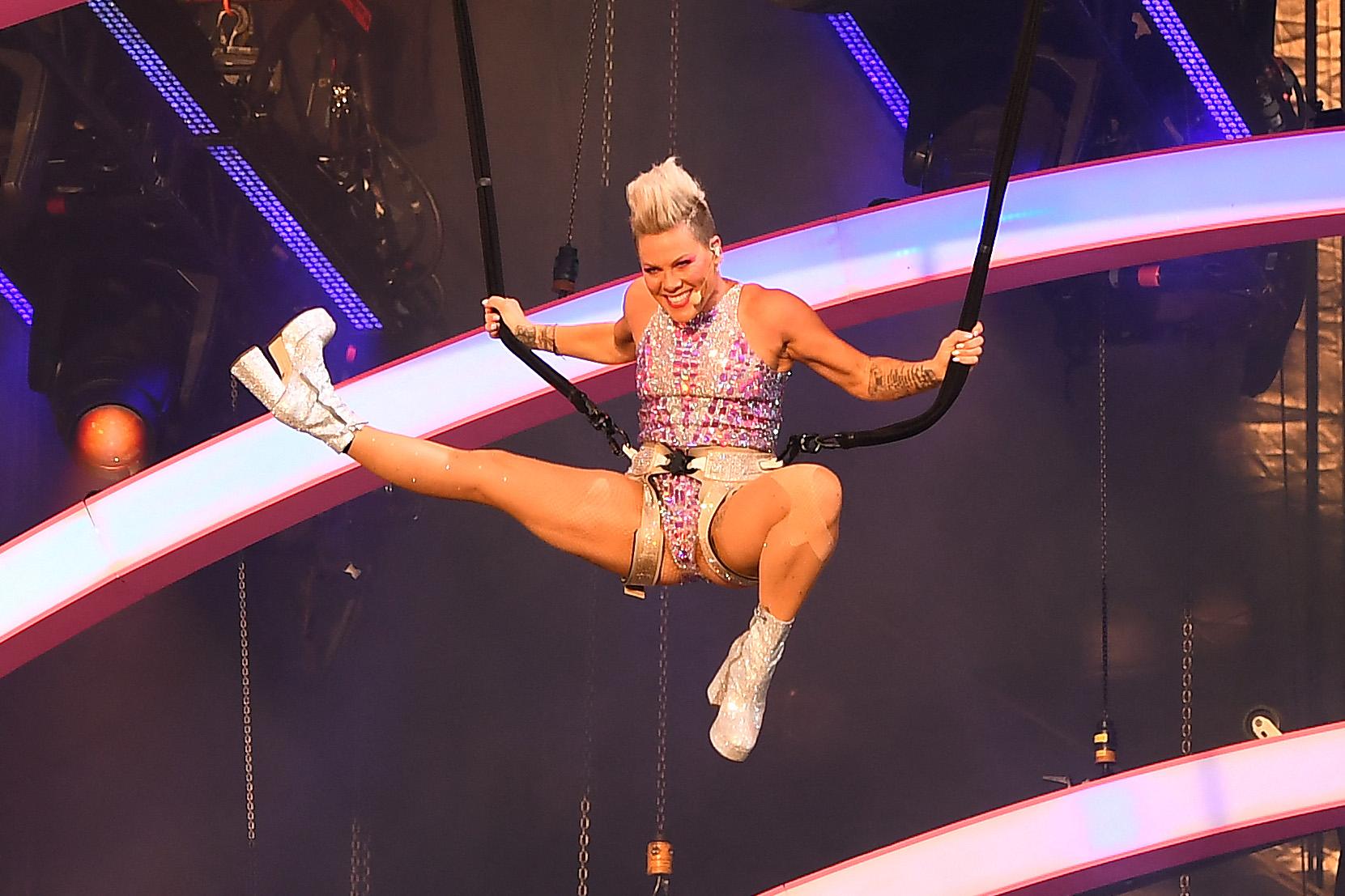 Of course, her fans did what they do best and showered her in love, positivity and well wishes.
But alas, there were still some mean-spirited comments made by online trolls, and P!nk caught wind of one of them.
On Monday, September 11th, X (formerly known as Twitter) user @luvglubglub shared a photo of an older woman and wrote, "Happy Birthday @Pink."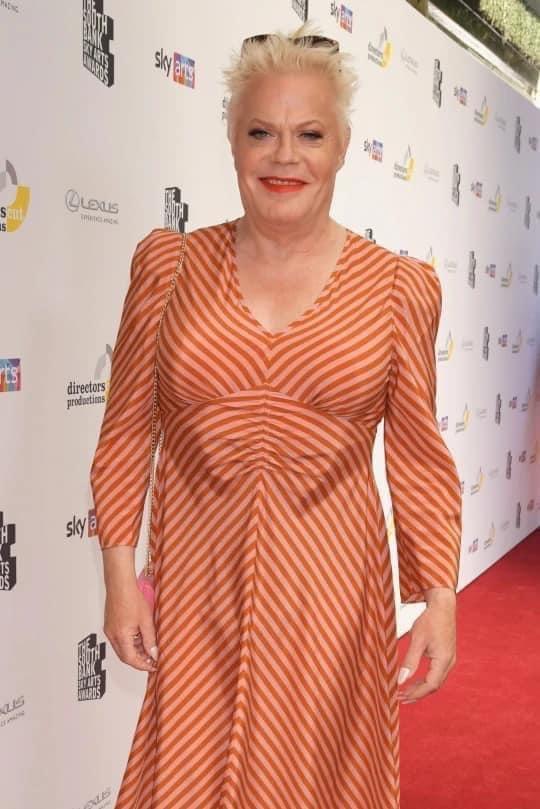 P!nk responded to the post by retweeting it with a message of her own.
P!nk SHUTS DOWN Rude Troll On X!
"Thank you so much. I just showed my 12-year-old daughter your post. I explained to her that I've never met you, I don't know you, and I have no idea why you would go out of your way to be hateful. It was a good lesson in ignorance. Thank you. I still don't know you. Congrats. You're no one," she wrote.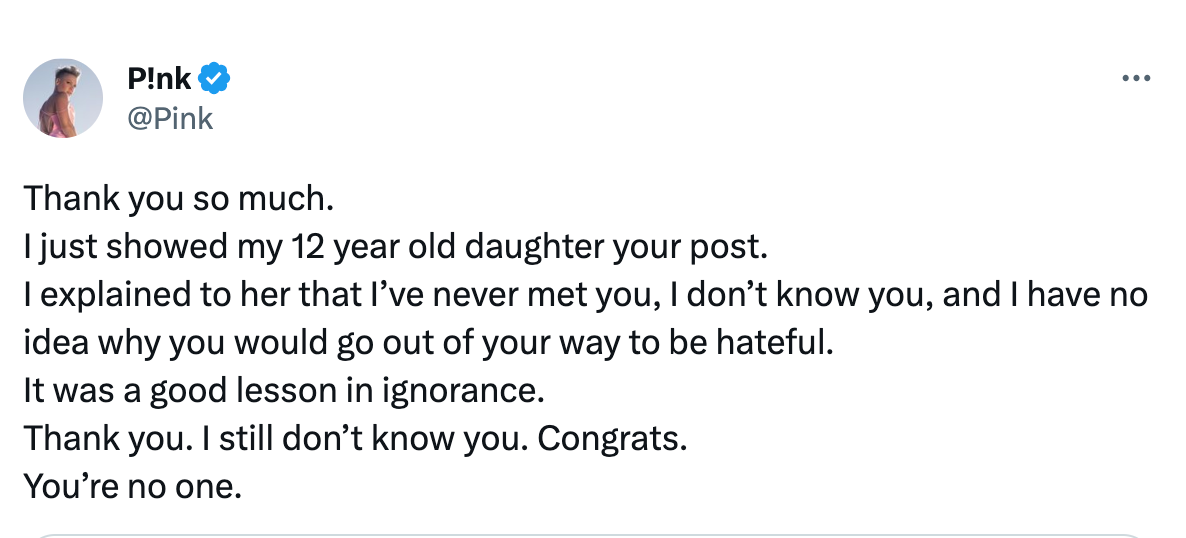 Many P!nk fans came to her defense and attempted to shut @luvglubglub down; however, the person behind the account appears to be an expert troll.
"Is business that bad you need to pick on a good human being?" one fan questioned.
"Y'all follow this dude that's bullying @Pink," another tweeted.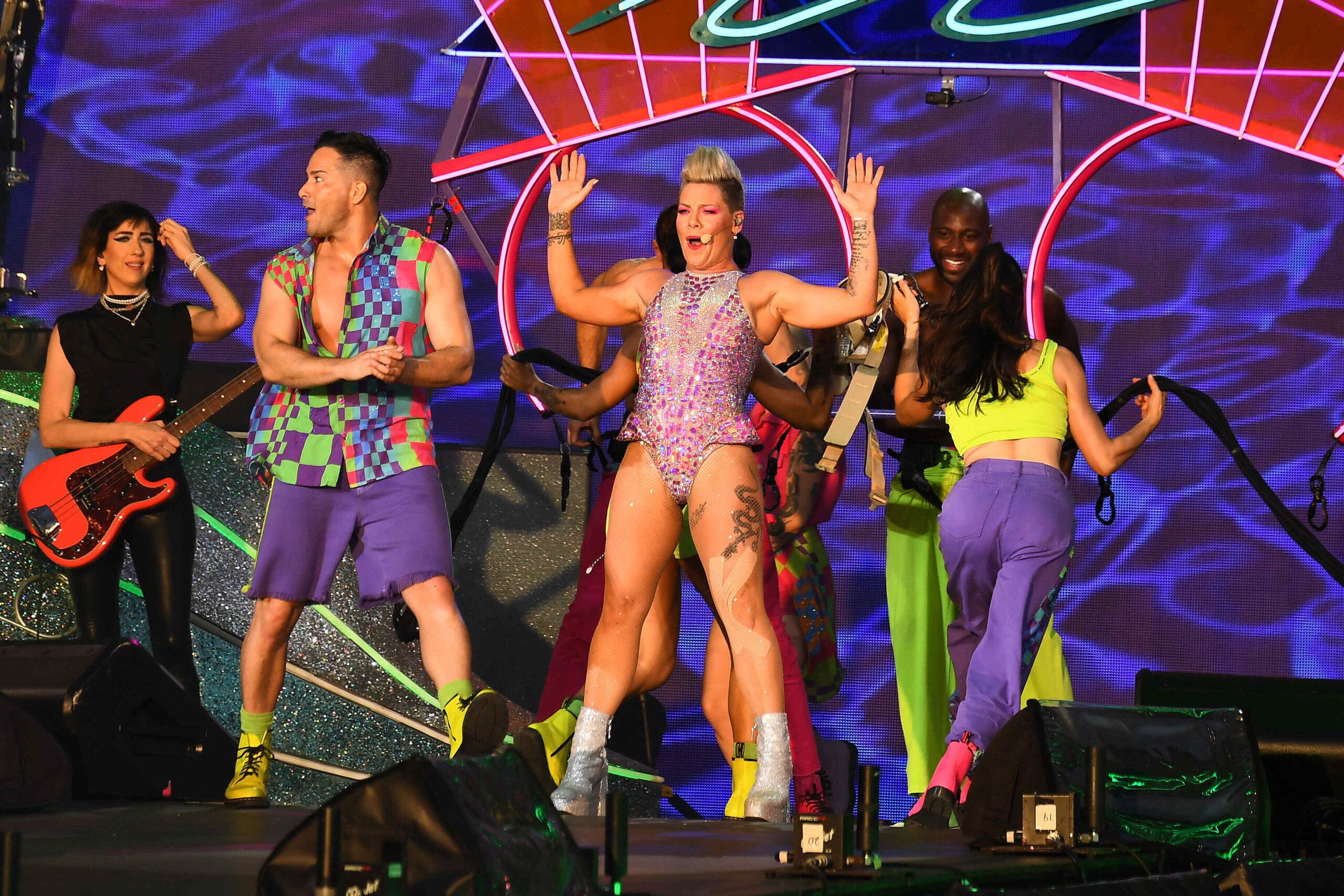 @luvglubglub responded, "I'm not bullying anybody."
One fan angrily shot back, "It's not her and she just owned you 🤣."
Once again @luvglubglub retaliated with, "It's an honor to be called a f**ko by pink. That's her way of saying 'hey.'"
Sadly, one person on X encouraged this rude behavior when tweeting, "He's at 3M engagements. Buddy knew exactly what he was doing. LMAO."
"Honestly I didn't think it would blow up, doubted pink would even see it, I thought my 3 followers would react to it and that's about it," @luvglubglub responded.
At the end of the day, P!nk truly got the last laugh.
She's been traveling the world with her family and making millions hand-over-foot.
The Blast previously reported on P!nk making history in Wisconsin.
P!nk Makes HISTORY In Wisconsin!
Last month we told you how she became the first woman to headline a stadium in the state. She shared a heartfelt statement after her unforgettable performance at American Family Field in Milwaukee.
The "So What" singer took to Instagram to express her gratitude for achieving this milestone in a heartfelt post.
"Milwaukee. Soundcheck. I was just told that I am the very first female to ever headline a stadium in Wisconsin and that we broke the attendance record. Sometimes I don't know why they are looking at me when they tell me these things. I feel like saying… 'me?? Are you sure??'" she wrote.
View this post on Instagram
The captioned continued, "Here's what I have to say about all of this. I'll try to keep it short. I am a little fiery ball of gratitude catapulting around the world trying to spread love and truth and the courage to feel everything we can feel. I am full to the brim with real love for you all. I look at your faces and I see smiles and tears and wrinkles and laughter and real pain. And we get to share all of that together. And we have history, too. We've been doing this together for a while now. It means the world to me. It is never lost on me. We aren't the cool kids, Thank God. We're just gritty, magnificent humans, doing our best."