Tori Roloff is the proudest wife any man can ask for!
The mom-of-three could barely contain her excitement as she shared a view of her husband, Zach Roloff's latest handiwork with her nearly two million followers. As it turned out, the Internet personality had built a shed where his family could log and chop wood.
Tori Roloff Sings Zach Roloff's Wood Work Prowess
Having a man who is good at building things with his hands is the joy of many women. Thus, making it completely understandable when Tori took to her Instagram Story to gush over the woodshed that Zach built for his beloved family from scratch.
For her moment of praise, the ecstatic wife posted a snapshot showcasing her man proudly sitting on a chopping board next to numerous logs of wood stacked on each other.
The 31-year-old paired a bashful smile with a blue-hued round-neck t-shirt, matching jeans, black-and-red gloves, and work shoes. Across the image, Tori wrote, "He won't brag about it…So I'll do it for him. Zach built this wood shed. Not only is it functional… it is also aesthetically pleasing."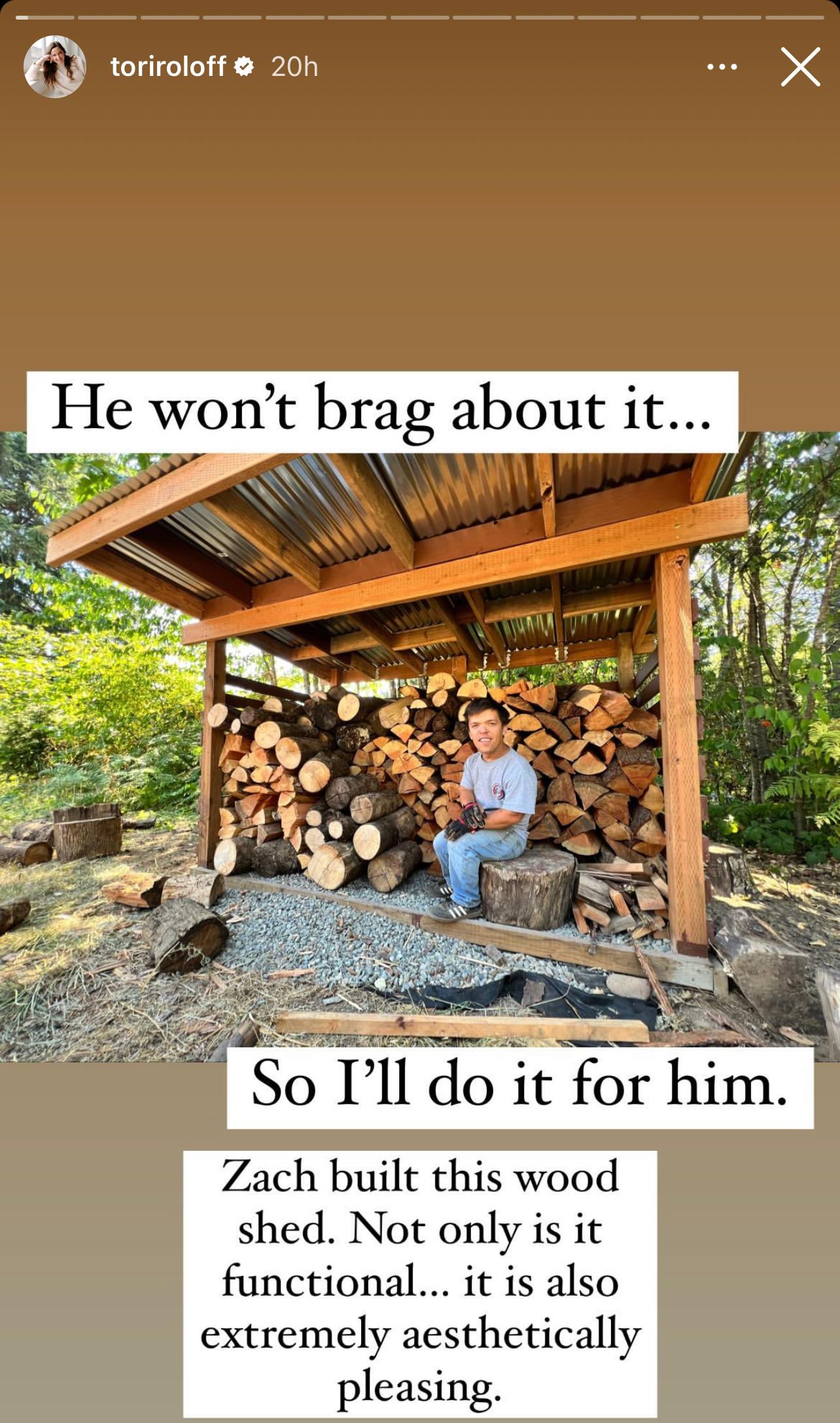 Since it is not unusual for her to publicly highlight the father-of-three's prowess, we are certain that she received an avalanche of compliments from her followers. These supporters had previously showered the couple with love when the "Little People, Big World" star placed the light on her beau's qualities during his 33rd birthday.
The Blast noted that she had uploaded multiple images that featured her and the celebrant alongside their three adorable kids — Jackson, Josiah, and Liah Ray. While the first shot showcased the lovebirds beaming at the camera as they posed in an open field, another saw the family of four hanging out on a massive cream couch in a living room area. 
The proud dad laid down and held little Liah in his arms, with Josiah and Jackson sitting beside him and smiling at the camera. Underneath the carousel of sweet pictures, the former kindergarten teacher effused:
"Happy birthday to my one and only!! I love you so much @zroloff07, and l'm so grateful for you and all you do. You are so selfless and thoughtful and I love how you always think of others. I love watching you be dad, coach, and husband. I am extra thankful this year to be celebrating another year older! You're the best! Happy birthday babe uh."
The Portland-Born Celebrity Reflected On Raising Kids In Today's Broken World
When the doting matriarch is not publicly loving up on her partner, she is opening up to her fans about her personal and motherhood struggles. Taking that route in July, Tori posted a shot of herself donning a white top and smiling happily with both eyes closed, with her hands on either side of her wavy dark hair.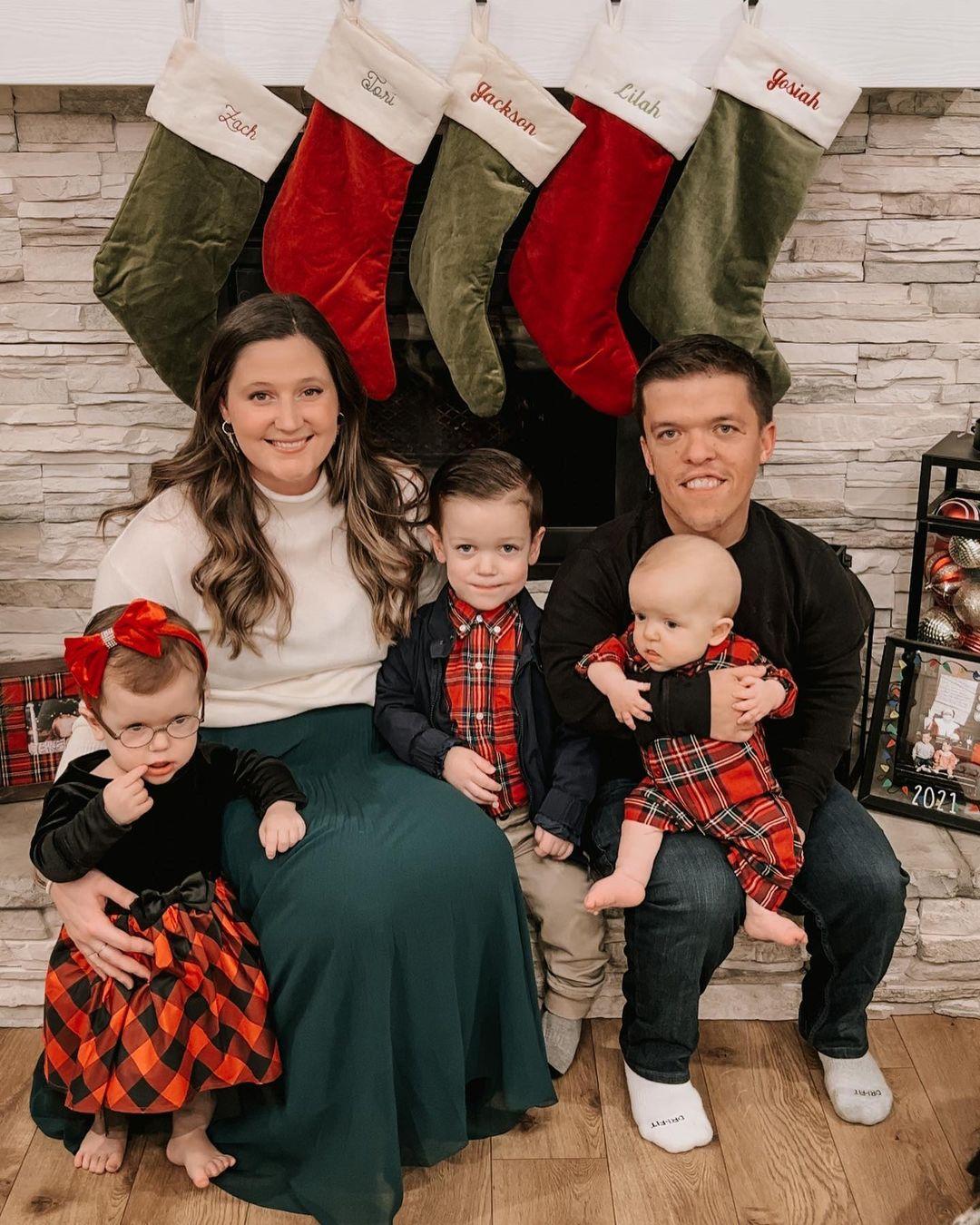 Opting to share a thought-provoking message, she typed in the accompanying caption, "Being a mom is so messy sometimes. Today was a super heavy day. It was emotionally exhausting, and I found myself overstimulated by everything."
These reflections brought attention to her struggles to raise her three kids "in a world that has so much brokenness." Even though she wanted them to be beacons of light, she could not deny that was "not always their burden to bear. Sometimes kids just have to be kids."
Despite that, the 31-year-old took comfort in knowing that she, along with other mothers, were placed on earth for a time like this, as emphasized by the Bible verse "Esther 4:14." She wrapped up the candid conversation with a reminder that "Being a mom is messy! But you're not alone, and we are doing the best work! Keep goin mama! 🤍." 
As expected, the post struck a chord in the hearts of her supporters, and many of them wasted no time in expressing how relatable they found it. Showering her with attention, some netizens dubbed her "an amazing mama," adding that they could see the proof of her awesomeness in her "beautiful kiddos." 
At the same time, a cybercitizen empathized with Tori before expressing their own difficult day which prompted them to understand the weight the superstar was carrying. 
"Love this message! It's so hard, and have to give grace day by day ❤️," a third fan told her, and a fourth referred to her as "real and humble" and appreciated her for being "such an example" to everyone.