Christine McGuiness, who separated from her estranged spouse Paddy after an 11-year marriage, has continued to navigate life while still living with the TV presenter for the sake of their kids. However, there seems to be an unnoticed dynamic in their co-parenting arrangement judging by a cryptic remark the model made about their three children. 
Christine McGuinness Opens Up About Why Her Kids Are Absent from Social Media
The entrepreneur took to her Instagram page to share a stunning picture of herself flaunting her well-defined abs in a black crop top and snug leggings. Pairing them with a sharp white shirt and trainers, the 35-year-old sported chic sunglasses, a baseball cap, and a handbag while walking on the street. 
In the caption, she wrote, "Just minding my own business, wishing others could do the same 😎. I'm probably in Rotterdam right now who knows, this could be anywhere!" She included the date and specific spot to emphasize the authenticity of the images' location: "Photos @stephenfarrell1975. Location Alderley edge, Cheshire. 15/08/23."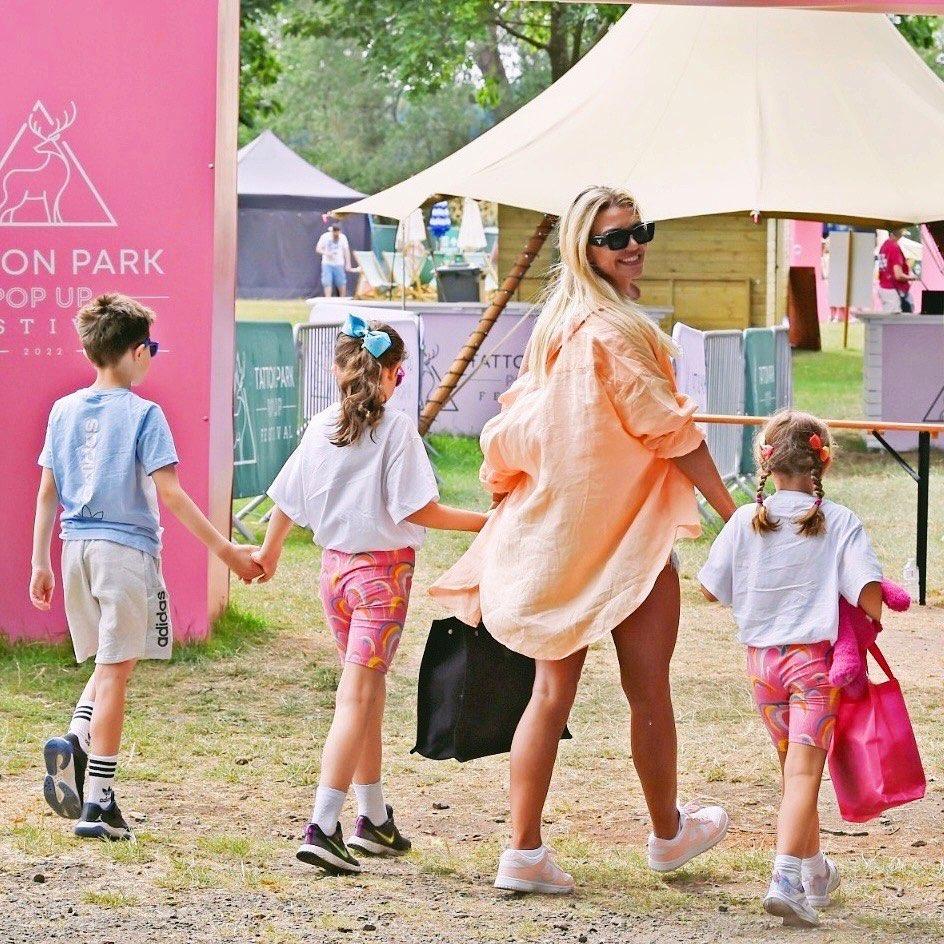 However, it was the comments that caught The Blast's attention when a curious follower inquired about her children, "I used to like the real family pics with your children's antics. You don't post them anymore. I hope you and they are well. Unfollow." 
In response, the "Loose Women" guest star clarified, "@symssmandy I am not allowed to show my own children, it's not my choice." Despite her gracious response, Christine received support from her followers, with one defending her, "@symssmandy oh god just ignore the haters what up with people. Mind your own business everyone x ❤️." 
At the same time, some who caught onto the sarcasm in her caption humorously dropped comments like, "😂😂😂 go girl!! That's definitely Dubai!😉😂😂 🗞️," and "Right let's sort Venus 🚀 for our next holiday 🤣." Others ignored the drama and encouraged the TV personality, like this admirer who stated, "Let them talk darling 🔥. You're worth talking about 👍💪❤️." 
While some might just be noticing the absence of her kids on her page, it looks like it started a while ago. For example, in July, when she marked her twins' birthday with a sweet tribute to them on Instagram, she did it without sharing their photos. 
She expressed pride and gratitude for the celebrants in the caption but noted, "If there was ever a day I wanted to share a picture of them, it's today! But when they're old enough, they can decide for themselves." She also mentioned their growth, captivating smiles, and "beautiful brown eyes."
While no one knows who is stopping her from sharing images of her babies, it might be worth recalling the instance where "The Real Housewives of Cheshire" alum's ex-husband threw shade at her. 
In April, The Blast noted that the 50-year-old took a playful jab at Christine in the comments. This happened after the "Steph's Packed Lunch" guest star shared an image of herself biking with a carrier, likely carrying her kids, on Easter Sunday.
She extended holiday wishes in the caption, adding, "That was a lovely little family break 🥰 now mummy is exhausted and deserves an adults-only holiday! 👀😂🙏✈️😎." However, Paddy could not resist leaving a comment, playfully writing:
"You didn't once pedal that!!!" The "Hey Tracey!" guest swiftly fired back, "Don't chat 💩. I've done about 50 miles with children in there this weekend 😮‍💨 I'm done in!" To which he humorously retorted, "Tell my lungs that!"
Christine McGuinness Voices Worries Over Her Children's Future
After facing an autism diagnosis in 2021, the TV star got candid about navigating life with the developmental disorder alongside her family. It is undoubtedly challenging, as her children are also within the autistic spectrum. 
Beyond her challenges, she expressed concerns about how they would cope as they grow into adulthood, a thought that deeply troubles her. At the "Me, My Autism & I" exhibition, Christine shared her concerns regarding her children's future with autism:
"It keeps me awake at night. I worry if they're going to be independent when they're older. It's an extra concern with them being autistic and having additional needs – they're more vulnerable."
She also mentioned their potential to require "support in getting employment" while noting uncertainty about their prospects for "living independently."
Although uncertain about the future, the "Christine McGuinness: Unmasking My Autism" star stressed her efforts to "stay positive." She acknowledged, "I need to spend as much time as possible making them as independent as they can be for when that time comes."