Gymnast Nastia Liukin is planning on releasing her own clothing collection and fans can't wait!
On Monday afternoon, the Russian-born retired American artistic gymnast took to Instagram and fans just love the fit so far!
Gymnast Nastia Liukin Flaunts Toned Abs In 'The Perfect Structured Blazer'
View this post on Instagram
On Monday afternoon, the five-time Olympic champion shared a video of her tying her long blonde hair back into her signature top bun as she showed off her slender frame in a black sports bra and a red skirt. She complimented her look with black boots and a chain necklace before slipping into a black blazer.
"Pov: you design the perfect structured blazer that works with every look (PS the feathers you saw on it in my last post are removable!!!) coming early November…" she wrote in the caption. "What sizes will be available? Hopefully extended sizes too," one fan commented, but Nastia did not reply.
"Clever to have the feathers be optional," another follower wrote. "Business attire," a third fan chimed in. "Obsessed," another follower wrote. "Great video of a beautiful lady," another fan gushed as other followers showered her post with red heart emojis.
Nastia Has A Lot Of New Looks Coming Soon!
View this post on Instagram
In another Instagram post, Nastia wore a black blazer with feathers on the cuffs along with a matching skirt that was so short that fans could see the ends of her white shirt poking out from underneath it. She accessorized the look with black knee-high boots and left her blonde hair long for the video, which she set to the tune of 99 Souls' hit song "The Girl Is Mine."
"Couldn't wait any longer to share this INSANE set and the perfect black boots that are part of my @giannibiniofficial collaboration at @dillards! Your fall wardrobe is about to get elevated, and I can't wait to show you more! #NastiaLiukinxGianniBini available at @dillards early November!" she wrote in the caption.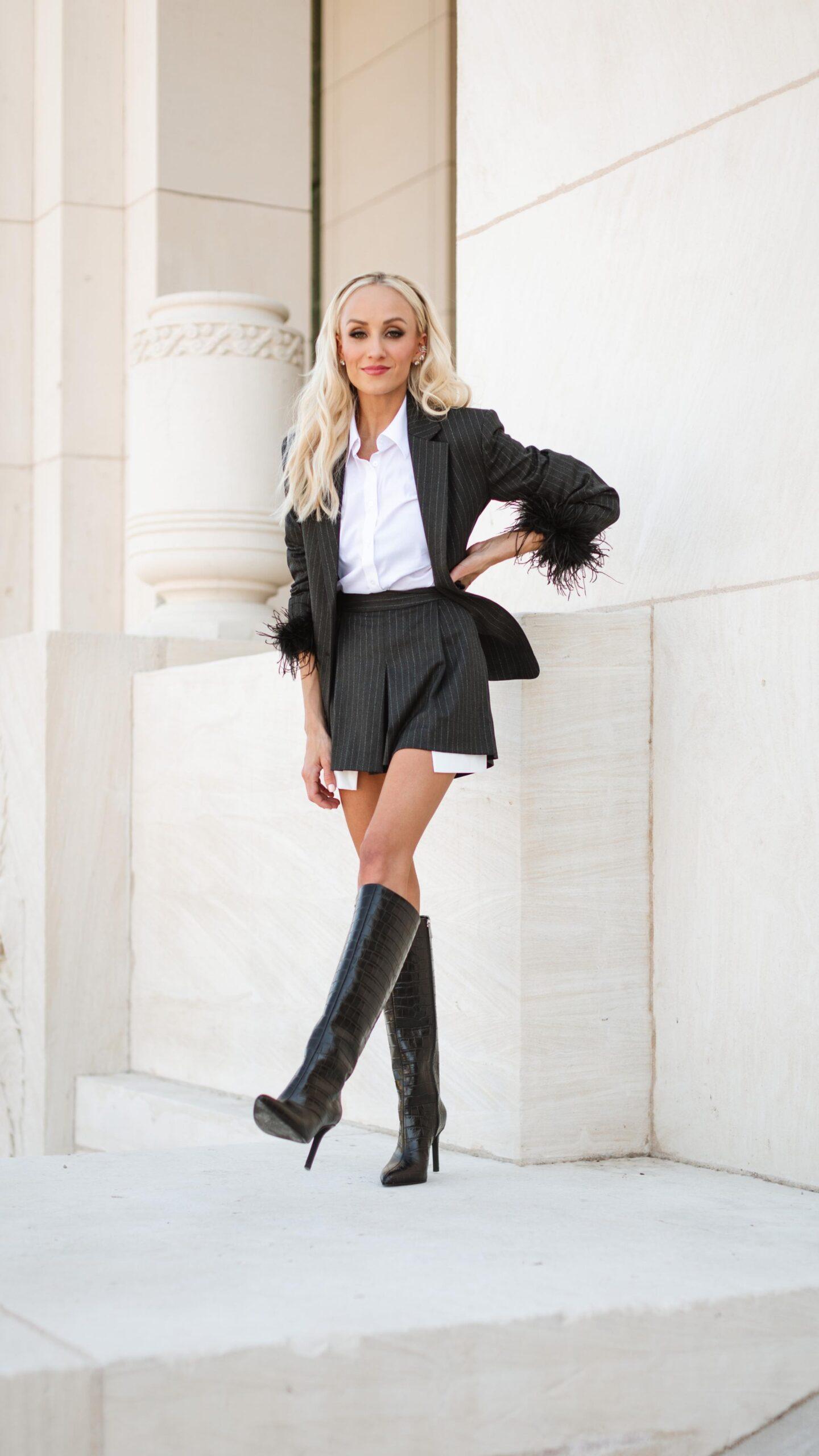 "Yes, girl!!! So proud of you!! Can't wait to shop your stuff," one fan explained. "That blazer is calling my name. This is so good," another follower wrote. "Love this whole outfit! Can't wait until it's available!" a third fan chimed in. "It's so chic," Nastia replied. "I need this whole outfit," another follower shared. "This outfit is actually everything," another fan chimed in.
"You are gorgeous! It's so classy and chic with just that hint of girly style on the sleeves, perfection!" another follower exclaimed. "Why does this remind me of a schoolgirl?" another fan asked. "Great video of a very beautiful lady!!!" another follower exclaimed. "Need those boots!!!" another fan wrote as fans showered her post with compliments of "beautiful" and "gorgeous."
Nastia Can't Wait To Release Her New Clothing Collection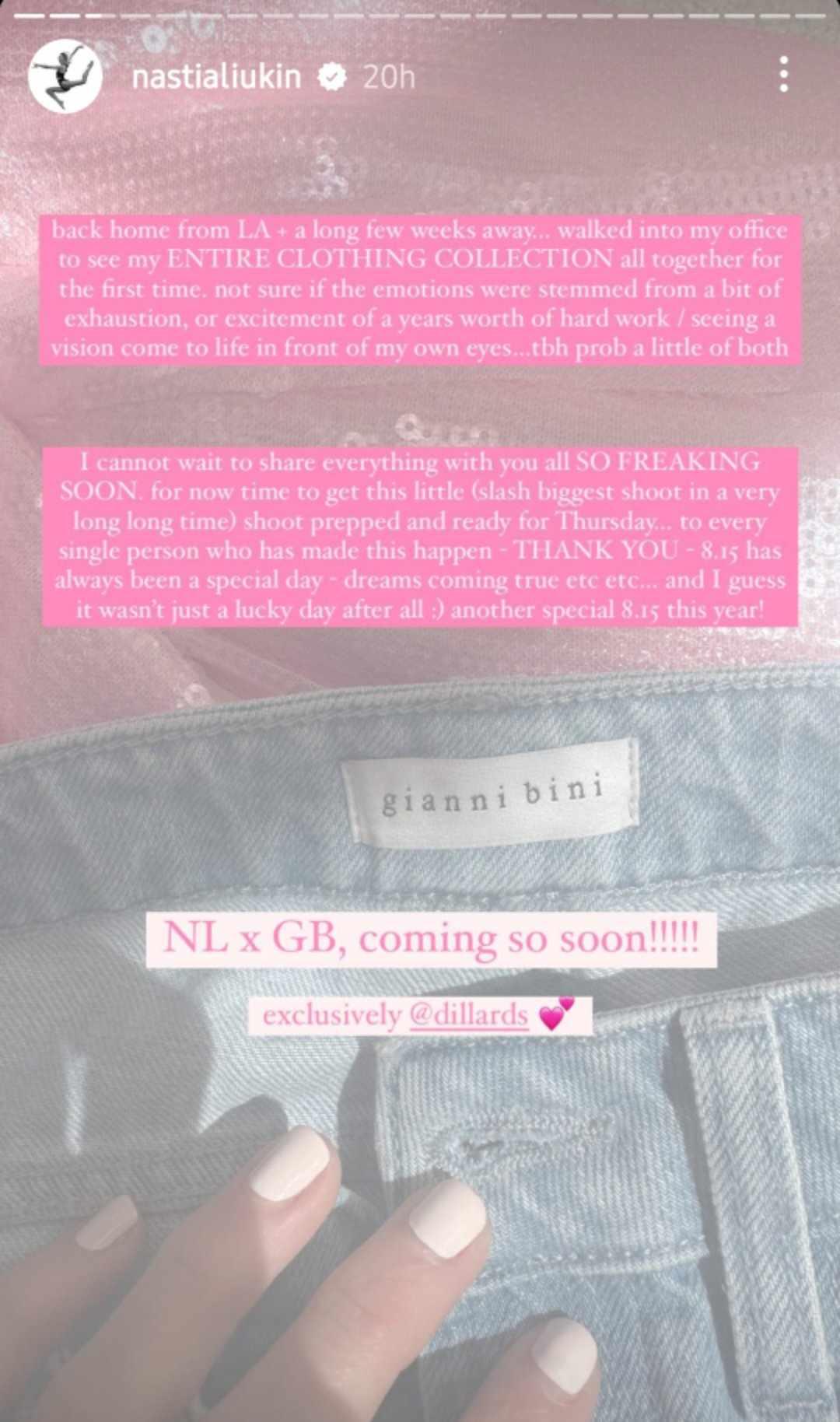 After returning from her trip to Hawaii, the former athlete took to her Instagram Stories to share a surprise with her followers. "back home from LA+ a long few weeks away.. walked into my office to see my ENTIRE CLOTHING COLLECTION all together for the first time," she wrote over a photo of a pair of denim jeans. "not sure if the emotions were stemmed from a bit of exhaustion, or excitement of a years worth of hard work / seeing a vision come to life in front of my own eyes..tbh prob a little of both."
She continued, "I cannot wait to share everything with you all SO FREAKING SOON. for now time to get this little (slash biggest shoot in a very long long time) shoot prepped and ready for Thursday.. to every single person who has made this happen THANK YOU-8.15 has always been a special day – dreams coming true etc etc. and I guess it wasn't just a lucky day after all another special 8.15 this year!"
Nastia Might Be Feeling A Little Bit Nostalgic!
View this post on Instagram
With gymnastics at the forefront of everyone's mind, it seems that the retired athlete might be feeling a little bit nostalgic. On August 15, NBC Olympics and Team USA shared a video of the time fifteen years ago, when she became an Olympic all-around champion.
Nastia shared the video to her page where fans congratulated her on her success. "When she stuck her 1.5 vault right out of the gate, we knew she wasn't playing," one fan commented while another follower called her an "absolute icon."