Despite the cancellation of the syndicated daytime talk show, "The Real," former co-hosts Jeannie Mai-Jenkins and Adrienne Bailon-Houghton still keep in touch and recently reunited with their kids in tow. 
Jeannie is a mom to cute little Monaco Mai-Jenkins, born in January 2022, while Adrienne welcomed her son Ever James through a surrogate in August 2022. 
The reunion marked Monaco and Ever's first-ever encounter, and their mothers were on cloud nine as they documented the outing while watching the youngsters bond.
Jeannie Mai Posts Highlights From Day Trip With Adrienne Bailon & Their Kids On Instagram
Jeannie could not hold back her delight in letting the world know of her daughter and Ever's first hangout at Warner Bros. Studios in Los Angeles.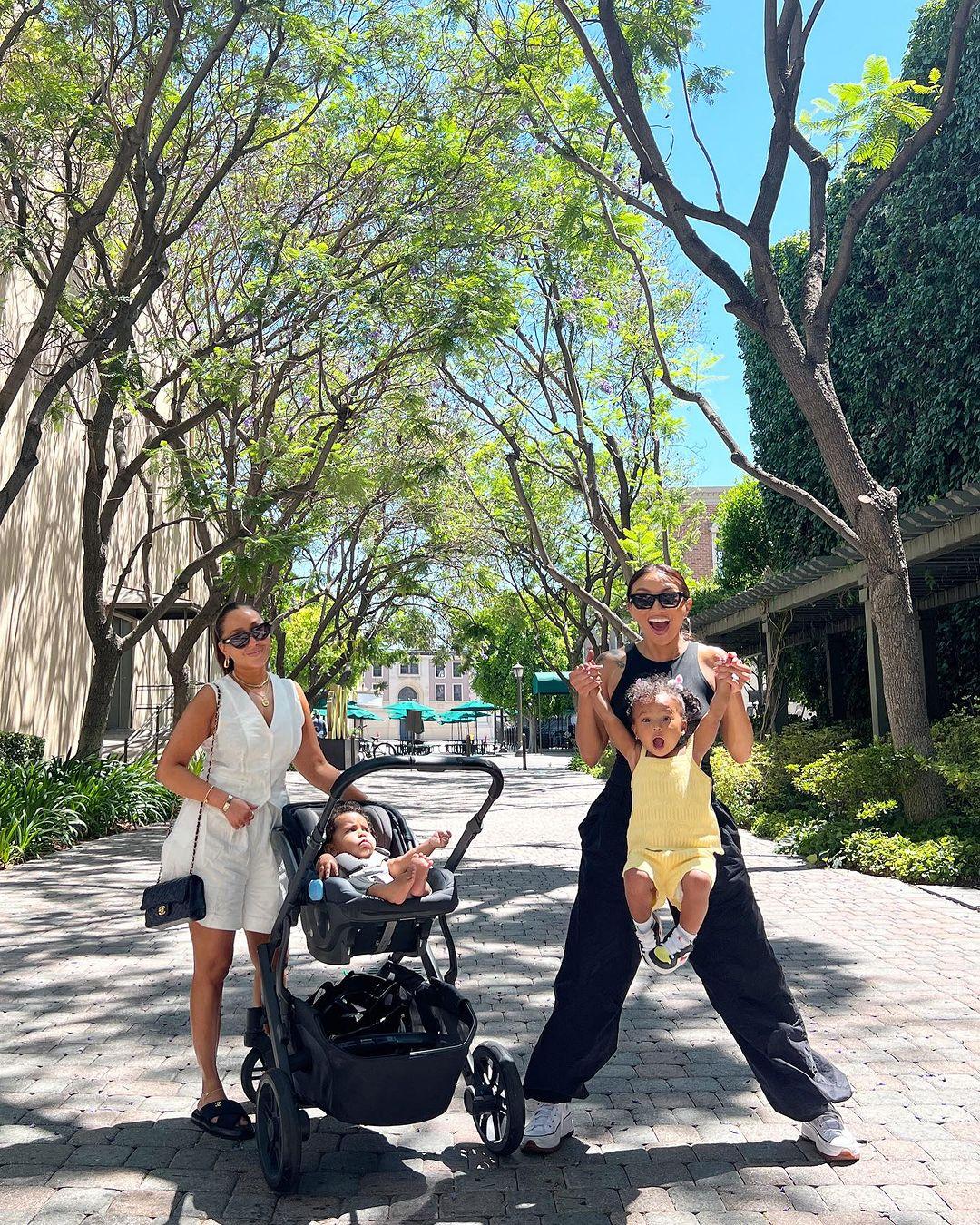 She and Adrienne chronicled every joyous moment, as seen on the 44-year-old star's Instagram feed, where she uploaded six incredible snaps from the outing.
The group was dressed casually for the day, with Jeannie wearing a black tracksuit, matching tank top, and white sneakers while her companion opted for white shorts, a similar colored sleeveless shirt, and black slides. 
The mothers completed their looks with chic sunglasses, and as for their kids, Monaco donned a bright yellow two-piece ensemble and Ever rocked a striped overall. Taking to the caption, Jeannie confessed that she was "hella" emotional, posting the update about her and Adrienne's kids "FINALLY" meeting up "FOR THE VERY FIRST TIME."
She went on, "And of course, we had to meet at the place we called home for the past ten years, @therealdaytime. We shared a journey like no other, and now dancing with our little ones, I'm reminded of our crazy selves backstage."
The California-born stylist further mentioned the "best part" of the hangout; celebrating Ever's first birthday. She then wrote, "Here's to our intertwined lives and these two sweet souls creating their own story forEVER," before ending the caption with "happiest first birthday" to the celebrant. 
The "That's So Raven" star immediately joined fans in the comments section to gush over the "special moment." She penned:
"In full on tears – this was such a special moment seeing our babies together is the BEST! Especially on our old stomping grounds… where we have so many memories…. Ohhh, the funny stories we'll tell them! My heart is bursting! 🤍🤍🤍."
Similarly, a supporter expressed love for the "reunion moment," followed by another who professed, "I love you both so much and am so proud of your journeys and growth; it was an honor to get to do that show for so long together ❤️."
One more fan opted for a lengthy remark celebrating Jeannie and Adrienne becoming mothers and coming a long way together to be blessed with "their little slice of a heaven – a forever family."
A delighted commenter raved, "Oh my gosh. I am so happy to see both Mothers from the Real talk show meet. That [touched] my heart, so sweet love it❤️💙💜💖."
One other comment read, "Love ALL of this!!! Look at God! Love you guys and those beautiful babies." A fellow user conveyed, "Omg… All the feels. 😭😭😭😭 so many memories. Love you both."
Exactly a year ago, Adrienne announced the birth of Ever on Instagram using a black-and-white image of herself holding the then-newborn against her chest while her husband wrapped his arms around them. She added an emotional message telling the world of her son's birth and appreciating God for being "true to His word and promises."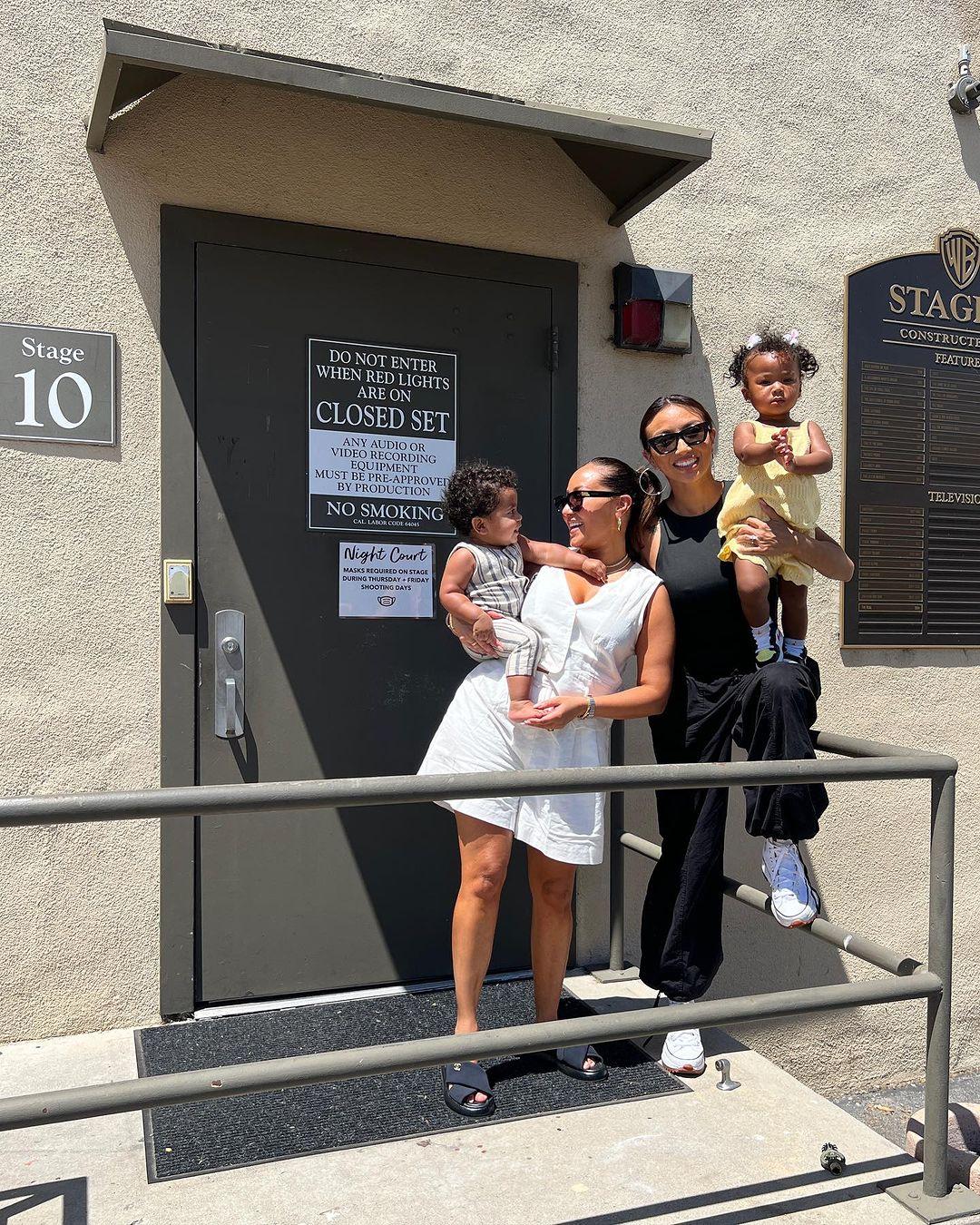 The terrific news did not go unnoticed by her "The Real" co-stars, including Jeannie, Tamera Mowry, and Loni Love, who all showered her with love and wept tears of joy.
The 'Holey Moley' Reporter Expressed Pride In 'The Real' Following Its Cancellation
Before Adrienne welcomed her bundle of joy, "The Real" got canceled after its eighth season, and Jeannie, who was heartbroken about it, had a few opinions to share. During an interview, she admitted that the cancellation was "hard" because the show was unlike any other.
The mother-of-one further stated, "When you have a show that is by minority voices for minority voices, I gotta say, I didn't have a show like that when I started."
She then pointed out that the program was inclusive, allowing women of all cultures and backgrounds to share their narratives, making her proud of their achievements.