Kaley Cuoco has taken her workout session to a new level with the introduction of the cutest companion!
It is no news that Cuoco is the type to constantly share her fitness routines on social media, inspiring fans worldwide, especially after she welcomed her daughter Matilda.
"The Big Bang Theory" alum did so once more, but this time, including her baby girl, who seemed to enjoy every moment as her mom completed some killer workout steps without breaking a sweat.   
Kaley Cuoco And Matilda Keep Each Other Entertained Amid Workout Session In New Instagram Posts 
Cuoco recently flooded her Instagram Story with highlights from time well spent with Matilda at the gym. She began by declaring via a picture that it was a "Bring your daughter to the gym day."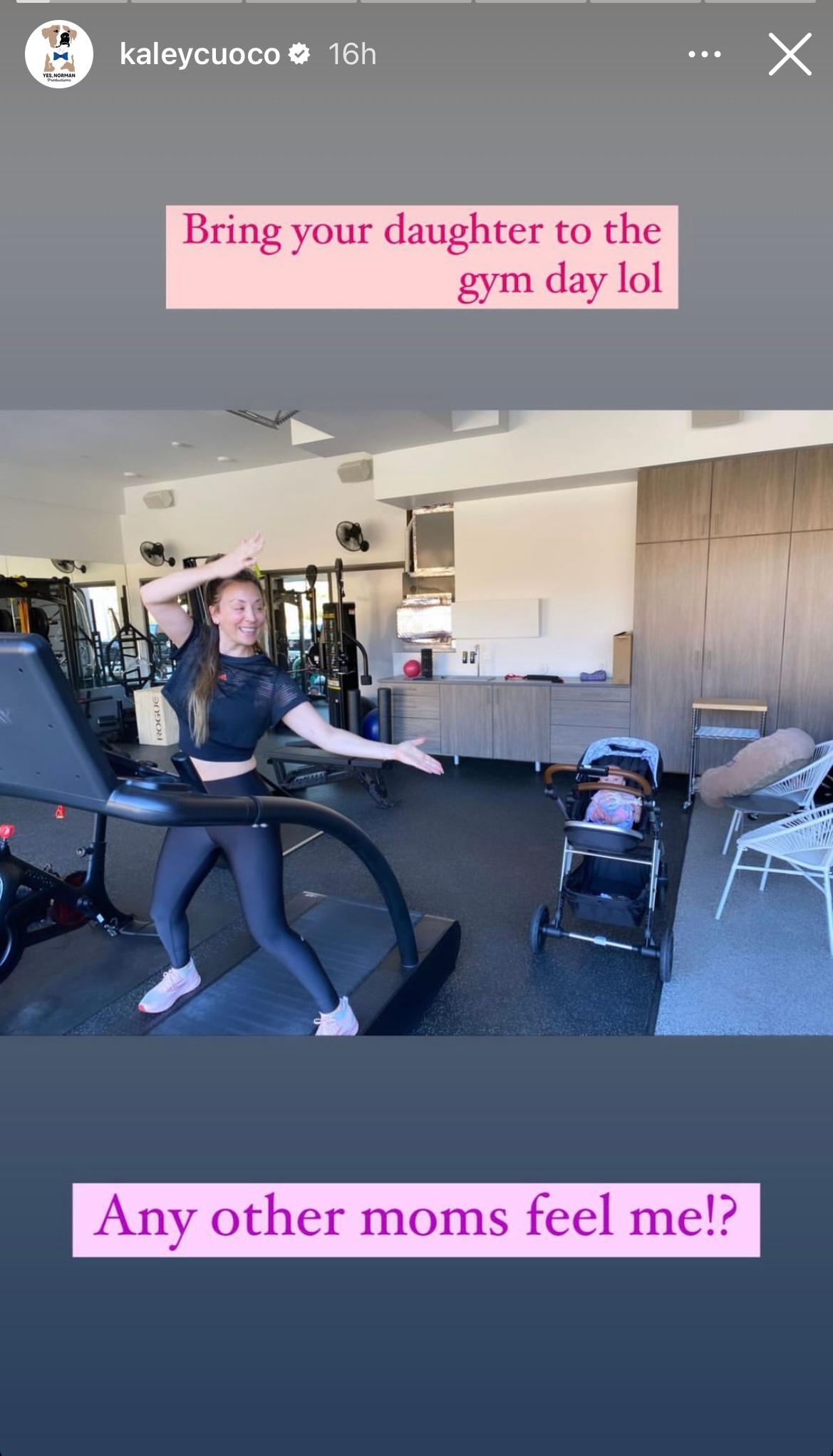 In the image, the doting mother was captured posing on a treadmill with her hands outstretched toward Matilda, who donned a peach onesie in a nearby pram. She also wanted to know if fellow mothers could relate as she questioned, "Any other moms feel me?"
Cuoco soon wasted no time getting to work. She shared a video of herself carrying a rosy-cheeked Matilda while hopping sideways, on her toes, with a green resistance band around her ankles.  The 37-year-old went "with the flow," as implied in the post's caption while beaming with a marveled Matilda all through the process while bouncing to Akon's "Smack That." 
In a second video, she kept up with her leg routines as she stepped on and off a slightly high step board with the band still around her ankles.  Matilda, who lay on a mat in front of her, was reveling in her mom's attention as Cuoco clapped at her while working out her legs, starting with her left leg and moving on to her right. 
"We kept each other entertained, lol," the Satellite Award winner captioned the post but did not stop there as she shared a final clip revealing she stopped her routine "only for spit up and dance breaks."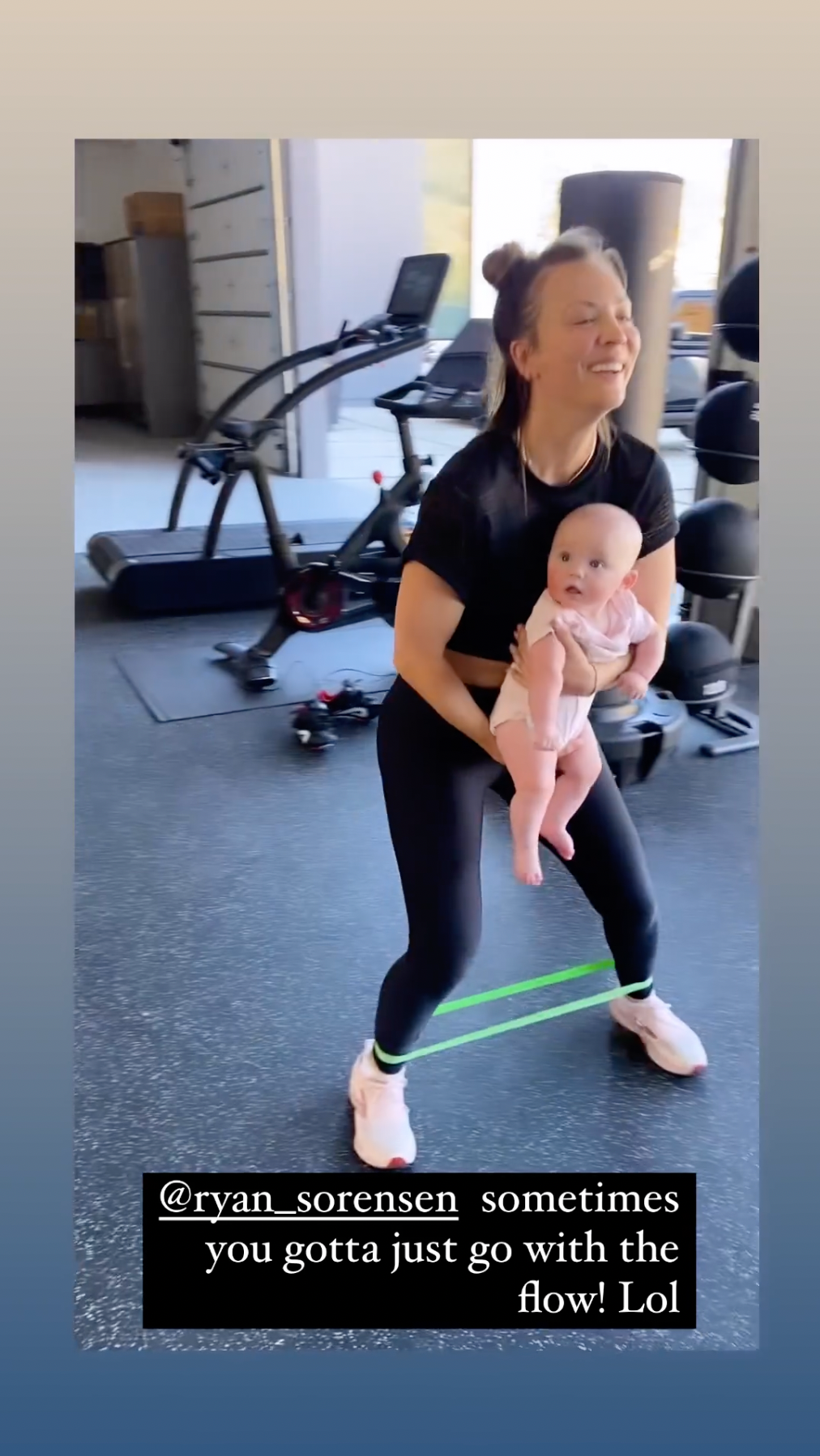 The video showed Cuoco jumping on and from a high wooden box a couple of times, with breaks in between to wipe her baby's spittle.  She also paused to clap at Matilda, who wiggled her feet in the air while giving some amusing dance moves to "Low" by Flo Rida and T-Pain.
For the exciting session, "The Flight Attendant" actress wore black leggings and a cropped black blouse paired with white trainers.  Additionally, her hair was packed halfway into a messy bun while some tresses were left to cascade down her back.
The mother and daughter duo certainly had a blast, alongside Cuoco's trainer Ryan Sorensen who could be heard in all the videos joking and guiding her. Since welcoming Matilda in March, the award-winning actress's body went through some childbirth-related changes, prompting her to stay committed to getting her pre-pregnancy body back.
Late last month, she showed just how steadfast she was by taking to her Instagram Story with a video of her going hard at the gym. The clip which was initially posted by her fitness trainer Sorensen started with some cardio on the treadmill before switching to a device to strengthen her arms.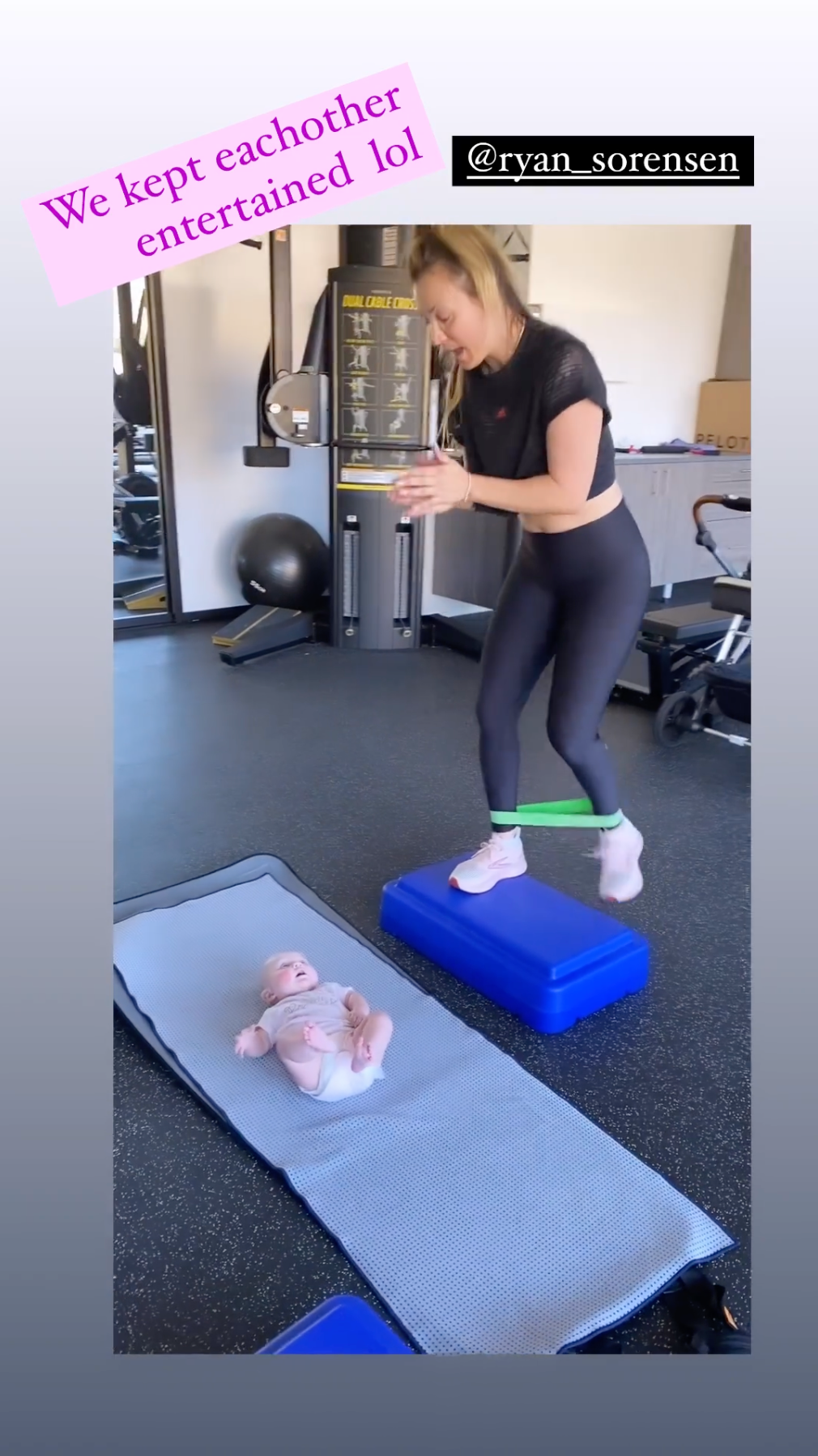 After pulling on strings attached to the equipment, the "Charmed" star continued with more routines using other gear like dumbbells and a large ball.  Cuoco was dressed in black leggings, a loose tank top, and white sneakers for the exercise while she kept her hair away from her face in a loose bun. 
The 'Toothless' Actress Was Over The Moon About Her Daughter's First Birthday Invite
Matilda had her first birthday invite last month, and her mom could not help but announce the milestone to her Instagram fans via multiple Story updates.
As expected, Cuoco documented every moment at the birthday party and began by sharing a photo of her squatting and carrying her child while surrounded by three little girls in a yard. "Tildy's first birthday invite was a success," the California native declared on the post, adding that her baby "loved all the little girls."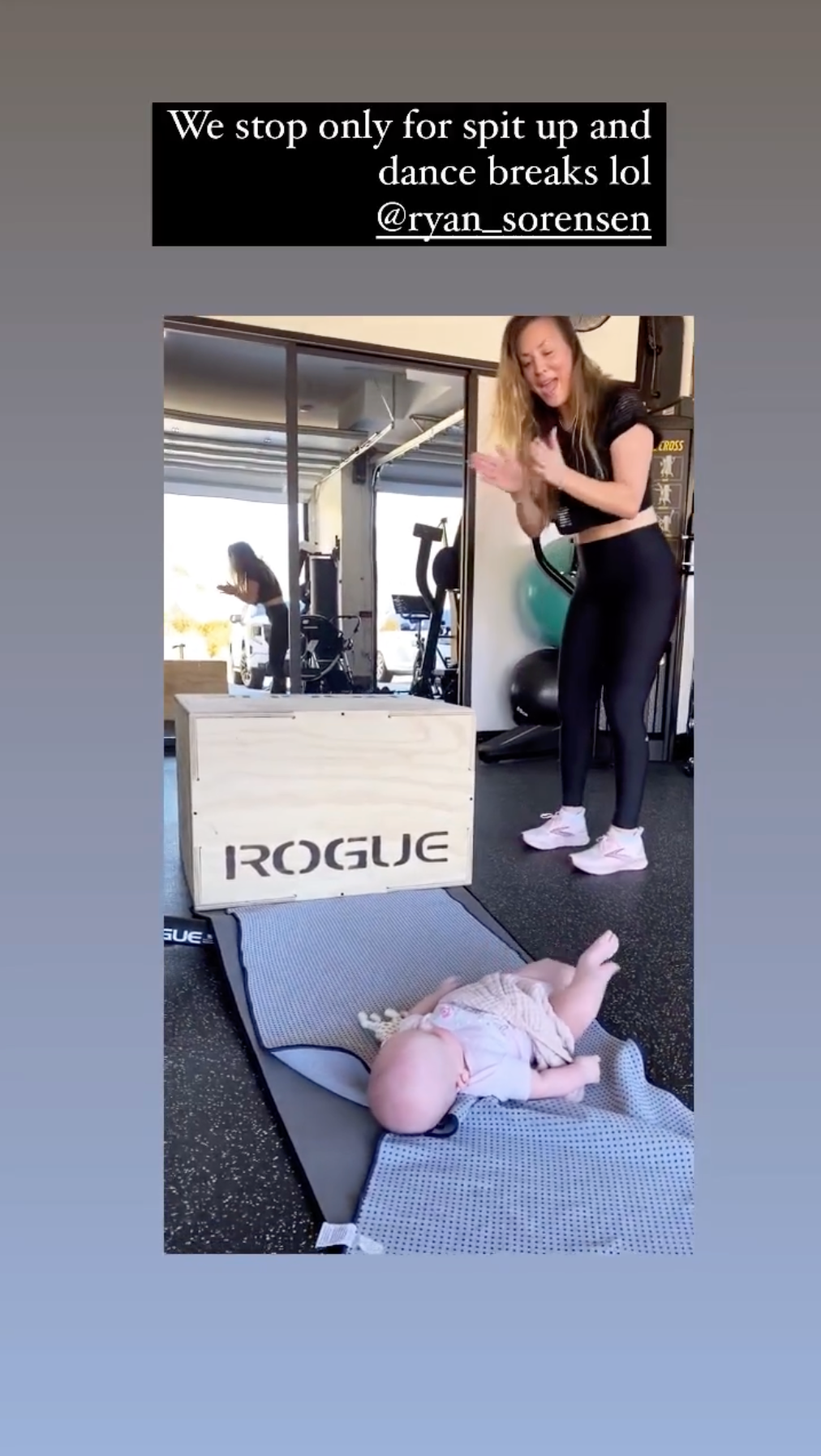 She uploaded one more snap of herself with Matilda but also including her baby daddy Tommy Pelphrey before concluding with a lovely clip of a "sweet girl" carrying a sleeping Matilda at the party.