Amanda Kloots opens up about her month-long adventure with her adorable son, Elvis.
The mother-son duo recently embarked on a month-long adventure together, and the experience has truly been unforgettable. The journey is also a testament to the TV personality's resilience as she raises the tiny tot on her own ever since losing her husband, Nick Cordero, to COVID-19 in 2020. 
Amanda Kloots And Elvis' Mother-Son Bond Will Melt Your Heart
Taking to her Instagram story, "The Talk" show co-host uploaded the most heartwarming picture of her little boy. Soundly asleep, the 4-year-old, wearing a multicolored top, lay comfortably on a pink and white polka dot bed. At the bottom of the image, the doting mother wrote:
"This little guy is changing so much each day, it's crazy. I feel so lucky to have spent every day for the last month with him. Normally with work I see him mornings and evenings. I'll never forget this time we've had together. It has reset a lot of things in my life."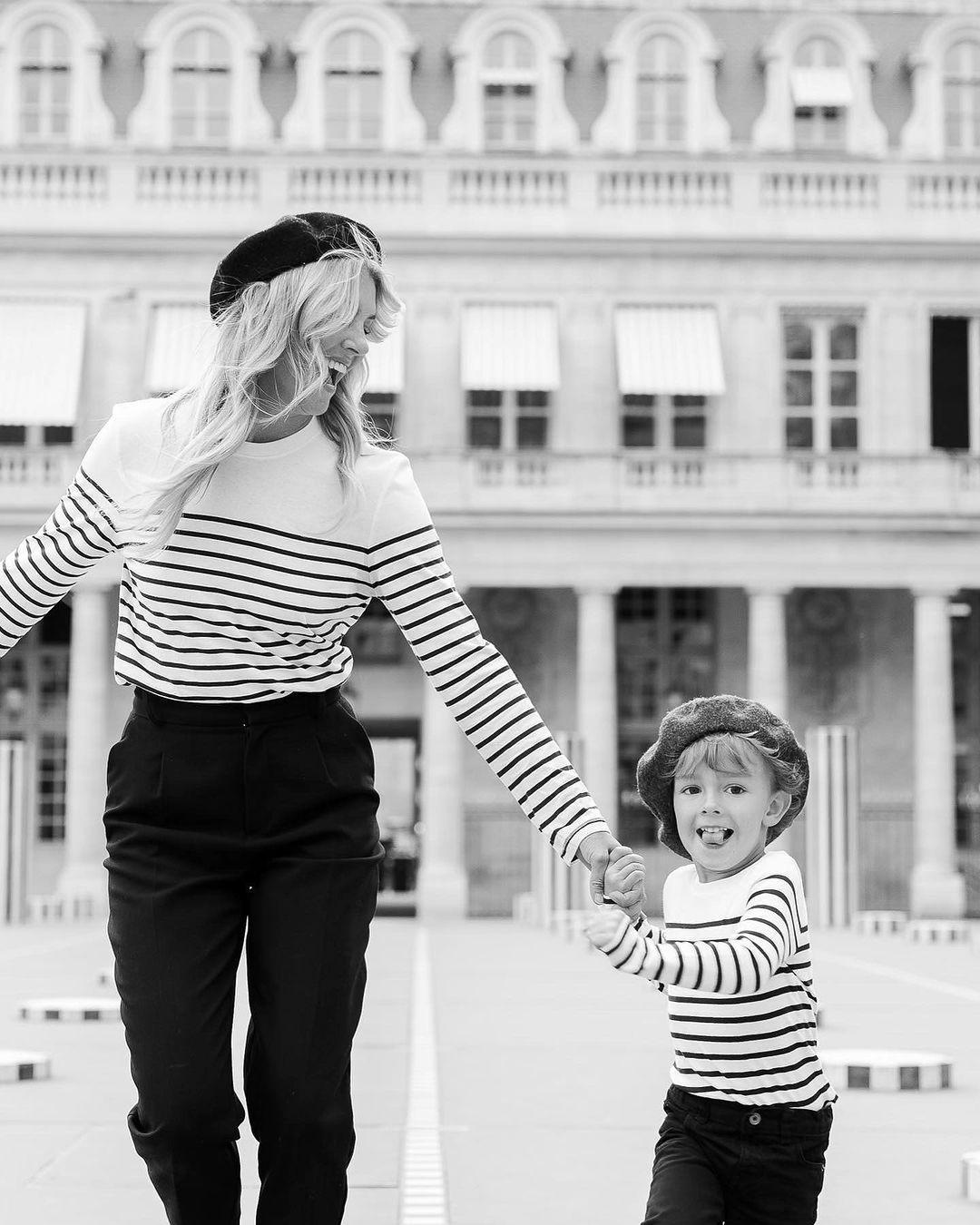 Since they began their little adventure, the actress has been documenting the whole thing on social media. As we follow along, it is clear to everyone that the pair are enjoying their time together.  
In one update, Paris was a playground of joy for the duo as they twinned in matching outfits. The Broadway star shared delightful snapshots on her Instagram page, featuring the pair posing at Palais Royal, donning white and black striped tops and pants.
Sporting matching berets, they struck happy poses on the pillars in the courtyard. One slide captured them blowing kisses at the camera while sitting on one of them. Another showcased a sweet moment as they took off the caps for a picture on a bench. 
Creating an enchanting moment, the "Fit for Christmas" actress looked away while Elvis gazed at her adoringly. Alongside the snaps, she wrote, "Silliness at Palais Royal! I think it's so important to document special moments and adventures! You can never have enough photos to look back on that capture happiness, memories, the stories behind the shot."
Kloots shared that her sister, Anna, suggested their photographer Katie Donnelly, who had also previously captured pictures of their parents during their visit to The City of Lights. She excitedly explained further, writing:
"I grabbed Elvis and I some striped shirts, two berets and voila! The wonderful Magda shot these for us and we got to view them just hours later! Once I choose my favorite a print will be on the way to our home in LA!"
The 'Bullets Over Broadway' Star Shares Glimpse Of Personal Life With Son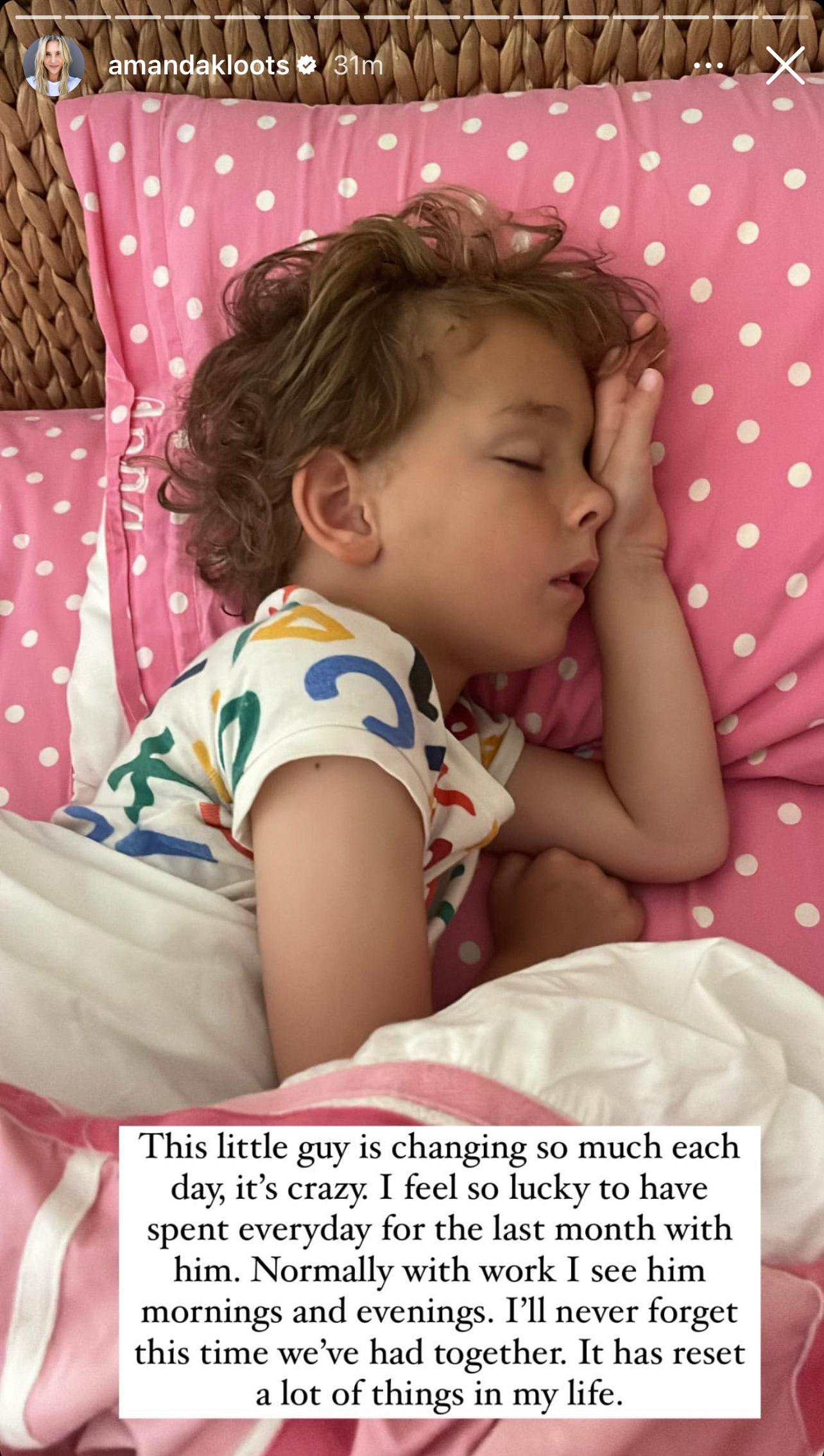 Last month, The Blast reported that the fitness instructor shared some "mom struggles" alongside a captivating makeup-free selfie. Taken inside a car, the 41-year-old had on a black top, a white baseball cap, and bracelets. Her striking blue-set eyes and sun-kissed shoulder blade were accentuated as she gently touched her face. 
Across the picture, she wrote, "Why is school/camp off always SO HARD?! Every day I feel like the worst parent leaving him, watching his little body walk away 😭😭😭😭." Speaking of the baby boy, the dancer uploaded a heartwarming montage, capturing some of the best moments she shared with Elvis over the past year for his fourth birthday.
Set to the nostalgic tunes of Styx's 1977 song, "Come Sail Away," the clip featured a delightful mix of videos and pictures, from their at-home Halloween festivities to playful adventures in snow and sand. 
The footage was accompanied by Kloots heartfelt caption, "My favorite memories from this past year as Elvis turns four today! Happy 4th Birthday to my beautiful little boy!"
The "Good Vibrations" star shared a cute story from Elvis' preschool days before pointing out that seeing him receive love from his classmates touched her deeply. 
Overflowing with pride, she gushed, "The things he's doing now and learned this past year have blown my mind. I wish I could freeze time but can't wait to see what this year brings. I'm so in awe, so proud, and so impressed by my little buddy." 
As expected, the post inspired an outpouring of good wishes from her fans, with some dubbing the then-celebrant as "one of the greatest boys ever."