Realtors, beware, Tori Spelling is a mother you should never mess with! The sensational actress recently slammed a real estate agent for "mocking" her family in their time of need.
The past couple of months have been filled with multiple challenges for the "Beverly Hills, 90210" star. From the dissolution of her marriage to Dean McDermott to her current housing issues, the blonde beauty has plenty to worry about.
Given her situation, it was not surprising the 50-year-old bared her fangs at a land agent for dismissing her hardships as a crude joke. Not one to take an insult lying down, the TV personality called out the offender on social media with a fiery message.
Tori Spelling Drops Insensitive Text Exchange From A Realtor Sneering At Her Family's Housing Crisis
Taking to her Instagram Story, the Los Angeles native shared a screenshot of her message app. The image captured the entertainer's alleged conversation with a real estate agent, who found her family's mold dilemma hilarious.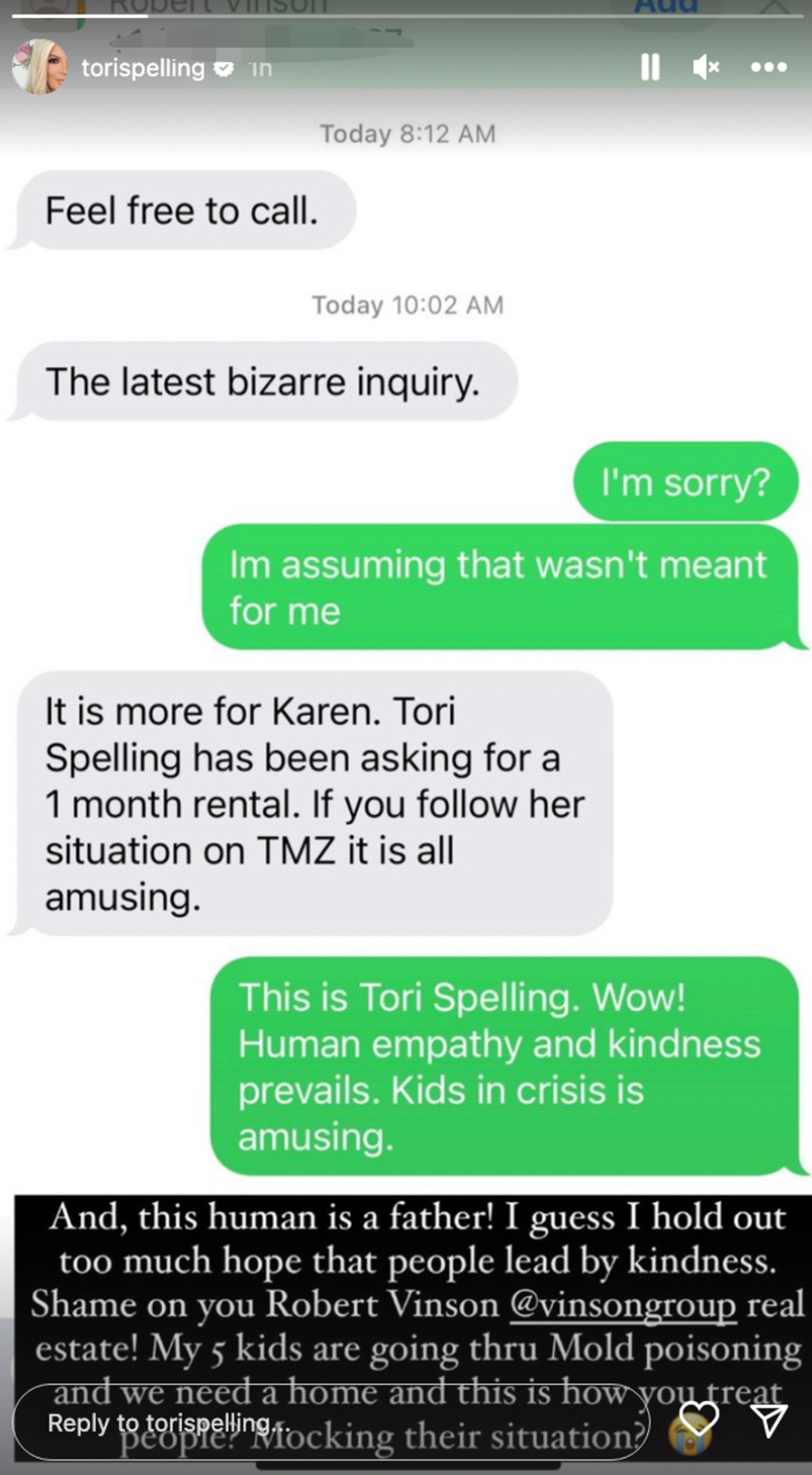 In the snap, a man named Robert Vinson randomly reached out to the "Scream 2" actress with the text: "The latest bizarre inquiry." Confused by his words, the mother of five responded: "I'm sorry? I'm assuming that wasn't meant for me."
The realtor had no idea he was texting the TV personality as he gossiped about the 50-year-old's housing issues, labeling her pain as "amusing." Vinson's message read. "It is more for Karen. Tori Spelling has been asking for a one-month rental. If you follow her situation on TMZ, it is all amusing."
Unimpressed by the real estate agent's lack of sympathy, the Young Artist Award winner shouted: "This is Tori Spelling. Wow! Human empathy and kindness prevail. Kids in crisis is amusing."
Spelling's anger was not smothered by her clap back as she continued to vent in her overlay text, exposing the land broker's identity to her followers. "And, this human is a father! I guess I hold out too much hope that people lead by kindness," the media personality lamented.
"Shame on you, Robert Vinson @vinsongroup real estate! My five kids are going through Mold poisoning, and we need a home, and this is how you treat people? Mocking their situation?" The Los Angeles native slammed the businessman.
Following her public diss against the allegedly insensitive property salesman, the entrepreneur soon came to regret crossing paths with the "CelebraTORI" author. Vinson told PageSix that he had received numerous messages from Spelling's fans.
However, the real estate agent believed he did nothing wrong as his actions followed protocol. "Celebrity impersonation is rabid in Hollywood. As a real estate broker, I have a fiduciary responsibility to be certain of the identity of the person we are dealing with," the entrepreneur claimed.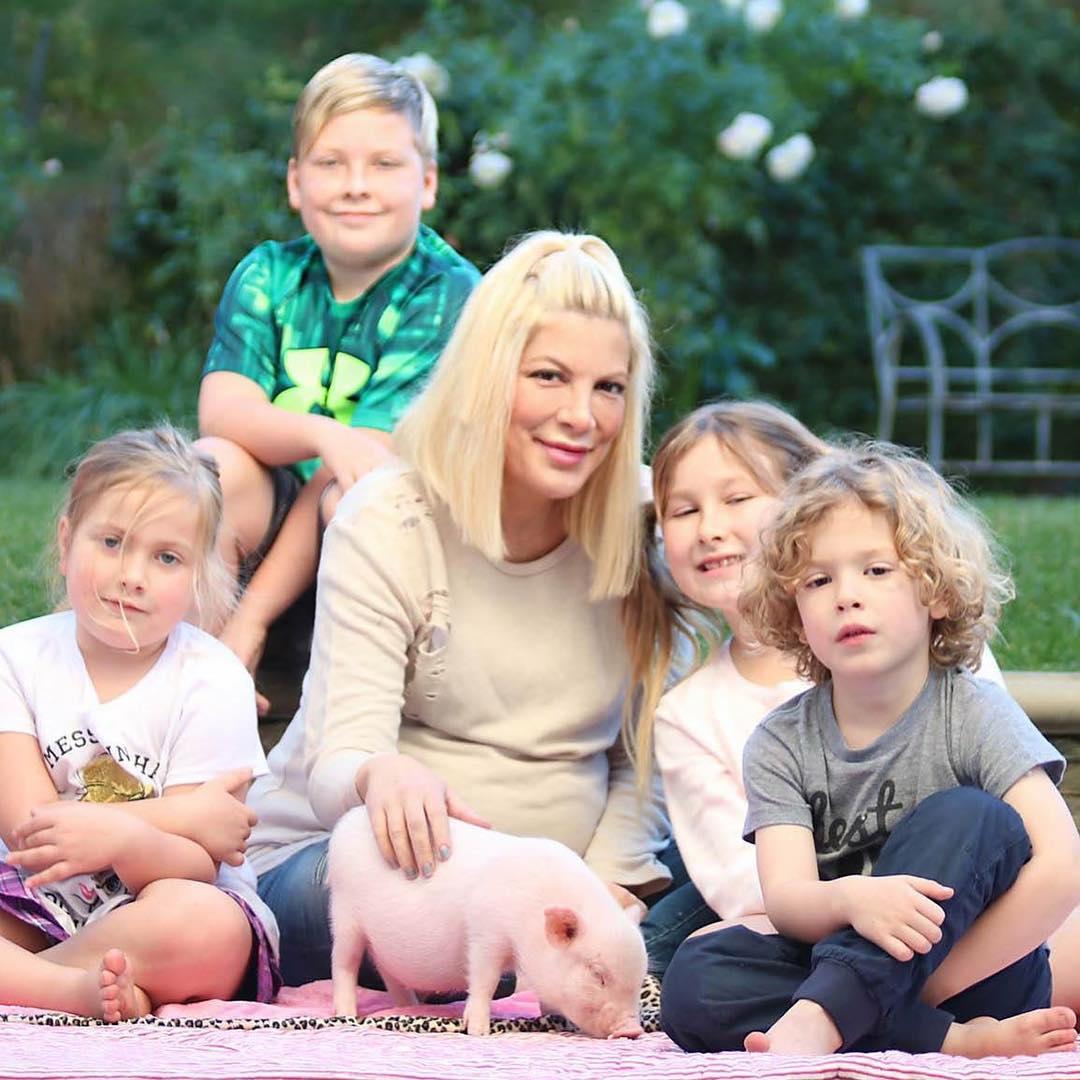 According to the businessman, he had contacted the TV personality about the one-month rental, reportedly texting her, "How can I confirm it is you" as he believed the deal was a "scam."
However, Vinson insisted he got no response from the entertainer until their viral text exchange. "I never received a call back from the text. I am now being publicly shamed for my due diligence," the land agent cried, adding that he was forced to apologize following the "vulgar" backlash he received.
"'I am sorry about the message. A single mother raised me, and I understand the challenges you are dealing with. When you did not call me, I thought I was being spoofed by someone who was pretending to be you,'" his alleged apology text to Spelling read.
The 'sTORI Telling' Author Opened Up About Having A Mold Infestation In Her House.
Two months before she clashed with the real estate agent, the mother of five revealed she and her children were suffering from a mold infestation. Taking to her Instagram page, the 50-year-old shared images of her family at the hospital.
The snaps showed the blonde beauty donning similar sickly expressions with her kids. In one of the snaps, a child was lying on the hospital bed while a close-up shot saw her youngest with a cold compression on her head.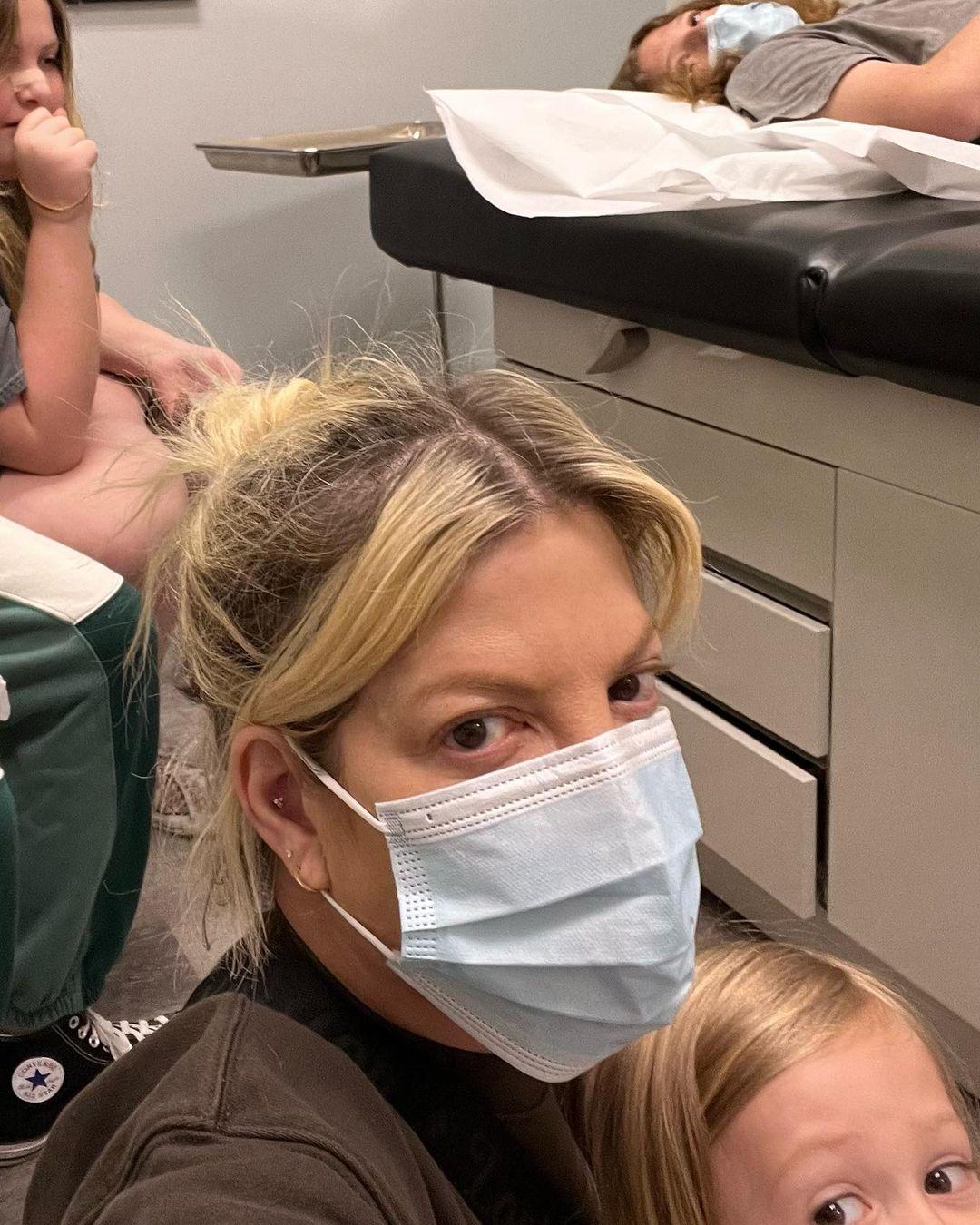 "Let's talk about MOLD. Here we are again at Urgent Care. We've all been on this continual spiral of sickness for months. Sick. Get better. To get sick again," Spelling explained in the caption.
According to the actress, she thought the circle of sickness was caused by her kids catching diseases at school. However, further investigation unveiled severe mold infestation, and the Los Angeles native and the children were forced to leave their homes until further notice.