Legendary singer Tony Bennett has died at the age of 96.
Bennett's passing was commemorated on his social media accounts.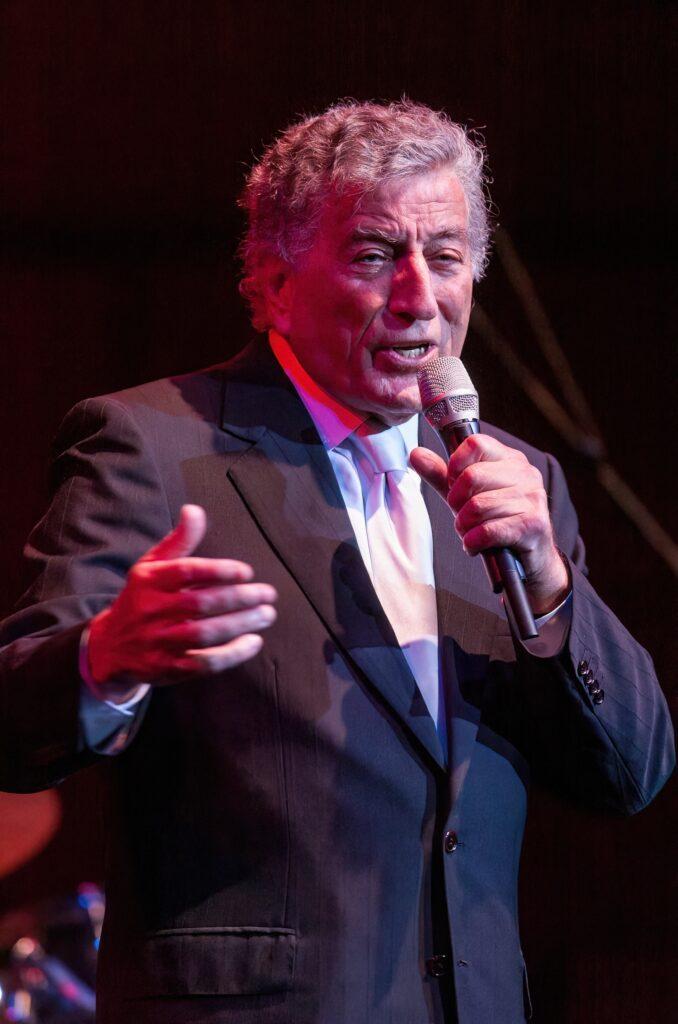 The entertainer collected 20 Grammys throughout his decades-long career. In recent years, Bennett was known for his collaborations with Lady Gaga.
As of this writing, no specific cause of death has been revealed. Bennett was widely public with his Alzheimer's Disease diagnosis; the diagnosis, which he had been fighting for five years at the point of his announcement, did not keep him from performing live or from making any public appearances.
The "Love For Sale" singer's passing was confirmed by his publicist Sylvia Weiner. Weiner told The Associated Press that Bennett passed away at his New York home.
Several celebrities have taken to social media to commemorate the singer's passing, showcasing the countless number of artists Bennett's legacy affected throughout his career and is a testament to his artistry.
Several Celebrities Have Paid Tribute To Tony Bennett Following His Death At 96
View this post on Instagram
Bennett's death was acknowledged by a post on his Instagram account.
The post reads, "Tony left us today but he was still singing the other day at his piano and his last song was, 'Because of You,' his first number-one hit. Tony, because of you we have your songs in our hearts forever," the post concluded.
Singer Haley Reinhardt commented, "So honored to have performed a duet with Tony. His legacy will surely live on, but he will be sorely missed! They just don't make 'em like him no more."
Carrie Underwood
posted an Instagram carousel
of photos taken with Bennett over the years. The "Some Hearts" singer wrote in the caption, "Rest in peace, Tony. You were the epitome of a gentleman with a God-given one-of-a-kind voice. It was truly a great honor of my career and of my life to get to share the stage with you…"
Will Smith
also paid tribute to Bennett
with a snapshot of the duo together, along with his wife, Jada Pinkett-Smith. The "I-Robot" actor wrote, "Your life's work was just fantastic, Tony. Thank you for sharing your gift!"
View this post on Instagram
Actor Alec Baldwin took to his Instagram to share his thoughts on Bennett's passing.
"Everybody loved Tony," Baldwin said in part. "To have that talent, to have that strata of his style… not to mention any names," he continued with a smile, "who were not loved by everybody, in some cases far from it. But everybody loved Tony, everybody loved Tony. He was a helluva guy…"
The "Rust" actor also detailed how important Bennett's music was to him.
"When I was really down and I needed to hear somebody sing… I needed to hear something beautiful, you know. I'd just put on that 'Carnage Hall' album… that was him younger. Or I'd play 'Unplugged' years later, and watch the movie 'Zen Of Bennett,' the documentary about Tony, great movie [and] great insight into him as an artist. And how hard working he was, and how decent he was as a person. I'm gonna think about other things I might say, but I'm gonna give it some thought… But in the meantime, my heart goes out to Susan, to all of Tony's children, and especially to Danny. who was his great collaborator and a guy who was really… had a big hand in taking Tony to that amazing level the second time around…"
The official Twitter accounts for Rolling Stones guitarist Keith Richards and rock icon Billy Joel tweeted photos of Bennett photographed with the musicians, respectively.
May you Rest in Peace, Tony Bennett!
Photo from 2015

Photo: J. Bouquet pic.twitter.com/ZYVlktk8tz

— Keith Richards (@officialKeef) July 21, 2023
Tony Bennett was the one of the most important interpreters of American popular song during the mid to late 20th century. He championed songwriters who might otherwise have remained unknown to many millions of music fans. pic.twitter.com/IsopRo8jQ8

— Billy Joel (@billyjoel) July 21, 2023
Rest in Peace Tony Bennett. It was such an honor to work with one of the world's most beloved, respected and legendary singers of the past century. We will miss you ❤️ pic.twitter.com/avn8K4CcgM

— Mariah Carey (@MariahCarey) July 21, 2023

Mariah Carey also honored Bennett on social media. The "Hero" singer tweeted photos of the twosome performing live together and wrote "Rest In Peace Tony Bennett. It was such an honor to work with one of the world's most beloved, respected, and legendary singers of the past century. We will miss you," Carey concluded with a heart emoji.
President Barack Obama posted a photo of the duo alongside their wives.
View this post on Instagram

"Tony Bennett was an iconic songwriter and entertainer who charmed generations of fans. He was also a good man- Michelle and I will always be honored he performed at my inauguration. We're thinking of his wife, Susan, his kids, and everyone who is missing him today," Obama wrote.