Gymnast Nastia Liukin is attending the ESPYS and can't decide what dress to wear!
The Russian-born former American artistic gymnast is attending The Espy Awards, which stands for Excellence in Sports Performance Yearly. It is an event that honors the top athletes and sports performances of the year.
She took to TikTok to share not one but a few different dresses that she wanted to wear for the event, although many fans definitely preferred the "Barbie" pink dress that featured a deep plunging neckline.
Gymnast Nastia Liukin Is Barbie's Sexy Best Friend In Her Plunging Pink Dress
Although the five-time Olympic champion wore a pink dress that gave some fans "Barbie" vibes, other followers, no doubt Swifties, felt all three guesses gave "Speak Now" vibes, referring to the newly re-released album that "Lavender Haze" singer Taylor Swift just dropped. It helps that Nastia set the music of the video to "I Can See You (Taylor's Version)(From The Vault)," which was also released as a music video starring her ex-boyfriend, "Twilight" star Taylor Lautner.
Regardless, Nastia is planning the Espy Awards and she needs help deciding on what dress to wear! She stepped into the frame with her short blonde hair tied up into a knot on the top of her head. The first dress is ombre pink that fades into a purple skirt. The plunging neckline seemed to be a little bit big on her chest but was covered with shimmering sequins. It sounds like Nastia says, "I'm obsessed" at the end of the try-on.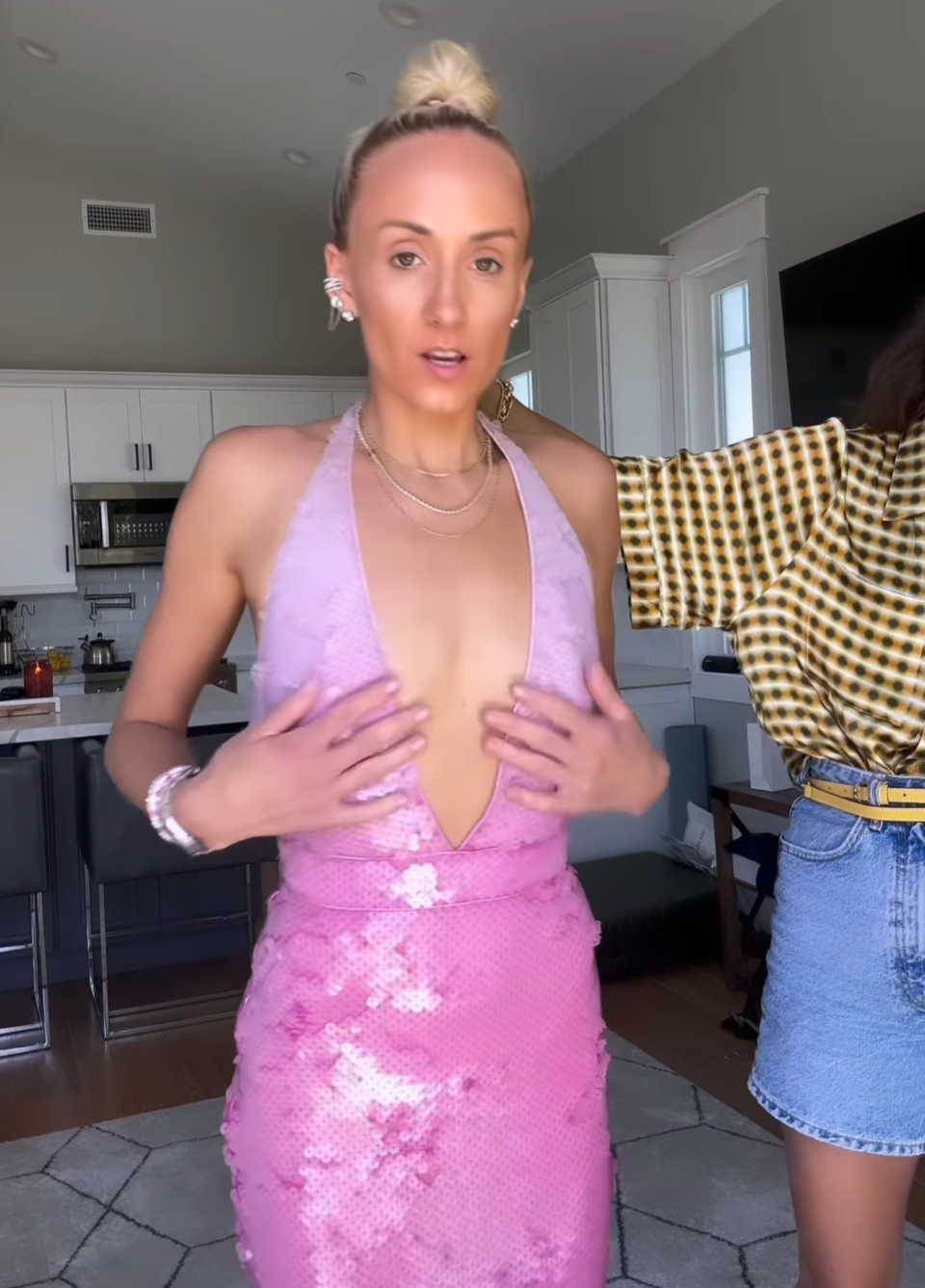 "Option two," she says as she stands in front of the camera in a purple dress that has two lavender straps over her shoulders and two more thick lavender straps wrapped around her neck. It also features a sequined bodice that fades into a tight skirt that trails all the way down to the floor. In the video, she admits that it's "a little bit big," but "pretty." However, she admits, "I can't walk in it."
The last dress gave fans some "Shake It Off" vibes. It was a short pink dress that wrapped around her neck and trailed all the way down to her upper thighs. "Okay, this is giving major 'Dancing With The Stars' vibes," Nastia says as she lets the shimmering tassels sway back and forth. "But it's cute. Definitely an after-party option," she says in the video, saying it feels like she's ready to samba.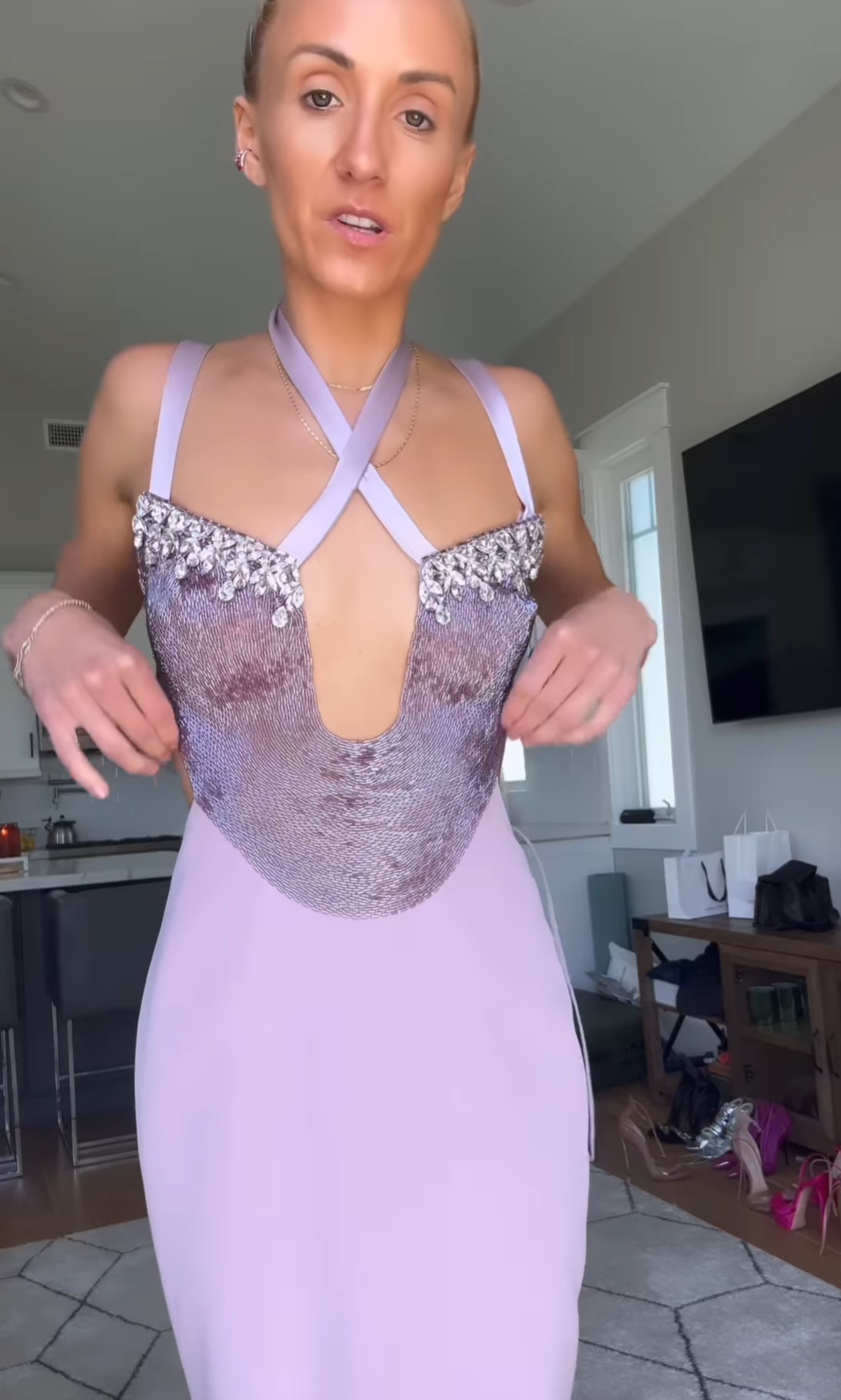 At the end of the video, Nastia revealed that she had pretty much already made up her mind as to which dress she wanted to wear but wanted to see if her fans would pick the same one. Several fans preferred the first dress. "#1!" one fan exclaimed. "1 absolutely looks stunning on you," another follower shared. "Absolutely the ombre sequin!" a third fan chimed in.
"Louboutin heels with outfit number 1," another follower shared. "#1 OMG!" another fan exclaimed. "Has to be #1," another follower wrote. "1 hands down," another fan agreed. "#1 is itttttt," another follower gushed. It seems that fans were spot-on with their guesses, as Nastia responded to that comment, writing, "Ummmm right."
But What Do Nastia's Instagram Followers Think?
View this post on Instagram
On Monday night, the former gymnastics star shared the video with her Instagram followers. This time, she set the video to Sole Sole's "Summer Love" instead of Taylor Swift. In the caption, she wrote, "Ok, TikTok saw it first (per usual) but bringing it here now!! Help me pick out my look for the #espys tomorrow!!!! What are we thinking?!" She also included the hashtags #fashion, #trending, #trendingreels.
"#1 for sure!!! The third for after party!!!" one fan commented. "My thoughts exactly!" another follower agreed. "1 love the ombré. 3 for an afterparty," a third fan chimed in. "I loved the first!! The fringe is super fun, too," another follower shared. "I like the first dress you had on in your video," another fan wrote, although there was a lot more love for the second dress on Instagram than on TikTok.
Interested in more Nastia Liukin content? Fans who loved her pink dress have to see her rocking a "Barbie" pink bikini and flaunting a deep summer tan!
Fans can check out those steamy bikini snaps by clicking here!