Model Winnie Harlow just gave her fans a very cheeky update about the skin around her chest, using Hello Tittie stress balls (yes, they really are a thing) in the best possible way, and the fans are fanning!
Winnie Harlow Gets Sassy With Stress!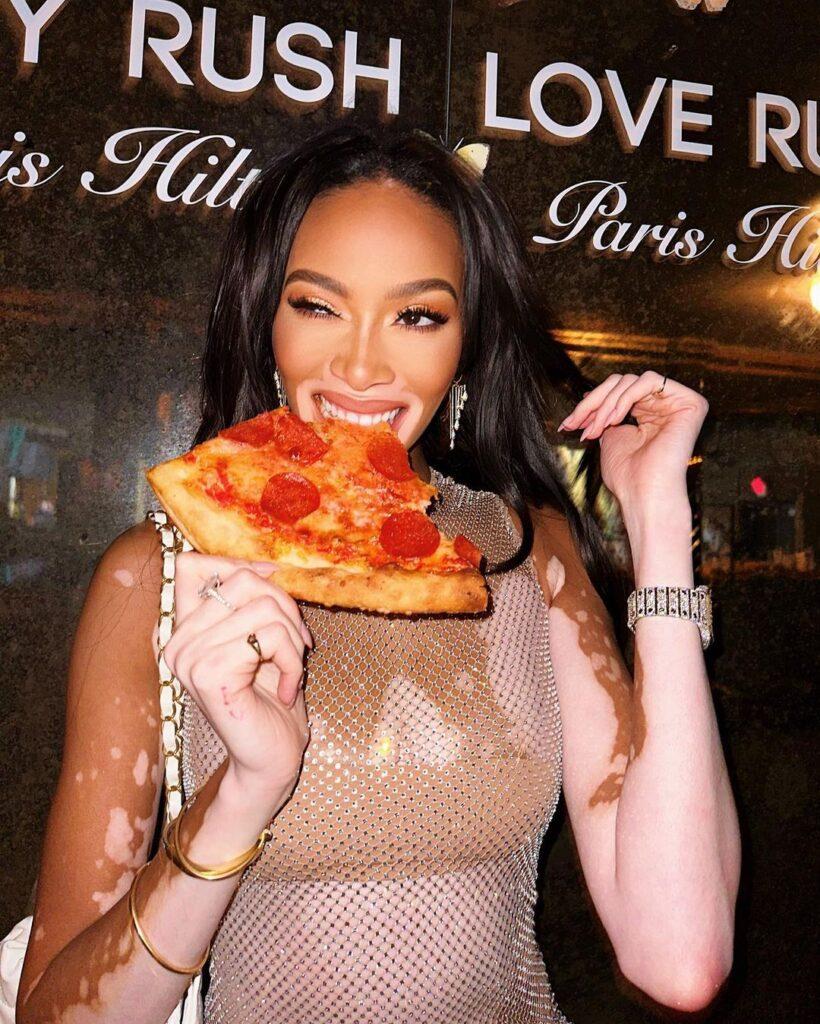 Winnie Harlow, 28 took to Instagram to give her fans a peek into all that was happening to her with a variety of pictures that she captioned, "Lately", topped with a heart emoji.
Harlow, who has white patches on her skin because of an auto-immune condition called vitiligo isn't just a model and an actor, she's a beauty influencer who talks about body positivity as well as an entrepreneur, having launched her line of skincare, Cay Skin.
Given that she has vitiligo, she decided to give fans a cheeky update on what her chest look like, by holding up a pair of Hello Tittie stress balls to her chest. Notably, she held a brown one on the left and a white one on the right, with a smirk on her beautiful face, letting fans draw their own conclusions thereafter.
Obviously, some of the comments bordered on the NSFW side with many begging her for more details, but more importantly, many of her followers saw her beauty for what it was, more than skin deep, as they left her comments like:
"You have the PRETTIEST skin ever! I can't believe people tried to tell you it isn't. Like how cool it is to have "multi-colored skin.'"

"You are so unique and beautiful in all of your unique ways I can spot you from the crowd 😩🥰 You were created to stand out."

"The humorous female of this magnitude has to be protected at all costs!"
Here's her sassy post, that made her NBA boyfriend Kyle Kuzma sit up and take note, as he commented, "Lil kuz slide I'm here for it."
View this post on Instagram
Winnie Harlow & Kyle Kuzma Make A Power Couple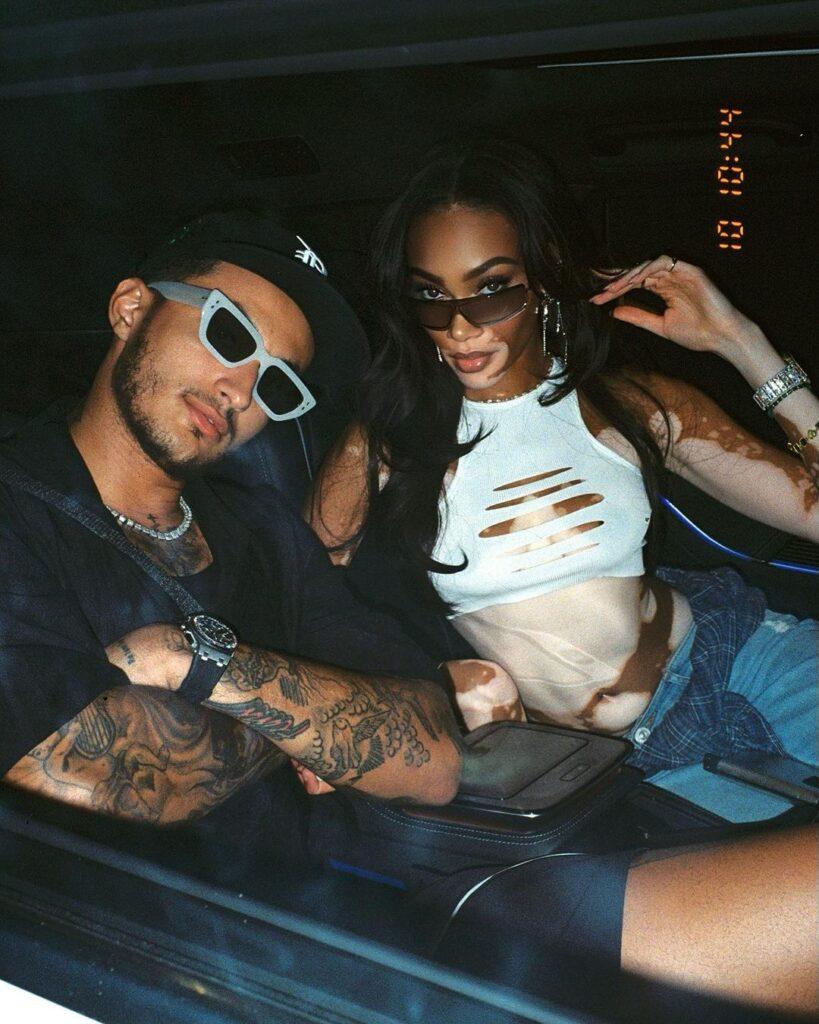 Kyle Kuzma slid into Harlow's DMs one day, but the first time he tried it, she didn't even see it. The NBA star tried again, and this time Harlow saw and she liked. Since this was during the pandemic, in 2020, the two chatted constantly till suddenly, a month later, Harlow upped and moved to LA to get to know him better.
They began dating in April 2020, and by the next year, were official. Harlow revealed how it went down, saying, "I had just been out here with him during quarantine and no one really knew at the time. I was getting ready for bed and my process is very long. I have serums. I have my bonnet. My shower takes half an hour. I'm just winding down. I was taking a really long time and he was like, 'Can I cuddle with my girlfriend?' And I was like, 'Girlfriend. Oh, okay, sure. There we go. I guess it's a wrap now. Hang up my jersey.' [That's] how we ended up in a relationship."
The two are going steady and seem very happy with each other, and make for a rather influential power couple too Kuzma is happy to talk about Harlow, crediting her for his style upgrade, saying, "Kuzma readily acknowledges that Harlow has elevated his personal style. "One thing I have learned is how to completely finish a look correctly. Winnie is very detailed with every single thing, [from] what the accessories look like [to] what attitude to rock with it. She's really leveled up my energy."
Here they seem to be taking over Paris, for Kenzo…
View this post on Instagram
Setting New Beauty Standards, Every Day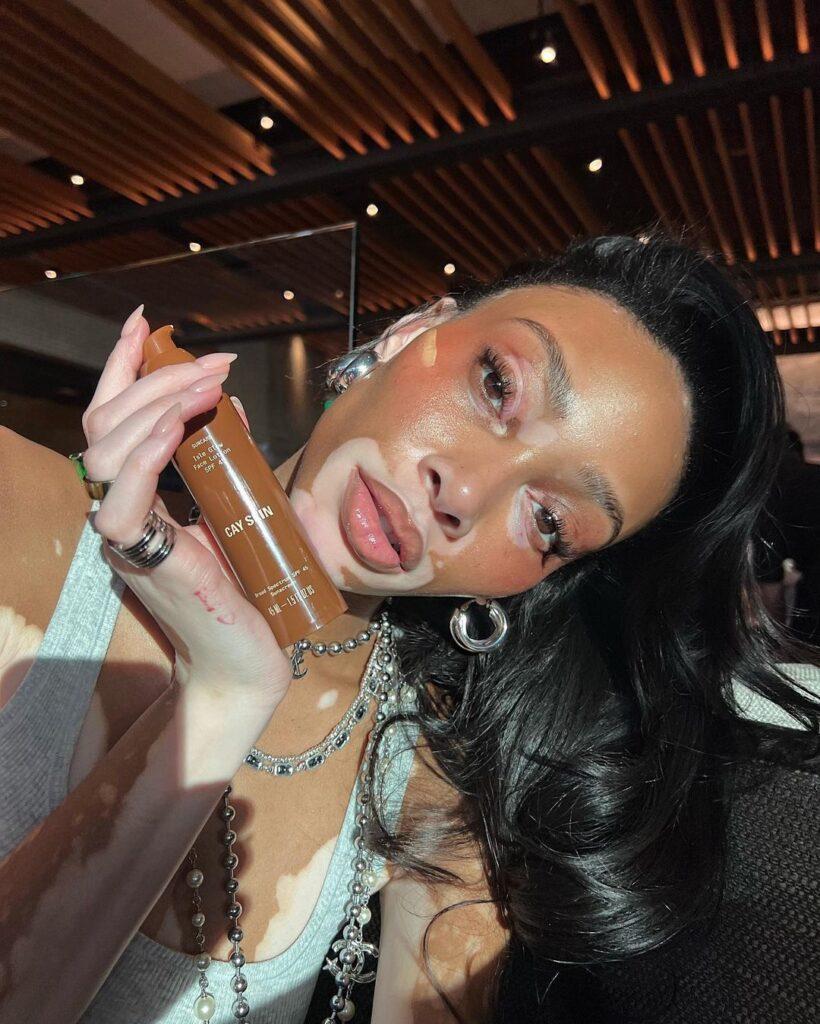 Harlow admits, her vitiligo made her famous but then again, she feels it does not define her. From being turned down for a job at Sephora when she was a teen to now selling her skincare brand, Cay Skin at the beauty store, life has come full circle for Harlow.
It's not been an easy identity to forge, she admits, given that she began developing the white patches when she was just four years old, but the space she's at was worth it all. Before Instagram, Harlow admits she felt she was the only person with vitiligo but after her pictures began to go viral, people came up to her to share their stories, and she slowly became one of the most body-positive social media personalities out there.
Here's more of Harlow's story…
View this post on Instagram