Fitness trainer Senada Greca, the new fitness trainer of Kim Kardashian, is impressing her 4.2 million followers with her incredible strength and fit physique!
The Zentoa founder gave her followers some much-needed fitness motivation as she shared a video that featured her trying and failing to do a complex headstand before she finally pulled one off. The message of the video is clear: If you don't succeed, try and try again!
Kim Kardashian's Fitness Trainer Senada Greca Does A Headstand In A Blue Thong Bikini!
View this post on Instagram
In an Instagram post set to "I Know What You Want," the popular fitness trainer seems to struggle with being able to do a headstand until she finally pulls one off. She takes a breath before she mounts herself on the bars, extending her legs back behind her before she slowly raises them over her head.
She then lowers her legs to her sides and curls them back into her body, using her arm strength to pull her legs through the front of her body. She then drops back into a plank and does a small push-up before she dismounts.
In the caption of her Instagram post, Senada wrote, "Whenever you question your ability to do something, the first step is to try. While I frequently doubt my abilities, I never shy away from trying. The more you overcome, the more you're likely to try and eventually succeed."
Fans Love Senada's Fun Fitness Videos: 'There's Nothing She Can't Do'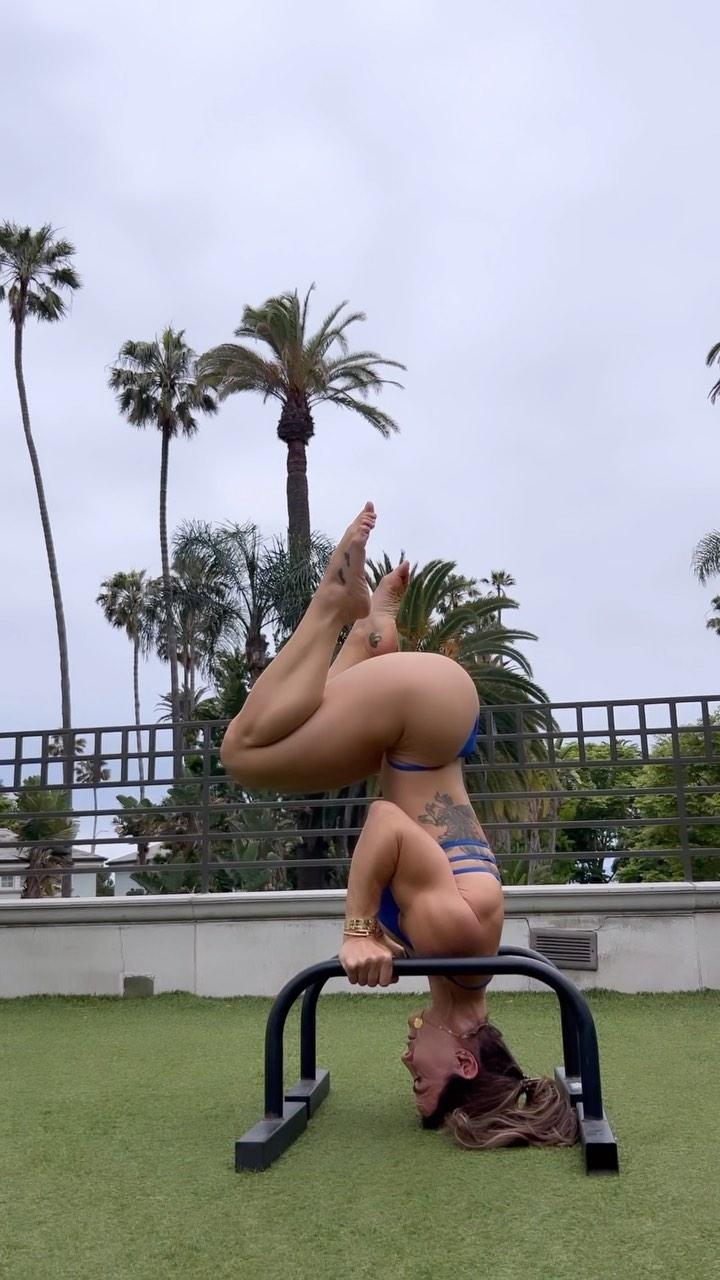 Fitness trainer Kim French commented, "There's nothing she can't do." Another fan agreed, writing, "She's a total goddess!" Another fan chimed in, "People can say what they want about females with muscles, but this is so sexy to me. And I'm straight." Senada replied, "Thank you, love. Appreciate you."
"You should try aerial arts and fitness. Pole, Lyra, silks… you would be amazing at it!" another follower suggested. "Always have been fascinated by all of that. I def need to make time for it," Senada replied. With her core strength, fans would absolutely love to see it!
"Your body is amazing," another follower wrote. "You inspire me," another fan shared. "Beast mode!!" another follower exclaimed. "Thank you for the continued motivational videos. You helped me reach my goals over the past 2 years…keep up the awesome work," another fan chimed in as her followers continued to praise her amazing video!
Senada Greca Shares Some Intense Ab Work In Her Blue Bikini!
View this post on Instagram
In another Instagram post, Senada slipped into her blue bikini yet against in order to really show off the definition in her toned abs. Fans can swipe through the video to see her performing exercises like V-sit scissor kicks, crunches with an alternating leg raise, and side plank hip dips. Although she only shares brief clips of what each exercise looks like, Senada revealed that she does 8-12 reps of each exercise for 4 sets.
Although it may sound like a lot of work, Senada revealed that the workout only takes her about 15-20 minutes. With minimal time spent on the workout and no equipment needed, Senada reminded her followers that they have "no excuses" to getting this workout in!
Chef Derrick Fox commented, "Thank you for your posts. I've been going to your Instagram to get back in shape. Becoming a chef 8 years ago has been hard on the body, and your workouts really resonate with me!" Senada replied, "So happy to have helped" along with a smiley face emoji.
Fans Want To See Senada Star In 'Tomb Raider'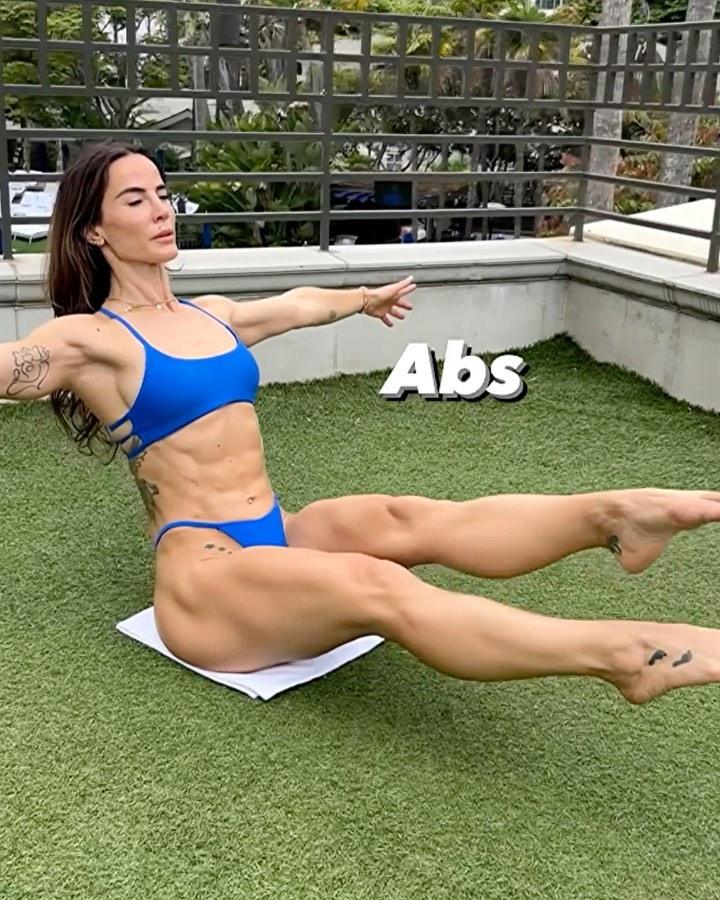 Fitness trainer Kim French commented, "Love this swimsuit" alongside a heart-eye emoji. Senada replied, "Thanks love. Always Zentoa," giving her another chance to plug her swimsuit brand. Another fan commented, "Loving the straight hair!!" to which Senada replied, "Thank you love."
"I just can't help but think Tomb Raider every time I watch your videos," another follower shared. "Oh my goodness! She would kill it if she was in that movie," another fan shared. Senada reacted to the comment with a single prayer hands emoji. Although Senada is not an actress – yet – fans would love to see it!
Interested in more Senada Greca content? In another Instagram post, she slipped into a bikini before showing her followers what she usually eats while traveling. Fans can check out that nutritional guide by clicking here!