Tuesday, April 18, was a day of celebration for the Kardashians as the well-loved Kourtney Kardashian Barker marked her 44th birthday surrounded by loved ones.
The event was undoubtedly a momentous one for the celebrant as it marked her first as a married woman, and she is now sharing highlights two days after, indicating just how much fun she had, despite a diss from her sister.  
Kourtney Kardashian Details Birthday Celebration With Family In New Pics
Kourtney is reliving her 44th birthday party in pictures, and fans are excited to see her in such high spirits with her kinsfolk.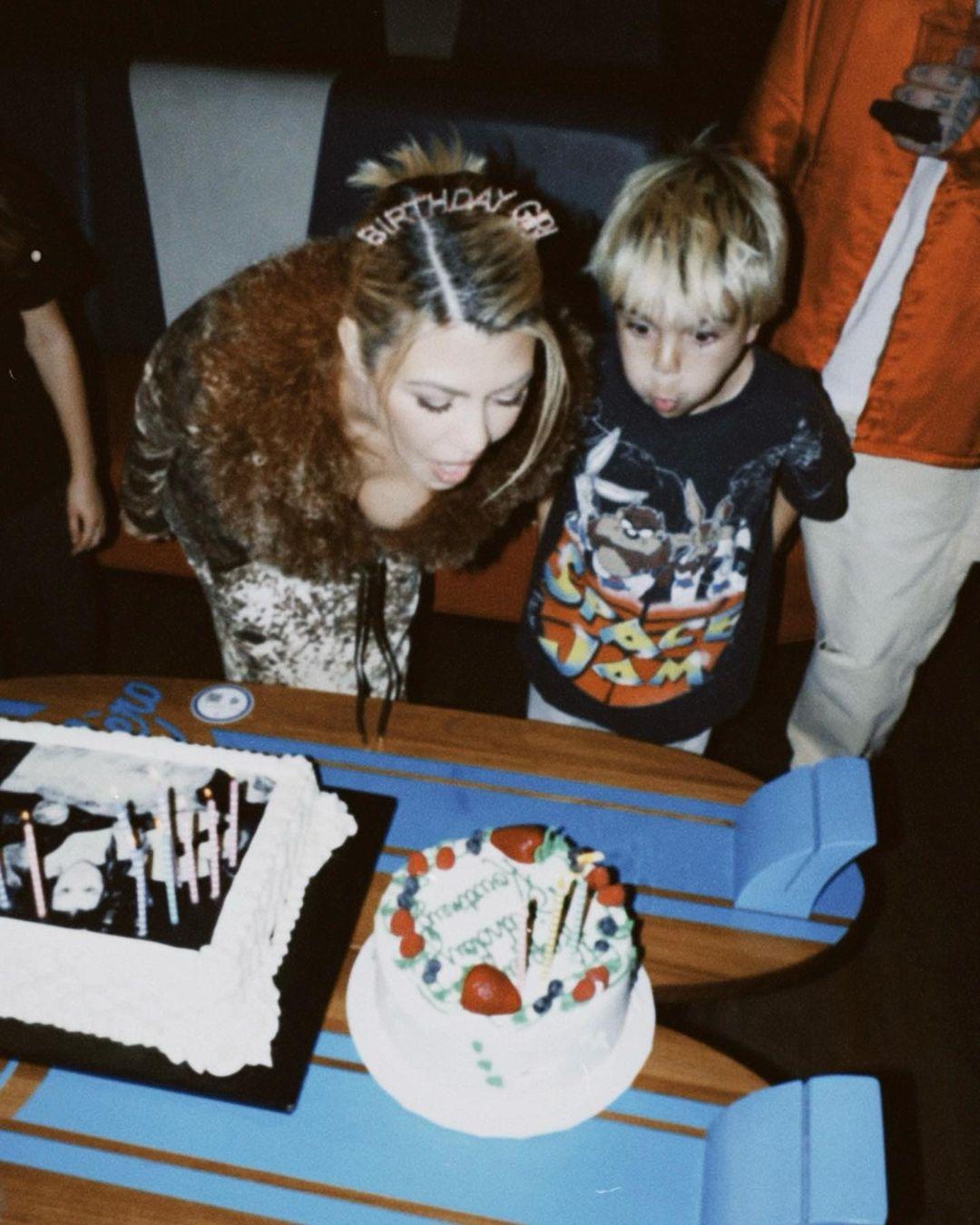 In the ten 90s-themed snaps the socialite shared on her Instagram feed, she looked fabulous in a brown patterned ensemble consisting of a long skirt, cropped blouse, and a matching jacket with faux furs adorning its collar.
The celebrant, who also wore a tiara designed with "Birthday Girl," was captured in the first slide with her youngest son Reign, blowing the candles on one of the birthday cakes. She was then seen in the following drop carried by her younger sister Khloe who was decked in ripped jeans and a white jacket.   
The third snap showed Kourtney kissing her daughter Penelope on the cheek, while the fourth was of her and her husband, Travis Barker, reclining on the floor. In the next shot, the businesswoman struck an amusing pose with her mother, Kris Jenner, whose hand was around her shoulder.
The ensuing one showed her alone, licking an icing-coated finger, while the seventh slide saw her posing with her sister Kim Kardashian and a business partner Simon Huck. As expected, a Kardashian get-together is never complete without some drama.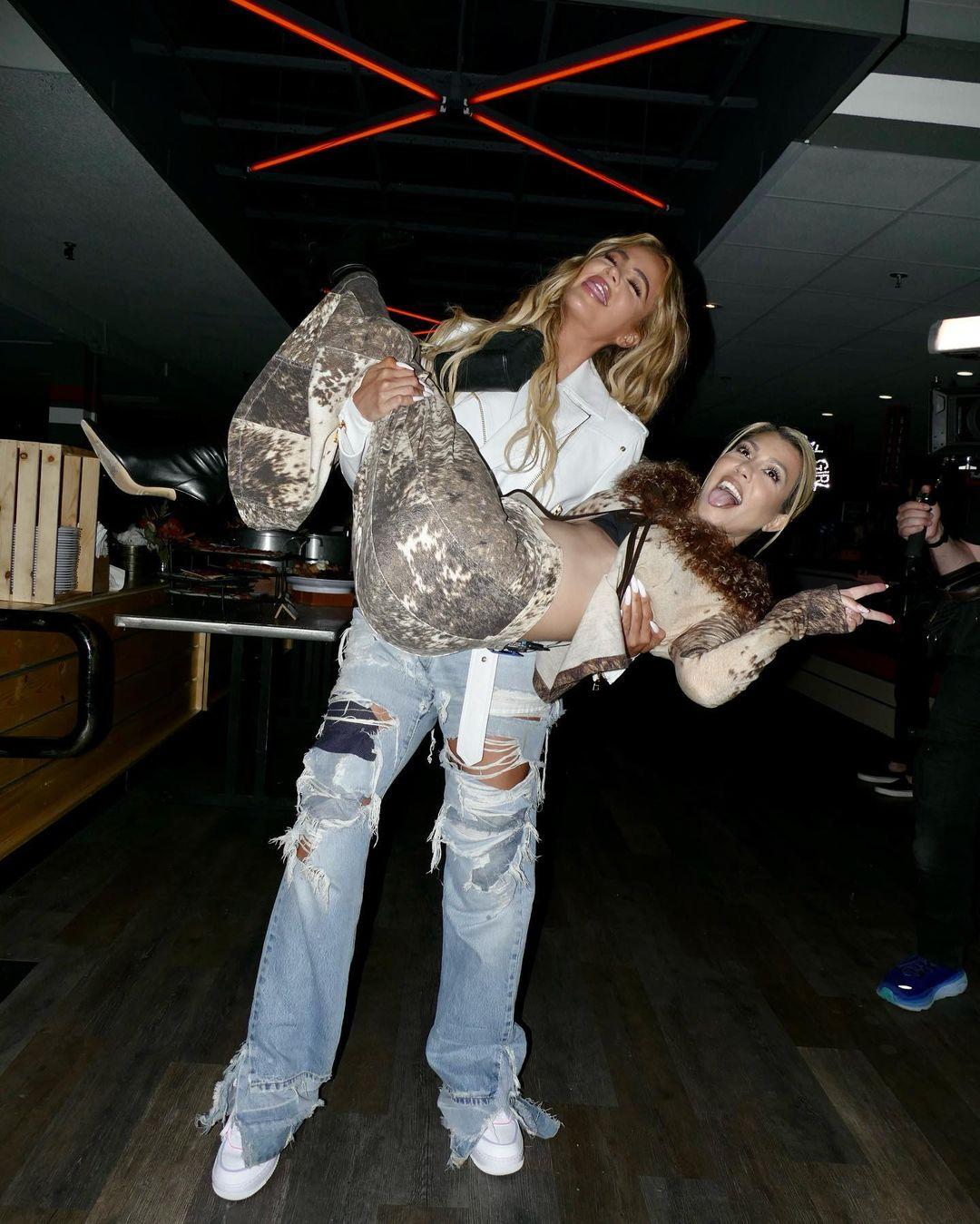 In the final slide, Kim held up a card in the picture, which was zoomed in, revealing a subtle shade directed at the birthday girl. "I'm proud to call you my sister," it read. "Hopefully, this makes up for all the other things I've called you," probably referring to all the explosive feuds they have had on "KUWTK."
In the caption, Kourtney opted for only emojis, signifying the joyous milestone, before many took to the comments to wish her the best in her new age. One of the commenters was an overjoyed Kim, who exclaimed, "I was proud of my card, lol," and her sister replied, "You should be; it's perfect."
Another follower expressed, "Happy birthday, kourt, still one of the most icon [sic] celebrities in the world." Similarly, one wrote, "Happy bday, queen!"
While Kourtney spent some memorable moments with her family for her big day, she also enjoyed an intimate trip to Santa Barbara, California, with her husband. The married duo stayed at the well-known Kennedy Cottage on San Ysidro Ranch, as seen in the pictures on Kourtney's Instagram.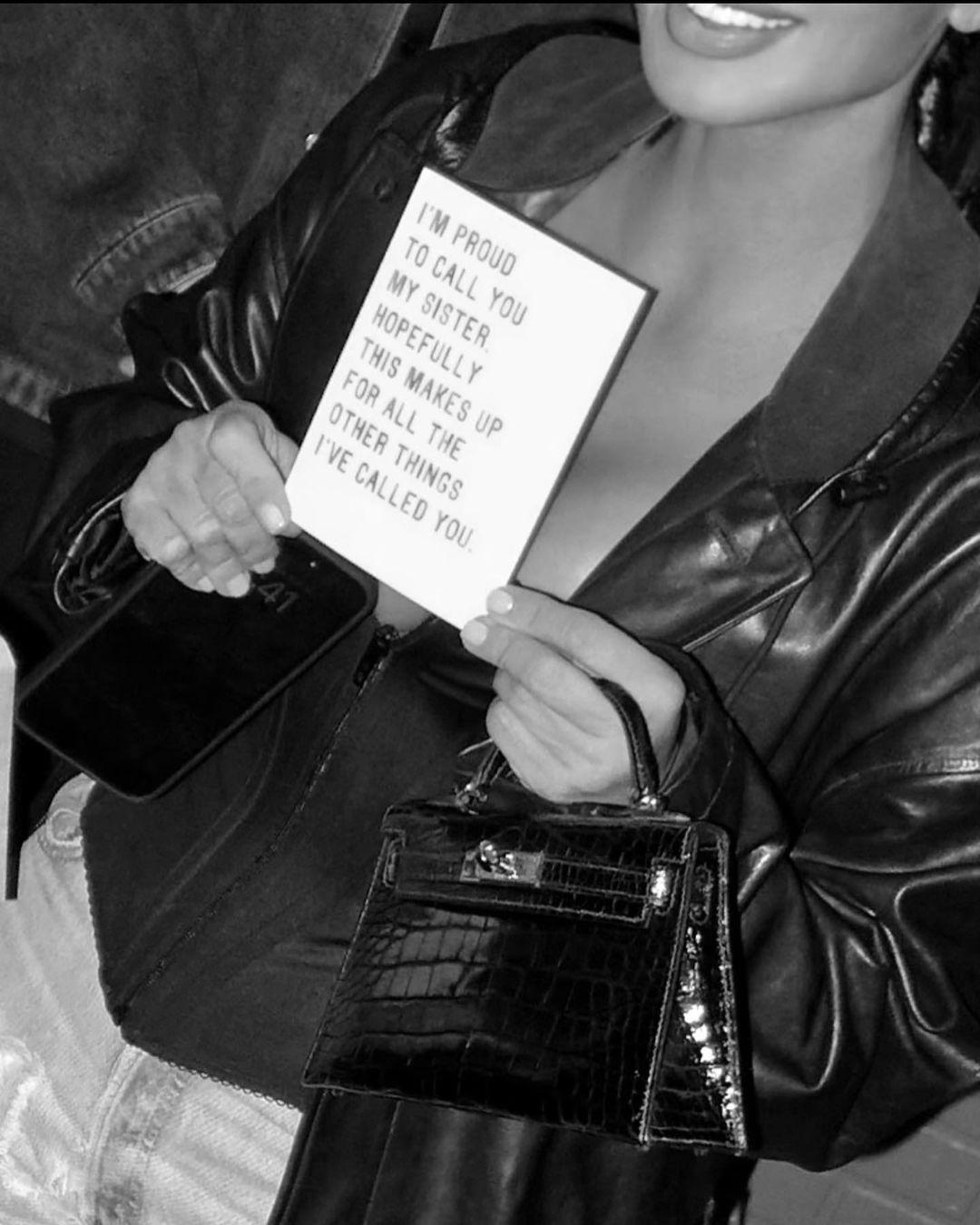 For the big reveal of her day, a snap on Travis' Story showed the "KUWTK" alum opening her birthday gift, a $161,819-worth colored pencil drawing by artist Yoshitomo Nara. The signed artwork, "Love! Somethin'," was exhibited at the Santa Monica Museum of Art in 2000 and recently sold at an April 5 auction.
The Poosh Founder Was Celebrated By Her Husband With A Heartwarming Tribute
Not only did Travis mark his woman's day with a getaway and an expensive gift, but he also shared a heartwarming tribute on social media with several affectionate images detailing their beautiful life behind the scenes.
"My soulmate. I'm so grateful that today you were born," he began. "You deserve everything your heart desires. Nothing makes me happier than seeing you smile."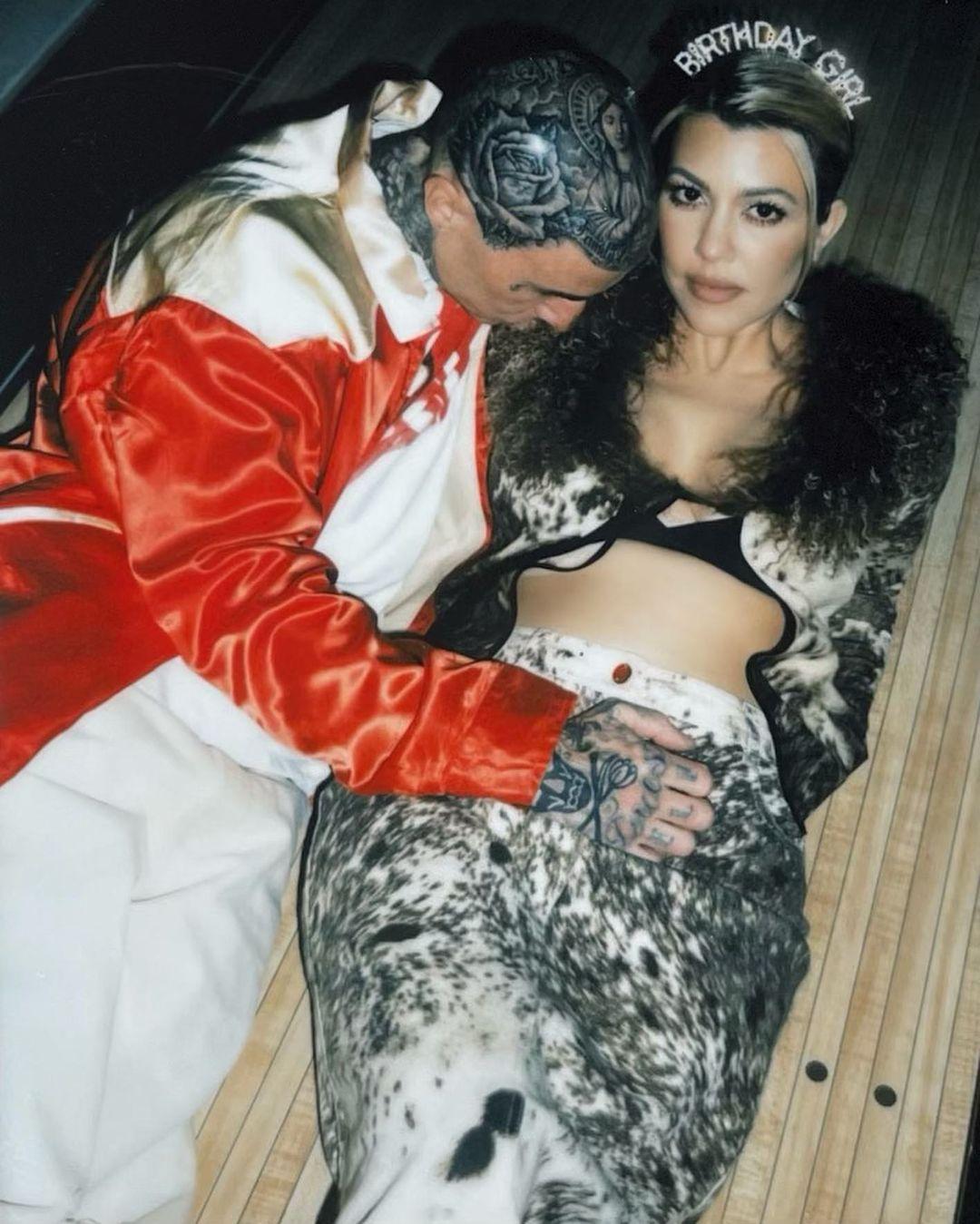 The drummer continued with loving words, confessing that Kourtney stole his heart the moment they met and calling her "the most beautiful amazing woman to walk the face of the earth." He then concluded with "I love you, my wife," which the Lemme founder reacted to with similar adoration. 
The celebrant also received immense love from her sisters, Kim and Khloe. The Good American co-founder led the way, who wrote, "I have loved you before even knowing how to love. I have loved you since the moment we met, and I have only loved you more with each day since."
She further declared that her eldest sibling "will always be one of my best friends/favorite people in this scary world."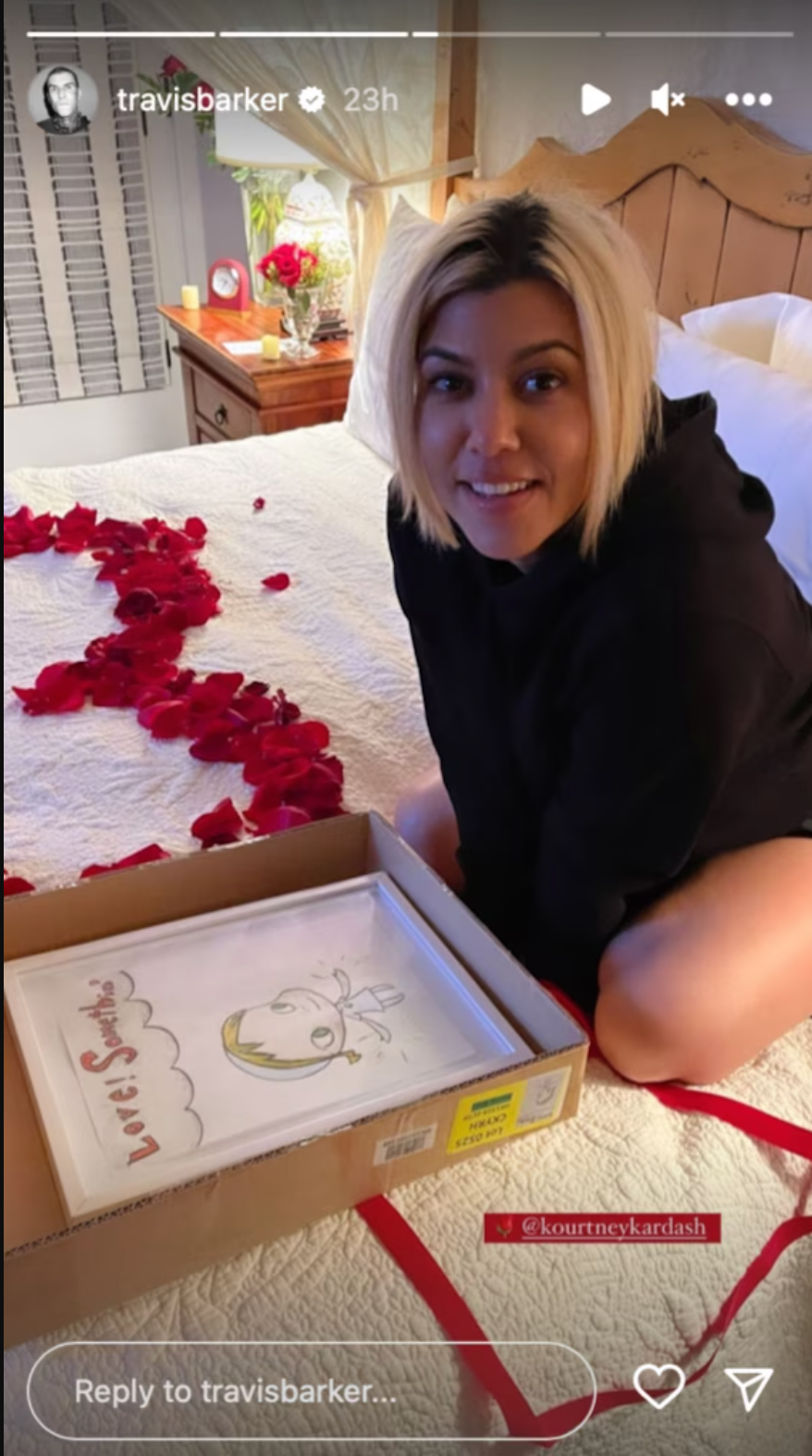 On the other hand, Kim could not compete with the 38-year-old's tribute as she admitted so in her tribute, adding a confession of how deeply she loved Kourtney. She then wished the birthday girl "the most magical of birthdays" before proclaiming she looked forward to making many more memories with the Poosh founder.