"Love Is Blind" star Irina Solomonova has seen all of the memes and jokes and is ready to join in!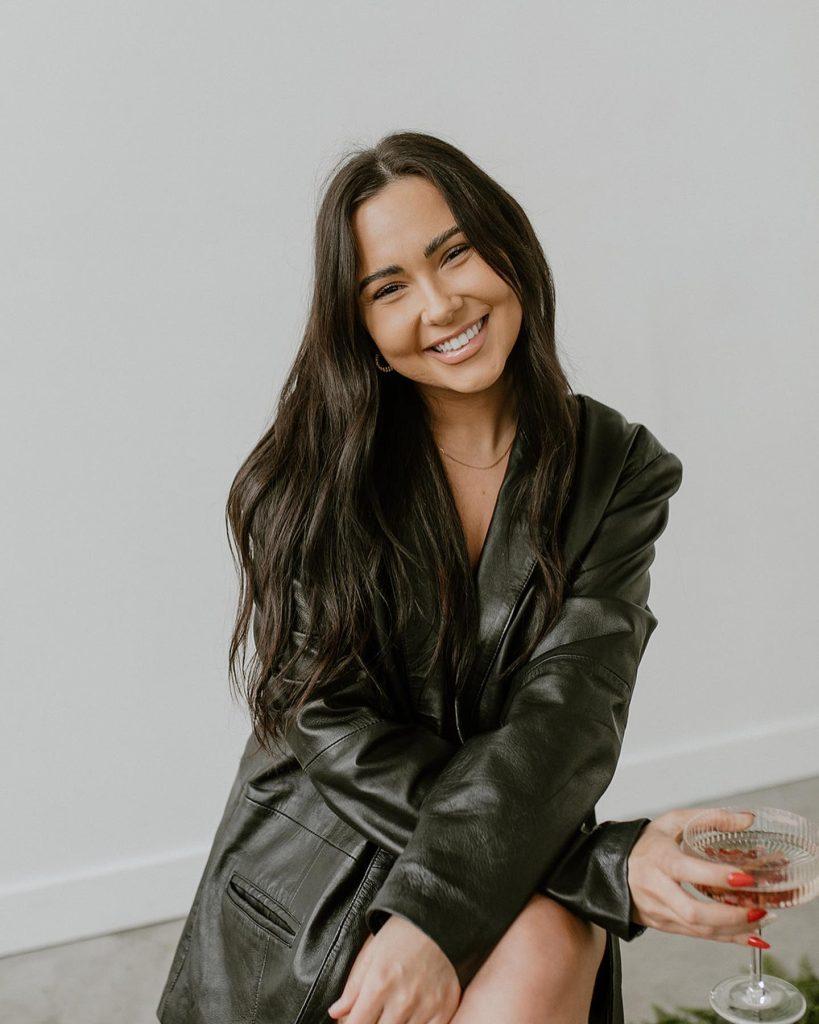 As a contestant on the wildly popular Netflix dating show, the 26-year-old business owner rose to fame and ended up causing a bit of a stir online. Solomonova initially connected in the pods with Zack Gotowski, a 32-year-old criminal defense lawyer.
The duo later called it quits on their relationship while on vacation in Mexico after it became clear they didn't jive with one another. Gotowski later reunited with his other leading lady from the pods, Bliss Poureetezadi.
Apart from her personal life, Solomonova has also become known for her treatment of her castmates. Solomonova and her 'pod-bestie,' Micah Lussier, had become known for blatantly disregarding other women's feelings and general 'mean girl energy' on social media. Both women have since apologized for their behavior.
Angry viewers have also targeted Solomonova's looks on social media, frequently likening her appearance to child actor Steven Anthony Lawrence. Lawrence memorably played the mischievous 'Beans' on Disney Channel's early-aughts hit, "Even Stevens."
The comparison has gained enough traction on Twitter to the point of the character and Solomonova becoming associated search terms.
Inside The 'Beans' Memes: Social Media Compares Solomonova's Looks To Iconic 'Even Stevens' Character
You CANNOT tell me Irina from Love Is Blind season 4 doesn't look JUST like Beans from Even Stevens. pic.twitter.com/DlBsVOAoC2

— Courtney Emerson (@cocoem7) March 28, 2023
A popular Twitter thread, written shortly after season four's release, features several photos of Solomonova and Lawrence side-by-side and has accumulated over seven thousand likes and nearly 700 'likes.'
"You CANNOT tell me, Irina, from 'Love Is Blind' season 4 doesn't look JUST like Beans from Even Stevens," it reads. Several viewers echoed the comparison, responding with photos and memes.
"Irina has the AUDACITY, the NERVE, to tell Zack he looks like a cartoon character when she looks like this," a viewer replied.
"It made me laugh out loud for 10 seconds," another viewer wrote.
"People calling Irina from 'love is blind' 'beans from even Stevens' is one of the wildest dissed [sic] I have ever heard of," another viewer tweeted.
Tweets about Solomonova's on-screen character and behavior have also dominated the app.
"Irina went on and on about how she's excited for 'love is blind' because it gives HER a chance to be heard and not seen for her acne scars and whatnot, and then she went on to be the UGLIEST cast member ever," a viewer weighed in.
"It's so uncomfortable watching this season of 'Love Is Blind,' a viewer shared. "Ugly people have the f***ing audacity to call their partners unattractive. I don't know who lied to Irina and told her she looked good, but she needs a reality check."
Asha Gilbert tweeted, "I'm happy Irina is gone, and a little happy Micah called her out. However, the mean girl tactics Micah used in previous episodes have not left my frontal lobe…"
Solomonova Acknowledges The 'Beans' Comparisons In A TikTok
Solomonova has attempted to take control of her narrative by apologizing for her behavior and acknowledging the discourse over her looks.
She took to TikTok to make light of the conversation, captioning her video, "When you call yourself a bombshell on television but end up looking like beans from 'even Stevens' [upset emoji]." Solomonova added, "beans on a good day," in the TikTok's caption.
Viewers weighed in on her TikTok in the comment section, with Solomonova responding to a hand full of comments.
"I will never forgive you, beans," a follower wrote. "One day at a time," she responded.
"ok, just because Jackie is the newly crowned/confirmed villain doesn't mean we forgive you fully yet, but… girl," a fan wrote. Solomonova replied, "On the way," with an upset emoji.
"Actually, after watching Jackie, I realized you were quite angelic," another follower weighed in, and Solomonova responded with an angel emoji.
"[laughing emojis] way to overcome the negative comments," a viewer said. "Love you. Stay blessed."
"At least you're handling this well. [laughing emojis]," a follower inquired.
After making headlines for a few weeks, Solomonova posted a sit-down video on TikTok and Instagram to address her controversial behavior.
"…I wanted to say to the people who watched the show that felt frustrated, angry, and hurt by the way I mistreated people on the show," Solomonova said in her apology. "It was very immature and naive of me in those situations," she said. (via The Blast)
The live "Love Is Blind" reunion special will air on Netflix Sunday, April 16th.