Brooklyn Beckham is getting the heat on the internet again for his unorthodox cooking method! This time fans roasted the passionate cook after he showed off a new recipe he whipped up in the kitchen.
Beckham, who regularly flaunts his cooking skills on Instagram and never mainly responds to the backlash, took things to a new level with his latest post.
The eldest son of Victoria and David Beckham clapped back at his critics with a solid reason why he used that method. 
Brooklyn Beckham's Questionable Culinary Skills Set Fans Off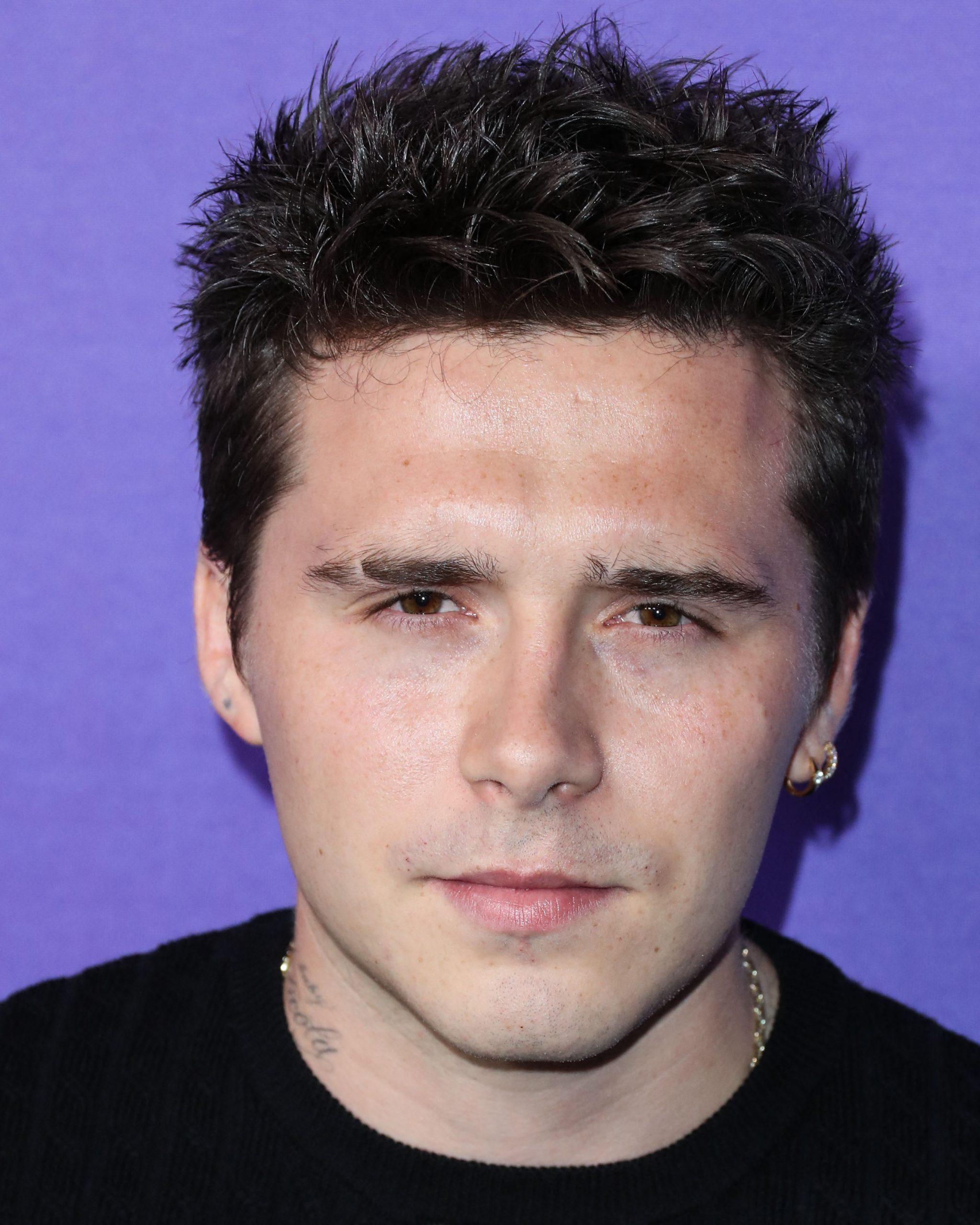 The media personality seemed to have activated his chef mode as he took to the internet to show off one of the memorable meals he made. On his Instagram page, Beckham shared with his 15.1 million followers a picture of the meal he cooked in his exquisite-looking kitchen.
Juggling the role of being a devout father to his new rescue puppy Peanut, who he carried in a baby papoose, Beckham was seen cooking a pot of spaghetti Bolognese in the first slide.
However, seeing a wooden cork seated in the pot alongside the sauce, minced carrots, and other ingredients caught fans' attention in the picture. Additionally, fans couldn't fathom why Beckham carried his tiny pooch near the cooking stove.
Meanwhile, in the second frame, Beckham, who donned an all-black ensemble, appeared to be chilling as he sipped a glass of red wine after cooking his controversial classic dish.
Captioning the post, he wrote, "Daddy day care alongside a red heart emoji." Appalled by the bar, his followers trooped into his comment section to criticize the former model for his cooking style. One questioned, " Are you supposed to cook with the cork in the pot"? Another wrote, "There's a cork in your pot… & dog hair about to join 😮." A third fan quipped, "The cork is the main dish."
One commented, "Oh dear. The unemployable one is playing chef again. I don't think gas, red wine, and a dog will end well."  A rather opinionated fan dropped a lengthy comment, writing, "Well, this looks sad. I wouldn't eat that stew at all because of the dog being close by and the cork in it, so God knows what's going on there in that kitchen.. and searching through social media at the same time he's not staying focused, I wonder if what's wrong and I don't know why Nicole would make fun of him by posting these pictures."
View this post on Instagram

One inquired, "Is that the cork of the same wine inside the pot"??? While another asked a sarcastic question, writing, "What is next for flavor? Wing of the bat, the eye of next, turd of the dog"? "Forget the cork. Why is the dog there? Hairs in the food also could get hurt from the heat of the pan," commented another.
After going through fans' mean remarks on his post, Beckham took to his Instagram Story to hit back at online trolls with a highlighted screen grab that defended his cooking method. The post read, "More research ensued, and we found information that is adding wine corks to the cooking liquid ensured a more tender dish."
Fans Earlier Made Mockery Of Beckham's Fettuccini Alfredo Dish
It appears as though the 24-year-old will never get a break from trolls for his cooking style. Earlier this month, Beckham was subjected to condemnation by fans after showing off the Fettuccini Alfredo dish he made on Instagram.
Captioning the post, he wrote, "Fettuccine Alfredo today with @silk Nextmilk. Made from plants, it tastes like milk and is brilliant in this dish. Who's next? #whosnext #SilkNextmilk #ad."
However, his followers descended on him in the comment section, with one writing, "There is not one thing in this recipe that is Alfredo???? This is a Béchamel. I'm sure it's good, but it is spaghetti in Béchamel, not Alfredo."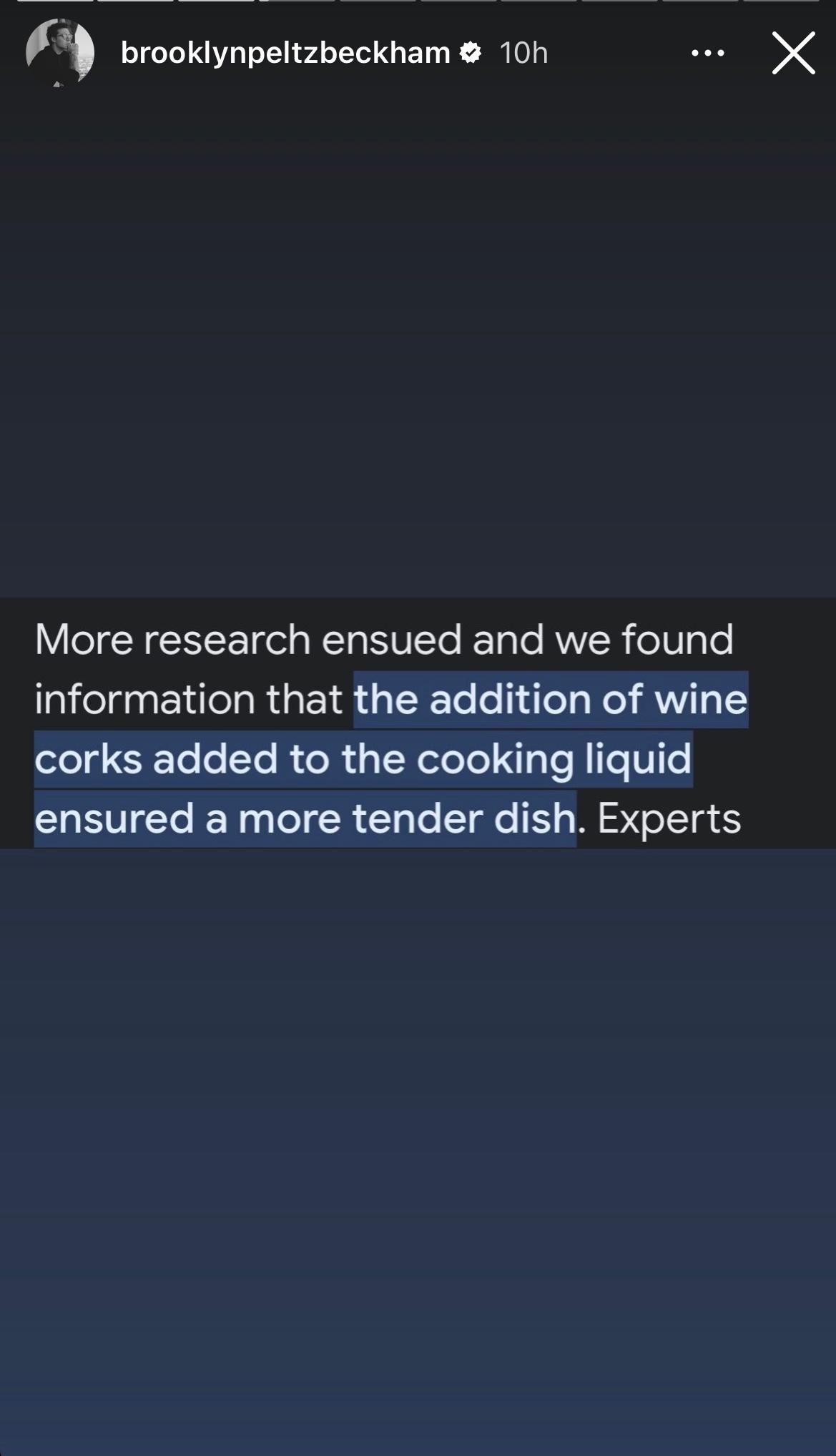 Another commented, "Pretty sure that's 1) not fettuccine and 2) not Alfredo sauce 😂." A third fan wrote, "Fun way to use the product but… Where the fettuccine at (along with the seasoning)."
A rather displeased individual wrote, "No, no, and again no! So many mistakes in only one dish! Please, no!" While one confused follower inquired, "Where's the seasoning? Where's the cheese? Where's all the good stuff? Just milk"?
The London Native Also Got Trolled For His Vegan Lasagna
Notwithstanding Beckham's online criticisms of his cooking career, the former model always seems to keep coming up with something new. Per The Blast, at the beginning of 2023, Beckham received yet another scolding from his followers for an Italian dish he made using his unique method.
The former model shared his recipe for a vegan Lasagna via a cooking tutorial he uploaded on his Instagram. In the video, he chopped up onions, garlic, and aubergine before adding them to a pot with a bag of plant-based meat alternatives and pre-prepared tomato sauce. 
However, after cooking the dish and showing off the finished result, fans came for him in the comment section for not getting the procedure right.