Demi Lovato has a bone to pick with the American Academy of Pediatrics.
The singer shared news that the AAP recently updated their guidelines for treating childhood "obesity."
On Thursday, February 9, Lovato shared a series of posts from The Alliance for Eating Disorders.
Demi Lovato Has Issues With New Childhood "Obesity" Guidelines
Lovato was awarded the "National Alliance for Eating Disorders' Global Changemaker Award" in 2022.
Fans of the "Tell Me You Love Me" singer know she's struggled with an eating disorder throughout a majority of her career.
This is a topic very near, dear and real to Lovato's heart.
The posts from The Alliance for Eating Disorders shared the following news, "The American Academy of Pediatrics recently released new guidelines for treating childhood 'obesity.' These guidelines are extremely harmful, damaging, heartbreaking, and very concerning. They further perpetuate the rampant weight stigma and fatphobia within the medical community and throughout our world. Weight stigma has been shown to lead to bullying, discrimination, and trauma for many individuals, and is also connected to depression, anxiety, substance use, and eating disorders among kids."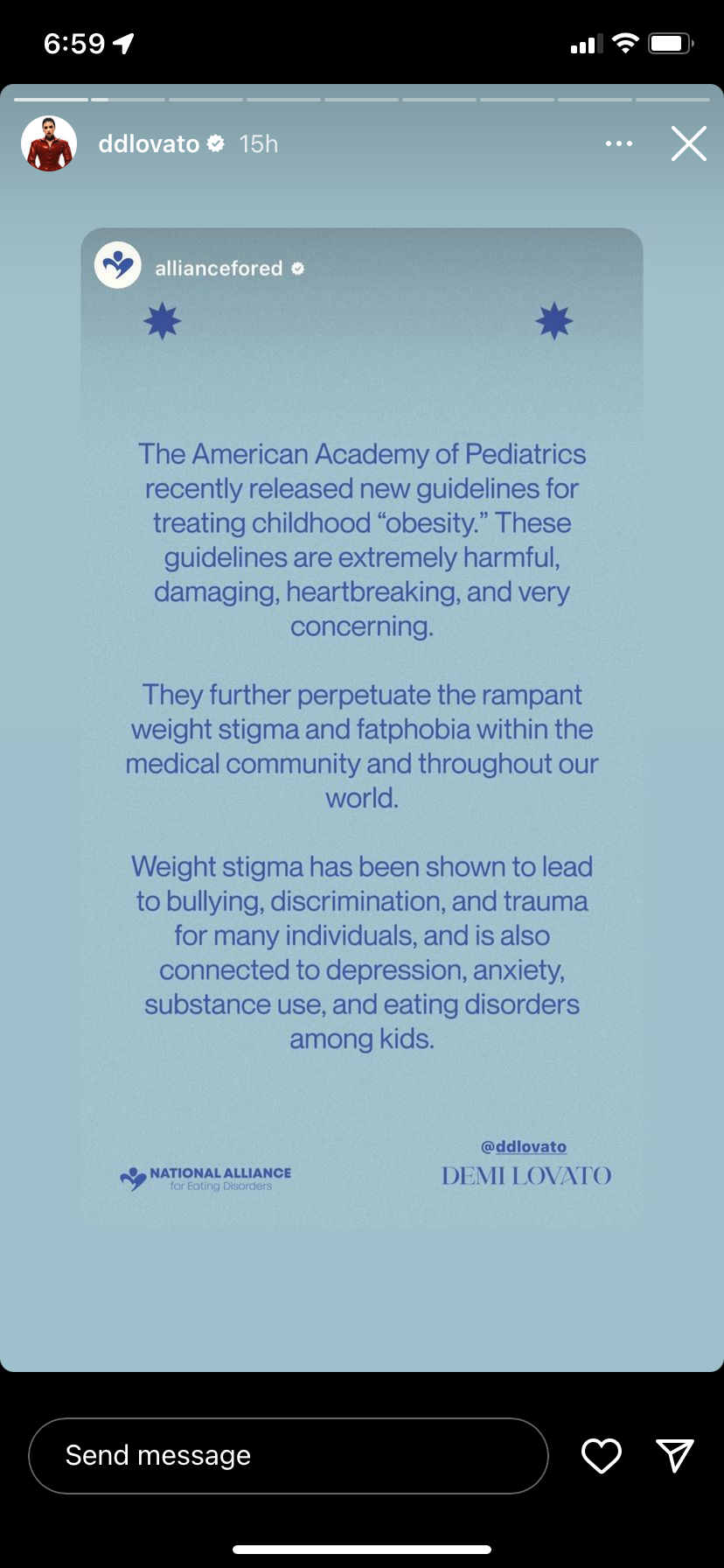 The next slide explained how the AAP guidelines are using Body Mass Index (BMI) as the only criteria for making these recommendations for treating childhood "obesity."
Demi Warns New Guidelines Put Kids & Teens At Serious Risks
"But BMI is totally outdated, and is NOT an accurate measure of health in any circumstances," the post reads. "These guidelines recommend restrictive-based dieting, medication use, and/or bariatric surgery. This puts kids and teens at serious risk for developing eating disorders and other mental and physical health issues."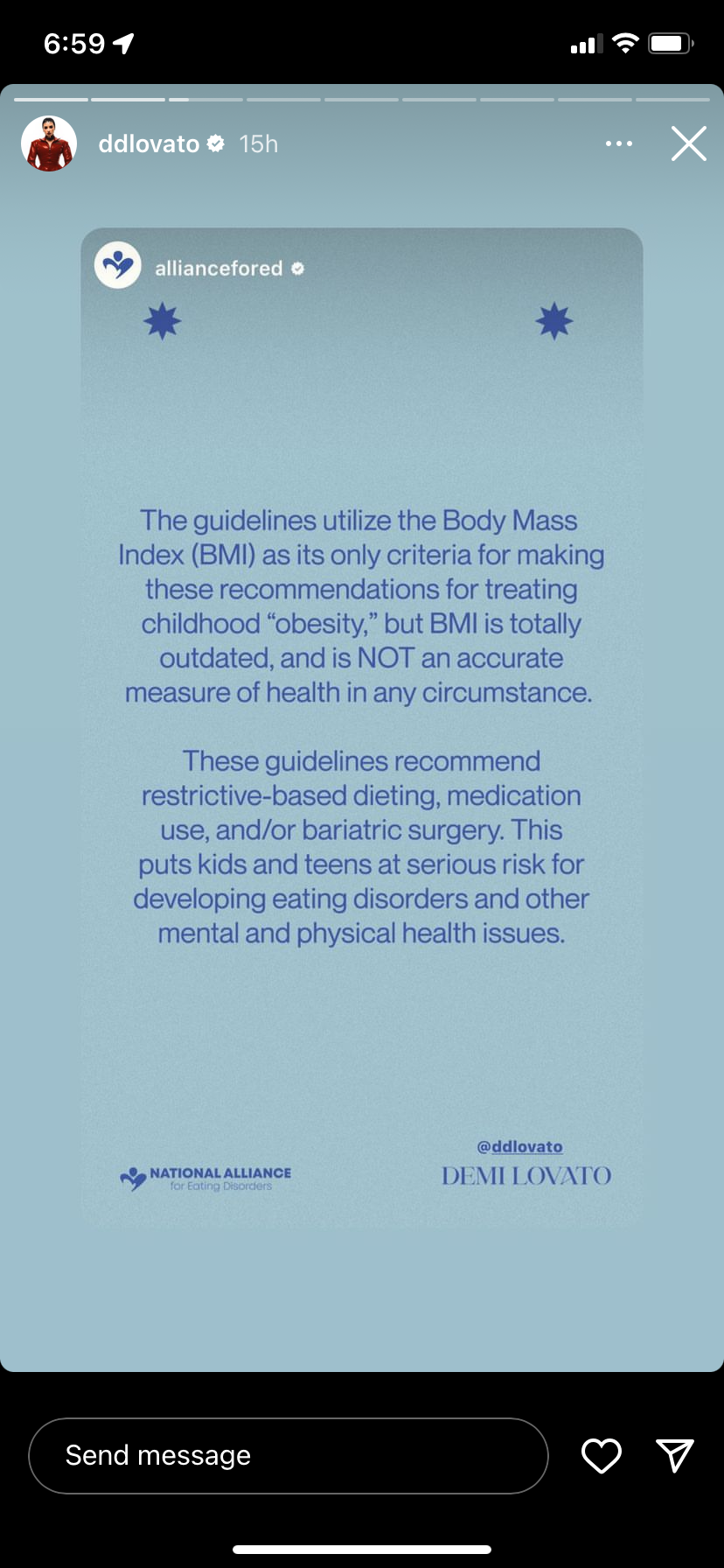 Demi added her input on the update guidelines.
"This is why I need to use my voice. These guidelines will cause harm. I stand firmly with the National Alliance for Eating Disorders to ask the American Academy of Pediatrics to please reconsider these guidelines. Kids deserve better," she added.
During her acceptance speech for the Global Changemaker Award, Lovato explained, "I want to continue creating spaces that shatter the stigma surrounding eating disorders because being seen and understood is the first step in getting the help and support you need. To me not one more means not one more soul has to navigate eating disorders feeling alone. The Not One More is left thinking there is no hope. But not one more life is taken away."
In 2021, Lovato created quite the uproar about a local ice cream shop in Los Angeles for promoting what she considered "diet culture."
The incident went down in April 2021 after Lovato visited the creamery and was confronted with sugar-free options. She felt triggered, left the shop and called them out on social media.
Demi Went Off On The Bigg Chill For Being "Diet Culture Vultures"
At the time she posted, "Finding it extremely hard to order FROYO from The Bigg Chill when you have to walk past tons of sugar free cookies/ other diet foods before you get to the counter. Do better please."
The ice cream shop responded explaining why they have those options writing, "We carry items for Diabetics, Celiac disease, Vegan and of course have many indulgent items as well."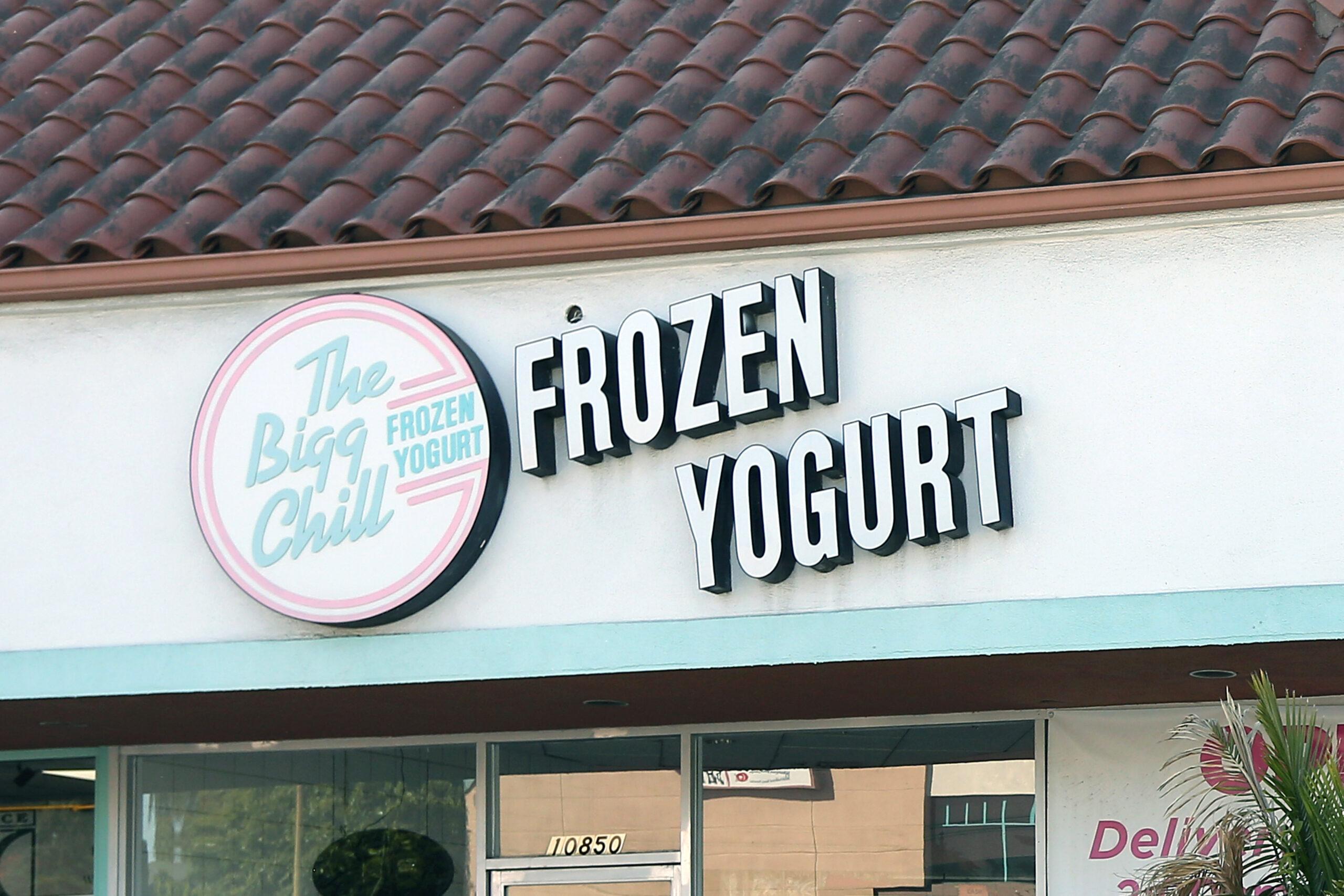 The feud escalated from there with a back-and-forth between Lovato and The Bigg Chill.
Lovato even labeled them "diet culture vultures." Many people came to the ice cream shop's defense, calling her out for trying to ruin a locally owned & operated business during a pandemic.
Now, two months later, Lovato is ready to explain how their passion got the best of them, and how things go "lost in translation."
During her appearance on the "Audacy Check In" on Facebook Live, Lovato told host Ryan Mitchell, "Every time I've made a statement over Instagram or Twitter, I felt like it's gotten lost in translation a little bit."
Lovato continued, "It was me talking about something I was very passionate about pertaining to the diet culture, and I realized that because I was so passionate … I let my emotions get the best of me and it didn't allow me to explain where I was coming from as easily as it would have been on a podcast."
She expressed her desire to have more open and honest conversations.
"I'm by no means an expert on many, many things," they added. "But, I'm willing to learn about it and I'm willing to continue to have conversations that either educate me or others on how to make the world a better place."