The National Football League Players Association (NFLPA) has assured its fan base of Damar Hamlin's return to the field.
The football safety has avoided partaking in his team's games after he collapsed during a showdown between the Buffalo Bills and the Cincinnati Bengals after suffering a cardiac arrest early last month. Now, the NFLPA has honored the player and asked fans to expect him back on the field for Monday Night Football in the near future. 
Damar Hamlin Gets Highest Honor Due To A Football Player
Hamlin had gone down after getting tackled by the Bengals wide receiver, Tee Higgins, during the Monday Night Football game on January 2. What followed was a ten-minute attempt by the medical staff to revive him through CPR.
Once the footballer regained his pulse, he was transported to the University of Cincinnati Medical Center, where he got admitted into the Intensive Care Unit in an ambulance. Hamlin's case was subsequently termed "critical," with speculations about the brain damage he would suffer— if he survived.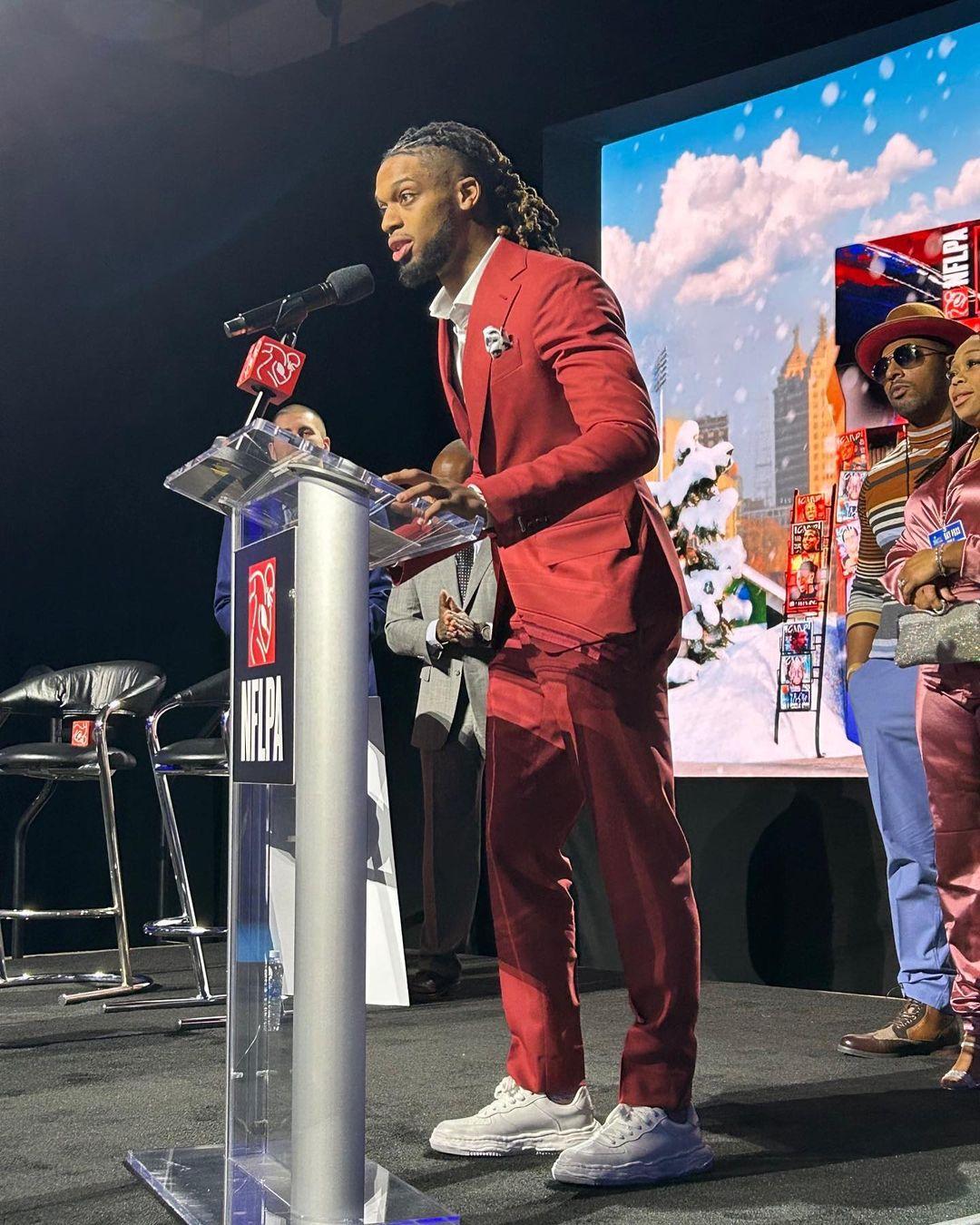 Luckily, he began his slow recovery a week after hospitalization, reigniting hope amongst his loved ones, team players, and fans. After such a strenuous journey that inspired many, the NFLPA has honored Hamlin as the 2023 Alan Page Community Award winner.
According to Marca, the award, which is bestowed on a player who selflessly performs community service in his team, city, or hometown, comes with a $100,000 donation, which Hamlin can give to his foundation or any charity of his choosing. The 24-year-old, who was in attendance to receive the honor during the Super Bowl LVII festivities, said in his acceptance speech:
"Thankful to my father who is right here behind me, growing up and just watching him do community days in our community. I just was always waiting on my time when it came."
It is worth noting here that just before the celebrations, the NFLPA's medical director and union doctor, Dr. Thom Mayer, had guaranteed fans that Hamlin's footballing career was far from finished.
During a conversation with a caller for SiriusXM's "Heart to Heart" program, Mayer had clarified that he did not want issues with HIPAA before stating, "I guarantee you; I guarantee you that Damar Hamlin will play professional football again."
The good news comes nearly a month after Hamlin's discharge from the hospital. The Blast reported at the time that the safety was discharged from the Buffalo General hospital — the second facility he was taken to after his health scare. 
"Damar Hamlin has been discharged from Buffalo General Medical Center/Gates Vascular Institute, a Kaleida Health facility in Buffalo, NY. Hamlin was admitted on Monday and went through a comprehensive medical evaluation as well as a series of cardiac, neurological, and vascular testing on Tuesday," a press release issued by The Bills read.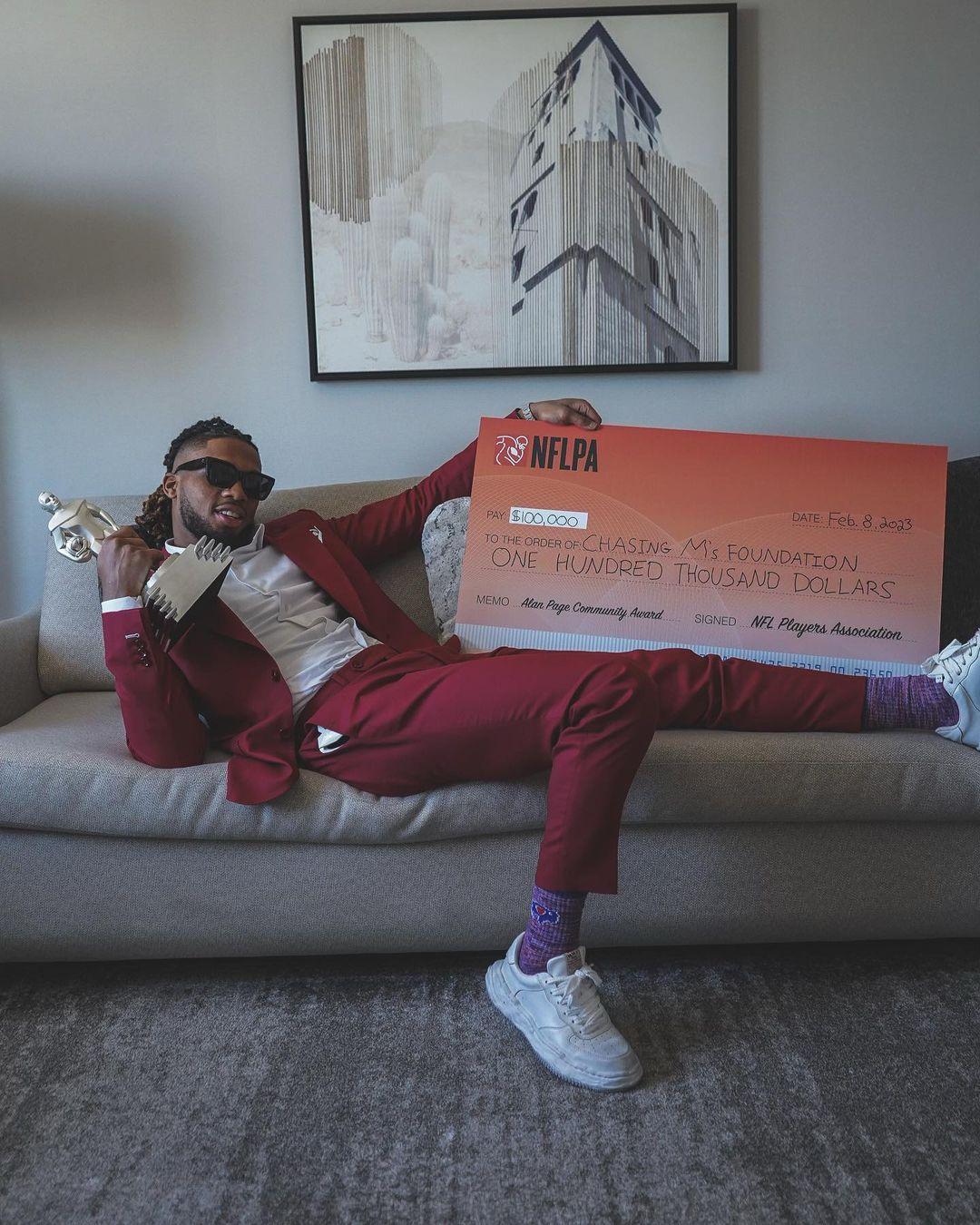 Asides from updating fans on his progress since then, Hamlin also launched a t-shirt series with the phrase "Did we win?" embellished on them. The quote pays tribute to the first words he utters after regaining consciousness following the cardiac arrest.
The Bills Player Supported His Team From A Luxury Hotel Room
The Blast observed last month that Hamlin had shown how far he had come with his recovery when he arrived on the Western New York field just before the rescheduled Bills and Bengals game began. 
In footage released on social media, the injured player is seen arriving at the Bills' facilities, driven by security in a cart. Hamlin maintained a low-key profile, keeping his head down with his dark sunglasses on and a hood covering his head as he hurriedly walked from the security cart into the team's locker room.
His younger brother, Damir, and his mother, Nina, were right behind as the clip showed them walking to join him in the locker room, wearing their number 3 jerseys. 
Even though Hamlin did not go out to the field, fans — referred to as the Bills Mafia — ensured that they acknowledged his presence in the environment with numerous "welcome" signs held up.
He saw all the action from a luxury hotel suite on Highmark Stadium, as seen in a second clip highlighting him and his loved ones inside one of the rooms. A grainy image of Hamlin is seen through heavy sleet of snow before the footage panned to show a fan holding up the sign, "Where else would you rather be…do it for #3."