Model Carly Lawrence is back and better than ever!
Even though the season 2 contestant on the hit Netflix reality series "Too Hot To Handle" hasn't posted much on Instagram over the past few weeks, she is already back in a bikini before the end of January!
In her latest video, the former competitive dancer put on a steamy display as she showed off her new gold chain bikini for her 1.2 million Instagram followers!
Carly Lawrence Can't Stop Tugging On Her Gold Chain Bikini!
In her latest Instagram video, set to the tune of Letherette's "Woop Baby," the Netflix reality star put on a steamy display as she stood outside to show off her gold chain bikini in natural light. The gold bra features two chains on each side that look around her core. The matching thong also has two chains on each side that wrap around her narrow hips.
Carly left her blonde hair long, letting it trail in loose waves past her shoulders. She accessorized her gold chain bikini with a gold chain necklace that perfectly complimented the rest of her outfit. After tugging on the straps of her thong bikini and fluffing out her hair, the scene changes to show Carly standing inside.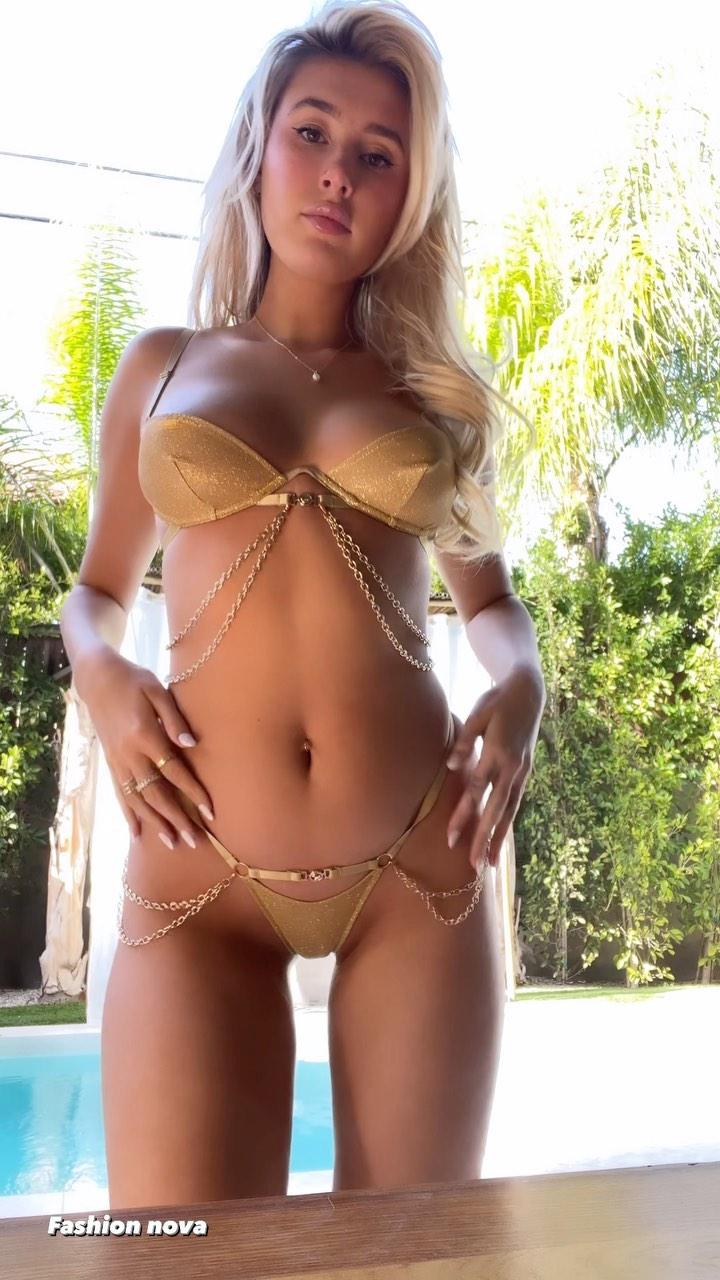 Now she is recording herself standing in front of a black-framed round mirror, holding the phone up in front of her face as she stands with one arm crossed over her body. She adjusts her pose a few times before the scene changes yet again. She's outside yet again, standing beside the pool as she steps in front of the camera to give fans a final look at her gold chain bikini.
In the caption, Carly dropped a single rose emoji and tagged Fashion Nova. In the comments, "Too Hot To Handle" costar Larissa Trownson dropped three fire emojis, prompting Carly to respond with three red heart emojis. Casey Boonstra wrote "Wow" alongside five fire emojis. Carly replied, "ily we're going out this week."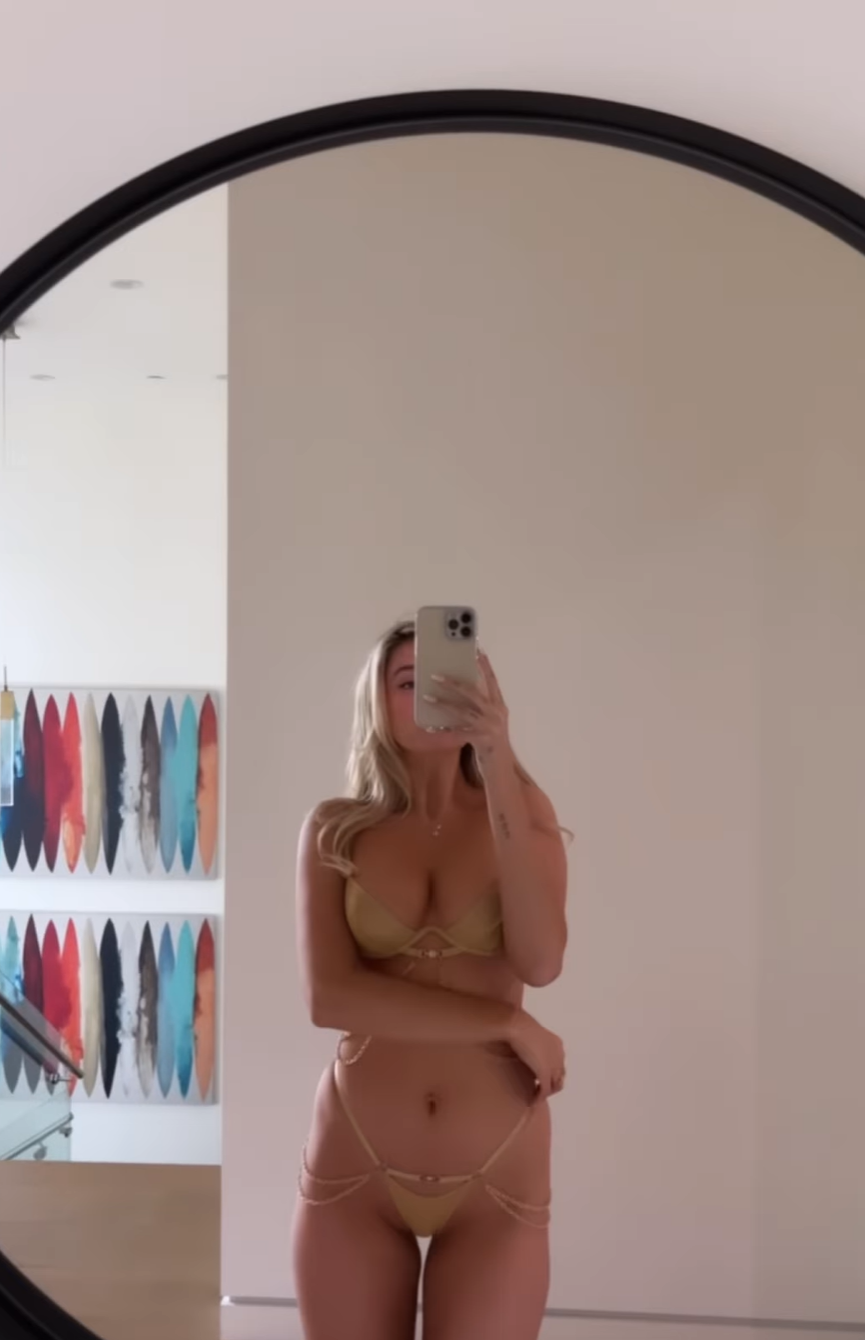 Sports Illustrated Swimsuit Finalist Joely Live dropped two fire emojis, prompting Carly to call her a "bestie." Carly's husband, "Love Island" reality star Bennett Sipes, also dropped three fire emojis in the comments. There were plenty more of those from famous friends and fans alike!
"So hotttt," one fan gushed. "You're perfect," another follower chimed in. "A goddess," a third fan shared. "I love the suit omg," another follower added. "Okayyyy boo pop off," another fan commented. "We need to see it from the back to be able to buy it," another follower wrote, although some fans probably just wanted to see a shot of her sunned buns!
Fans Just Love To See Carly's Lingerie Videos!
In another Instagram post shared right before Christmas, set to the tune of Ariana Grande's "Santa Tell Me," Carly asked her followers, "Kiss me under the mistletoe?" as she shared a video that featured her wearing several different lingerie sets in front of the mirror.
Fans couldn't get enough of the steamy video, which Joely Live covered in heart-eye emojis. "I'm hitting the like button again and again," one fan commented. "GORGEOUS," another follower exclaimed. "I need all of these sets," a third fan agreed.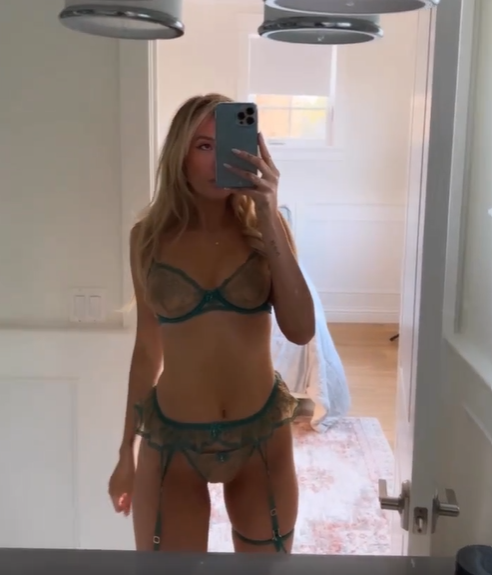 "You are the only thing I want in this life," another follower wrote. "The last one with your skin tone," another fan shared. "I would love to have you as my present and unwrap you," another follower teased. "You are smoking hot and gorgeous, sexy," another fan added.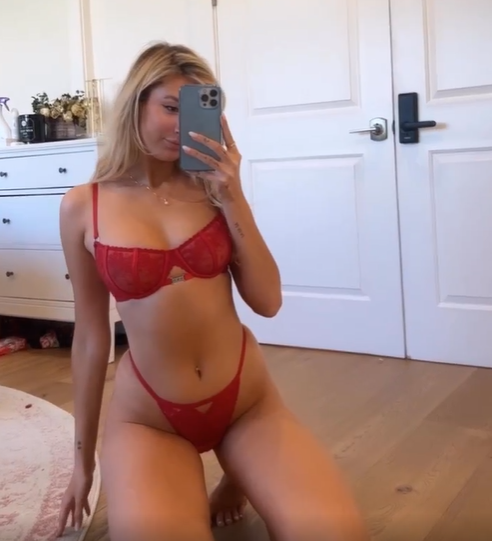 "Your beautiful and one of my top favs on THTH… I love your confidence!" another follower shared, although it seems not everyone felt the same way! "Your season on THTH was the worse one yet, you should have won and they should have at least had a reunion for you," another fan chimed in.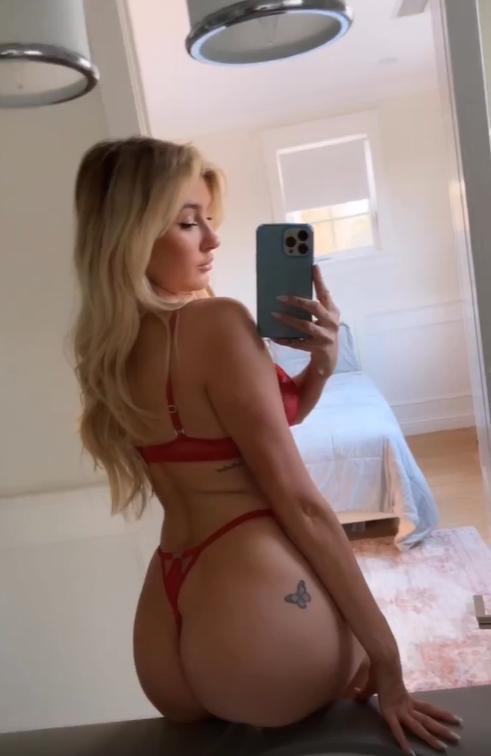 Interested in more Carly Lawrence content? Fans just can't get enough of the "Too Hot To Handle" hottie! In another recent Instagram post, the Netflix reality star put on a very busty display in her animal-print lingerie, letting her bra straps slip right off her shoulders! Fans can check out those steamy snaps by clicking here!