A dog walking and training service in Alaska has a unique way of picking up the pups to go on group walks and little field trips. Mo Mountain Mutts, based out of Skagway, Alaska, picks the pups up in a little white bus as if they are going on a field trip or to school.
Dogs Board A Minibus To Go On Group Walks With Mo Mountain Mutts
According to My Modern Met, the husband-and-wife team of Mo and Lee Thompson pick up the pups, also known as their clients, buckle them into their seats and drive them to have group walks, socialize, and play.
The company posted their first TikTok video back in August 2021 showing Mo walking multiple dogs. In the comment section, they explain that the dogs that go on the bus and for these walks have special training to be able to do so. They have since posted many more videos showing the dogs getting on the bus and going out for adventures.
In one of the most recently uploaded videos on TikTok, viewers get to witness the adorable process of the dogs being picked up by the bus. As each pup enters the bus, the driver welcomes them by their name before they take their seats, gets buckled in for safety and then the bus moves on to pick up the next excited dog.
The video quickly went viral with more than 30 million views and 5 million likes in just one day.  One viewer noted the irony of the pups being picked up by the bus saying, "They look like the really going to school.,,everyone quiet and tired😂😂😂" Another viewer added, "Aww I love how all the doggos greet each other. 🤭🥺" And one other person commented, "They're all so happy to see their buddies getting on the bus!!!! This makes me smile."
The Pups Are Just Like School Children Heading To School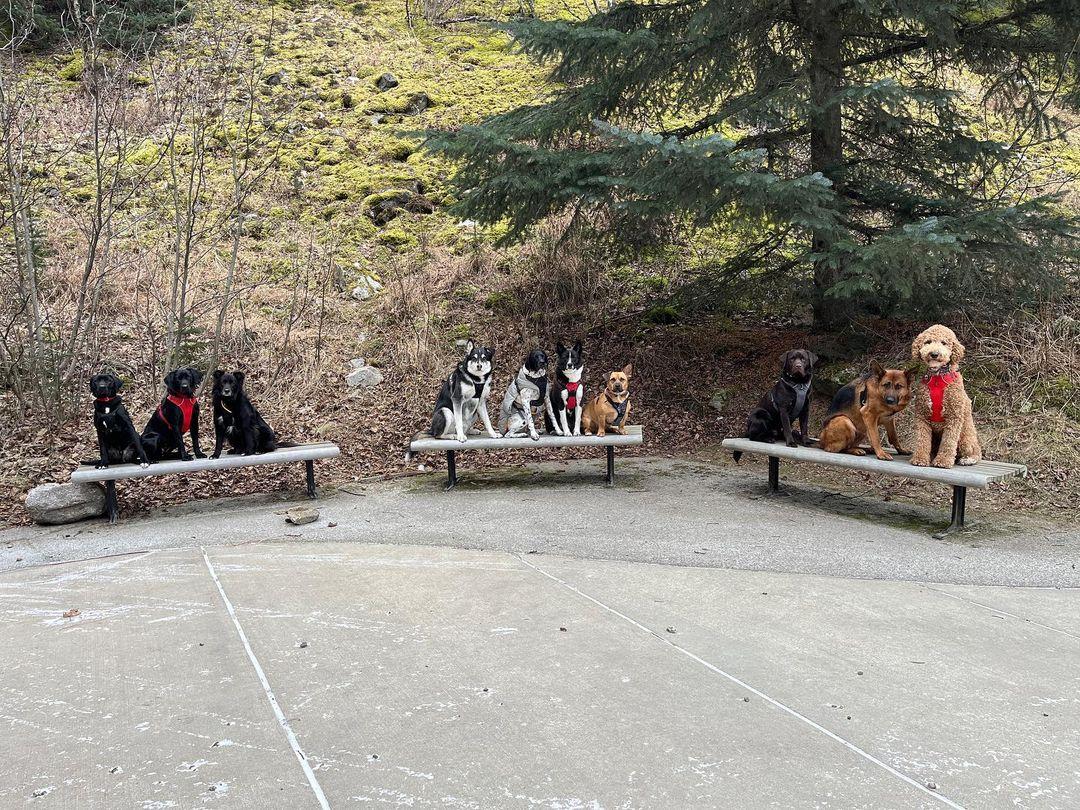 One of Mo Mountain Mutts' TikTok videos shows just how similar the pups can be to children on their way to school playfully messing around. "Yarrow and Otis have a special bond," the cute video is captioned.
One viewer pointed out, "Yarrow is like "a little help over here, please." 😂😂😂" Another added, "They aren't stuck, they're just cuddling. 😌" Another viewer asked, "Do the dogs pick their seat buddy?" to which Mo Mountain Mutts responded, "I have assigned seating."
Fans Can Purchase Calendars Featuring The TikTok Famous Dogs
Mo Mountain Mutts takes lots of snaps of their adorable bus passengers that they share on their Instagram page, as well as in a calendar that fans can purchase. "Wow, I can't believe it's December already. I'm gonna need a new calendar," Mo says in a video shared on TikTok. The calendar is full of sweet pup photos taken by Mo and Lee and can be purchased on their website.