Olivia Culpo/Instagram
Olivia Culpo is now being asked if getting her shorts on today was a struggle. The 29-year-old Sports Illustrated model whose jaw-dropping body is back on the cover of the iconic magazine this summer has appeared in two new photos posted to her Instagram.
Olivia, followed by 4.7 million and adored for everything from the Insta-perfect fashion to the PDAs with NFL player boyfriend Christian McCaffrey had – it would seem – set a new record for the skin-tight and wet-effect trend. Scroll for the photos.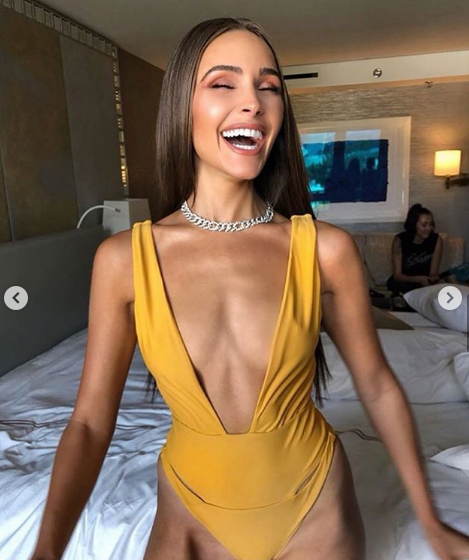 Olivia Culpo/Instagram
Olivia's photos, seen below, showed her outdoors, by her vehicle, and holding pet pooch Olivier Sprinkles. The Rhode Island native had set out to promote her More Than A Mask brand – she was wearing a black model and had dedicated her caption to the range, but one wardrobe item was standing out.
Olivia had the ab-flash. Her cropped black sweater matched her mask amid pops of pink from a chain-hung shoulder bag. The standout feature, however, proved to be a pair of faux leather-effect, glossy, and beyond-tight shorts. Scroll for the reactions.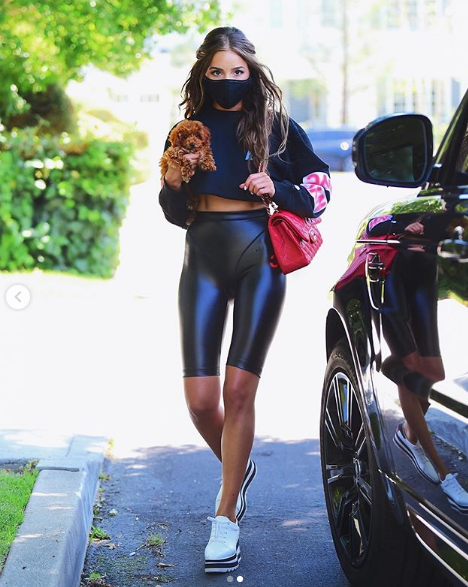 Olivia Culpo/Instagram
A caption from Olivia – seemingly unnoticed by many – read: "@morethanamask now available at @express ❤️? one mask purchased provides 100 meals to those in need through @feedingamerica. Swipe up in my stories to purchase."
Fans have been commenting. The isolated follower throwing out a "camel toe" reply had their thoughts echoed by another user, but the response was largely one wowed platform.
"Holyyyy those look like they might've been hard to put on ??," one user wrote. "Omg these biker shorts are no joke," another added. Scroll for the pig and bikini shot.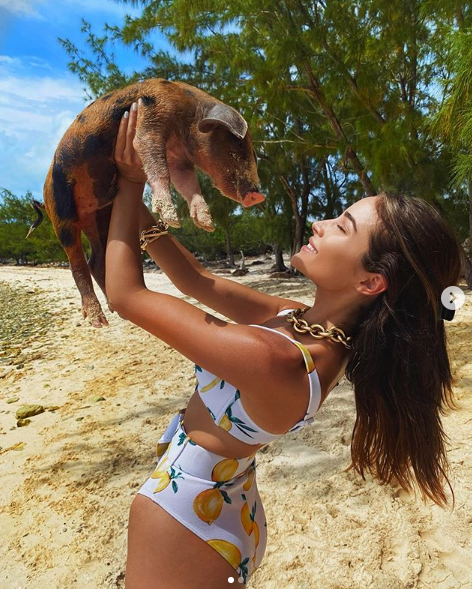 Olivia Culpo/Instagram
Olivia is fresh from a sun-drenched vacation in The Bahamas, where the Exuma region is known for its freely-wandering pigs. The "Model Suad" star made the most of the shorefront wildlife for her July 8 update, seen in a $363 lemon-print bikini from Alexandra Miro. As The Blast reported, fans told Olivia that "bacon never looked so good."
Olivia packed on the bikini snaps from her travels, then making headlines as boyfriend Christian shot her in the couple's L.A. backyard for Olivia's Vogue India cover. More below.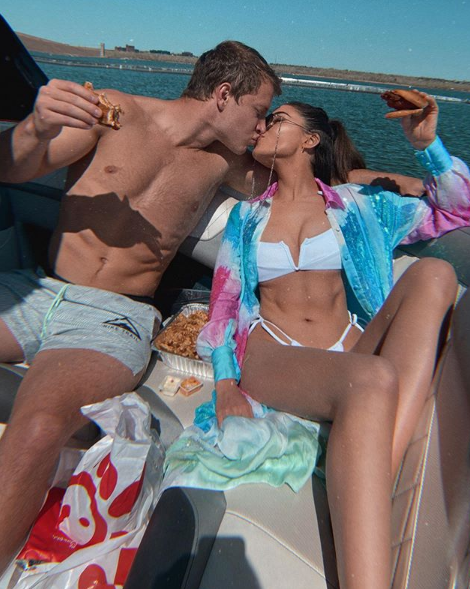 Olivia Culpo/Instagram
Olivia, who started dating football running back McCaffrey in summer 2019, has been keeping Instagram updated on her whirlwind relationship. Prior to dating the NFL star, the model was in a relationship with another NFL player – Danny Amendola.
Earlier this month, Culpo and her man near shut-down IG with a kissing boat photo that featured a chicken sandwich from Chick-Fil-A. "You had me at fried chicken sandwich," Olivia captioned her photo. Christian's mom Lisa even swooped into the comments, telling the couple to "get a room."