Chrissy Teigen's daughter is following in her footsteps!
Fans know that the 37-year-old is a genius when it comes to cooking. And thankfully, the cookbook author has shared her mouth-watering recipes with her fans. 
Not only has she shared her cooking skills with her fans, but she has also imparted that part of herself to her daughter Luna whom she shares with legendary singer John Legend.
Recently, fans saw Luna's chef skills in a recent video from Teigen, proving that she's truly her mother's daughter.
Chrissy Teigen's Daughter Luna Showcased Her Cooking Skills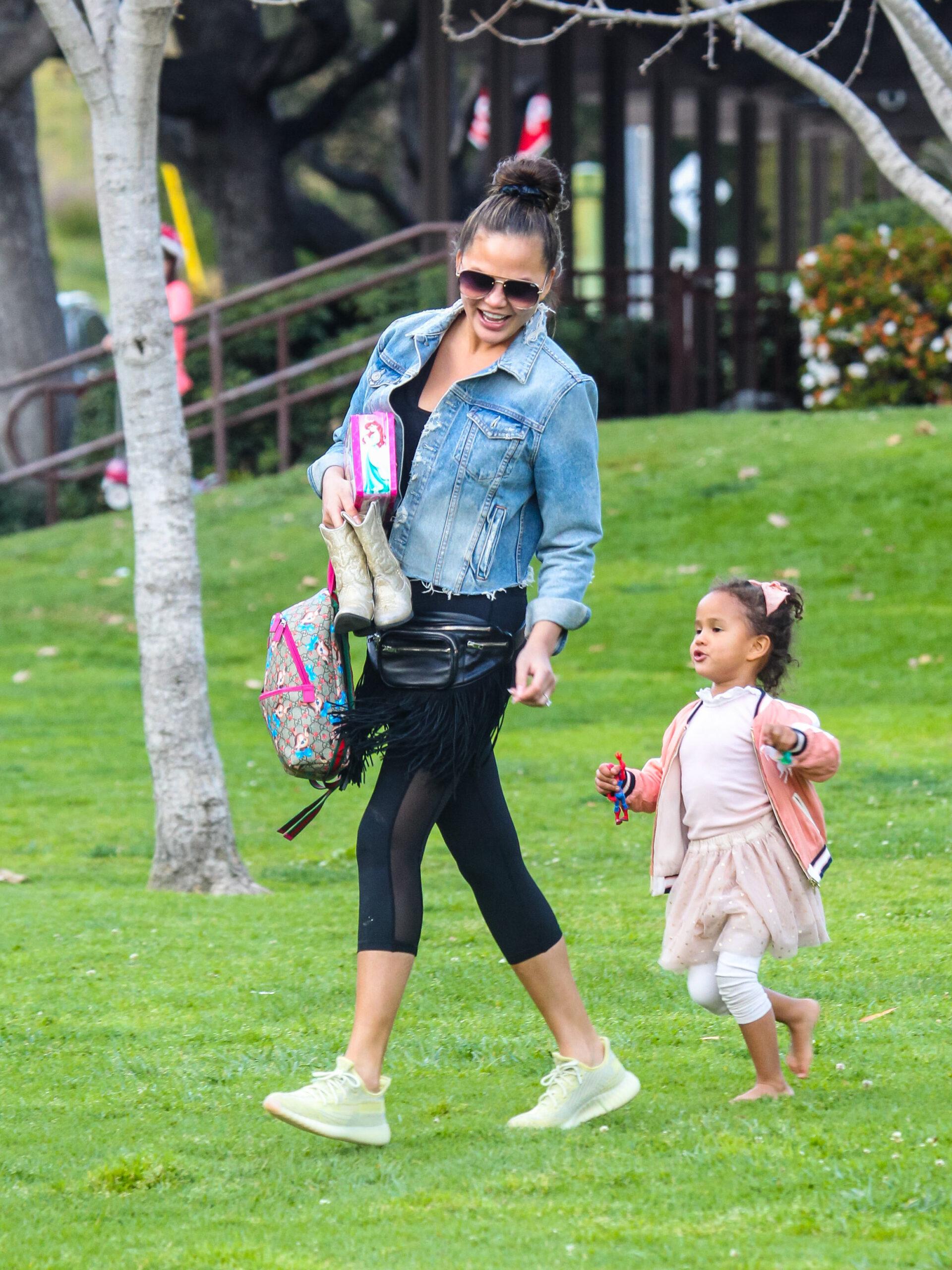 Little Luna was in high spirits as she decided to give her pregnant mother a delicious treat. Although her followers didn't get to see how the 6- year old began preparing the treat, they saw the fantastic result.
Luna sweetly presented a platter filled with an assortment of fruits to her mother, who was overwhelmed with the love she received from her daughter. 
Taking to her Instagram Story to let fans in on the thoughtful act from her daughter, the tv personality posted a clip of the lovely fruit platter. It contained an arrangement of strawberries, blackberries, and sliced bananas. Teigen couldn't help but gush about the beautiful act, saying, "It's amazing."
That wasn't all, as Teigen and Legend's first daughter was really in the cooking mood as she further took to preparing ingredients for another meal. 
The proud mom shared the moment when her daughter was cutting out the stalks of green beans. Luna was excited as she dutifully did the chore while chatting with Teigen, who watched on in pure adoration of the little one. 
Much more than showing off her culinary skills, Luna proved she was her mother's little helper as she gave the "Lip Sync Battle" co-host a relaxing massage in another video update. The 6-year-old was concentrated on working her mother's shoulders while Teigen couldn't help but make adorable faces because of how touched she was by the gesture.
Chrissy Teigen And John Legend's Son Doesn't Know A Flip Phone!
While anticipating the arrival of their new baby, the adorable couple continues to spend quality time with their two kids. One such time was when the family of four had a game night which the model documented on her Instagram stories.
As we previously reported, the family kept busy playing the "Jeepers Peepers" educational learning game. The game consists of players wearing a pair of plastic glasses with a flash card containing some person, place, or thing. It is now the task of the player wearing the glasses to ask questions of their teammate/s to figure out what object is on their card.
When it got to Miles' turn, he had quite a hard time figuring out what a 90's flip phone was, and it was so not his thing. He made guesses like a house, a lamp, and a continent, but they were all wrong.
His older sister tried to help him by giving him clues, but the rule of the game was that he had to ask questions. 
It was the "All of me" singer's turn, and his flashcard showed a banana. Taking several guesses, he asked, "We have in this house?" and his 4-year-old responded, "Yes!"
"Am I an electric device?" the EGOT winner questioned. This time, the answer was "No." On another try, the singer still didn't get it.
Inside The Hilarious Sibling Rivalry In The Legend Family
Like every family has siblings fighting, Teigen and Legend's family is no exception. In a previous report, the Sports Illustrated model shared a hilarious video that gave a glimpse of the drama that went down in her house between Luna and Miles. 
In the video, the six-year-old donned two-piece floral pajamas and was spotted applying something on the door handle.
The curious cookbook author approached Luna and asked, "What are you doing, Luna?" the school-aged kid eagerly replied, still focused on the task. She said, "Tryna make a trick just in case he tries to get in. He's gonna catch a soapy soapy door." 
"Is that a lotion – a soap?" Teigen asked curiously while her daughter confirmed her latter guess, saying, "It's soap, he's gonna catch a soapy soapy door." 
The mom-of-two then showed that her daughter had gone the extra mile, intending to keep her brother out of her room. Luna had attached to the front of her door a picture of Miles with a no-entry sign printed across his face.
Captioning the post, Teigen wrote, "Luna has had it with Miles getting to crawl into other people's beds in the middle of the night!"
After watching the video, followers of the chef had things to say. One wrote, "As a fellow oldest sibling… I salute you, Luna! 👏❤," while another remarked, "Sis got pranks and consequences🤣🤣."