Travis Scott and Kylie Jenner's relationship is being put to the honesty test.
Over the weekend, the rapper issued a statement negating headlines that claim he's cheating on the mother of his two children.
Did Travis Get Caught Cheating On Kylie???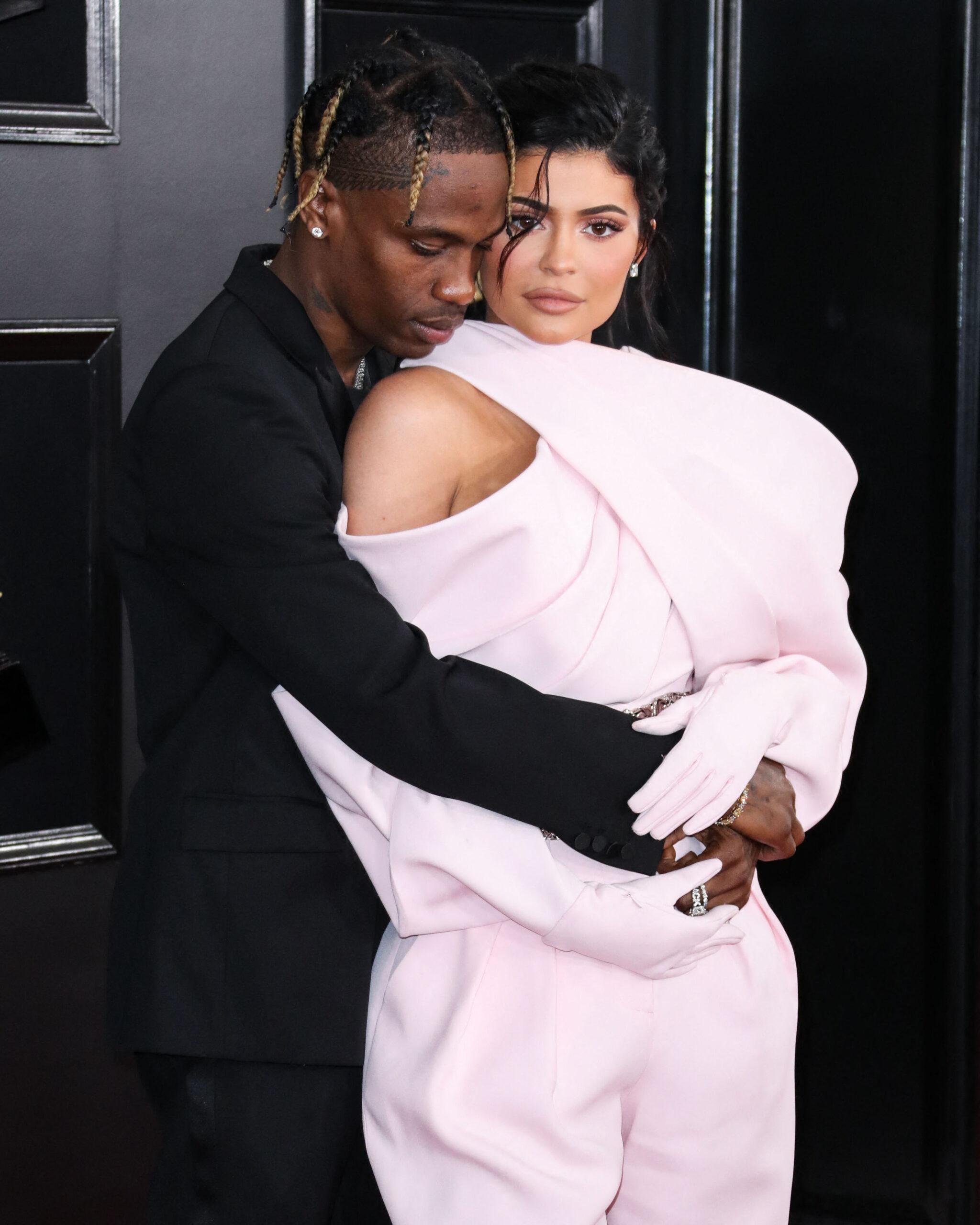 It all started when his rumored ex-girlfriend/fling, Rojean Kar, shared a behind-the-scenes photo from a music video shoot which Travis was directing.
He wrote on his Instagram Story, "It's a lot of weird s**t going on. An uninvited person was sneaking photos on what was supposed to be a closed set while I was directing a video. I'm saying this for the last time. I don't know this person. I've never been with this person, so please stop with the continuous cyber games and the fictional storytelling.
Rojean actually shared it to her own Instagram Story over the weekend.
Travis Scott Claims To Not Know Rojean Kar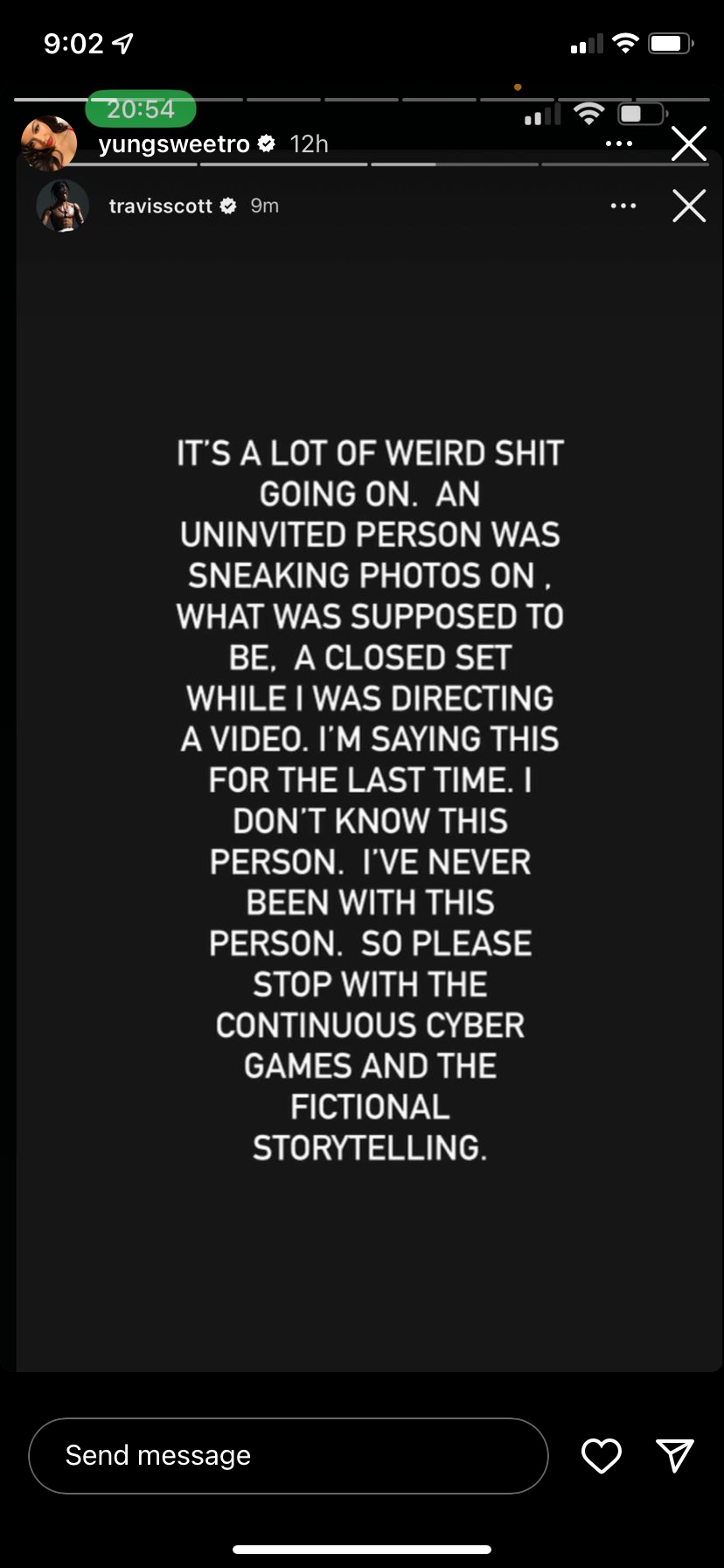 However, she shared his Story to make a point, because she followed it up with a lengthy video.
In the video she put Travis on blast, and later trolled Kylie on her Instagram profile.
"Okay, so what we're not gonna do is we're not gonna lie on me, because I've been good," Rojean started off. "But to say you don't know me, you've never been with me when you've definitely been with me, everybody's seen you with me, when I have pictures and videos of you with me… come on. Come on, sir."
Rojean Says They've Definitely Been Together
View this post on Instagram
She even claimed to have seen the "Sicko Mode" rapper this past Valentine's Day. She said she ran out the door, and Travis had "every girl single girl I Know blowing me up, like, 'Trav's asking for you, come back.'"
"Are we gonna pretend that didn't happen too? Like, come on. You cheat on that b**ch every single f**king night. The whole f**king city sees it. Don't do this" she continued.
Travis seemingly shut down this claim by sharing a photo from Valentine's Day to his IG Story on Sunday, October 23rd.
He captioned the photo, "If u wasn't at this table on V day then u wasn't with me 🙄🙄🙄🙄."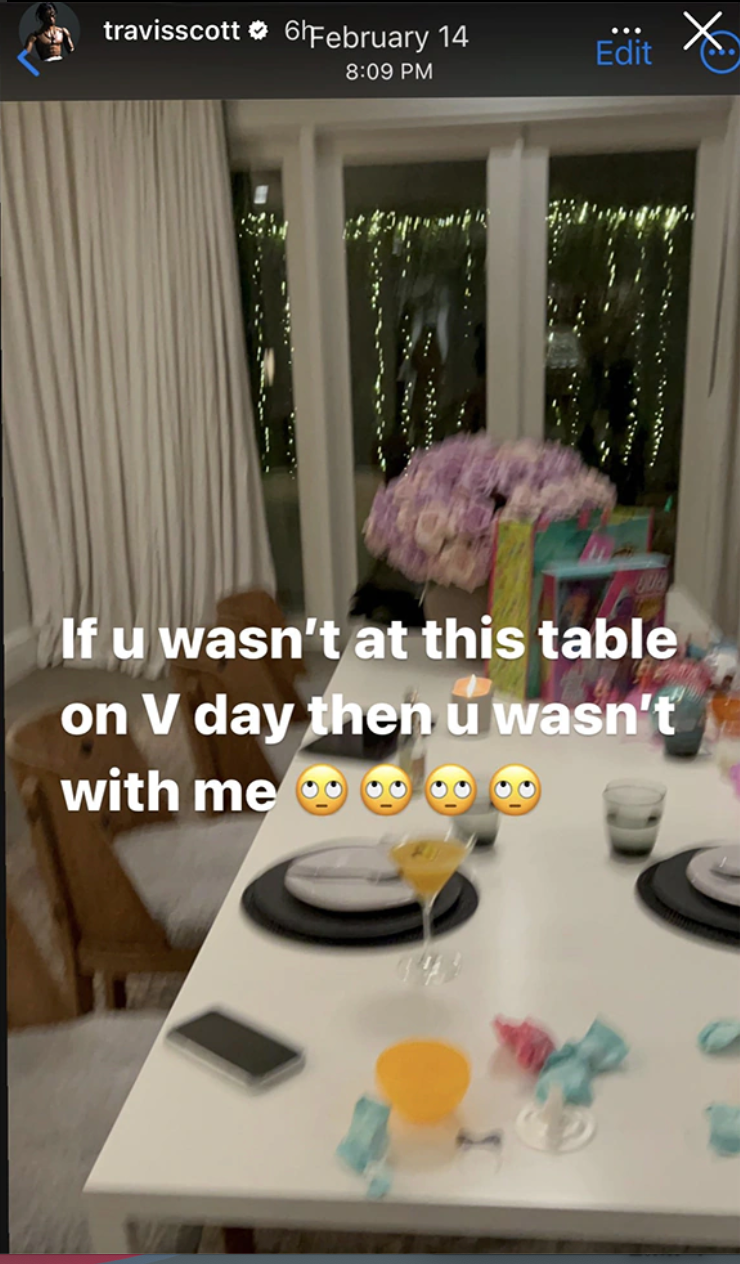 She shot back at his claims he was at a certain place on February 14th by sharing a text message thread between her and someone else along with a picture of Travis.
She wrote, "Maybe your brain is all scrambled from like all the Molly you take.. but you was at Gunna's party on Feb 14th aka Valentine's Day 😂."
Rojean Brought Receipts!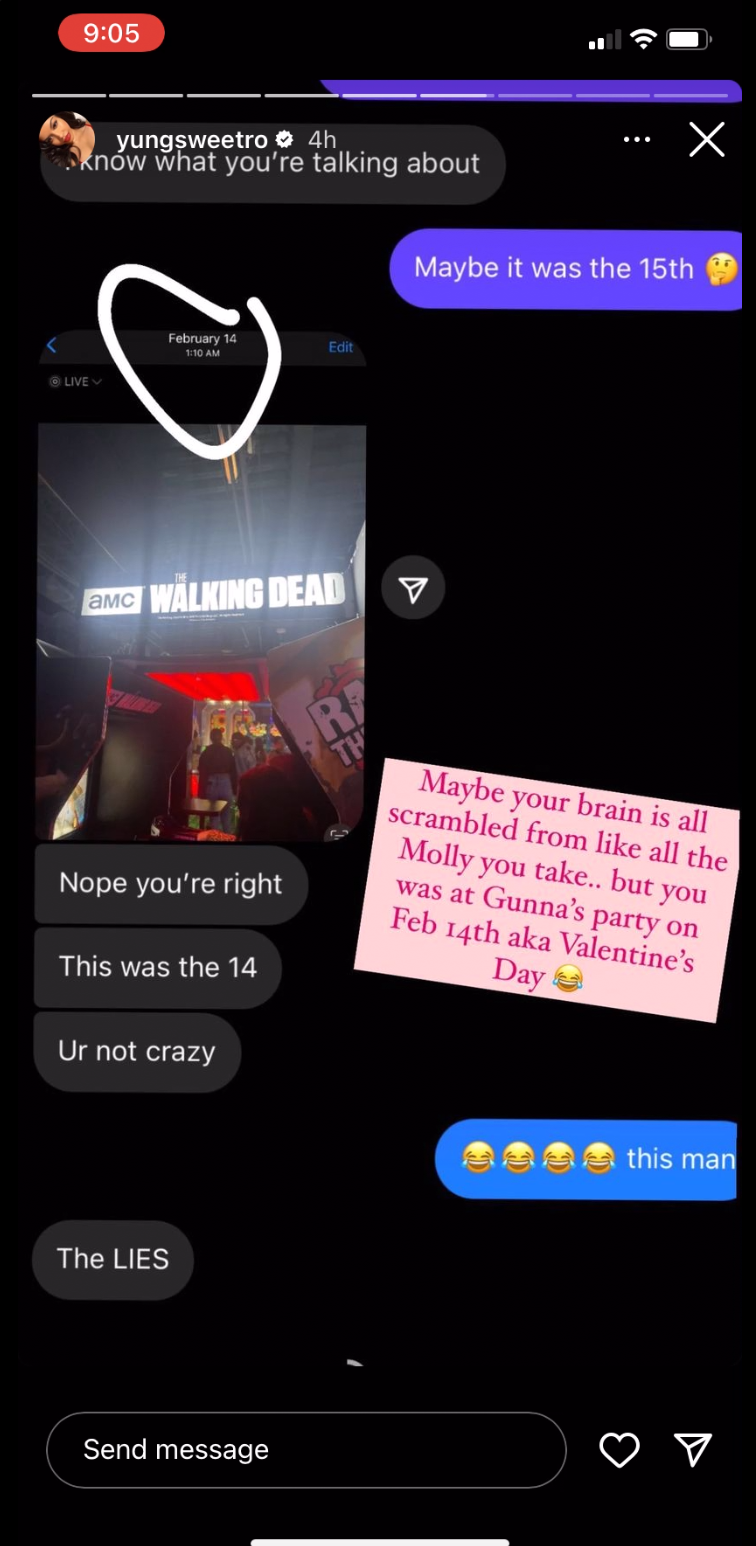 Rojean claimed she was invited to the video shoot telling fans, "I personally do not go anywhere unless I'm invited there."
The Instagram model also negated rumors that she was the "quote un quote mistress" to Travis.
He and Kylie broke up for a brief period of time in 2019 and its rumored Travis and Rojean became a thing. She denies it.
She accused him of making her look like a "whack a** b**ch."
"Nothing he's saying is true and that's f**ked up too," she explained.
She ended her Instagram Story tirade by calling Travis "f**king gross & embarrassing."
Rojean Trolls Kylie Jenner!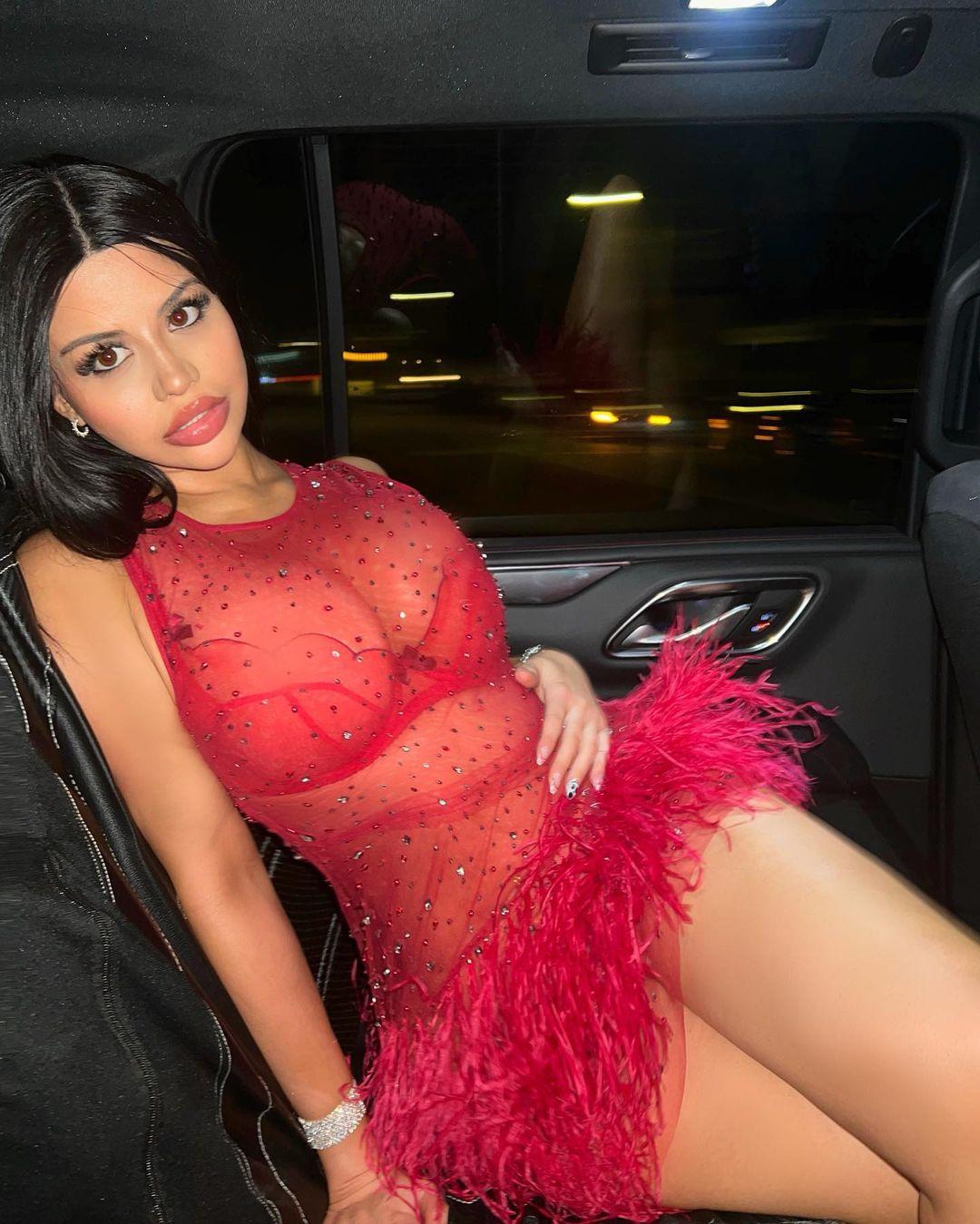 Rojean also took a moment to troll the Kylie Cosmetics mogul.
She shared two seductive looking photos in a red see-through dress with feathers and rhinestones.
Rojean captioned the photo, "tell her to be me for Halloween since she wants you to love her so bad 🙂."

Her followers were quick to comment on the post.
"Kylie who?" one person commented.
"Always firings shots!" another replied.
"Damnnnnn Kylie shots I love it 😂👏🏻," someone else wrote on the post.
Kylie has not publicly addressed the rumors and drama.