Actress Donna D'Errico is demanding justice after she alleges her deaf rescue dog almost died after a routine trip to the groomer.
In a series of posts on Instagram, the "Baywatch" alum detailed the events in graphic detail to her social media followers.
Donna D'Errico Demands #JusticeForScout After Routine Grooming Appointment Allegedly Left Her Rescue Dog 'Nearly Dead'
In a lengthy Instagram post, the 54-year-old actress explained, "I took this pic of Scout in the waiting area at the emergency vet. He'd been perfectly fine until I brought him to @samsgreenpaw in Studio City to get groomed."
"After that things got very bad very fast," she continued. "At first I thought maybe he'd been exposed to some kind of poison at Sam's Greenpaw. But then the emergency vet who looked him over told me something that brought me to tears."
"@samsgreenpaw is refusing to take any responsibility for what was done to Scout and the suffering he went through that nearly killed him," she continued. "Swipe through to read the entire story #justiceforscout."
Donna Explains What Happened To Her Deaf Rescue Dog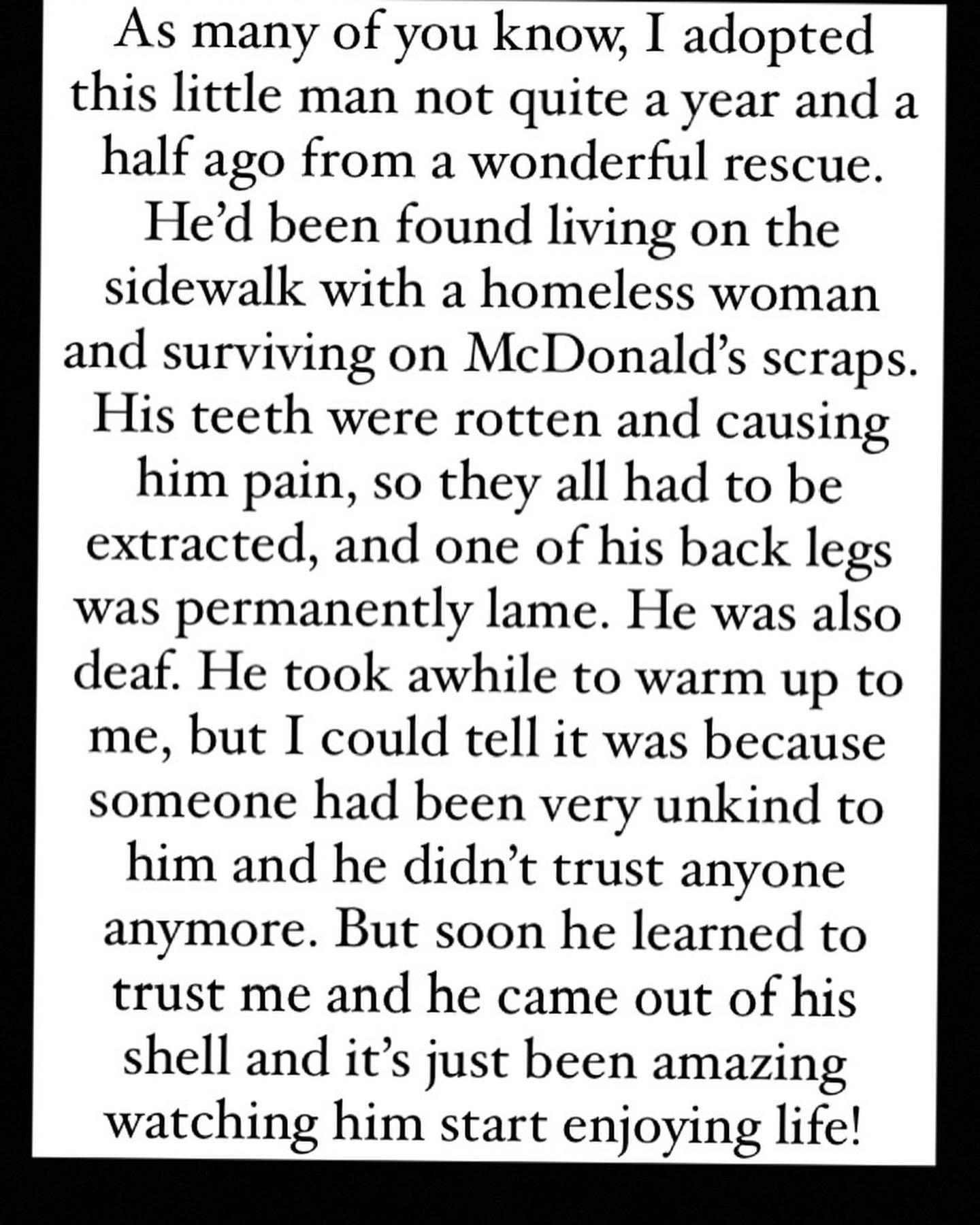 In several slides, Donna recounted exactly what happened to her rescue dog, named Scout. She explained that she adopted him almost a year and a half ago. He had been living on the sidewalk with a homeless woman and had only been eating fast food scraps to stay alive. As a result, his teeth were so rotten that they all had to be extracted.
One of his legs was permanently lame, most likely due to malnutrition, and he was also unable to hear. "He took a while to warm up to be, but I could tell it was because someone had been very unkind to him and he didn't trust anyone anymore," she explained. "But soon he learned to trust me and he came out of his shell and it's just been amazing watching him start enjoying life!"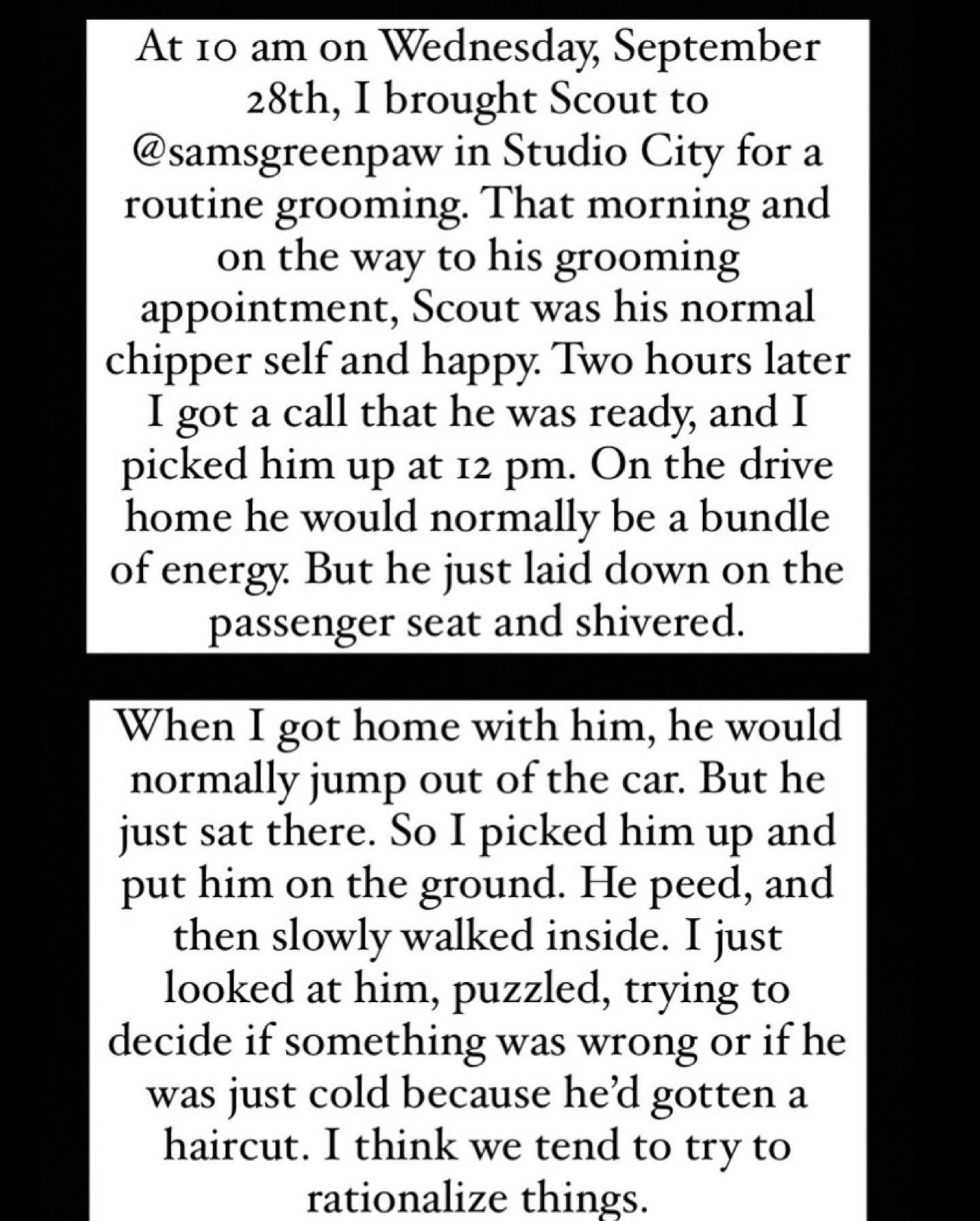 However, it looks like things took a turn for the worse for the small dog on Wednesday, September 28. Donna described how she brought Scout to @samsgreenpaw in Studio City for "a routine grooming." Although Scout was his usual "chipper" self that morning, he "shivered" when he got back to her car two hours later and didn't seem his usual energetic self.
Although Donna said that he usually hops out of the car when he gets home, Scout "just sat there." After she picked him up and put him on the ground herself, he did his business before he walked inside. Donna described how she "look at him, puzzled, trying to decide if something was wrong or if he was just cold because he'd gotten a haircut."
"I think we tend to try to rationalize things," she added.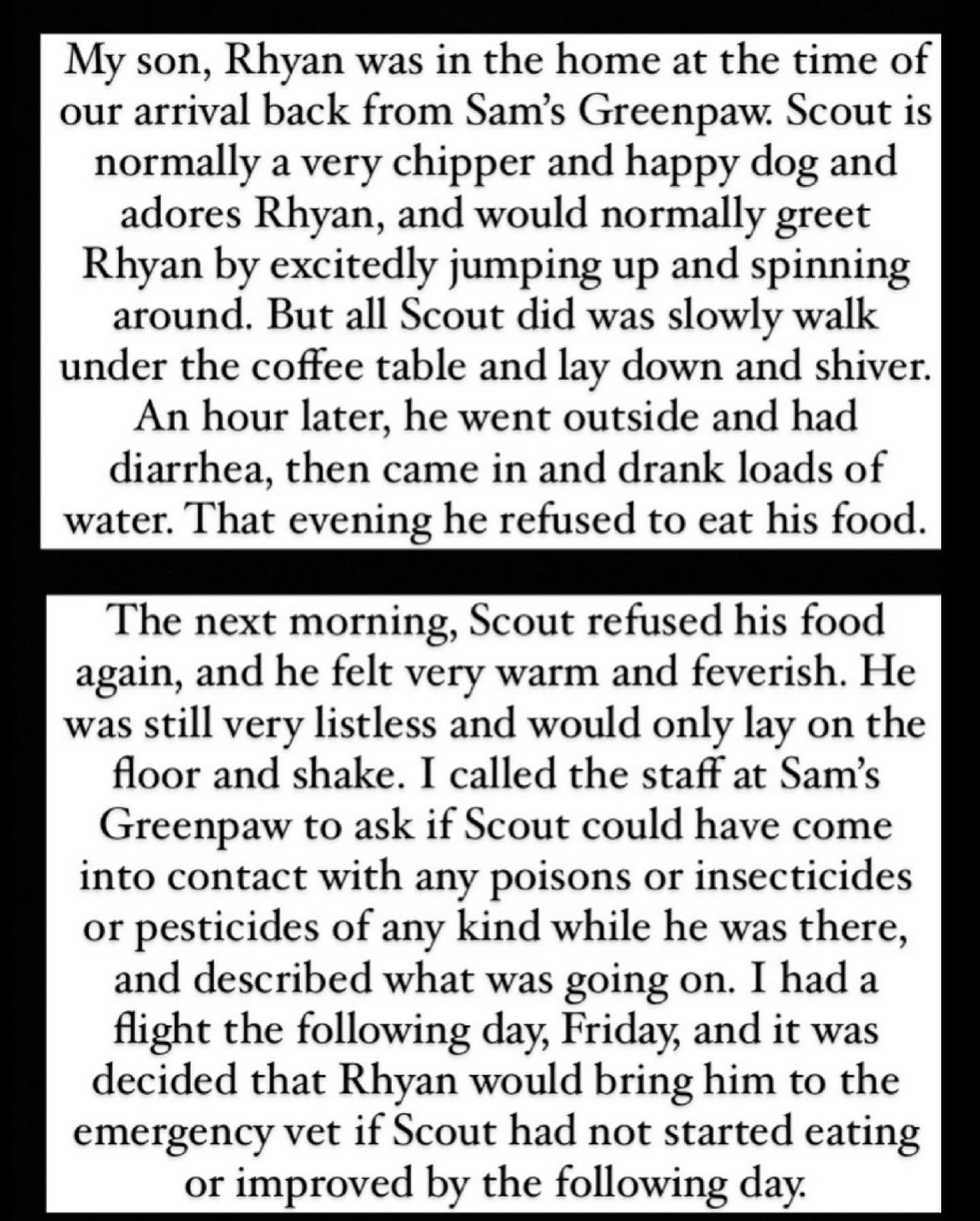 On the next slide, Donna explained that he son Rhyan was home when she brought Scout home. She described how Scout just walked underneath the coffee table to lie down and shiver, instead of greeting Rhyan like he usually does.
After Scout refused to eat food that night and the next morning, Donna noticed that Scout felt "very warm and feverish." She also noticed that he would "only lay on the floor and shake." Although she called the staff to see if he might have come into contact with poisons or pesticides, she didn't say what they told her.
Instead, she said she had to catch a flight the following day and instructed her son Rhyan to bring Scout to the emergency vet if he didn't start eating.
Donna Describes Scout's Condition In Some Pretty Graphic Detail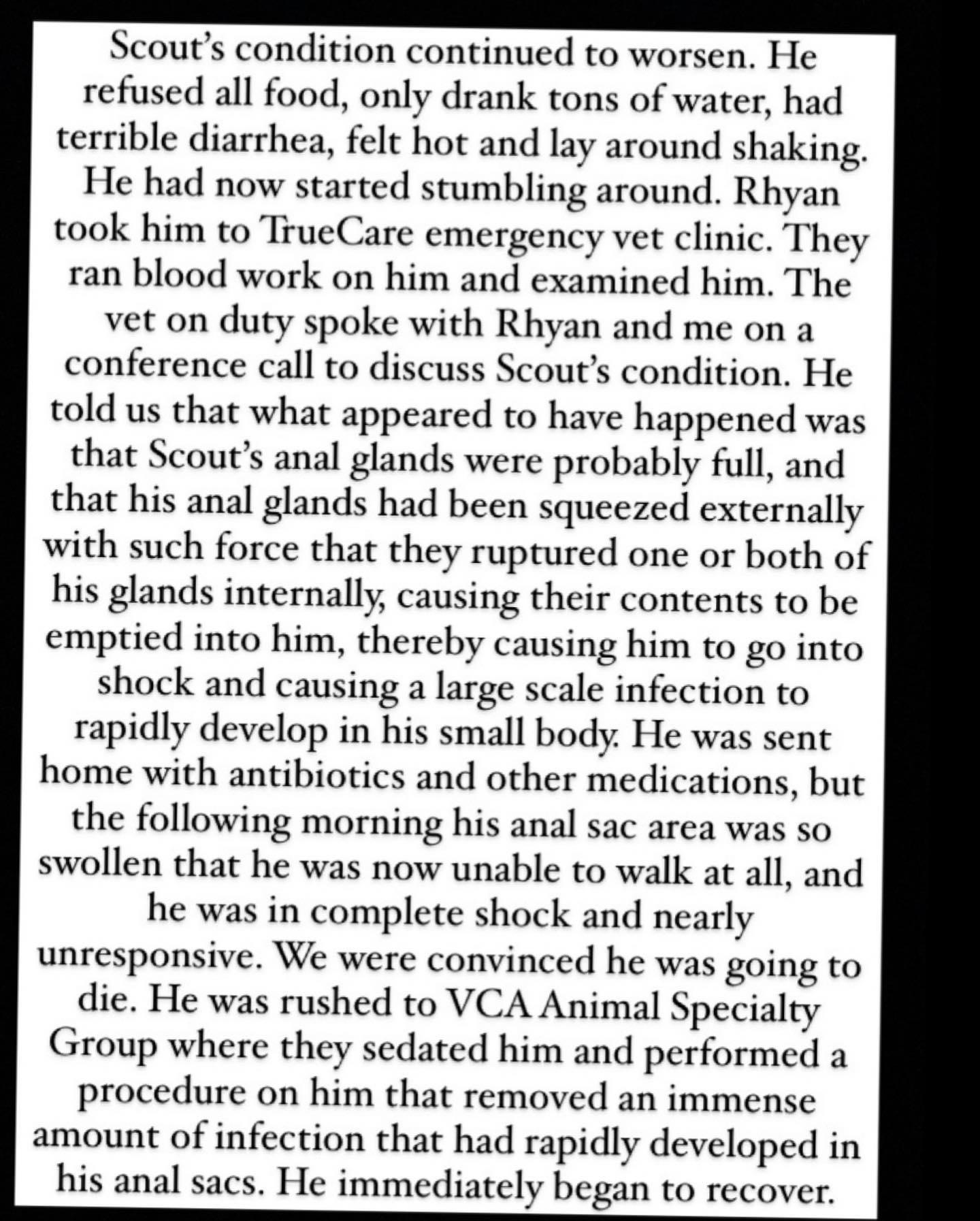 Fortunately, it looks like the staff at the TrueCare emergency vet clinic were able to identify what was wrong with Scout after his condition "continued to worsen," although it wasn't what anyone might have expected.
A vet told her and her son that "what appeared to have happened was that Scout's anal glands were probably full and that his anal glands had been squeezed externally with such force that they ruptured one or both of his glands internally, causing their contents to be emptied into him, thereby causing him to go into shock and causing a large scale infection to rapidly develop in his small body."
Although he was sent home with antibiotics, his small body soon became unresponsible and he was rushed to the VCA Animal Specialty Group. Donna said that the doctors there "performed a procedure on him that removed an immense amount of infection that had rapidly developed in his anal sacs. He immediately began to recover."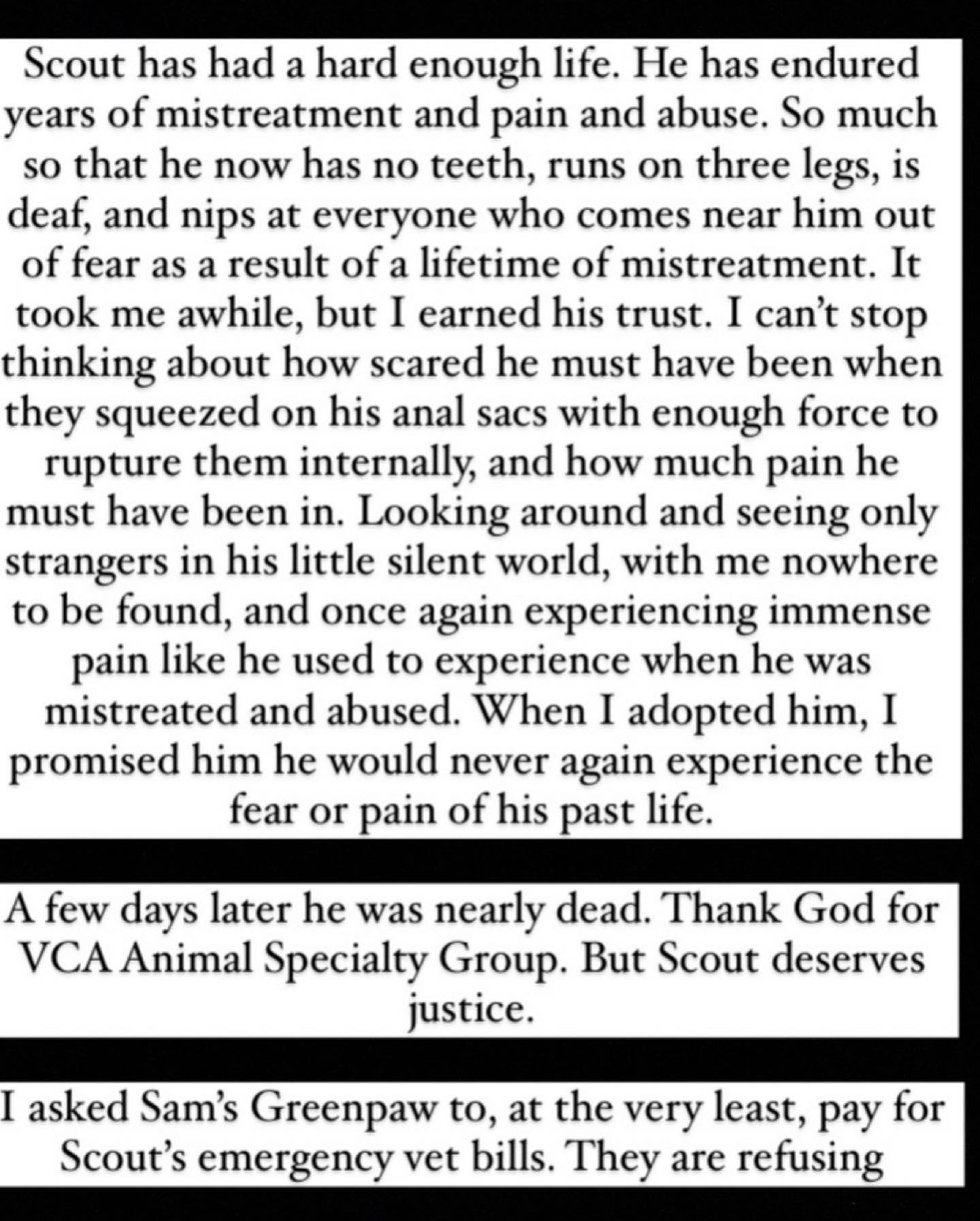 On the last slide, Donna lamented how many years of mistreatment and pain that Scout had to go through during his life, only to experience it again. "He now has no teeth, runs on three legs, is deaf, and nips at everyone who comes near him out of fear as a result of a lifetime of mistreatment," she wrote.
"I can't stop thinking about how scared he must have been when they squeezed on his anal sacs with enough force to rupture them internally, and how much pain he must have been in," she went on. "When I adopted him, I promised him he would never again experience the fear or pain of his past life."
"A few days later, he was nearly dead. Thank God for VCA Animal Specialty Group. But Scout deserves justice," she concluded. "I asked Sam's Greenpaw to, at the very least, pay for Scout's emergency vet bills. They are refusing."
Many fans were quick to offer their support for Scout. "Wow absolutely appalling. They should pay for his treatment. Poor puppy I hope he feels better soon.❤️," one fan commented.
"I couldn't imagine how Scout was feeling Physically, Mentally, and Emotionally. I'm happy that the real professionals were able to help him," another follower chimed in. "Groomers should not perform any medical procedures. They should have informed you so you could have helped Scout properly. Dogs are our babies as well. Hoping healing in all ways [is] quick for Scout. 💚."