The Kardashian-Jenners are known for their impeccable fashion sense, killer bodies, and lavish lifestyle, but one thing they don't do is piercings. However, it seems that is about to change!
Since welcoming her husband, Travis Barker, into her life in 2021, Kourtney Kardashian's fashion style has taken a new turn! The socialite has launched into her full emo-girl mode, blessing fans with stellar gothic-ish looks. But it seems she might be taking things to a whole new level.
Kourtney Kardashian Teases Getting Dramatic Lip Piercing
In a series of Instagram Story updates, Kourtney set hearts racing when she used a filter that gave her a lip piercing. In the first clip, the Poosh founder was seen rocking a big black graphic tee as she sat in a chair as though waiting to do her makeup.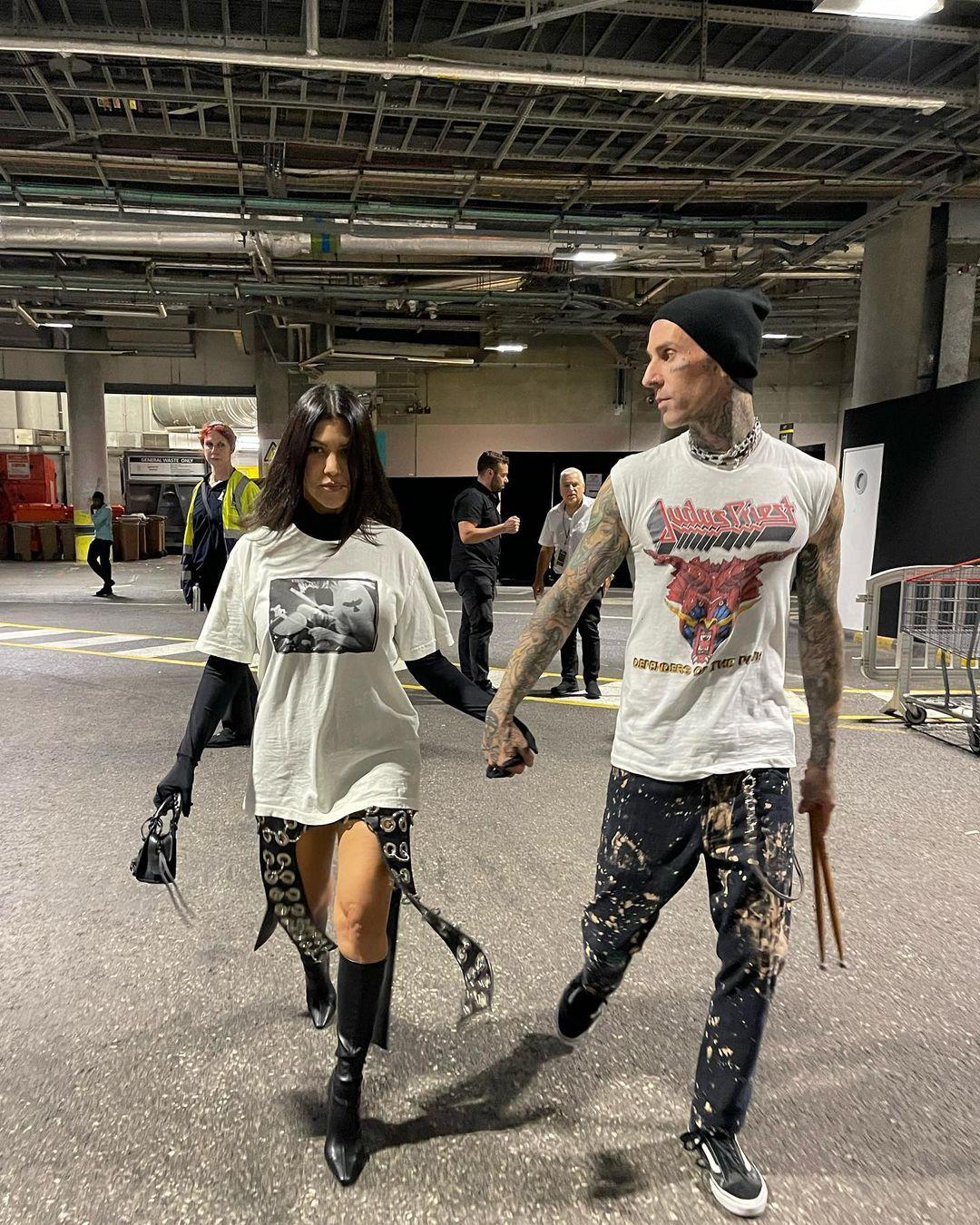 She had her hair styled into its signature short bob hairdo and playfully took a video while pouting her lips. Kourtney added a piercing filter to the clip that placed the stud jewelry on her lower lip, making it look like she indeed pierced her lower lip.
The new addition, no doubt, spiced up Kourtney's look and would take her emo-girl vibe to a new level. In a follow-up post, the mother-of-three was done with her makeup as she rocked a sexy little black dress with a tiny strap across the shoulder.
She accessorized with medium-sized hoops and was seen walking outdoors. However, Kourtney could not get enough of the lip-piercing filter and turned it on while striking several seductive poses. Although it's obvious the piercing is only a filter, could be that the eldest of the Kardashians is toying with the idea of making it a reality.
Kourtney is fast becoming the poster girl for emo vibes, rocking majorly black outfits and wearing boots and pantyhose. Hence, it won't come as a total shock if she goes for a piercing. Maybe she'll even bless us with a tattoo. Who knows?
Kourtney Is The Ultimate 'World Tour Wife'
The Lemme founder's experiment with lip piercing comes days after she informed fans that she was more than ready to tour alongside her husband. As you might know, Barker reunited with his Blink-182 band, and they are set to go on their first tour in almost 10 years.
As expected, Kourtney won't be without her man, and she's letting the world know. The entrepreneur posted a series of steamy thirst traps on her Instagram, wearing a black BooHoo sweater with Blink-182 written on it. She paired the hoodie with a black fishnet skirt that put her toned legs on display.
In one frame, the 43-year-old took things to a sultry level as she raised the hoodie to reveal the tiny black thing she was wearing underneath. Following the steamy picture was another raunchy display. This time, Kourtney turned her side towards the camera and lifted the hoodie to tease her perky derrière.
She captioned the naughty pictures, "Rockstar world tour wife 🤪😝😛getting ready to mosh in a city near you 🤘🏼🤘🏼🖤." A proud Barker camped in the comments section to dote on his wife, writing, "Tour life lookin good on you 🖤🐈‍⬛."
Fans and celebrities praised her look, with Avril Lavigne calling it "hot." As The Blast previously reported, Kourtney might have played a significant role in making Blink-182's highly anticipated tour a reality by helping with her husband's fear of flying.
For the world tour, which would take place in the UK, Australia, and other countries, the group would have to use an airplane for transportation. However, if Barker didn't overcome his fear of flying, that might not have been possible.
In 2008, the famous drummer was involved in a tragic plane crash that left him with third-degree burns and killed his assistant, security guard, and two pilots. As a result, Barker developed trauma and couldn't bring himself to enter a plane ever. But that all changed when he and Kourtney became a couple.
He credits his wife for giving him the courage to fly for the first time in almost 13 years.
In an interview, the former Expensive Taste band member said, "I made a deal with her that she had just said to me, 'I would love to do so much traveling with you. I want to go to Italy with you. I want to go to Cabo with you. I want to go to Paris with you. I want to go to Bora Bora with you.' And I said, 'Well, when the day comes you want to fly, I'm telling you I'll do it with you. I would do anything with you. And just give me 24 hours' notice.' And that's what she did.'"