Big Sean & Jhene Aiko are super excited about their imminent family addition and looking at "infinity" together! 
After announcing her pregnancy with a picture that looked ethereal, she gave fans an idea of the theme they would use to celebrate their unborn child. Recently they celebrated the baby shower with a peculiar theme, and all the pictures from the beautiful event are a sight to behold.
Big Sean & Jhene Aiko Take Baby Celebration All The Way To Space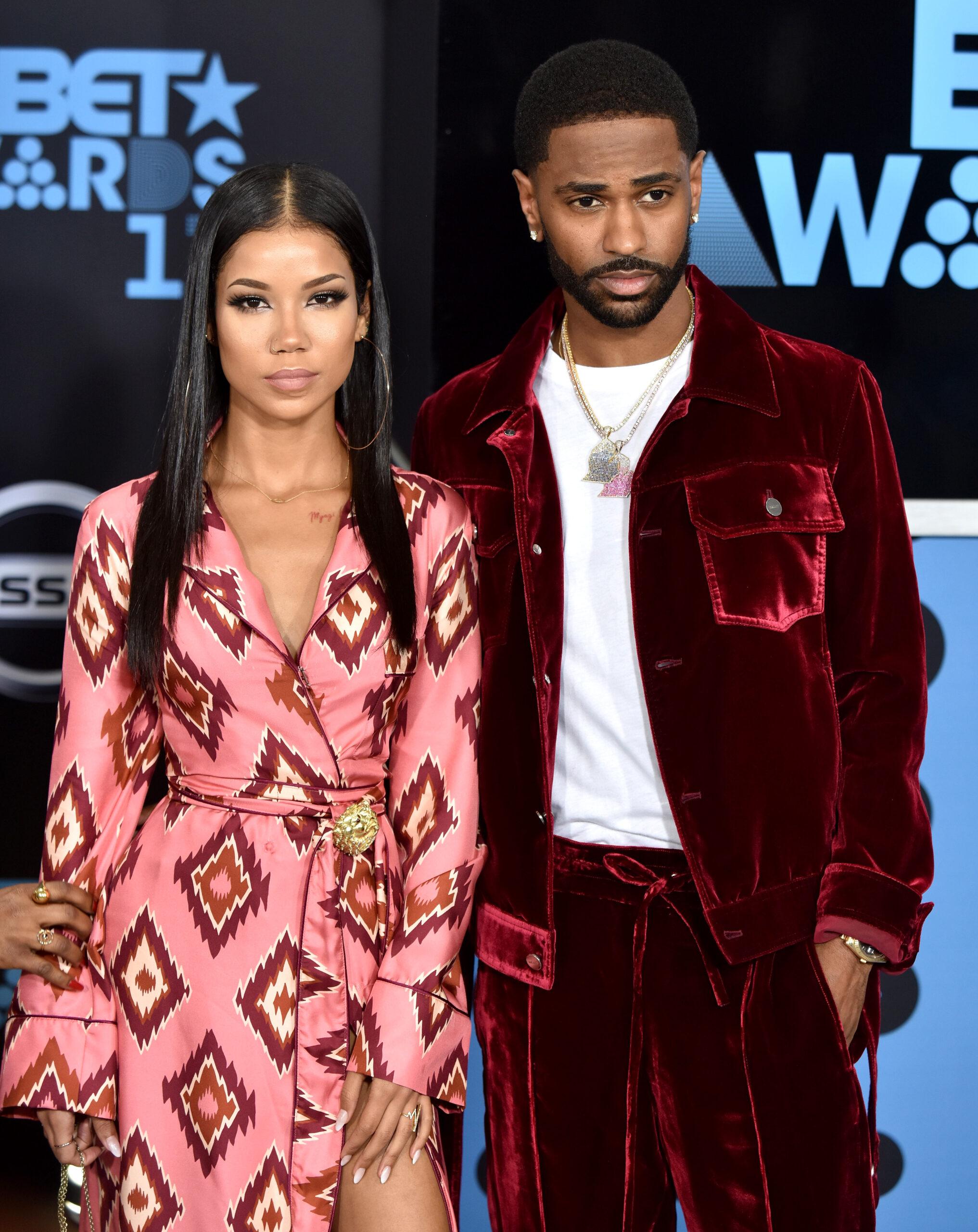 If you are familiar with their songs, especially Aiko's, you would know that she has an otherworldly feel to her music, which would explain why their theme choice fits their personalities perfectly. The duo picked NASA-themed decorations for the long-awaited baby shower. Even the fashion choice of the mom-to-be depicted space in a way.
In a ten-picture slide posted to Instagram by Aiko, the first photo showed her holding her baby daddy's hands as they stood facing the camera with a blow-up doll dressed in outer space gear with pale and dark blue balloons behind them. 
She wore a champagne-colored flowing dress fitted at her bust area with sparkly designs, some in the shape of stars on the fabric. The fitted top of her dress featured a plunging neckline, leaving her ample cleavage on display.
She had her hair up in a messy bun with tendrils falling on each side of her face and a gold-colored star hair band. Sean, on the other hand, wore a pale blue colored jacket and pants on top of white innerwear.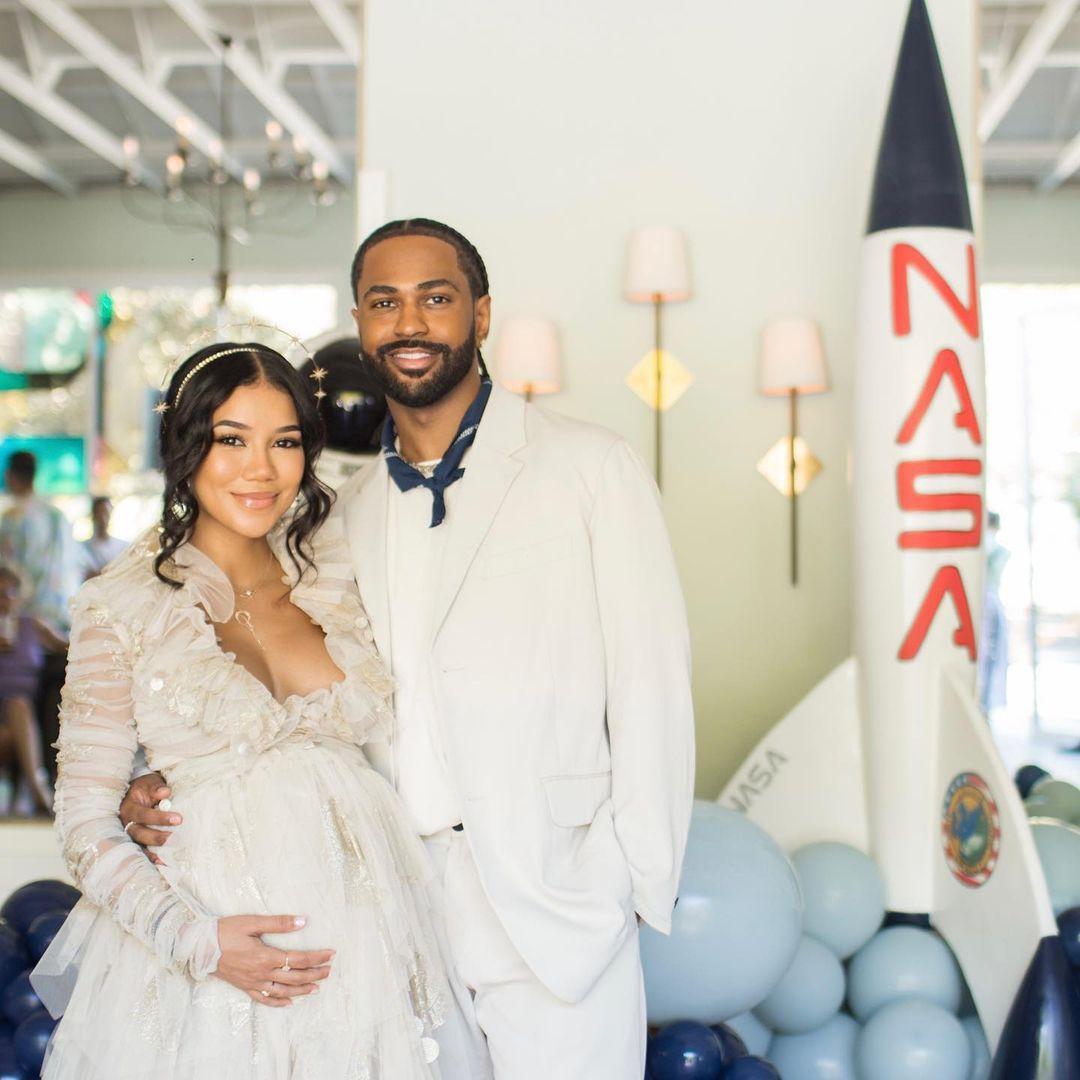 The following slide featured the artists wearing matching baseball jackets with the inscriptions "Dad Life" and "Mom Life." The other pictures were more of the couple standing at various points of the venue, which also showed a change in an outfit to a Burberry jacket for the rapper. She captioned the post, "twenty88 to infinity [spaceship emoji].
In another video post, Aiko shared a montage, captured and edited by Renee Rodriguez, showing some of the activities at the event. From the look of it, they had a lot of fun, and it seemed to be a gathering of close friends and family. The reel was captioned with the following:
"so thankful for all of our beautiful friends and family who came out to shower our baby with love [stars emoji] what a perfect day it was! 🥹 we love you so,so much [blue heart emoji]."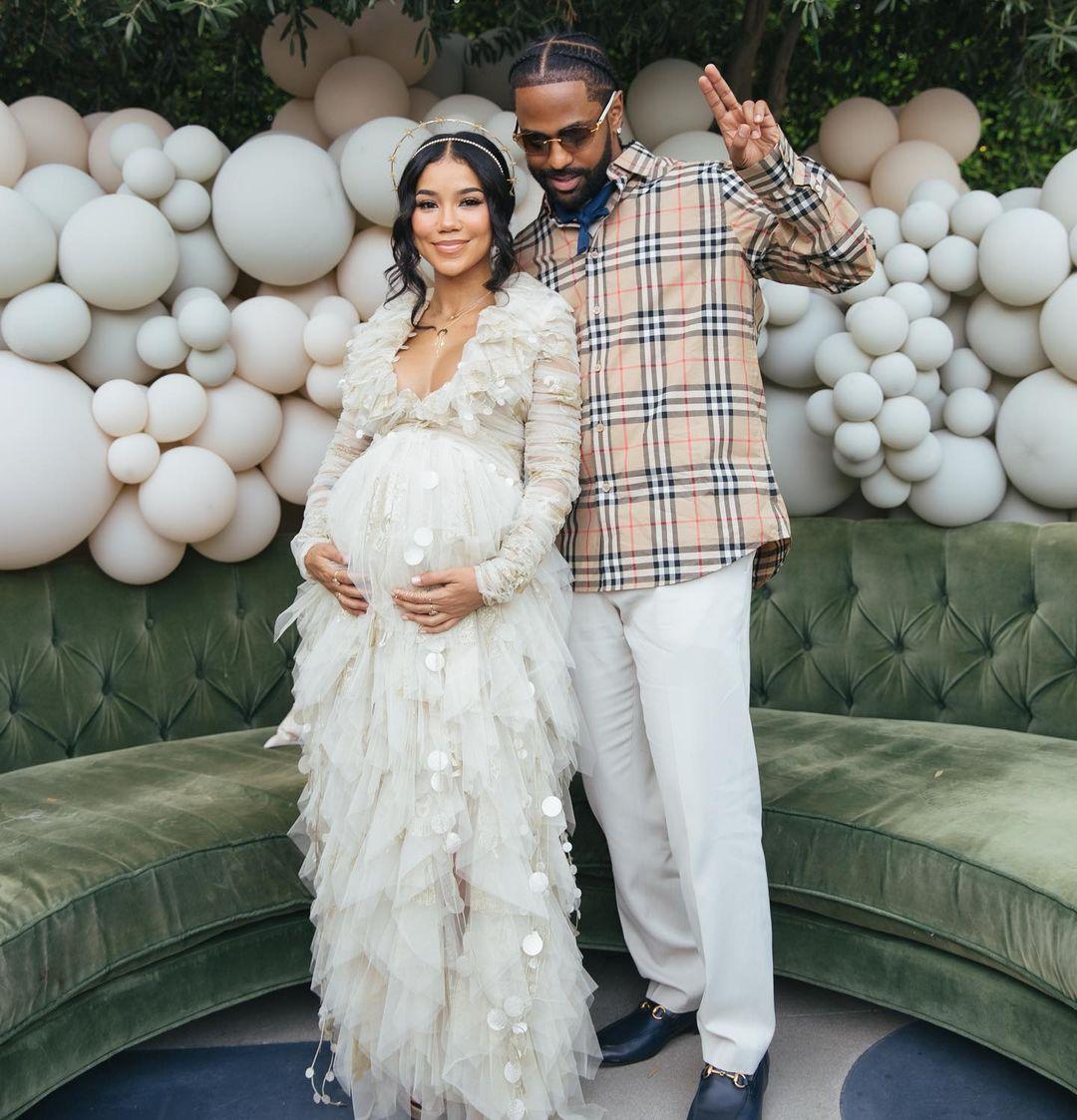 The "Finally Famous" rapper was not left behind in giving a glimpse into the celebration as he also posted snaps on Instagram showing himself and the "None of your concern" singer in various poses with his dad and father-in-law, and friends. He kept it simple in the caption, writing:
"Nothing more creative than creating a creation. Baby Shower."
The actor is pretty excited about the upcoming birth of his unborn son because, in his recent posts, he had taken time out to count down his girlfriend's pregnancy. The Blast shared that the father-to-be has been with her every step of the way.
He celebrated the 34-year-old's latest milestone with a photo shoot which he shared with his eager followers on Instagram. In the picture, the love birds unveiled her massive baby bump in a beautiful all-white studio standing beside a white marble counter and mirror filled with many lights that gave them a sunny glow.
View this post on Instagram
The "Chilombo" star wore a white off-shoulder dress with a thicker bodice and very sheer bottom, while her beau wore a colorful corvette jacket over a white shirt, spotting a black tie, and matching black trousers. The rapper gave fans a closer look at the designer jacket in the next slide, which captioned, "Finna pop. 35 weeks."
Big Sean & Jhene Aiko
Announce Unborn Baby's Sex.
The Blast recently reported that the star couple, who are expecting their first child together since dating in 2016, blew minds away when they surprised their fans during a concert. 
During the performance of their song "I'm Gonna Be," the Santa Monica native yelled, "Make some noise, Make some noise for my baby boy" into the mic as he cradled Aiko's growing bump as their faces lit up with excitement. 
Fans of the duo probably already guessed what gender their son would be as they noticed that the "Sailed Out" star and the "Sean Anderson" founder had been posting blue heart emojis whenever they posted about the pending birth.