Paris Hilton is finding ways to bring a smile to her face amid the ongoing search for her missing dog.
Her chihuahua, Diamond Baby, has been missing since late September. Paris and company have been desperately looking for DB but to no avail.
She's offering a $10k reward for the pup's safe return.
Diamond Baby Is Still Missing!
View this post on Instagram
Paris is finding ways to keep herself occupied during this heartbreaking time in her life.
Over the weekend, she hung with Vanessa Hudgens, Ashley Benson and Rosario Dawson at The San Vicente Bungalows.
Paris captioned the pics, "Fun night celebrating my beautiful girls @AshleyBenson @VanessaHudgens @RosarioDawson. 👯‍♀️👯‍♀️ #GirlsRule ⚡️"
Paris Parties With Fellow Celebrities
View this post on Instagram
Benson shared a video of her, Hudgens and Paris dancing the night away.
On Sunday, Paris went undercover at the Melrose Flea Market in Los Angeles, CA. Retail therapy is always a good, quick fix for happiness.
The hotel heiress wore a purple wig cut into a shoulder-length, curly bob. She paired the wig with a black bucket hat, heart shaped sunglasses and a graphic T-shirt.
Paris Goes Undercover For Flea Market Shopping Spree
She looked at art pieces of Marylin Monroe, Frida Khalo and a 'Star Wars' Stormtrooper.
In addition, Paris purchased a Tweety Bird statue made completely of Legos created by artist Muhammad "Icon" Hasan.
Hasan shared a photo of him with Paris and captioned it, "Thanks @parishilton ❤️‍🔥❤️‍🔥❤️‍🔥 This was by far the most amazing day of my art career and possibly my life! This collaboration is going to be hot like fire! 🔥"
View this post on Instagram
She replied, "Aw, this message makes me so happy. So nice meeting you bro! See you soon! ☺️❤️."
See, it's the small wins that help you get by.
Just because Paris has been keeping herself and her time occupied with public events and appearances doesn't mean she's given up on the search for DB.
She's continuing to get the word out that she's offering at $10k reward "no questions asked" for Diamond Baby's safe return.
The Search For Diamond Baby Continues!
In fact, several pet psychics believe DB is still alive.
Last week, Paris revealed she's spoken to a total of "seven credible pet mediums/communicators" who have all said the dog is "alive" and that "someone has her."
"At this point, hope is the only thing getting me through," she added, before urging fans to "please keep an eye out for my little girl."
Good news is… they all say Diamond Baby is still alive!
View this post on Instagram
Paris is offering a hefty reward of $10k to anyone who finds her and returns her safely.
"If you know someone who has her, please have a heart and contact me and you will receive the full reward," she wrote on social media.
She shared the devastating news on Instagram on September 19th.
Paris posted a carousel of photos and videos of Diamond Baby to her feed along with the caption, "This is so incredibly hard for me to post because I've been at a loss of words. 🥺 Diamond Baby @HiltonPets has been missing since last Wednesday. I was at a photoshoot and we're moving houses and one of the movers must have left a door open.😭💔 My family and friends have been helping me search high and low throughout my entire neighborhood and have gone door to door but we still haven't found her.😭"
She has pulled out all the stops to try and find her Diamond Baby.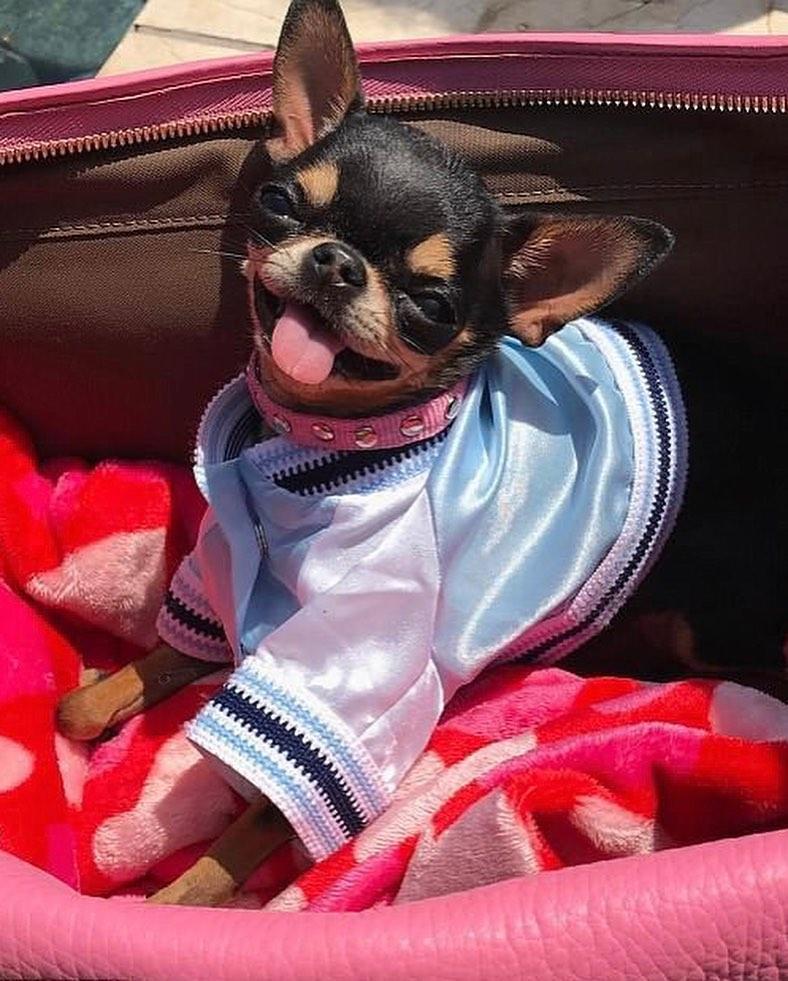 "We have hired a pet detective, a dog whisperer, a pet psychic and looking into dog finding drones now. I'm doing everything in my power to get her back. 😢," her message continued.
"Anyone who has ever loved a pet and lost a pet will understand this pain that I'm feeling – My heart is broken 💔 I have been in tears, so sad and depressed.😔 I feel like part of me is missing and nothing is the same without her here. Diamond Baby is my everything, truly like a daughter to me," the DJ wrote.
Paris said she and Diamond Baby were "inseparable" and called DB her "best friend."