The late Eddie Van Halen is being remembered by his loved ones on his second-death anniversary.
The late rocker's son Wolfgang Van Halen and his ex-wife Valerie Bertinelli shared heartwarming tributes on social media to honor his memory. The Van Halen songwriter died of a stroke at age 65 in 2020, amidst his long battle with throat cancer.
Wolfgang Van Halen & Valerie Bertinelli's Sweet Tribute to Eddie Van Halen
Wolfgang took to Instagram last week Thursday, where he shared with his over 300,000 followers a selfie of him and his late dad staring and smiling at the camera.  The younger musician appeared to be very happy as he posed next to Eddie. The duo had their heads leaned against each other as their faces were closely visible to the camera.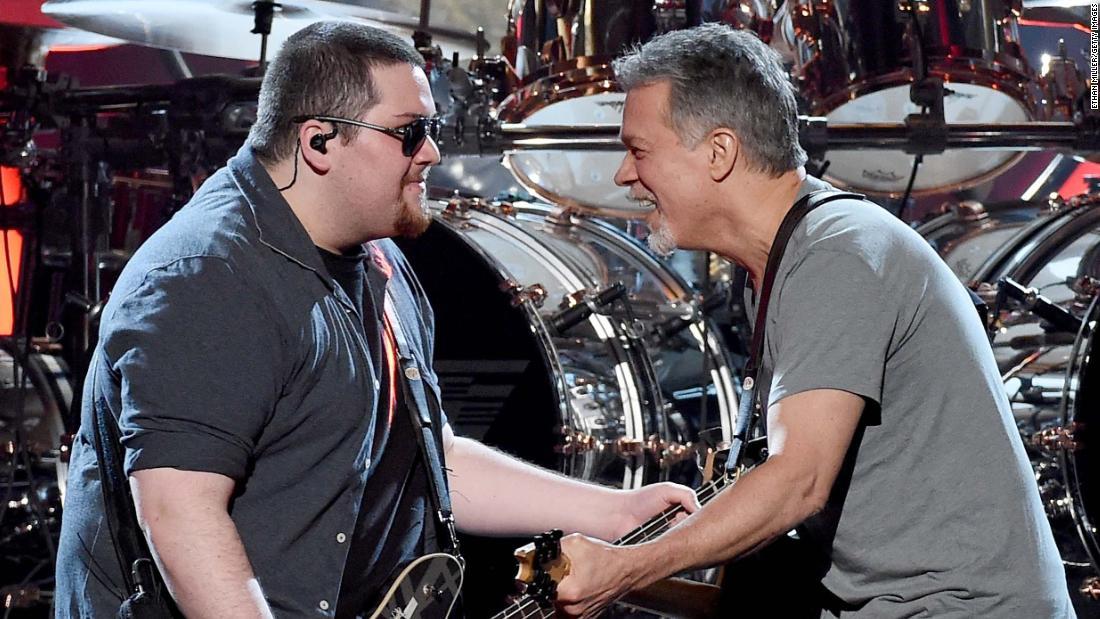 Wolfgang donned a white round-neck t-shirt and paired it with a black hoodie, while his dad wore a darkish grey t-shirt. The "Right Now" singer had his shiny black hair styled down, and Eddie's grayish hair stood up in spikes. 
Opening up about the late patriarch, Wolf wrote, "2 years and not a single day has gone by where you weren't on my mind. I'm trying to do my best and hold it together, but it's not the same without you here, Pop." 
Further adding, "I love and miss you more than you could possibly imagine." Fans and close friends were quick to drop sweet comments, with one fan writing, " The best! What a duo," while another added, "[several hearts emojis] love you buddy."
Bertinelli, on the other hand, also posted a heartwarming black and white throwback picture on Instagram of both father and son looking extremely young. The doting father cheerfully carried his young son on his shoulder and had a wide smile plastered across his face.
Young Wolfie also appeared to be delighted by his father's act. They lovingly looked at each other in what can be referred to as a heart-stopping moment. The pair were shirtless, while Wolfgang donned black and white striped shorts. Captioning the post, the happy mom inserted two white hearts emojis to commemorate Eddie on his second death anniversary.
Wolfgang Berated "Autopsy" Show's Depiction Of Eddie's Death
View this post on Instagram
The "Mammoth" singer has always publicly shown his love for his father, so his outburst at a recent production might not come as a shock to many. Per The Blast, the 31-year-old musician took to Twitter to blast the producers for the method they used in portraying his father's death in the documentary, "Autopsy: The Last Hours of Eddie Van Halen."
He angrily wrote, "F**k @ReelzChannel, f**k everyone that works on this show, and f**k you if you watch it. F**king disgusting trying to glamorize someone's death from cancer. Pathetic and heartless". 
His lash-out wasn't met with a unified concession, as some of his fans believed the show was about celebrating the guitarist's life, spanning from birth to death, and not just the sensitive "final moments." While his other fans supported the singer's anger, they went ahead to tag the program as shameful and disrespectful, claiming that the creators willfully took advantage of the grieving family's loss. 
It is worth knowing that Reelz's "Autopsy: The Last Hours of…" is a docu-series that narrates the deaths of celebrities who died strangely or under over-shared conditions.
Wolfgang Revealed The Controversial Reason Eddie's Tribute Concert Failed
Eddie's second death anniversary comes months after his son opened up about what caused the late guitarist's tribute concert not to take place.
View this post on Instagram

The "Hot For Teacher" singer star, in an eye-opening discussion, expatiated on the reason the concert was stalling and the important figures seemingly responsible. In his words, "What I can say is that there was an attempt at doing something. But, you know, I don't like to speak negatively about people, but there are some people that make it very difficult to do anything when it comes to Van Halen."
Giving a clearer detail on what he implied, he further said, "But you know, from my time in Van Halen, there was always some stuff that gets in the way from just making music and having a good time. And, I think, that's what happened."
The 31-year-old further indicated that fans' attitude to the band "Van Halen" could have contributed to the concert getting abandoned. He said, "I know how Van Halen fans get. They are very motivated by which specific people they like in the band," adding that "and it's not just worth it."