It seems some of Kim Kardashian and Kanye West's kids have inherited his musical genes. Over the weekend, the reality star couldn't help but gush over her children after they were seen belting out one of their father's hit songs.
Kim took to social media to flaunt the adorable moment of her two youngest kids, Chicago and Pslam, repping her ex-husband.
Kim Kardashian Dotes On Kids Singing Kanye West's Song
Despite the issues between Kanye and Kim as regards co-parenting their four children, it seems the "KUWTK" alum keeps her kids acquainted with their father's work and talent. On Sunday, the doting mom took to Twitter to share a heartwarming video of Chicago and Psalm singing to Kanye's song, "True Love," featuring XXXTentacion.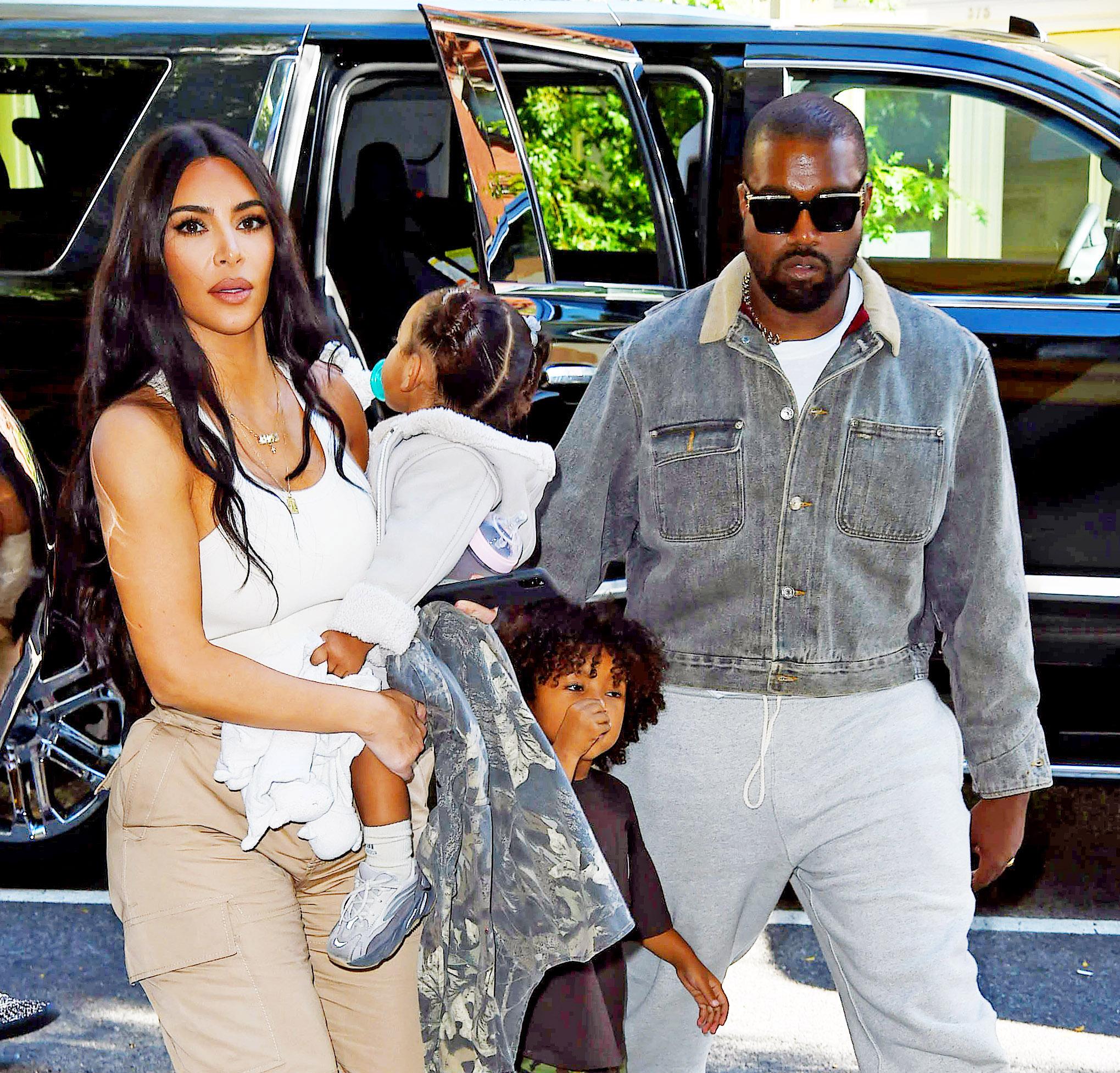 The adorable clip began showing 3-year-old Psalm at the back of a vehicle in his car seat, singing the chorus to the tune, which was released in 2022. While playing with his teddy, Psalm belted out, "don't you make me complicated," but was immediately corrected by his big sister Chicago.
The 4-year-old immediately interrupted, telling Psalm that his lyrics weren't correct. The camera then pans to show her in the cutest silver tank top and her curly hair styled in a side part as she sings the correct words, "True Love shouldn't be this complicated. Thought I'd die in your arms."
Soon enough, Psalm catches the vibe and joins Chicago to sing the chorus but still insists on singing his hilarious version while his sister belts out the correct lyrics. Kim captioned the 50-second clip, writing, "OMG, they are just sooooo cute I had to share!"
Indeed, the little ones were just so cute and the tweet garbed over 22,000 likes from fans who couldn't get enough of them. One fan gushed, "Chi has a beautiful voice! She is going to be a superstar when she's older!"
This fan tweeted, "I love how Chicago changed her voice & proceeded to sing like a pro. Kids are the best. And Psalm kept on singing it wrong regardless. So cute 😂."
About Kanye West's 'True Love' Song
OMG they are just sooooo cute I had to share! pic.twitter.com/NNHQrfKXNj

— Kim Kardashian (@KimKardashian) October 9, 2022
In May, Ye, as he is formally now known, dropped the single "True Love" as part of his 11th studio album, "Donda 2." As The Blast reported, the track was Ye's first release after a long 3-month hiatus on social media after a series of rants that got him banned.
The 2-minute 28-second song starts with XXXTentacion singing, "True love shouldn't be this complicated. Thought I'd die in your arms," before the Yeezy Founder expressed some displeasure about his co-parenting schedule with  Kim.
The "Praise God" rapper sang, "Wait, when you see the kids? I'll see y'all tomorrow. Wait, when the sunset? I see y'all tomorrow Wait, when I pick 'em up, I feel like they borrowed. When I gotta return them, scan 'em like a bar code."
He also tackled his ex-wife for not dressing his children in Yeezy outfits, saying, "Wait, no hard feelings, but these feelings hard though. Wait, who got our kids in some, "What are those?" Wait, why they can't wear Yeezys with the cargos? Y'all know Nike don't like me, y'all take it too far though. At least have 'em in some Mike's, he played for Chicago. I only see three kids, who watchin' Chicago? And you know all the nannies said, "Daddy in Nebraska."
Despite the controversial lyrics, it seems Kim isn't bothered with their kids listening to the song.
The Yeezy Founder Won't 'Compromise' On The Kids' School
The heartwarming video Kim posted comes days after Ye's interview with Fox Network's Tucker Carlson, where he talked about his desire for them to attend Donda Academy. The rapper, who has publicly called out the SKIMS founder for not allowing their kids to attend his school, spoke on the topic extensively.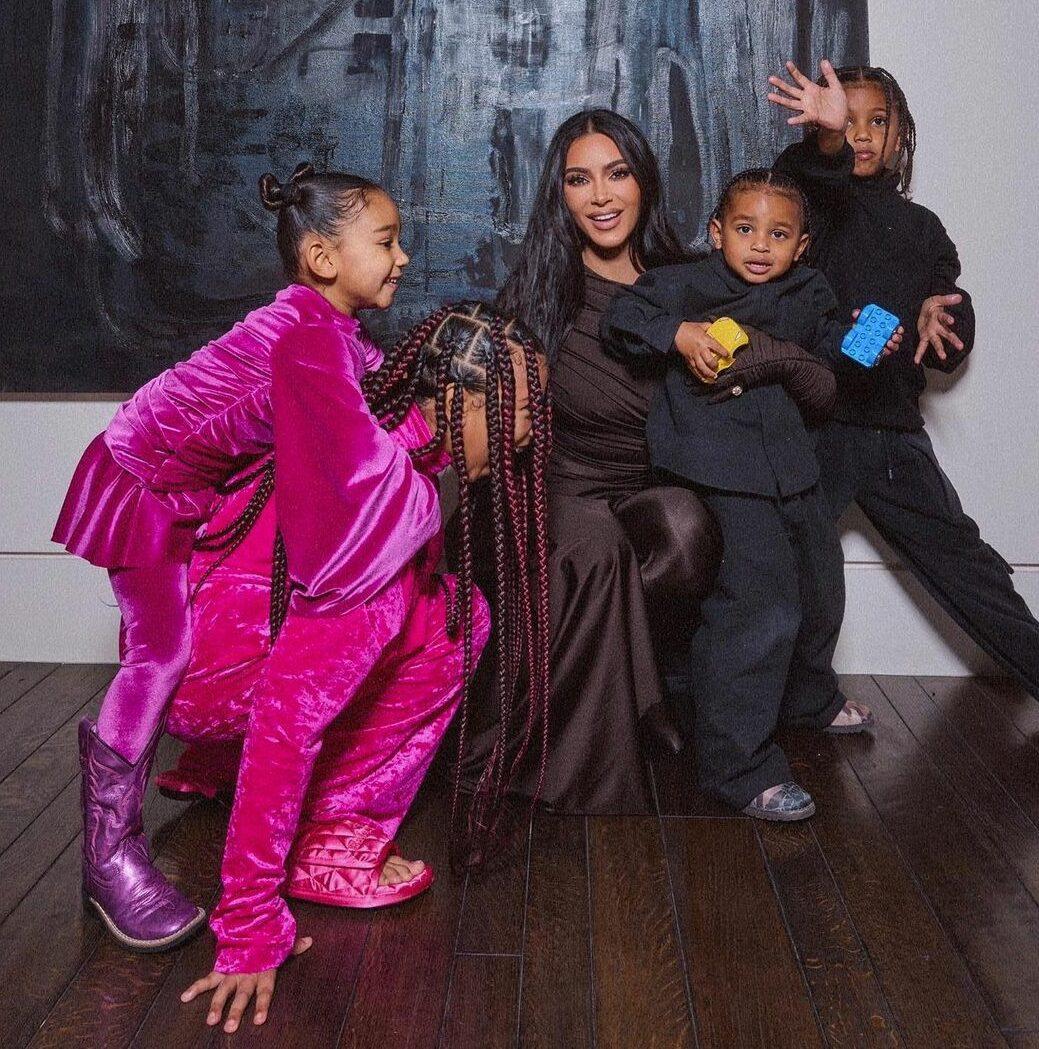 Ye expressed his displeasure about the children's current school Sierra Canyon, saying, "All they do is take all the celebs kids and throw them into this same school" to "indoctrinate them." He continued, "Right now, we've come to a compromise — but I'm not finished because I don't compromise — but we've come to a compromise that my kids come to my school after school, and they learn choir."
The 24-time Grammy Award winner lamented that his youngest son Psalm has already been indoctrinated because he complains about attending choir practice at Donda Academy when he doesn't even attend the school.
"I sat there with [Psalm] and he came in and said, 'why do I have to sing? I don't even go to your school,'" the rapper told Carlson. "So imagine a 16-year-old version of that guy, or the 26-year-old version of that guy, where the father doesn't have a sayso of what the kids are watching, what the kids are wearing, what the kids are eating, or who the kids are hanging out with."