The world continues to wait for Kylie Jenner to spill the tea on her son's name!
Since welcoming the bundle of joy with her longtime boyfriend Travis Scott in February, the socialite hasn't shown his face or revealed his real name. While she and Scoot initially named him Wolfie Webster, the doting parents changed it but are yet to reveal the new moniker.
However, fans are tired of waiting and believe the answer lies in the Kylie cosmetics Founder's recent Instagram post.
Kylie Jenner Dotes On Son As She Returns Home
On Wednesday, the Kylie Skin founder took to Instagram to celebrate her return home after spending some time in Paris at the prestigious Fashion Week event and turning heads with her several daring looks. The reality star uploaded a carousel of intimate photos, some of which featured her 8-month-old son.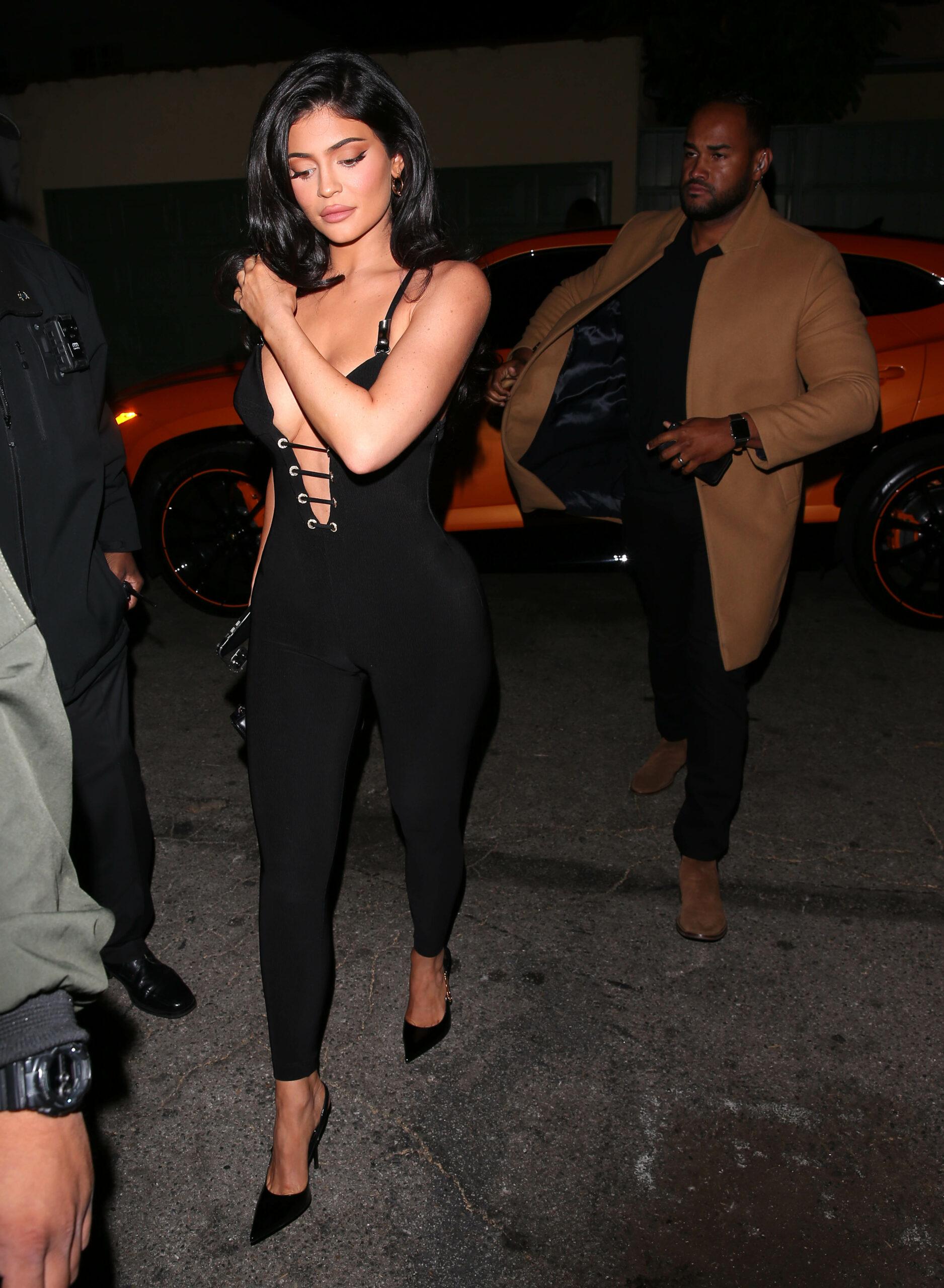 In the first slide, Kylie flaunted her impressive body in a tiny black bikini two-piece while soaking up the sun on a lounge chair by the pool. She flaunted her huge derrière in the tiny bikini bottom, but the highlight of the picture was her son's adorable feet resting on her thighs.
The little one was placed laying down between Kylie's legs, so his face was covered, but his tiny feet were on display for all. In another frame, the doting mother shone the spotlight on her daughter Stormi and son in matching footwear. The siblings rocked chunky brown sneakers with different patches of brown and nude with red and white laces.
In the image, both children's faces were cut out of the frame, but Stormi stood behind her younger brother as though protecting him. The four-year-old, however, had some face time as she was seen petting a white pony with joy on her face.
Other images in the lovely carousel included a "Welcome Home" sign possibly created by Stormi and a stack of pumpkins outdoors, showing that Kylie is getting into the Halloween spirit. She sweetly captioned the post, "home 🦋🦋."
Fans Think Kylie Hinted At Her Son's Name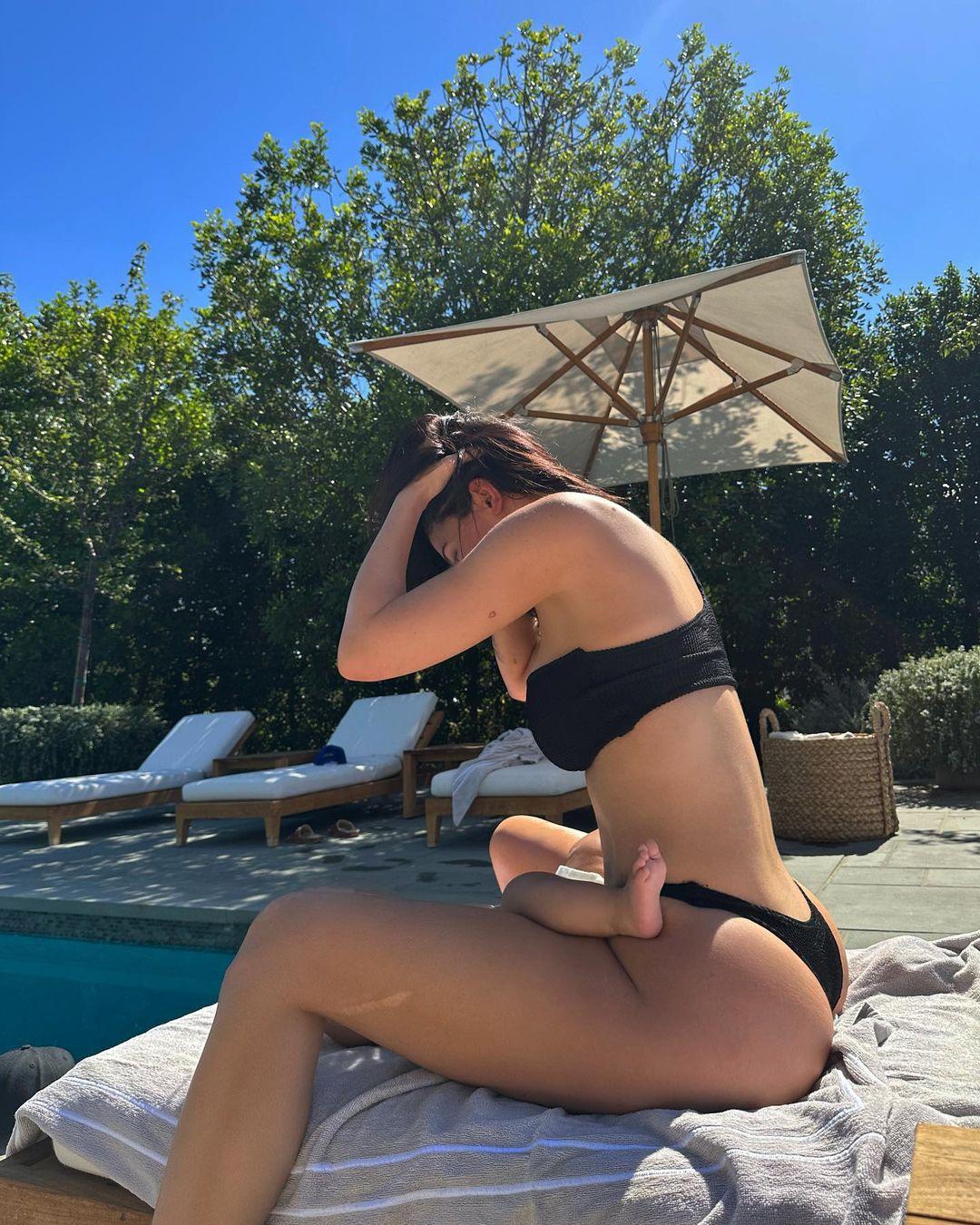 While the 25-year-old might have been celebrating returning home in her caption, some fans believed it held the answers to the long-awaited question of "What is Kylie's son's name?" One fan demanded, "What is this baby's name, Kylie enough," while this user noted, "finally, some baby content 😍."
Then came the speculations about the toddler's name. This fan stated, "U named him HOME," while another supported the sentiment, writing, "So I'm guessing baby's name is Home 🤔."
This pissed fan who was dying to see the second youngest of the Kardashian-Jenner clan wrote, "WE ARE TIRED OF SEEING WOLFIE'S FEEETTT!!!!" Another user added, "Show the baby already," while this angry netizen urged, "just say his name Kylie it's not that deep."
This comment read, "I so wish you could show us your son's pic 😍," while many more echoed their thoughts about her son's name being Home. It's unknown if the television personality did give her son such a name, but this isn't the first time fans have lost it over her son's moniker.
Last month, the internet lost control when theories surfaced that her son's name could be Knight. Per The Blast, the inference was made from an old video from the family's former reality show "Keeping Up with The Kardashian" when Kylie was seen giving name suggestions for Kim Kardashian's fourth child, Psalm.
An episode of the show saw Kylie writing "Wolf," "Knight," and "John" on a wooden board at Kim's baby shower. Many suggested her son's new name could be any of the suggestions she gave since Wolf was his first name, and it was gotten from that moment.