Kourtney Kardashian is having the time of her life with her dream man, Travis Barker, whom she tied the knot with on May 22 at a fairytale ceremony in Portofino, Italy.
The couple never fails to let the world know how much they love each other, with romantic posts on social media and intimate gestures in public. And now, Kourtney is gushing over her sweetheart with a lovely Instagram Story update, indicating that Travis is indeed the soulmate she always wished for.
Kourtney Kardashian Feels Loved By Travis Barker With New Bouquet Gift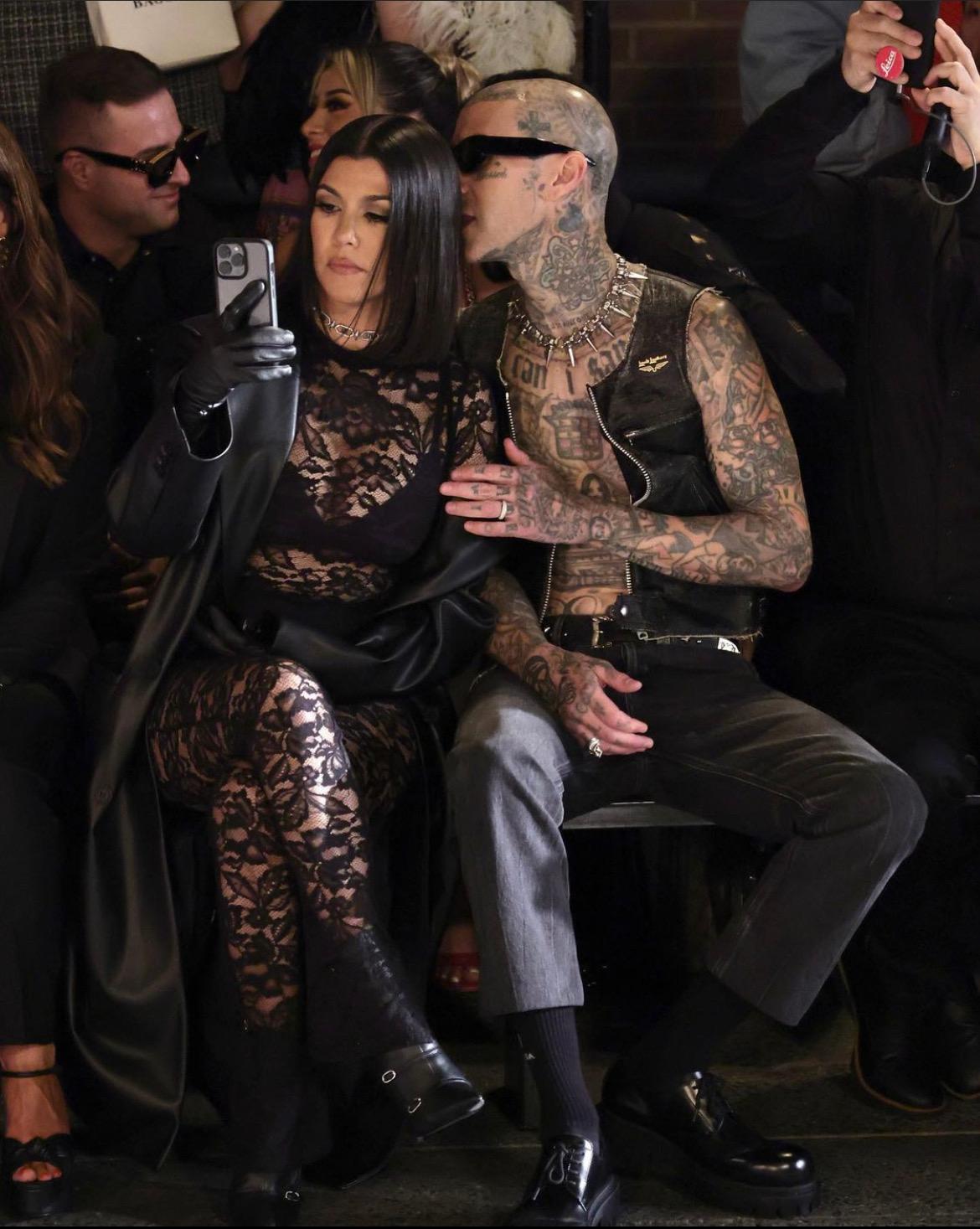 In the recent post, the famed socialite captured a gifted bouquet of colorful flowers that appeared to be from her ever-loving husband. The bunch was arranged in a white, possibly ceramic container and placed on a kitchen counter almost close to the beautiful wineglass-like lighting.
The flowers had a range of colors from pink, green, and lavender, all illuminated with the unfiltered brightness provided by the open kitchen windows. Such a present would no doubt warm the heart of any woman, including Kourtney, who wrote across the post, "My husband is my dream come true," and tagged Travis.
Not long after, the "Meet the Barkers" star reposted the flowers on his Insta Story, including his wife's words appreciating him.
It is no news that the duo is always all about affection and support for their individual and joint endeavors. One such instance was Travis' recent approval of Kourtney's partnership with the fashion brand BooHoo. The Blast shared that the brilliant musician conveyed his total support via an Insta Story post by calling her his "hot a**" wife and tagging her.
In the update, there was a billboard view of his wife promoting BooHoo with her name "Kourtney Kardashian Barker" written in bold letters alongside the brand's identity. There was also a $20 tag attached while the billboard was positioned close to a white building and the busy road.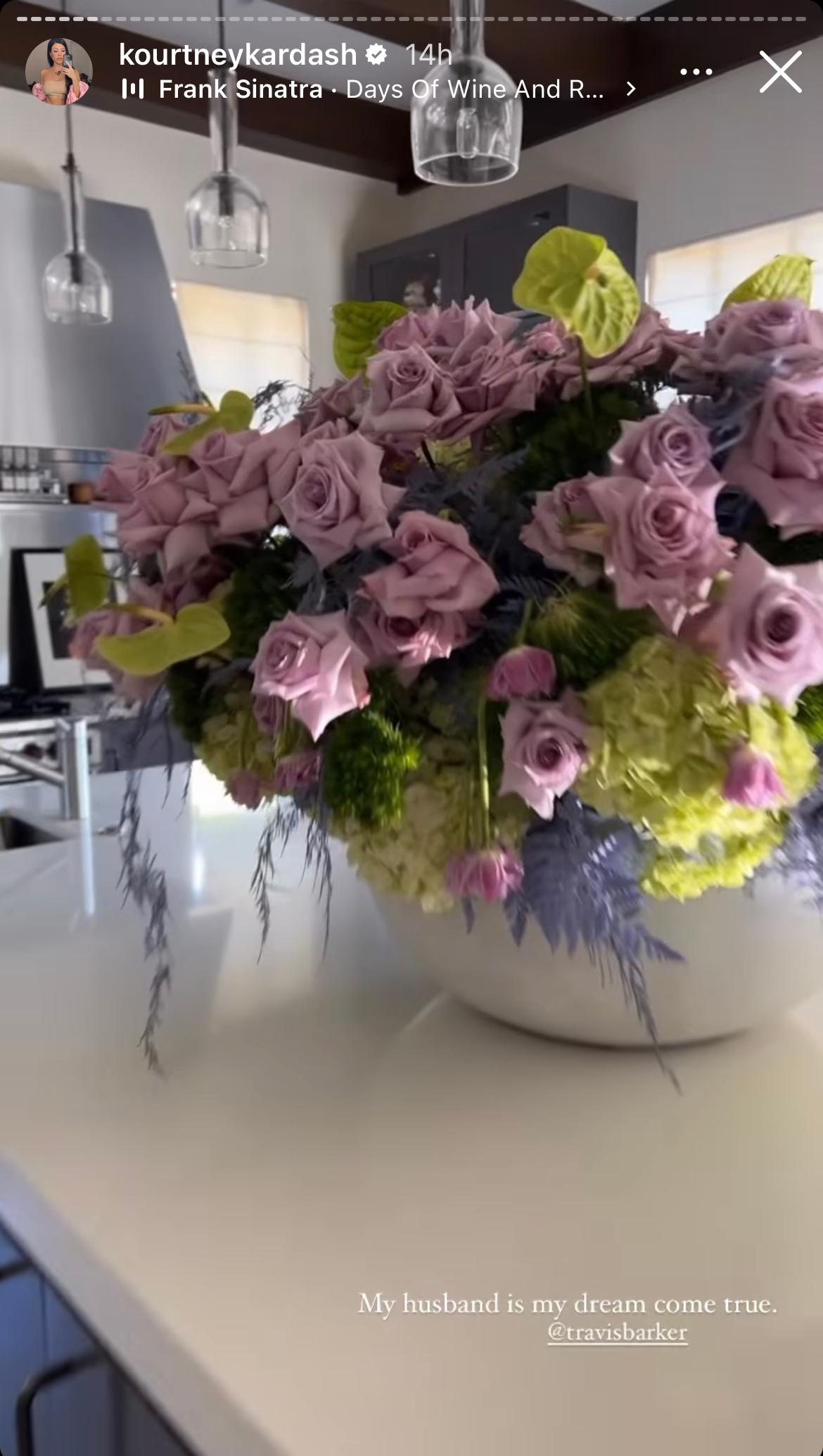 Looking as exquisite as ever, the elite influencer rocked a lilac ensemble, flattering her curves, and gave teasing poses in different positions. Given Kourtney's collaboration with BooHoo, The Blast reported that she debuted her first collection with the brand during a fashion show at the New York Fashion Week.
Naturally, she was present at the event alongside her supportive spouse, and they marked the accomplishment by kissing passionately at the event. Since they had front-row seats, every attendee might have witnessed the heated passion, which clearly did not bother the loving pair.
Moreover, before the show began, they were captured tongue-kissing outside in public, evidently oblivious to the people moving around them. Several other stars graced the BooHoo show, including fashion enthusiast Remi Bader, "The Real Housewives of New Jersey" star Theresa Giudice, and her daughters Gia and Milania.
Speaking of "The Kardashian" star's outfit to the event, she sported a black lacy catsuit and a faux leather coat, pairing it with a black choker, matching gloves, and stiletto boots. Similarly, Travis rocked an all-black ensemble comprising low-rise black jeans, an unzipped leather vest, and platform oxford shoes.
The program was certainly a success, with several models strutting down the runway in the 46-piece edition, featuring varieties of pieces from "cool business attires, sport streetwear outfits, an all-pink sweat suit, and sexy night-out ensembles."
The "KUWTK" Star Receives Praises From Fans For Flaunting Natural Curves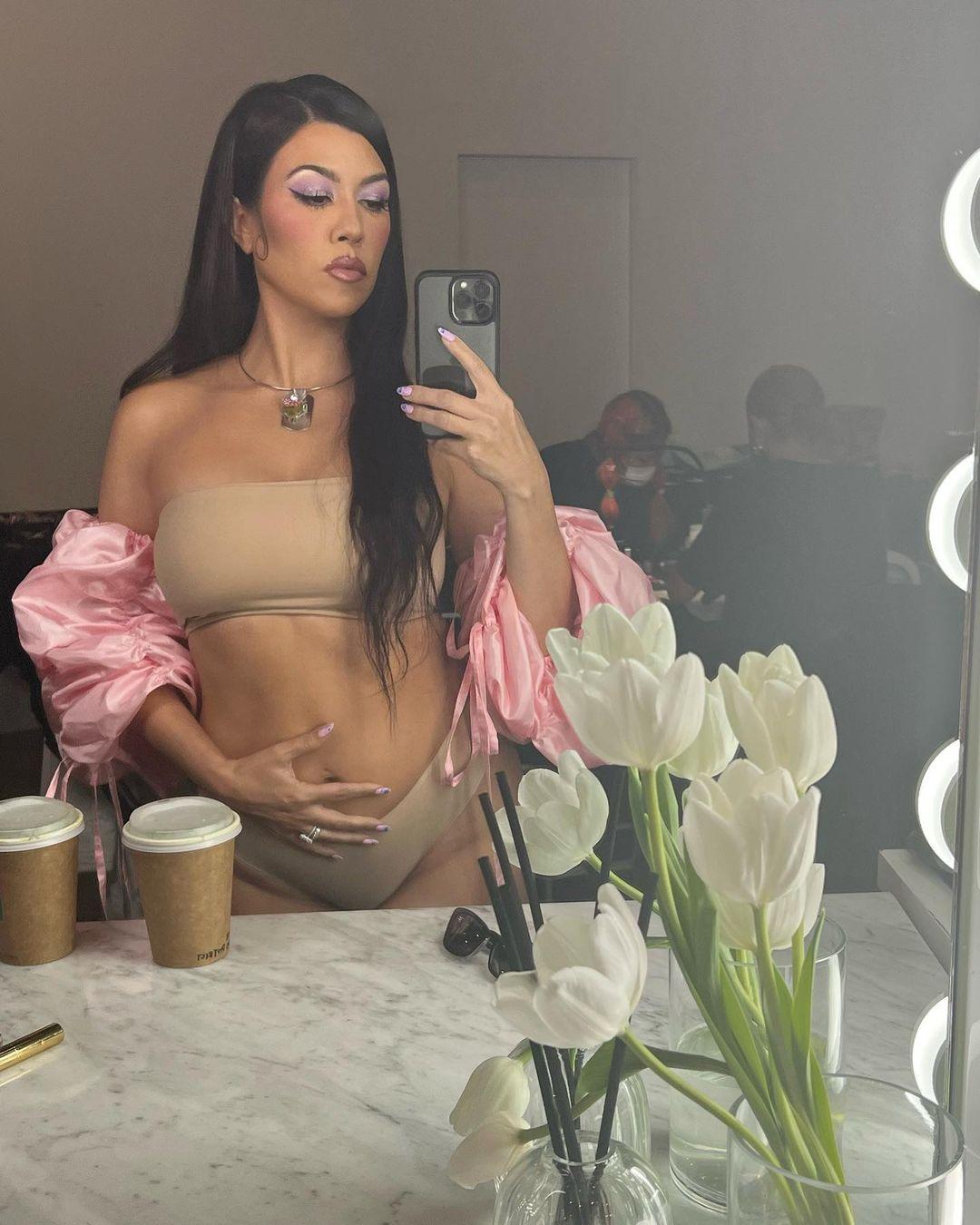 Kourtney recently showed off her natural curves in a series of unedited snaps, much to the delight of fans who showered her with praises for being different from her sisters.
As reported by The Blast, the Kardashian-Jenner clan is popularly known for their Photoshopped social media posts, which the eldest sibling appeared to have done away with in her then-new posts.
She gave fans glimpses of the BTS views from her "Lemme" campaign, in which she wore a nude bandeau top and matching bottoms. A mirror selfie showcased her sculpted midsection and thighs, prompting more praises from her followers as her exposed features looked so natural. One follower wrote:
"I absolutely love that you are showing your body with no filter," while another gushed, "Love your Real body! You're beautiful."
Kourtney's appearance seemed like a breath of fresh air compared to some of her siblings who have undergone several plastic surgeries, including a nose job, lip fillers, and of course, Brazilian Butt Lifts.