For many musicians and artists across genres, Shania Twain is not only 'still the one' they continuously return to for career inspiration. For Harry Styles, there seems to never have been any doubt!
The 57-year-old's legacy has been a subject of honor across the music industry for the past few months. In July, Netflix released "Not Just A Girl," a documentary that takes a look at Twain's groundbreaking career of more than three decades.
Twain is hardly in a season of looking back, though. The "What Made You Say That" singer knows she's still got it and is determined to continue expanding her legacy!
Twain Admires The Upbeat And 'Peaceful' Quality Of Styles' Music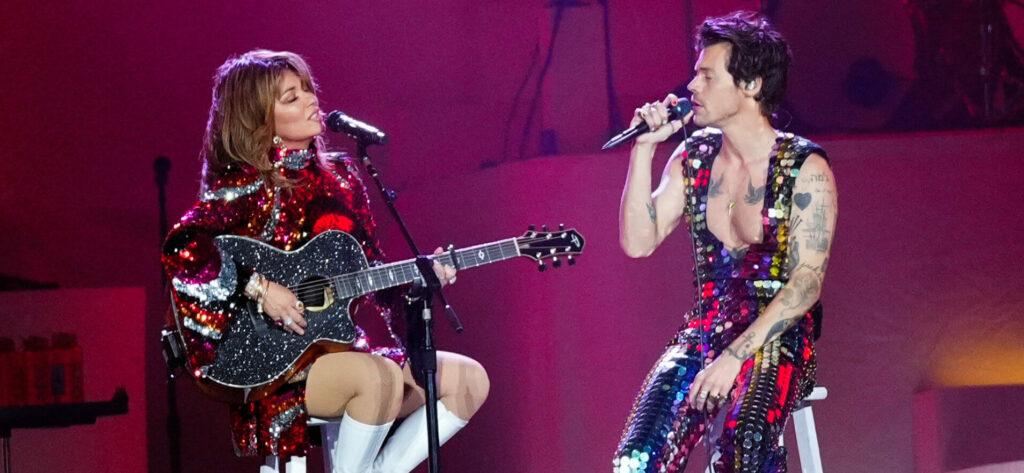 As Twain continues to go forward in her musical career, she has also been actively working with musicians across musical genres.
Styles has been a longtime admirer of Twain's music, and a student of her work. Styles has long been on Twain's radar; She had been itching to work with the "Music For A Sushi Restaurant" singer way back in 2018.
According to one of The Blast's reports from 2018 Twain expressed her excitement over the idea and had been thinking about exploring the possibility of working with him.
Now four years, (and a Coachella performance later), she is singing Styles' praises a-plenty!
"I like the floating feeling [Styles'] music gives off," Twain tells Bustle in a new interview," "This happy, peaceful, almost levitating feeling. And I love his voice, he's a great vocalist," she said.
Twain also recently sang his praises in an interview on the "Table Manners with Jessie and Lennie Ware" podcast.
"He's just a really genuine, nice person," she revealed in the interview per The NZ Herald, "And I think that's really, I mean, obviously, he's very talented. But people love him."
Twain Was An Incredibly Important Musical Teacher For Styles!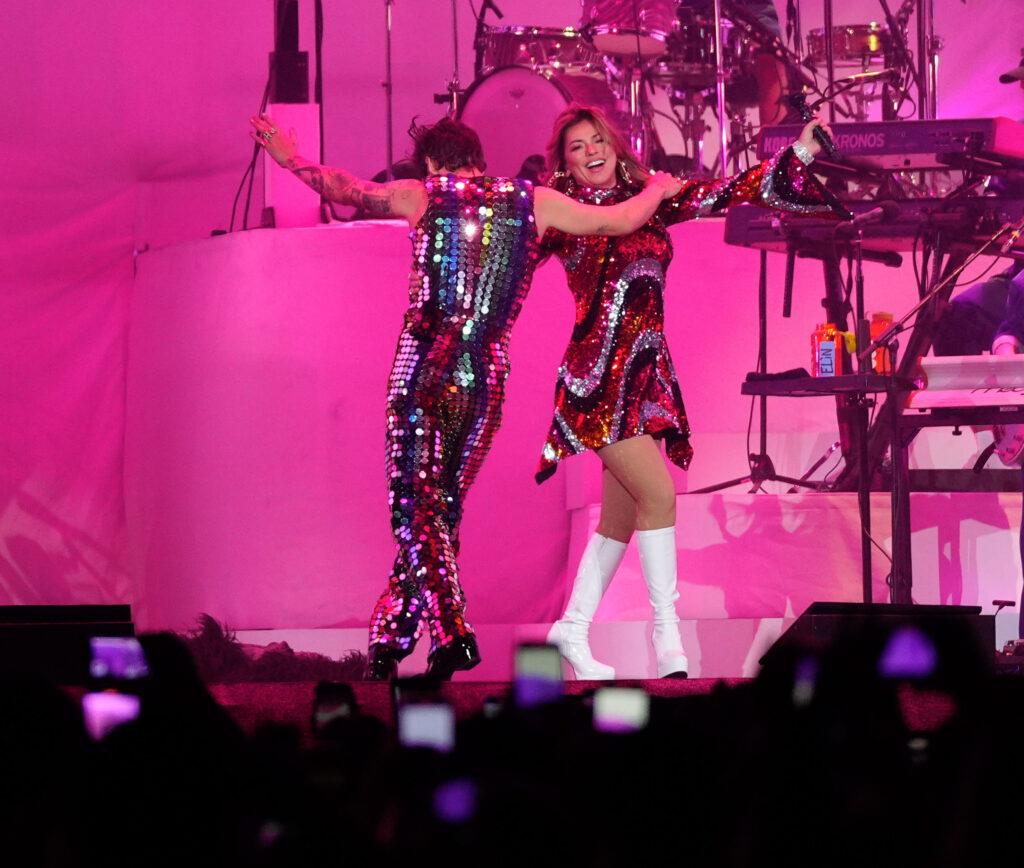 Styles has always loved Twain as well and has been a longtime admirer of her talent!
According to our coverage of the duo's April Coachella performance, Styles recalled how Twain's music played a strong role throughout his musical upbringing.
He told Twain and the Coachella crowd, "In my car with my mother as a child, this lady taught me how to sing. She also told me that men are trash," Styles joked.
"It's kind of a dream, and very surreal to be sitting here right now singing this song with you," Twain told him in response, referring to her Blockbuster wedding playlist staple track "You're Still The One."
"I think I'm just in love," she added.
Later in her 'Table Manners' interview, Twain continued singing Styles' praises for his genuine sense of self.
"He's likable," she said. "And I think he's earned that likeability… [the Coachella performance] was a beautiful moment. It really was. I enjoyed it a lot."
Eau De Styles!
View this post on Instagram

Twain enjoys a certain component about her Coachella duet partner quite a lot as well; she also praised Styles for his sense of smell!
"He smells so good," she also revealed in the interview. "He's so huggable. Yes, he is," she gushed!
We've seen Shania Twain and Harry Styles collaborate on stage. Perhaps a perfume or cologne collab could be in their future?