Model Kindly Myers is getting super comfy in her latest social media snaps, while still managing to appear effortlessly sexy.
In a recent post, the former soldier turned model posted three snaps of her lifting up her blue shirt to reveal her braless chest as she flaunted some serious underboob for her millions of Instagram followers.
Kindly Myers Lifts Up Her Blue Shirt To Reveal Her Braless Chest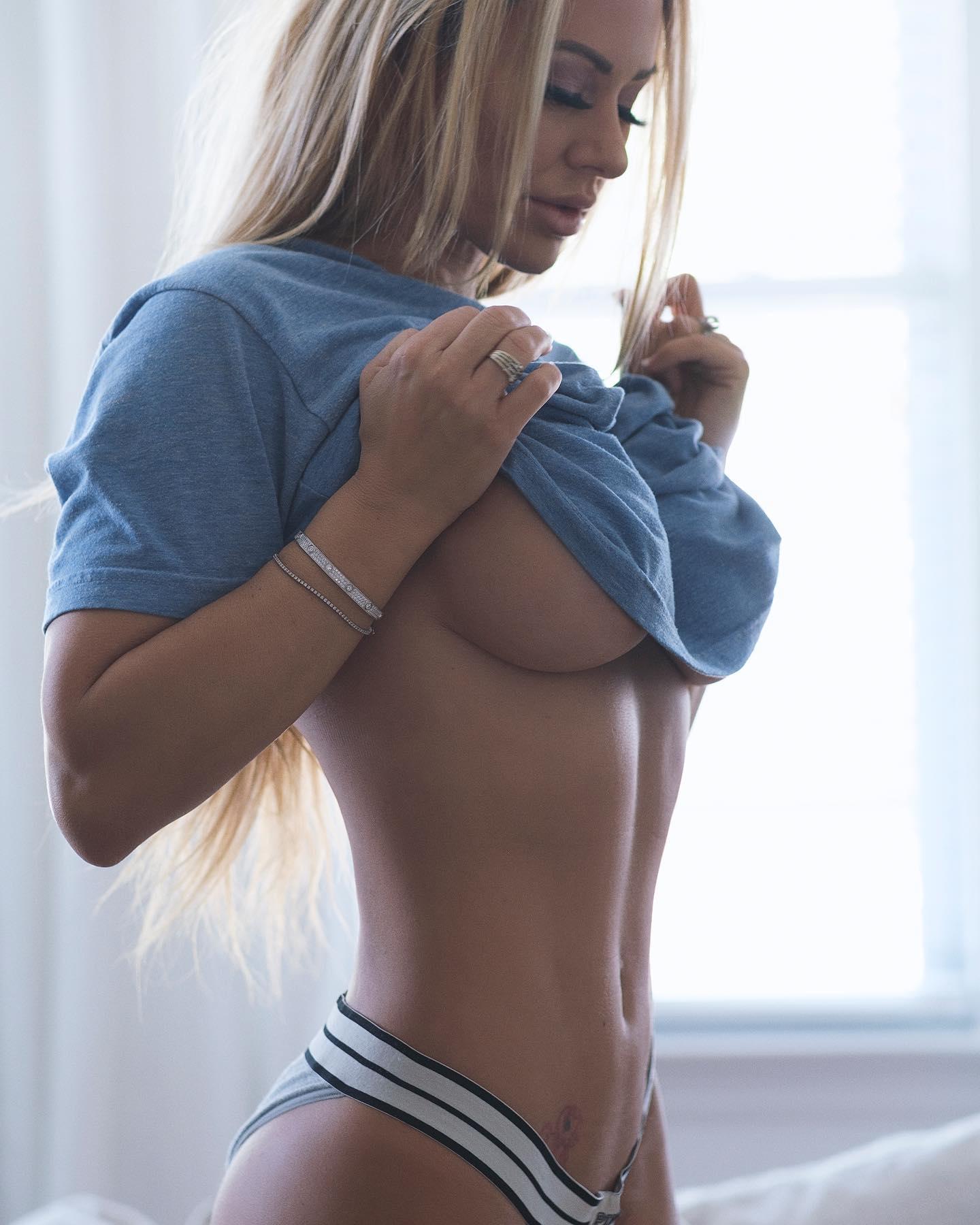 In a recent Instagram post, the Army National Reserve veteran lifted up her blue tee-shirt to reveal that she went completely braless underneath. Fans can see the side of her large chest as she leaves the end of her shirt strategically draped over her busty assets.
The definition in her toned abs are on full display in this shot as she flaunts her fit physique in cheeky gray panties with a black-and-white strap that runs over the natural curves of her hips. Her long blonde hair falls straight down her back as she glances down in this shot, showing off her long lashes.
In the caption, the Nashville-based model wrote, "Monsters aren't born, they're made" and tagged @jpaullphoto for the snaps.
Kindly Flaunts Her Famous Booty In Cheeky Panties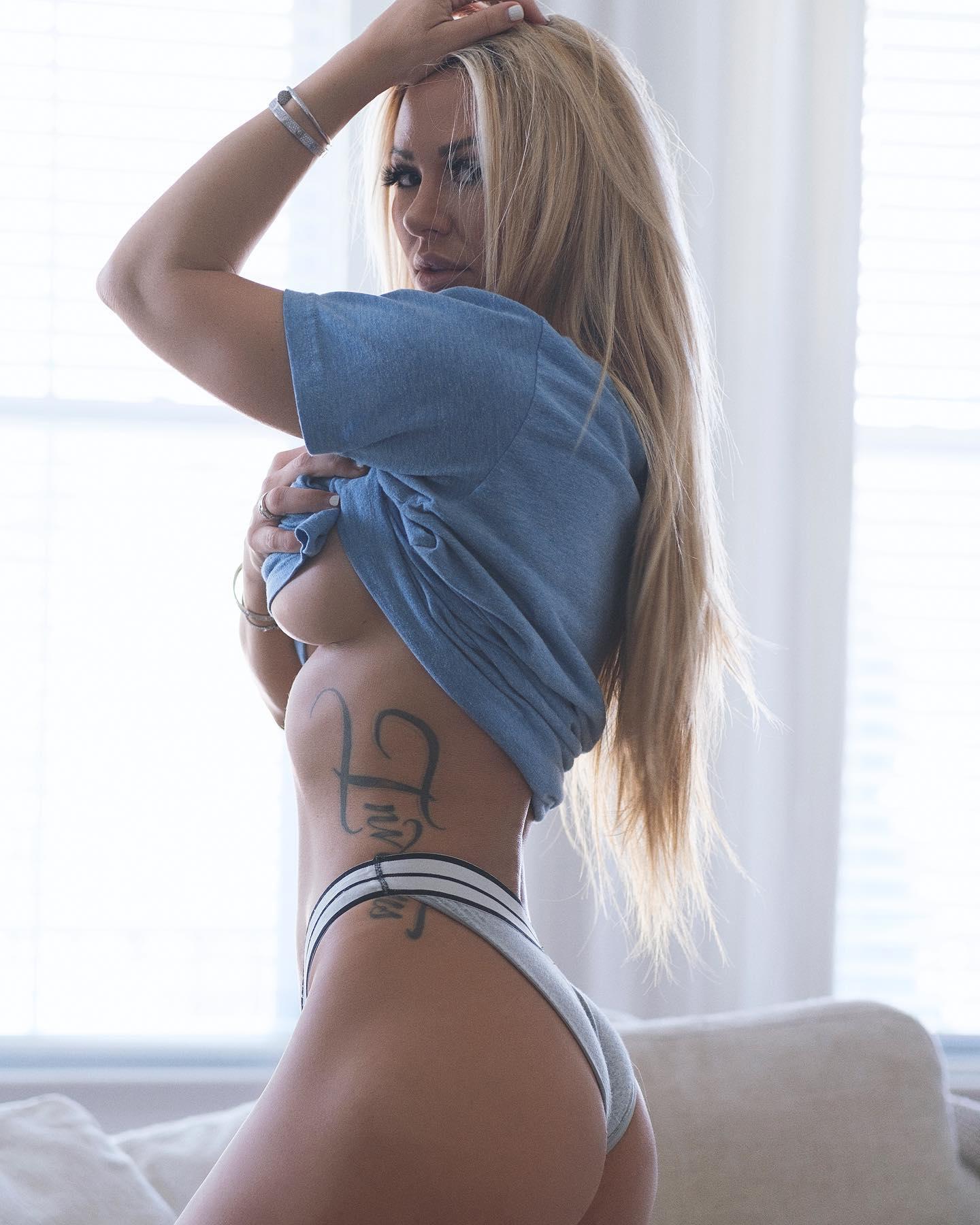 In another snap, Kindly is standing with her long blonde hair partially covering her face as she poses with one hand on top of her head, peeking at the camera over her shoulder. She is still holding up the shirt with her other hand, clutching the fabric just above her chest as she leaves part of her large chest on full display for her followers.
Fans can see more of her sunned buns in this shot as she gives fans a view of her side profile. Her large "Invictus" tattoo that covers her left flank is also clearly visible from this shot, only partially obscured by the strap on her high-waisted panties.
Her fans and famous friends showered the post with heart-eye and fire emojis, with photographer Joshua Shultz commenting, "🔥🔥🔥."
Fans Can't Stop Gushing Over Kindly's 'Comfy' Photo Shoot!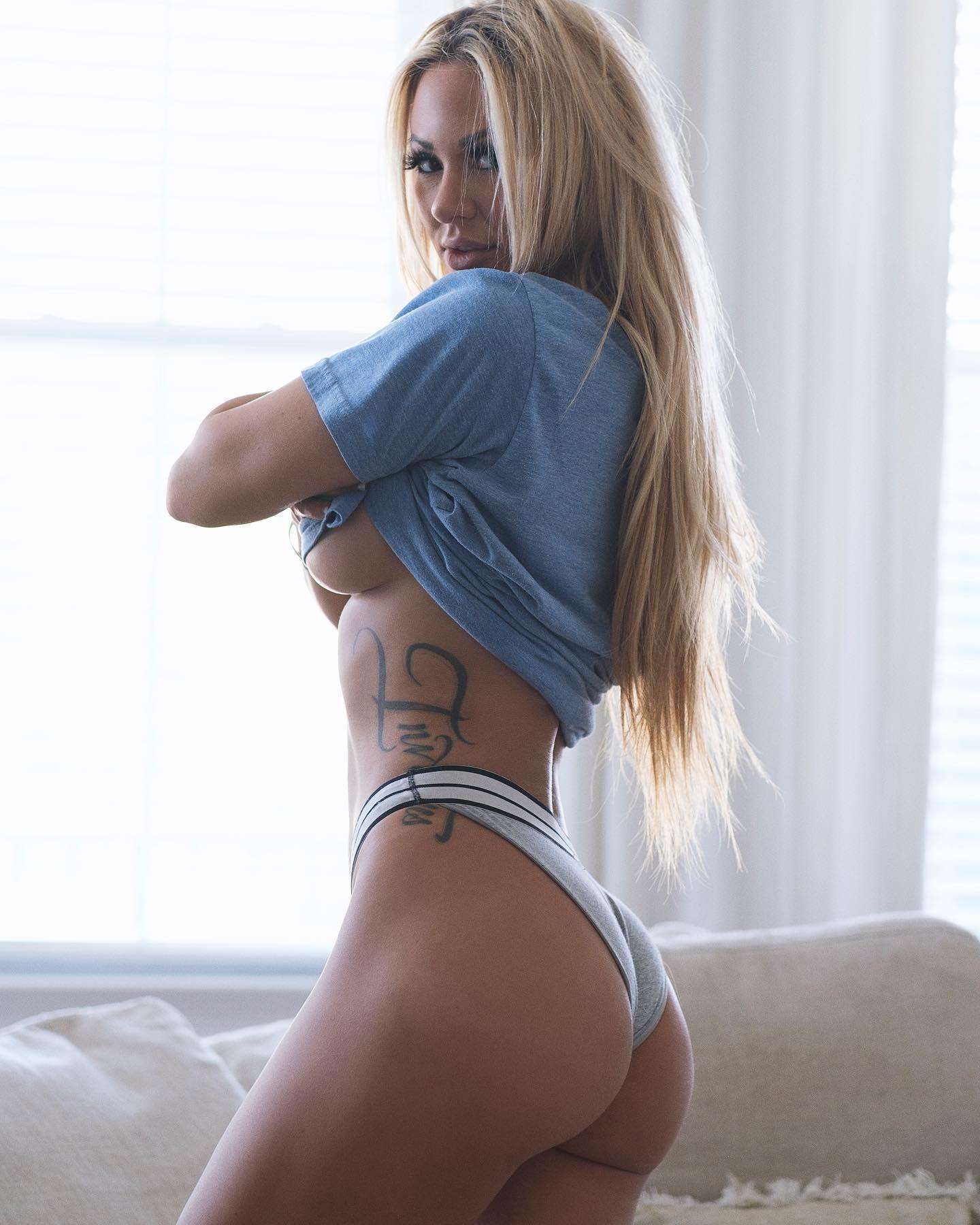 In the third and final snap of this post, the former "Babes in Toyland" host lets her long blonde hair fall free down her back as she keeps both arms wrapped around her chest. There is still a little bit of her chest peeking out from her shirt as she gives fans another look at her toned derriere.
"Love this set! 👌🔥," one fan commented. "You're beautiful and beautiful kindly 😍🔥," another follower wrote. "So very SEXY 😛," a third fan gushed. "Stunning queen," another follower added. "You look amazing love 😍😍," another fan shared. "I get weak in the knees," another follower chimed in. "So sexy," another fan added.
"U are a hottie," another fan wrote. "Exquisite," another follower commented. "Beautiful physique 🔥🔥❤️," a third follower gushed. "Natural beauty ❤️," another fan shared. "What a beautiful monster you are💯," another follower chimed in. "Absolutely perfect darlin!!!" another fan added.
Kindly Myers Is Getting 'A Little Wild' On Her Snack Break
In her latest Instagram video, the social media sensation posted another hilarious video. In the clip, Kindly is wearing a purple bra and matching thong that is decorated with pink and orange flowers. She dips her hand into a bag of Doritos and sways her hips from side to side, reacting to an audio clip of a little girl saying, "That's because I, um, I just get a little wild when it's time for a snack break."
In the caption, Kindly wrote, "Time for a snack break" and tagged @honeybirdette for the lingerie. "Looking like a whole snack 🔥🔥🔥🔥," one fan commented. "you are a masterpiece 😍❤️😍❤️," another follower wrote. "Frito-Lay would do well to endorse you. 😍," a third fan joked.
"You are absolutely amazing and beautiful 🌹🌹🌹," another follower gushed. "Very beautiful view in the morning😍," another fan shared."So stunning sexy 😘," another follower wrote. "But you're the snack 😍😍," another fan joked. "You and I BOTH know you didn't eat those LMAO! Keep up the good work," another follower chimed in.
"Omg Kindly, you never miss, unbelievably hot," another fan gushed. "Share that bag of Doritos 😊," another follower added as fans continued to shower her latest video with compliments of "stunning," "gorgeous," and "absolute perfection."
Believe it or not, this is actually not the first time that Kindly has gone braless underneath a blue shirt and shared the sultry snaps with her Instagram followers. Fans can check out the rest of the snaps in her "comfy" collection by clicking here.