Olivia Wilde insists there's absolutely NO reason to worry darlings.
The actress and director of the highly anticipated film, "Don't Worry Darling," is currently in Venice, Italy at the Venice Film Festival to promote the film.
On Monday, September 5th, Wilde along with her co-stars walked the VFF red carpet and debuted the film.
The Cast Of "Don't Worry Darling" Put On A United Front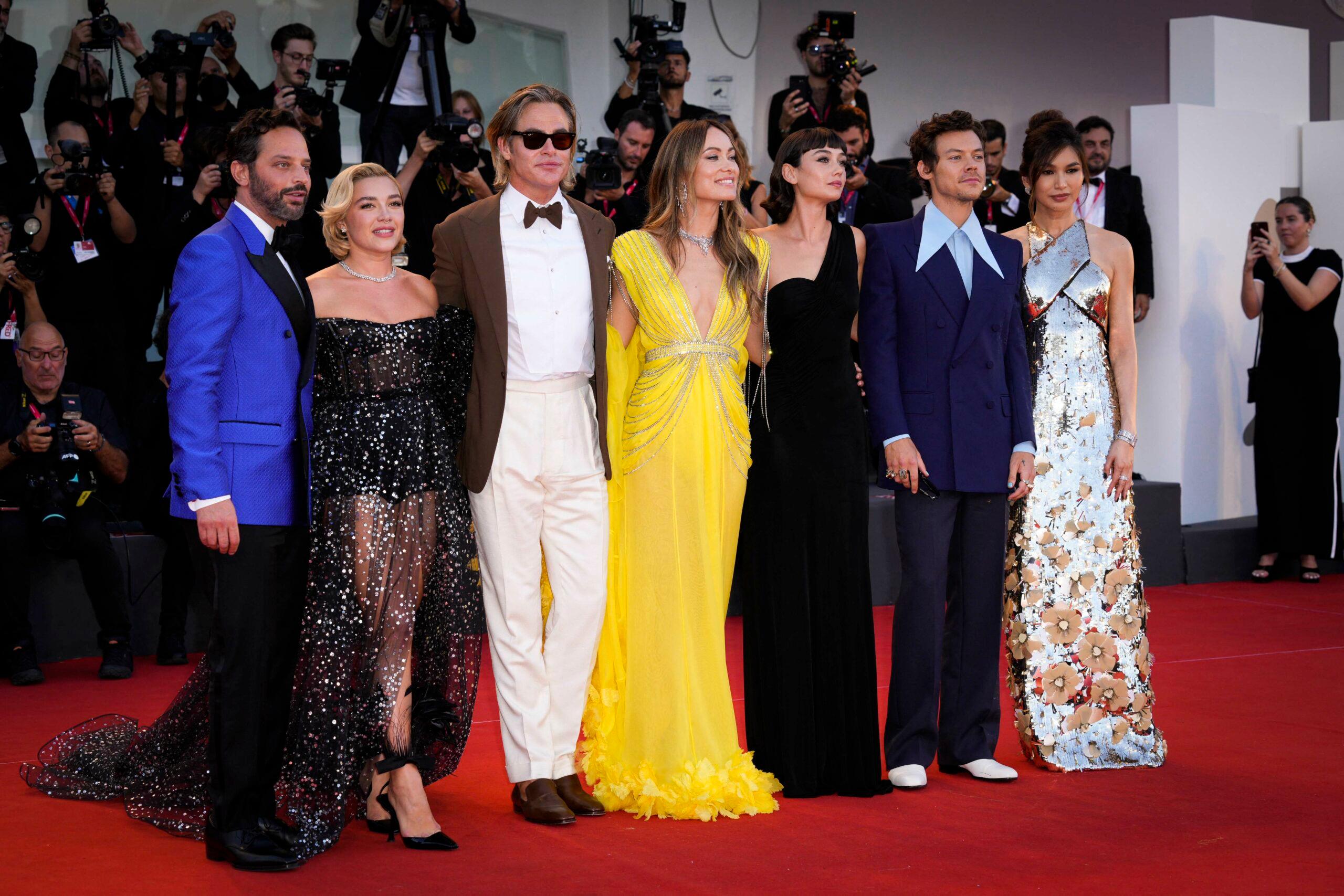 Since production began on 'DWD,' there have been rumors of a feud between Wilde and Florence Pugh.
The rumored beef began when Wilde and Harry Styles began an off-screen romance while she was still engaged to Jason Sudeikis.
The alleged love affair really ruffled Pugh's feathers, and in turn a rift formed between the female co-stars.
Pugh has done the bare minimum to promote the film and she showed up 15-minutes late to the red carpet premiere.
Harry & Olivia's Love Affair Is A Point Of Contention For Pugh
There's also "Spitgate 2022" going on between Styles and Chris Pine, but we will get to that later on.
In an interview on Monday, Wilde is putting the feud rumors to rest.
During an interview, Wilde attributed Pugh's lateness and solo arrival on her busy schedule.
Pugh flew to Venice for one night only, because she's currently filming the sequel to "Dune." Filming and production is taking place in Budapest, Hungary.
Wilde insists all the drama regarding her relationship, both professional and personal, with Pugh is just gossip and noise.
Olivia Clears The Air About Florence Pugh Feud
As for Styles and Pine's relationship… well, that's up for debate.
The former One Direction singer was caught on tape seemingly SPITTING on Pine before taking a seat in the theater.
Did Harry Styles spit on Chris Pine???

THIS LEAGUE@ChicksInTheOff
pic.twitter.com/26g7ZZSkrU

— Barstool Sports (@barstoolsports) September 6, 2022
You can clearly see the singer purse his lips as if he is going to launch a loogie, and Pine's reaction is pretty on point for someone who may have just gotten spit on.
Then you've got Wilde's reaction of "OMG" and "WTF just happened."
It's all very insane, bizarre and unexpected. Twitter is absolutely losing it over this 11-second clip!
"This has to be the most/wildest pre movie drama in recent memory. Every turn there is something," one person tweeted.
Another said their press run looks like "hell on earth."
"Don't Worry Darling" Spitgate 2022 Is "Hell On Earth"
"Chris Pine is the definition of Class, a lot of us would not have took that and caused a scene, more respect to him. Guy is a great human being, doesn't deserve to be treated like that," one fan wrote.
Not only was "Spitgate 2022" a major topic of discussion on social media, Haz's random AF comments about movies is also making the rounds.
"You know my favorite thing about the movie is that it feels like a movie. It feels like a real, go to the theater film, movie. You know, the reason why you go," Styles said all while Pine stared blankly ahead.
Chris Pine's soul leaves his body as he listens to Harry Styles explain concept of movies
pic.twitter.com/5Z9q3WDJzp

— billboard pop ➐ (@bilIboardpop) September 5, 2022
"Imagine being Chris Pine, a PROFESSIONAL actor. Flip phone is charged. Feminist theory books on deck for your down time between junkets. You show up to your cast HATING each other and you get stuck on a junket with a man who has seemingly figured out what acting is? Wow," one fan tweeted.
Someone hilariously wrote, "Chris pine disassociating at a press conference, Florence pugh showing up 15 mins late with an aperol spritz, tom cruise clinging to a plane and saying 'see you at the movies!' Brendan fraser getting a six minute ovation… maybe cinema really is back."
The drama of "Don't Worry Darling" will definitely go down in cinematic history.