Philadelphia is known for many things – cheesesteaks, the Liberty Bell, sports teams, and art museums, among many others. But now add an alligator walking around spreading love and joy to that list. TikTok famous emotional support gator, WallyGator, surprised some people in Philadelphia's LOVE Park recently when he was walking around on a leash enjoying the heat and the sprinklers in the park.
An Alligator Walking Around Philly Is An Unusual Sight To See
People in the park on Friday got the special visit from the peaceful, friendly gator as he was being walked through the fountain on a leash by a young girl who was with her family. Britt Miller was at the park at the time of the gator's visit. She was taking a walk with her baby when she spotted the unlikely tourist. Miller told the Philly Voice, "We were just walking by LOVE Park and saw this kid playing with an alligator in the fountain. Of course, there was a ton of people around taking pictures. The girl seemed to be with her family, who were sitting off to the side. They were super friendly. People were picking up the alligator, petting it, all sorts of stuff." Miller posted about her strange encounter on Twitter with a tweet that included a pic of the friendly gator.
This is NOT a drill there is an emotional support alligator in Love Park pic.twitter.com/xU7TTs6y2V

— Britt (@brimil) August 26, 2022
Wally Is A Licensed Emotional Support Animal
Wally is from York, Pennsylvania and is a 7-year-old American alligator who measures about five feet in length. He was adopted by reptile enthusiast Joie Henney in 2016 and according to Wally's TikTok page, is a licensed emotional support animal. The York Dispatch reported back in 2019 that Wally became the first American alligator to become a licensed emotional support animal. Henney registered Wally because of all their public appearances.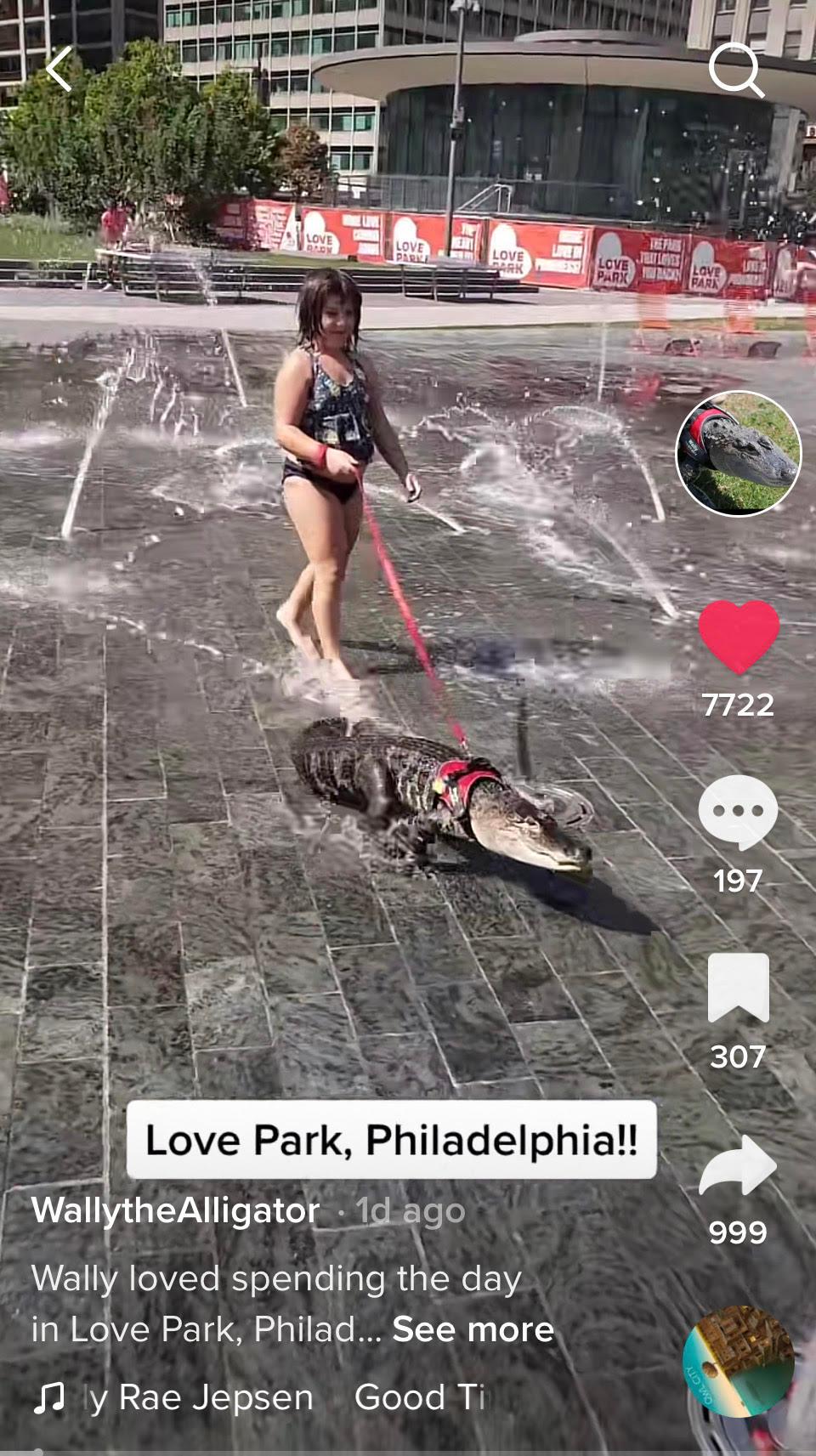 Philly Embraced Wally's Visit
In another recent video posted to TikTok, you can see Wally sitting on his owner's lap captioned, "Wally enjoyed the day in Philadelphia!" People instantly took to the comments to say they want a chance to meet Wally.
"Awww I wish I knew you were in my city! I'm dying to hug Wally 🥰🥰🥰"
"I love Wally!!"
"I need to meet Wally!! I'm from the Lehigh valley!!"
You Can Help Wally Become America's Favorite Pet
Henney told USA Today that he brought his pal Wally to LOVE Park to meet the public. Henney entered Wally into "America's Favorite Pet Animal Kingdom," where people can vote on their favorite animal and the winner receives $10,000. Wally is currently in first place in his category. Henney is currently battling cancer and has set up a GoFundMe page to help cover the costs to keep Wally and the other reptiles he cares for at Forgotten Friend Reptile Sanctuary.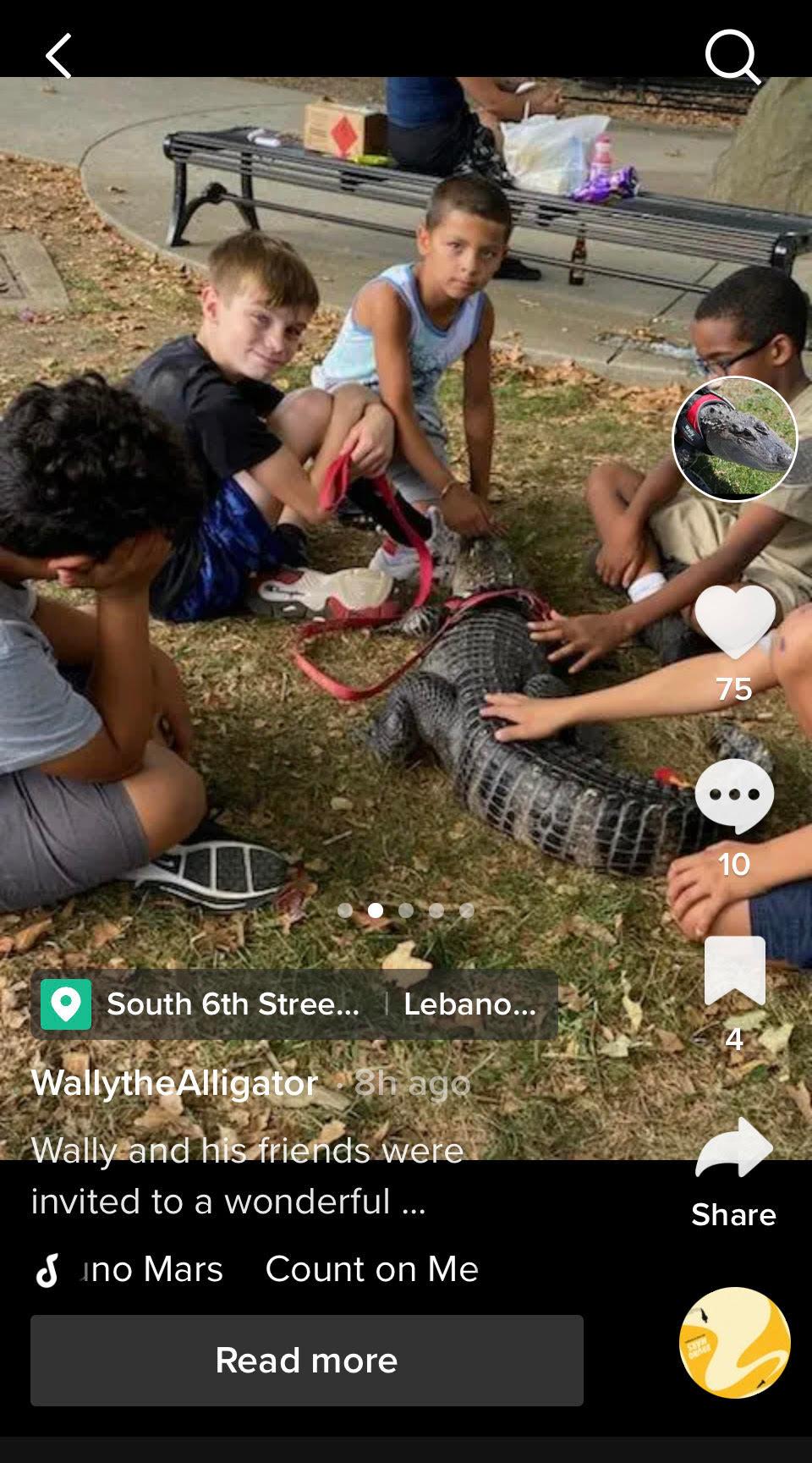 The Adventures of Wally The Gator Can Be Seen On Social Media
You can see some of Wally's adventures on his TikTok page as well as on Facebook, and also keep up with what's going on at the reptile sanctuary.