We might never get to party with the Kardashian-Jenner clan, but one thing is for sure — we will always get a glimpse of their lavish celebrations!
On Wednesday, the youngest of the famous family, Kylie Jenner, turned 25 and celebrated her big day with a very extravagant bash! Days after her special moment, Kylie gave fans a glimpse into how her birthday went down, and big sister Kim Kardashian couldn't help but be a spectacle.
Kylie Jenner Celebrates Being 'Twenty Fine' On A Yacht
On her birthday, Kylie gave the first tease of her celebration, with a focus on her killer dress. The Kylie Cosmetics founder looked breathtaking in a sparking sheer dress that flaunted her curvaceous assets.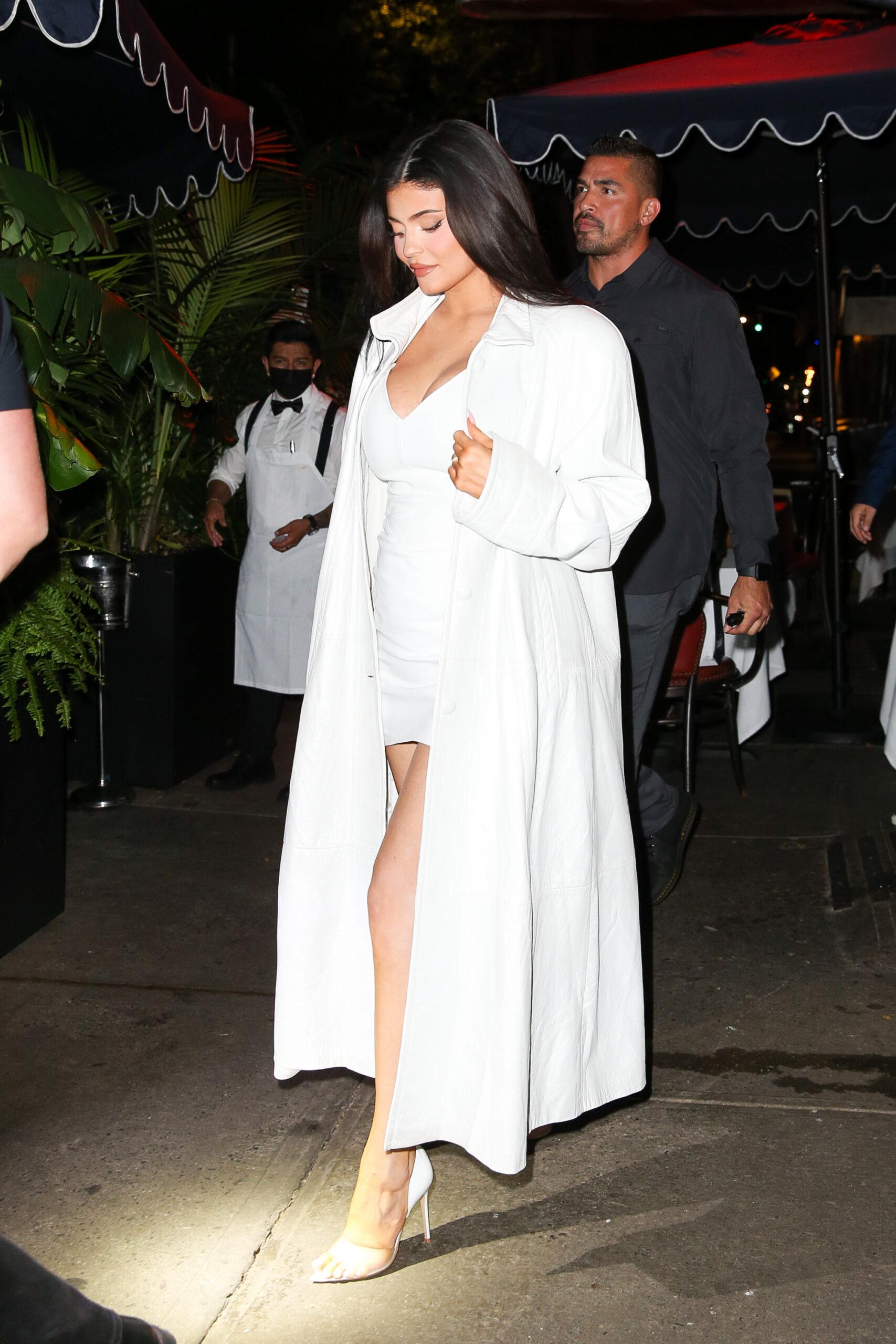 She left little to the imagination in the off-shoulder ensemble that clung to her lithe waist and featured a thigh-high skit. Kylie styled her hair into a high bun, giving the dress the spotlight.
The mother-of-two kept her accessories to a minimum wearing just a pair of silver statement earrings. In two frames, Kylie turned her derrière towards the camera while the final video showed an elaborate fireworks display behind her.
At the time, the location of Kylie's birthday was largely unknown. However, on Thursday, the 25-year-old was kind enough to reveal that it all went down on a yacht.
In a TikTok clip that spanned 1 minute 35 seconds and has since received over 3 million likes, Kylie did a thorough recap of her birthday party.
"Birthday party on the boat," Kylie announced in the background as she and Stormi ventured towards the yacht which was in the distance. The celebrant was welcomed on board by staff and chants of "happy birthday" from sister Kendall Jenner, mom Kris Jenner, and two friends.
Fireworks rang in the background as Kylie screamed in excitement about her milestone.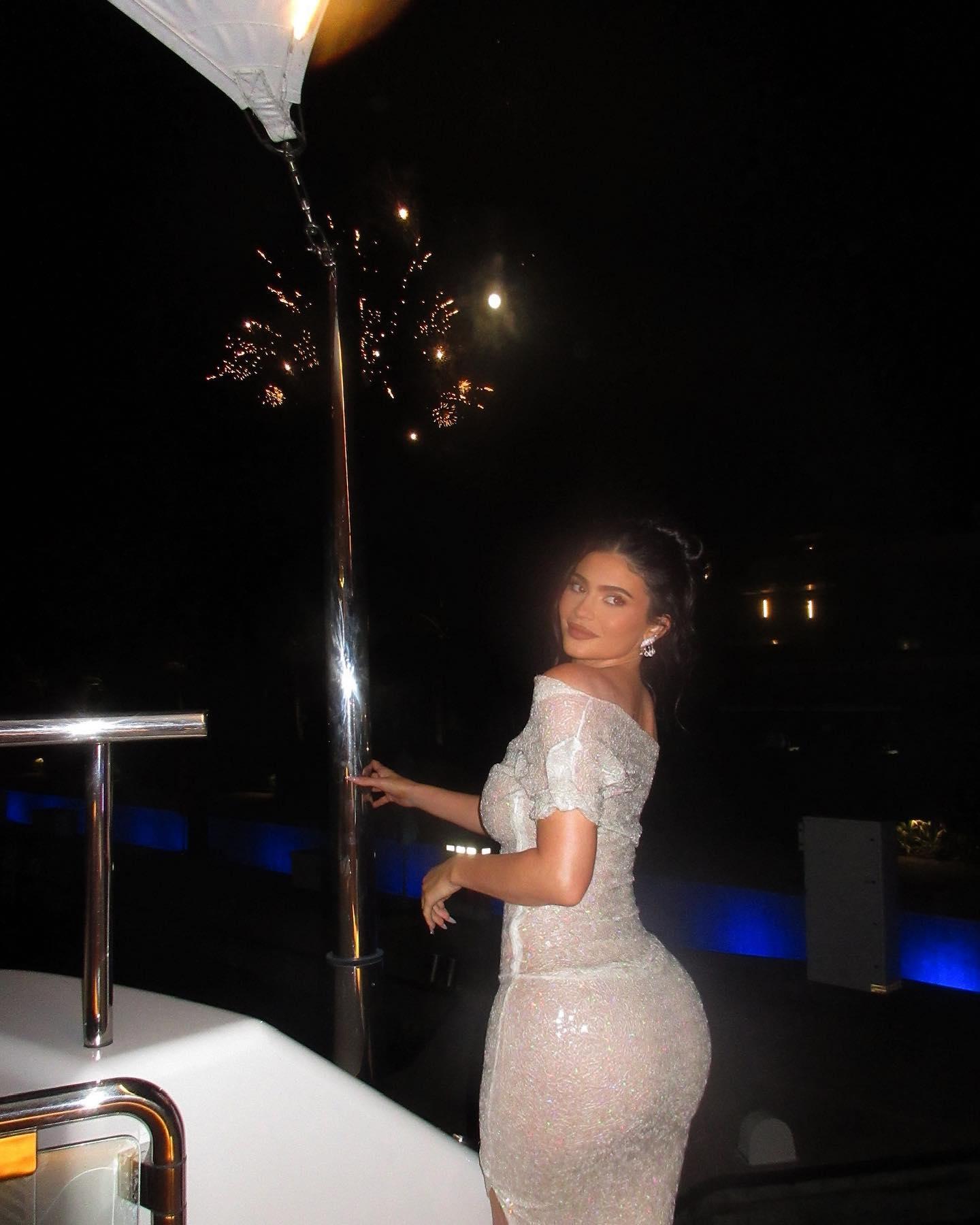 Kylie Gets $100K Bag, Kim Kardashian Struggles With Alcohol
Kylie's 25th was a family celebration, with the grandkids included, but that didn't stop the adults from having a swell time with some drinks.
A frame showed Kylie joined by family friend LaLa Anthony and a third lady downing shots with lime and salt. Anthony declared they were doing "25 shots for the party girl" to ring in the day.
The TikTok then transitions to the gift-opening session of the celebration and oh boy! Kylie opens a gigantic orange-wrapped box and a smaller one from her mom which contained a pair of orange furry Hermes slippers and a Birkin bag!
Kylie dramatically opened the rare edition Hermes Birkin and couldn't help but gush to her mom, "Gorgeous! I've never even seen anything like this before."
Per reports, the three-tone handbag which contains tan, rust, and beige color palettes is so rare that only three of it have ever been made. It costs a whopping $100,000.
As Kylie opens her present, Kim interrupts the room asking "does anyone have a shot I can take?" The whole room erupts into cheers and screams given that the SKIMS founder rarely takes alcohol.
The camera pans to show a shy Kim wearing a striking orange dress as everyone encourages her to go for it.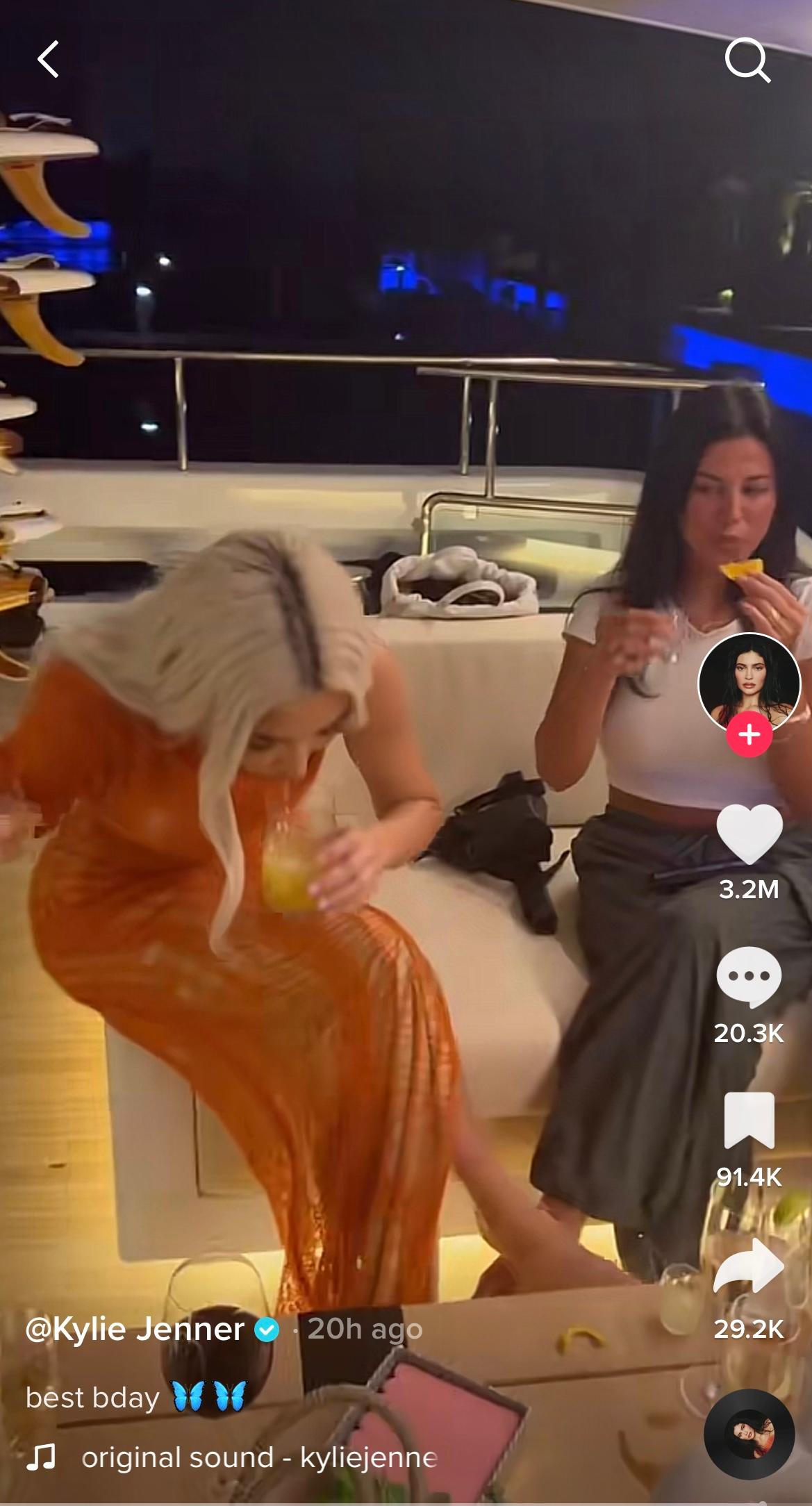 Is Kim A Spotlight Thief?
Later in the clip, towards the end, we see Kim downing a shot alongside the rest of the party attendees but it ends in complete failure.
The mother-of-four couldn't go through with it as she spat it into a cocktail glass immediately with a disgusted look on her face.
She struggled to speak as she fought off the effect of the alcohol. "it's so….," her voice trailed off as she coughed and struggled to catch her breath.
This isn't the first time Kim has stolen the spotlight from her sister during her 25th birthday celebration. As The Blast reported, in her birthday tribute to the celebrant, Kim's boobs took most of the attention.
The 41-year-old put on a very busty display in the photos shared in her Instagram tribute. She donned an asymmetrical black tube top with only one strap that clung tightly to her chest, her bosom almost popped out.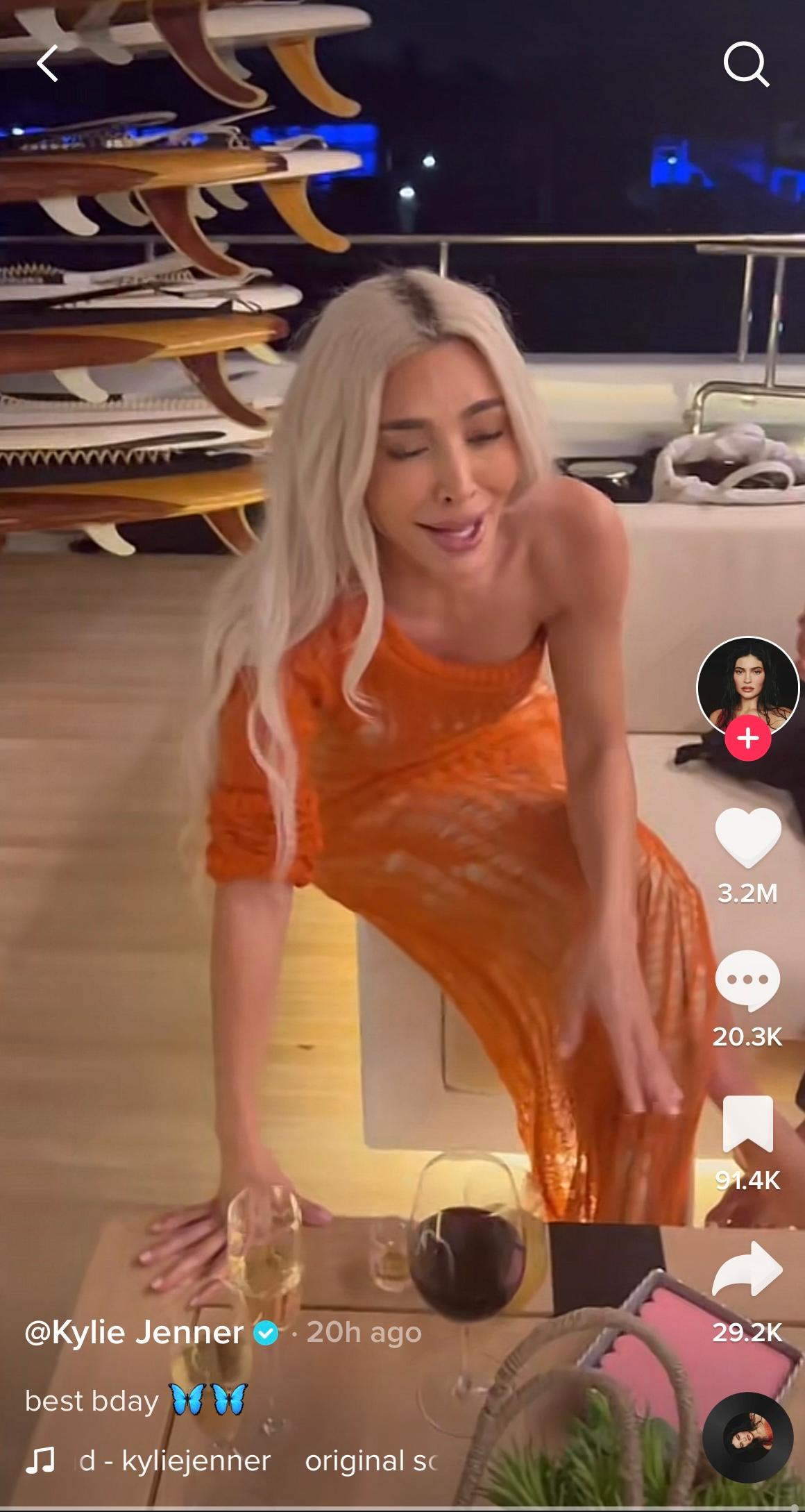 The images were from a beach resort party which included Kylie's boyfriend Travis Scott. While Kim's boobs were a sight to behold, her heartwarming caption surely redeemed her.
"Happy Birthday party gal (in LaLa's voice this whole trip lol)," she began. "Every year you amaze me at how wise, protective of your loved ones and just how generous your heart is. You are so special and one of one. You have so much love and happiness in your love that I pray for this forever. Happy birthday @kyliejenner I love you so much!!! Forever and Ever!!!"