Demi Rose has just shared another busty snap from her vacation in Greece, and fans are already flocking to her Instagram page to pile on the likes and gush over her sensational look!
The gorgeous influencer has been enjoying a lavish getaway to Mykonos, taking in the magnificent sights as she sunned her spectacular body in outrageously scanty outfits. Although her trip also included work. While there, the English beauty is still very much present on Instagram and has been treating her 19.9 million followers to stunning views from her trip abroad.
The Best Vacay Pics
Demi's latest photo share was no exception, as she thrilled fans with a splendid view of the Mykonos windmills. She made sure to do the renowned attraction justice by posing in front of them in her incredibly sexy outfit. The round, whitewashed buildings against the clear, blue sky were seen behind her.
However, the clear focus of the snapshot was Demi herself. The 27-year-old put on a very tantalizing display for her avid admirers, showing off her bountiful chest in a dangerously low-cut top that could barely contain her buxom curves. One of the pics was closely cropped to her ample assets, and the photo put her generous bust front and center, giving fans plenty to see and a lot to talk about.
Demi Rose Nearly Bursting Out Of Her Top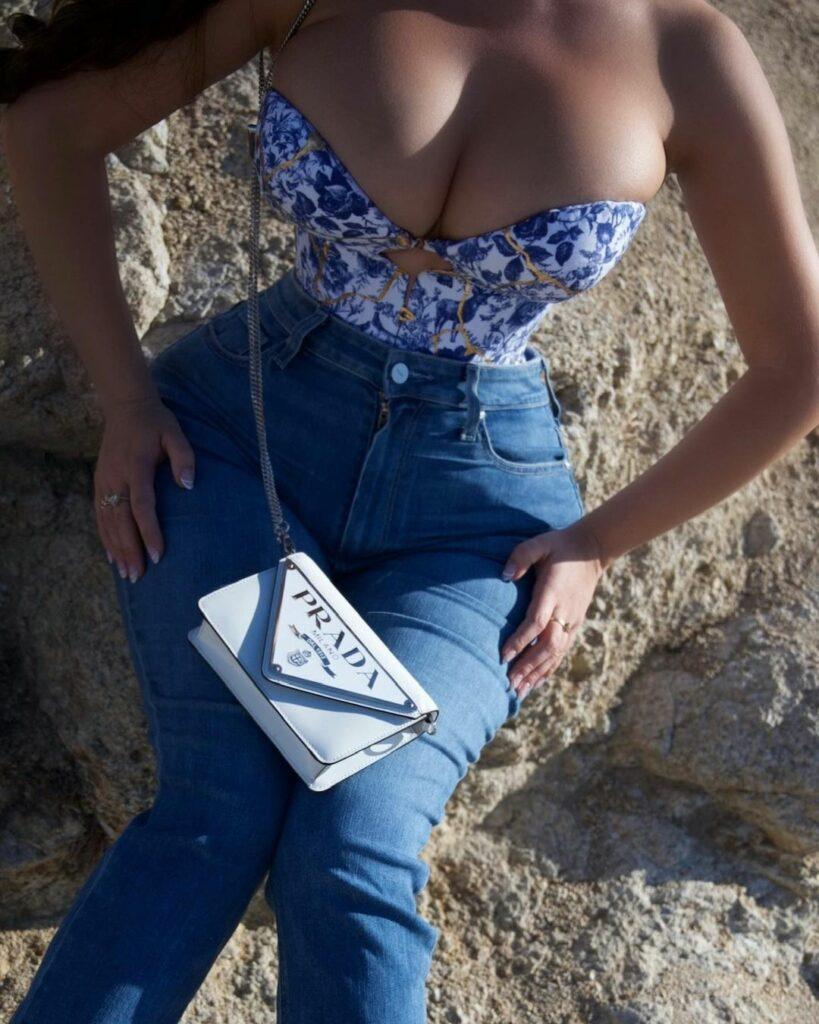 The model nearly spilled out of the plunging top, which had a white base with blue floral prints, flashing her massive cleavage in the revealing number. It featured a strapless design with padding that beautifully framed Demi's décolletage.
The piece had a small cut-out below the cups that teased a glimpse of Demi's toned midsection. Her chiseled collar bone was also on display, as were her toned shoulders and arms. At the same time, the curve-hugging top accentuated her taut waistline, emphasizing the difference between her curvaceous bust and slender midriff.
Demi also sported high-waisted blue jeans and a pair of white pumps. She also carried a Prada wristlet that matched her shoes.
Enchanting Beauty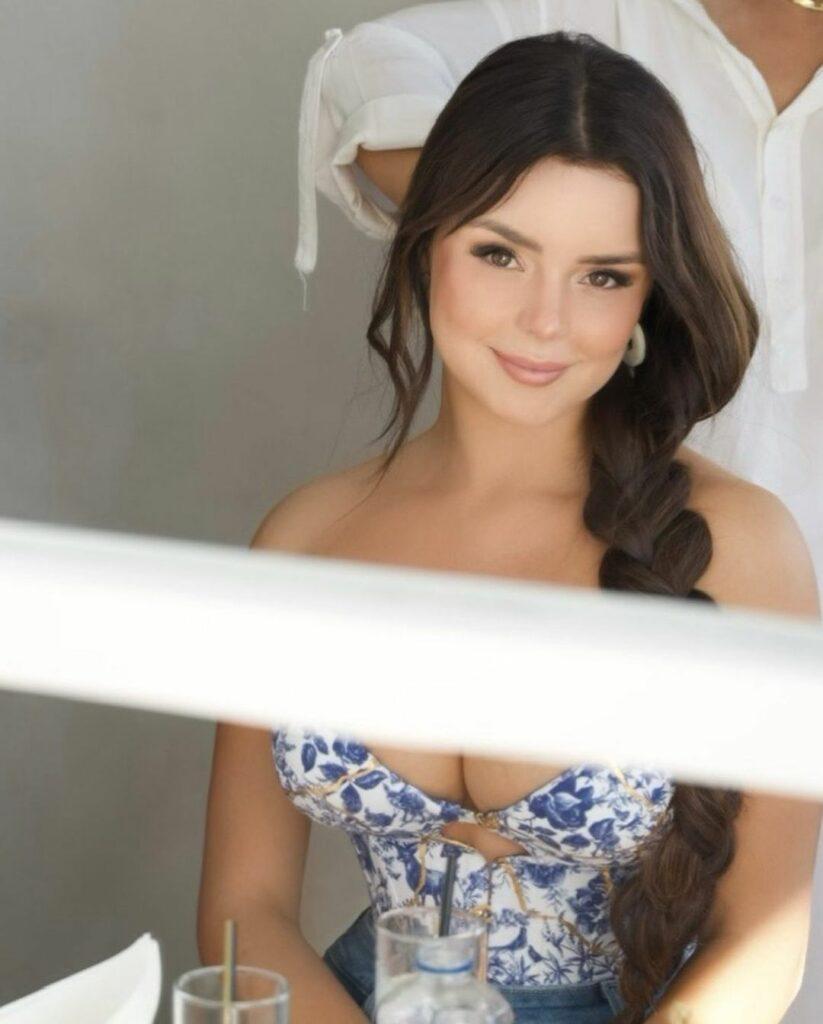 The bombshell kept things simple and chic with natural-looking makeup that played up her beautiful features. She highlighted her deep brown eyes with a light smokey eyeshadow and dark eyeliner and appeared to have worn faux eyelashes for extra oomph. Her glam was complete with a touch of blush and a glossy peachy-pink lipstick that called attention to her pout.
The BEST View In Mykonos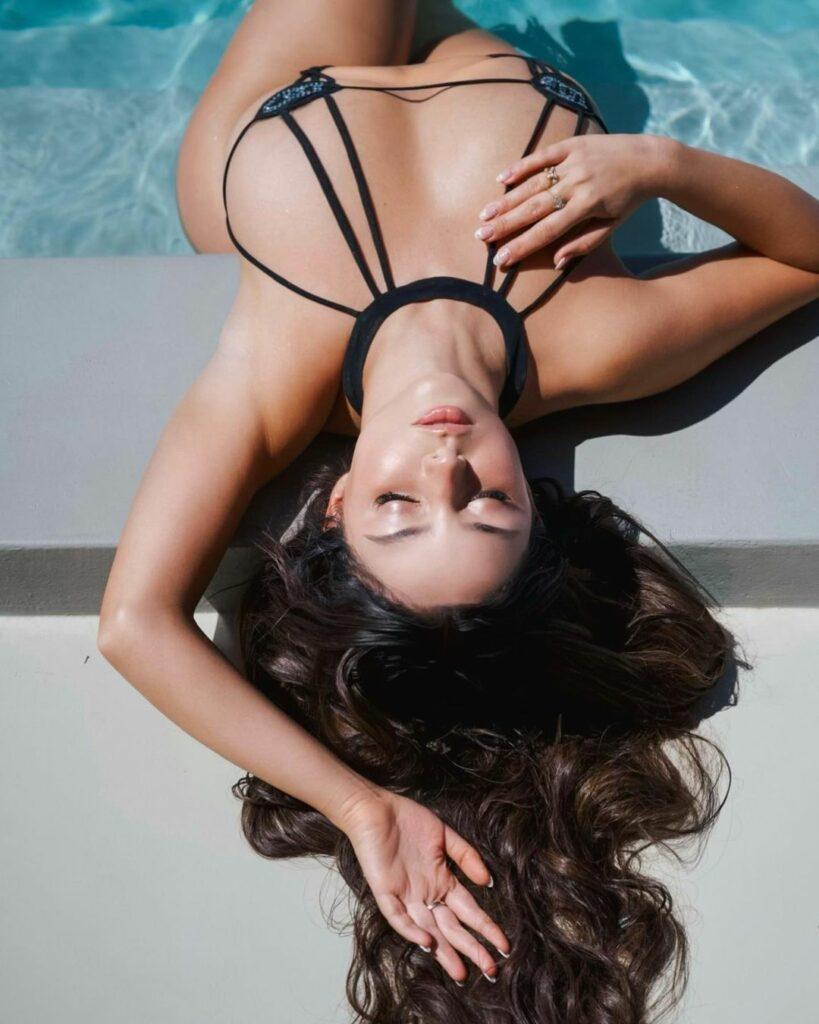 Demi paired the smoking-hot look with a relaxed attitude, melting hearts with her disarming charm as she gave a sweet smile to the camera. Her brunette locks were swept to the side, framing her face as they fell on her back and over her shoulder in a braid.
In the caption, Demi described her upper garment as "the perfect top."
Making Fans Want More
The post earned her rave reviews from fans with over 135,000 likes in addition to 1,500-plus comments.
"A lot of people throw around the word 'Queen' very lightly these days but Demi is true royalty," one commented.
"Wonderful works. What a lovely smile you have," raved another admirer.
"Every top you wear is perfect," remarked the third user.