Olivia Netwon-John has sadly passed away.
The actress famously known for her role as "Sandy" in the 1978 film "Grease" died at the age of 73 on Monday, August 8th.
Olivia shot to stardom in the '70s and her role in "Grease" sent her to A-list status. She had several hit songs including "Physical," "If Not For You" and "Let Me Be There."
Rest In Peace, Olivia Newton-John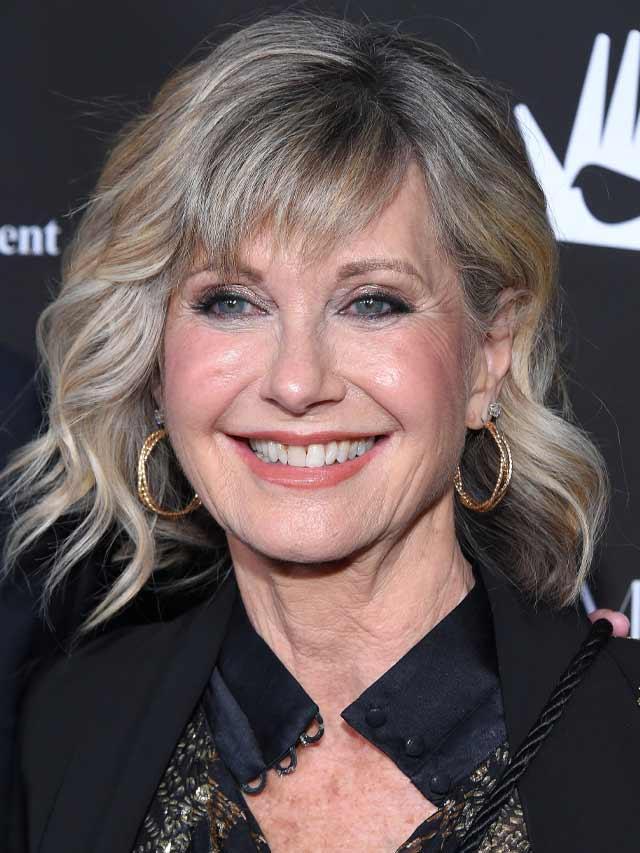 According to reports, her husband — John Easterling — said she died peacefully at her ranch in Southern California Monday morning, surrounded by family and friends.
The actress battled breast cancer for more than 30 years. While a specific cause of death was not given, a source close to Olivia told the outlet, "After a 30-year cancer journey, she lost her battle to metastatic breast cancer."
She was diagnosed with breast cancer in 1992. It went into remission but tragically came back in 2013 and 2017.
Olivia has one child, a daughter, from her first marriage to Matt Lattanzi.
She Battled Breast Cancer For Over 30 Years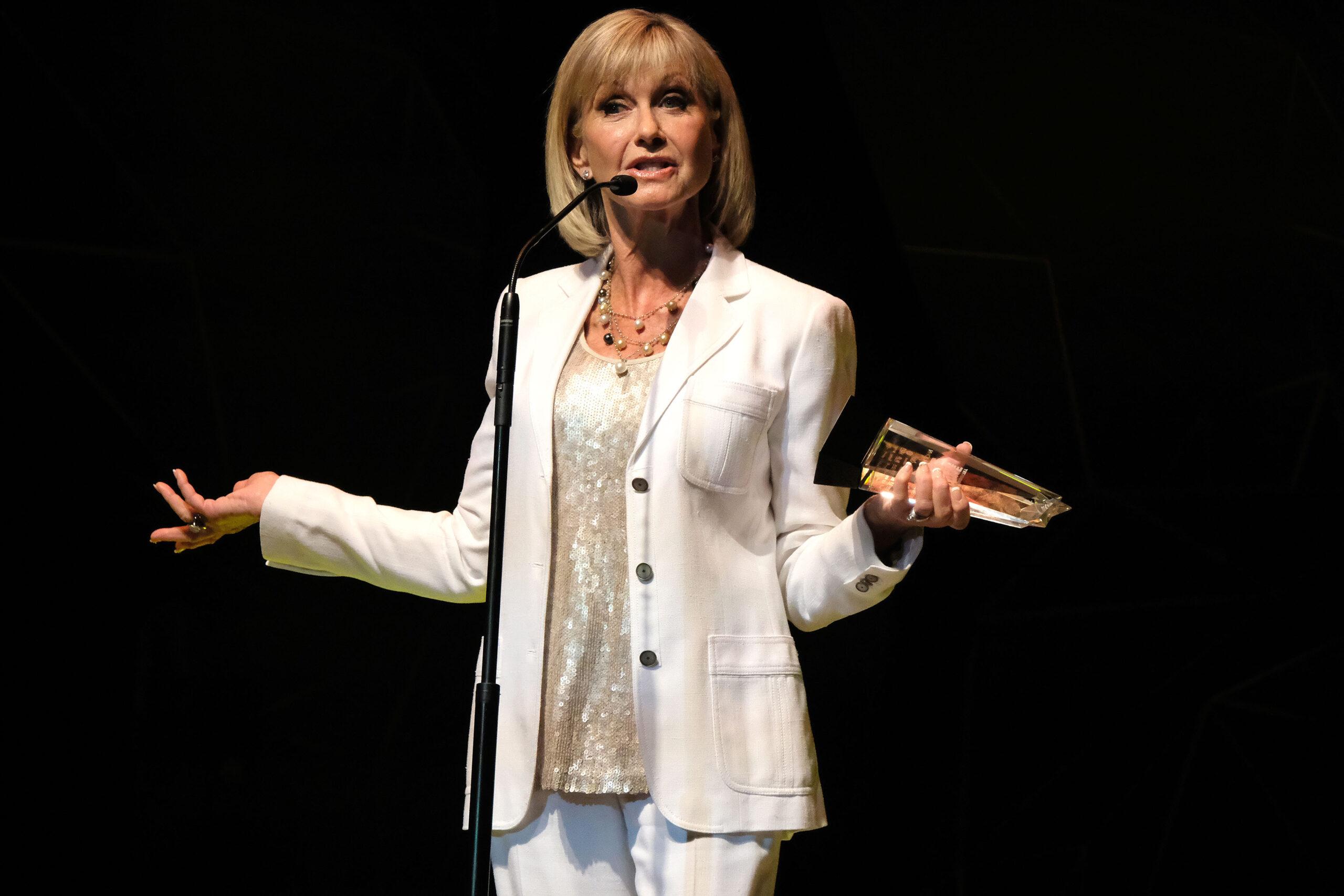 Her official Facebook page shared a post regarding her lifetime achievements.
"Olivia has been a symbol of triumphs and hope for over 30 years sharing her journey with breast cancer. Her healing inspiration and pioneering experience with plant medicine continues with the Olivia Newton-John Foundation Fund, dedicated to researching plant medicine and cancer," the post read. "In lieu of flowers, the family asks that any donations be made in her memory to the Olivia Newton-John Foundation Fund (ONJFoundationFund.org).
Olivia is survived by her husband John Easterling; daughter Chloe Lattanzi; sister Sarah Newton-John; brother Toby Newton-John; nieces and nephews Tottie, Fiona and Brett Goldsmith; Emerson, Charlie, Zac, Jeremy, Randall, and Pierz Newton-John; Jude Newton-Stock, Layla Lee; Kira and Tasha Edelstein; and Brin and Valerie Hall. – via John Easterling, husband, Olivia Newton-John."
Her name instantly began trending on Twitter with many grieving fans sharing their sadness and condolences.
"PLEASE LET THE OLIVIA NEWTON THNG BE A RUMOR. P L E A S E," one devastated fan wrote.
"GODD***IT THEY TOOK OLIVIA NEWTON JOHN!!!!" another shared.
Fans Are Devastated About Her Passing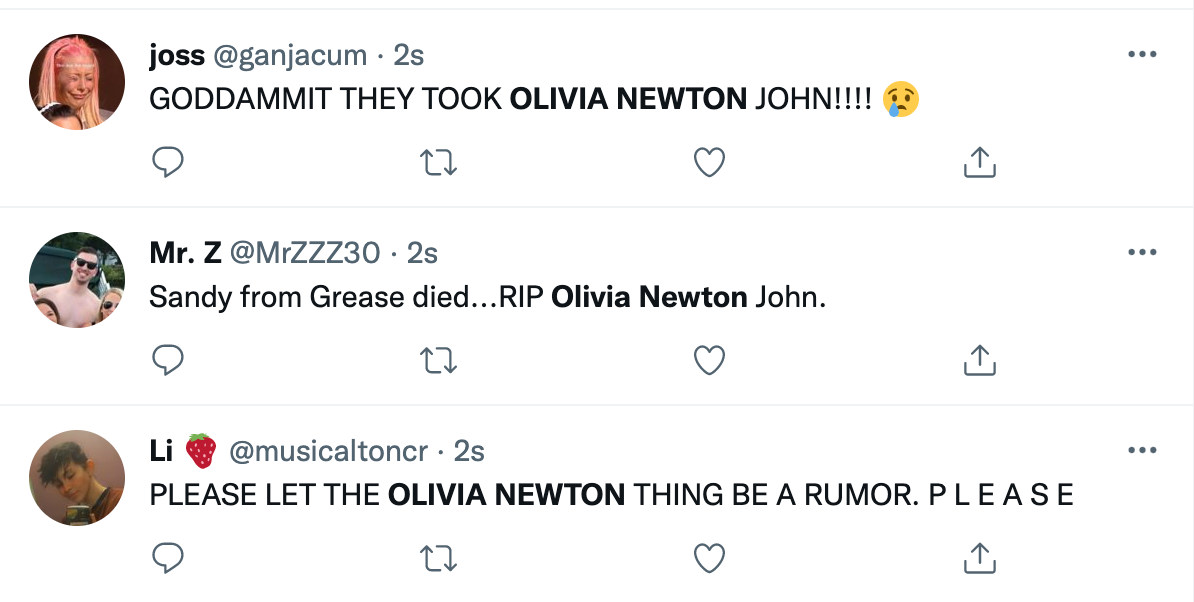 "Sad to hear of the passing of Olivia Newton-John, my first "crush" as a toddler, while watching Grease hundreds of times. RIP," an adoring fan tweeted.
Her co-star and on-screen love interest in "Grease," John Travolta, has yet to issue a statement on his good friend's passing. Travolta and Olivia reunited onstage in 2019 for "Meet N' Grease" a sing-along celebration in West Palm Beach, Florida.
George Takei grieved Olivia's passing by sharing a message on Twitter.
He wrote, "We have lost a great, iconic artist in Olivia Newton-John, gone too soon from us at age 73. I trust she is now in the great Xanadu beyond. Know that we are forever hopelessly devoted to you, Olivia. Rest in song and mirth."
We have lost a great, iconic artist in Olivia Newton John, gone too soon from us at age 73. I trust she is now in the great Xanadu beyond. Know that we are forever hopelessly devoted to you, Olivia. Rest in song and mirth.

— George Takei (@GeorgeTakei) August 8, 2022
Yvette Nichole Brown wrote, "Olivia Newton-John has died.  That's it. I'm done guys. Heartbroken doesn't even BEGIN to cover it. I ADORED her. I hate this so much. She was only 73. What is going on?! #RIPOliviaNewtonJohn."