The El Moussas are finally back together, with Heather Rae Young on cloud nine, seeing her significant other, Tarek El Moussa, return from a family vacation in Cabo.
The news of his arrival was shared on the beautiful realtor's Instagram Story, where she penned a short, sweet message, updating her millions of avid followers.
Heather Rae Young Says She Missed Tarek El Moussa So Much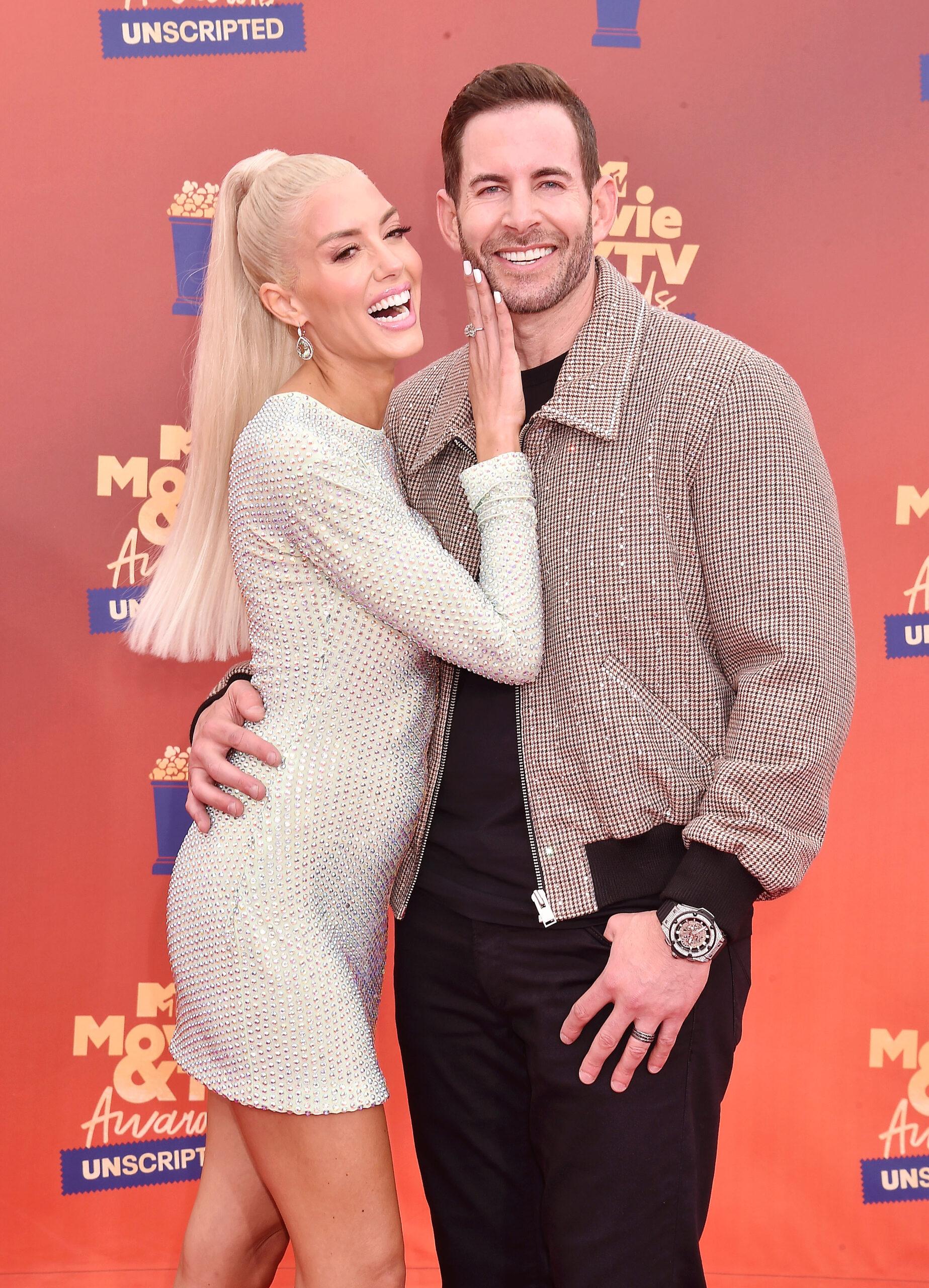 "Finally reunited!!!," Heather wrote on the social media post, adding, "Kissing and loving on his baby boy [blue heart emoji] @therealtarekelmoussa I missed you so much."
The message was penned on a snap of her standing with Tarek in what appeared to be their living room. They also donned laidback outfits comprising shorts and hoodies with slippers.
The "Flip or Flop" star could be seen resting his head on his wife's baby bump while she looked down at him, smiling, with her left hand on her chest.
Heater undoubtedly missed her sweetheart throughout his stay away from her in Cabo, which she, unfortunately, could not be a part of based on doctor's orders.
As The Blast recently shared, a rep told PEOPLE that the "Selling Sunset" star skipped out on the trip due to the risk of her getting the Zika virus and food poisoning. Given her pregnant condition, she also mentioned:
"It's not worth getting sick. Chances that you can avoid, you should. Unavoidable exposures are different."
Speaking of the family vacation, Tarek and several other family members were involved, including his two kids, Taylor and Brayden, whom he shares with his ex-wife Christina Haack.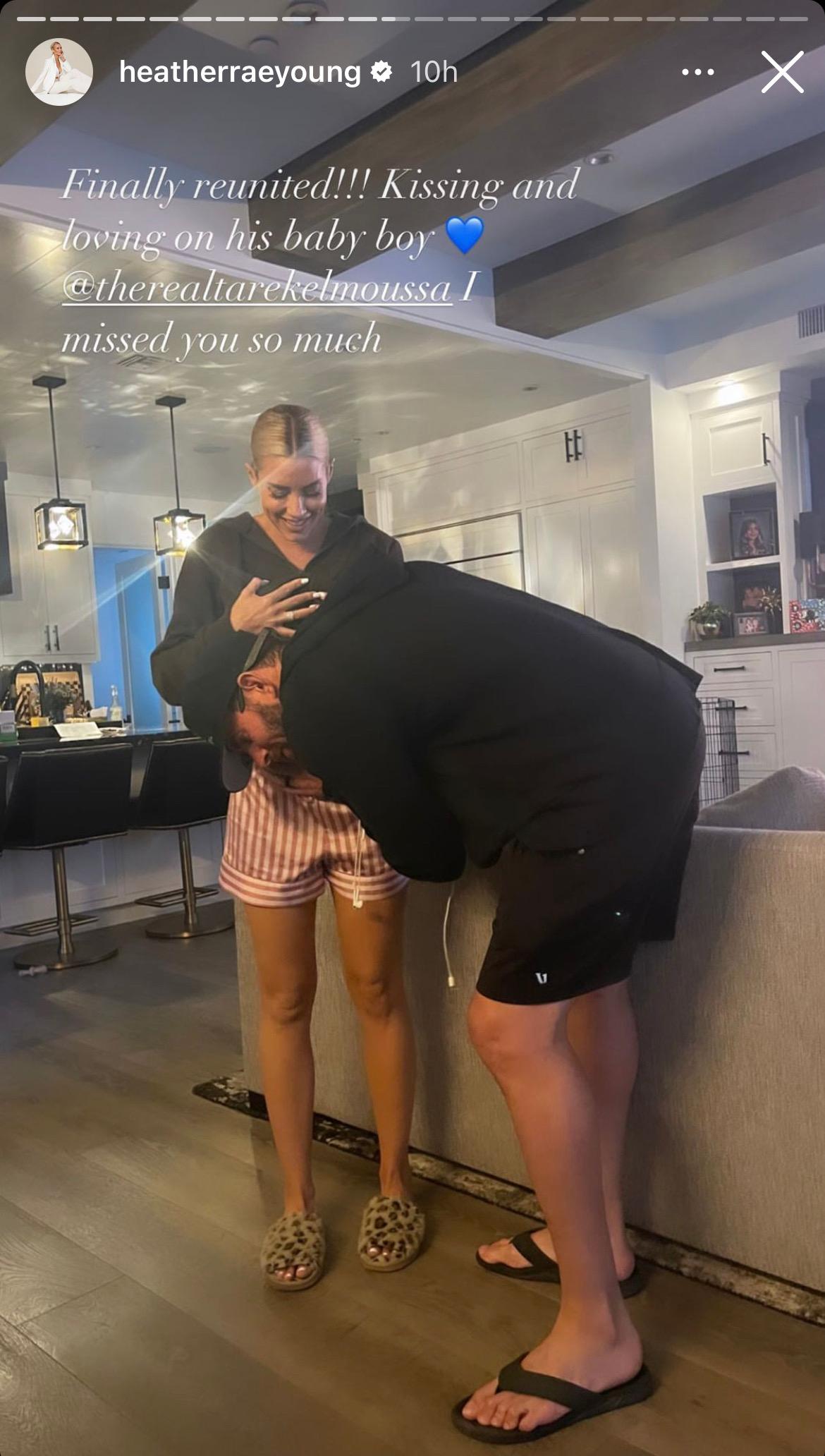 He updated fans about the family outing with a detailed statement, noting that such trips to Cabo were always a great idea as he got to share the experience with loved ones.
The 40-year-old realtor admittedly had a blast while staying in a villa with his kids and his whole family, who he mentioned made the vacation an unforgettable experience.
He then concluded the statement with, "So if you need the El Moussa fam, we'll be here. Just missing [Heather] like crazy, but doctors' orders come first!"
While the El Moussas were having the time of their life in Cabo, Heather occupied her time at home looking at nursery designs and asking her fans for the perfect recommendations.
At the time, she shared a carousel of nursery designs on Instagram and asked her followers to voice their thoughts about her choices.
Numerous fans wasted no time taking their picks of the best nursery option for the unborn baby boy, and it appeared that the fourth nursery design in the post was the most-liked choice.
Heather's plans came right before she and her husband had a gender reveal party where they announced they were having a boy.
Not long before that, she revealed that the couple was in the middle of an IVF process when they were surprised with their miracle baby.
The 34-year-old beauty has always been open about the treatments and how shocking her pregnancy was to herself and Tarek, who had quite the reaction upon finding out.
View this post on Instagram
Nevertheless, even with the pregnancy, the married pair still lead busy lives as they work on their respective projects and continue filming their new HGTV docu-series "The Flipping El Moussas." 
The Former Playboy Playmate Of The Month Creatively Surprises Husband With Pregnancy News
In a previous report by The Blast, it was revealed that Heather made a heartwarming Instagram post about her husband's reaction to her pregnancy news.
The post included two videos and a picture, with the first clip showing her giving Tarek a box he unknowingly tried to open.
Upon opening the package, he brought out a pregnancy test stick and was taken aback at what he saw. He then asked Heather if she was indeed pregnant, and she replied yes.
Her response made him exclaim "Holy sh*t" and lean in for a kiss and an intimate hug. And as for the box's contents, a closer view showed that it contained three test sticks and a "cute bear" onesie. 
In addition to the first video, the second clip gave a view of Heather leaning over a kitchen sink while someone behind the camera verified her test result on the pregnancy stick.
She then used the caption to candidly narrate how she found out about her pregnancy and curated the surprise box for Tarek to make the news more special.