Singer Nicole Scherzinger just kicked things up a notch for her 5.4M Instagram followers.
Although fans know that the former Pussycat Doll is an amazing singer, dancer, and performer, "The Masked Singer" judge just decided to show her fans that she doesn't just play hard. She trains pretty hard too!
WATCH Nicole Scherzinger Flaunt Her Bikini Body Performing An Upside Down Split
View this post on Instagram
For this workout session, the 44-year-old singer-songwriter donned a pink sports bra and matching pink and white leggings, topping off her outfit with white sneakers. She has her long black hair tied back in a bun to keep her hair out of her face for the crazy yoga move that she's about to perform.
In the video, Nicole puts one foot flat up against the wall before she flips and spins around so that she's facing the opposite wall of the room. She then puts both hands on the wooden floor and kicks her opposite leg straight up towards the ceiling while still keeping one sneaker on the wall. She then stretches her leg out as far as it will go, bending at the knee so that her sneaker is hovering just above her head.
"Sometimes you need to stretch yourself to the limit," she wrote in the caption of the Instagram video. "This was a fun one to try! 🤸🏽‍♀️."
Fans Ask Nicole 'Is There Something You CAN'T Do?'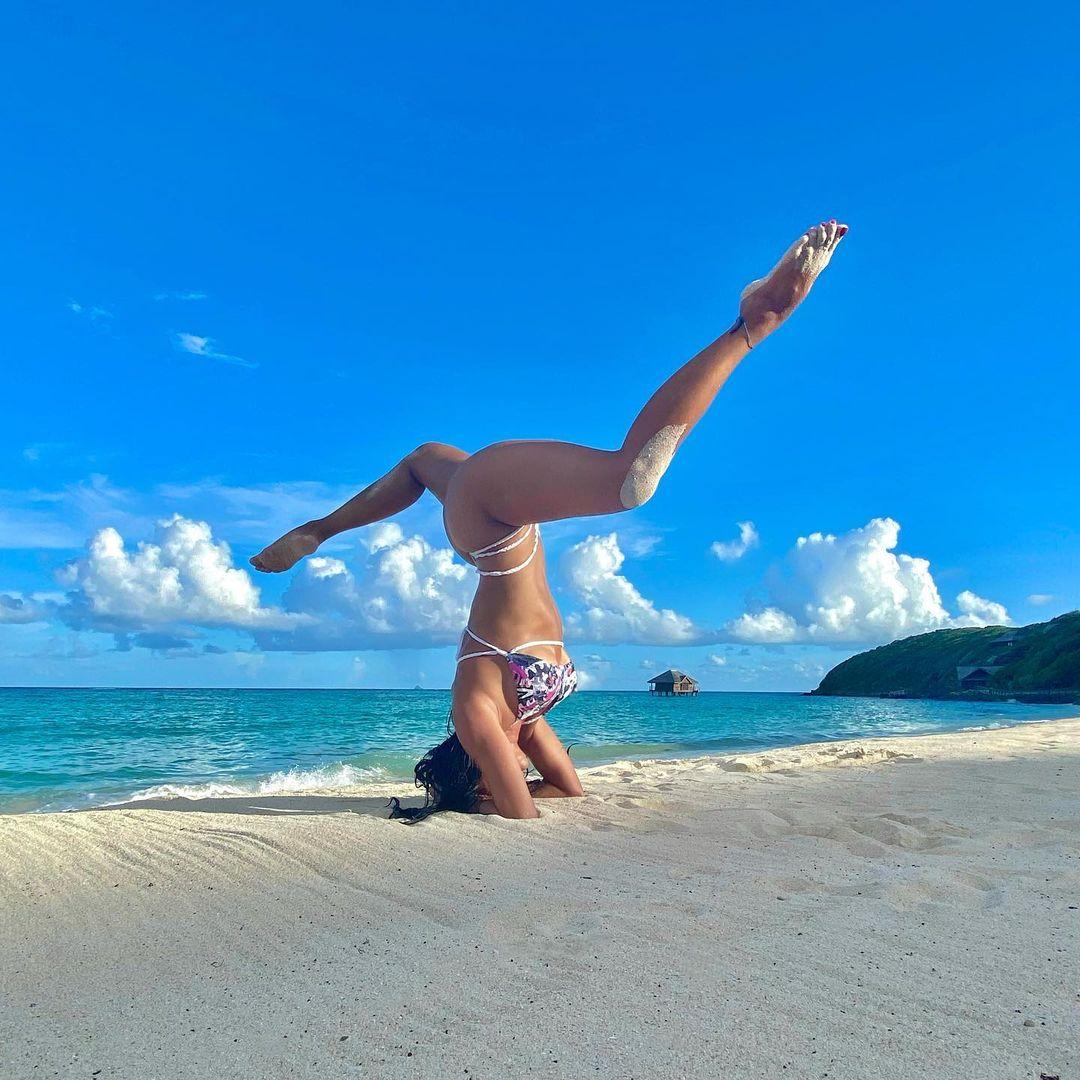 Darren Kennedy commented what a lot of people were thinking: "Holy s—!!!👏." Jared Gelman wrote, "Wow!!!!" Alex Wong added, "Still got it!" Nicole responded to Alex with "😂😂."
Tricky Stewart commented, "Yikes 😢 that looks painful." Perez Hilton added, "👏👏👏👏👏." Max Evans called her "Awe inspiring 😍."
Fans loved the vibes that she was giving in this video, with one follower writing, "It's giving strong and flexible af 💪🏽👏🏽." Another follower wrote, "Dang! That's super impressive!! 🙌🙌 get it girl! 💁🏻‍♀️."
A third fan added, "C'mon miss flexible! 😍." Another fan commented, "my legs hurt by just watching this 😢 Is there something you can't do 😭😭."
Fans Just Learned That Nicole Scherzinger Is Also An Amazing Surfer!
View this post on Instagram
It actually shouldn't be a surprise that the "Don't Cha" singer knows how to surf, considering she was born in Honolulu, Hawaii! On Tuesday, Nicole posted an Instagram video showing her hitting the waves in a bright blue bikini with a purple life jacket. She artfully propels herself over the waves, at one point flashing the "hang loose" sign for her followers.
"To stay on course, sometimes you have to make waves 🌊," she wrote in the caption of the video.
"Unwritten" singer Natasha Bedingfield, who performed on "The Masked Singer" while Nicole was a judge, commented, "Yes 🔥." Nilam Holmes added, "My action girl has got it all 🙌❤️." Josh Yugen wrote, "Love this ❤️." Shelby Johnson added, "THAT'S MY FRIEND Right'der🤘🏾🤘🏾🤘🏾🤘🏾🤘🏾🤘🏾🔥🔥🔥😂😂 @nicolescherzinger 🌊."
One follower wrote, "Every time I try to wakeboard, I can't get it 😢 you make it look SO EASY!" Nicole actually replied to them, writing, "omg so lucky I try it once a year lol! It's a wonder I can even get up🙌🏽."
'Let's Ride Them Waves Like We Own 'Em!'
View this post on Instagram
In another Instagram post, Nicole included two videos and a photo of her riding over the waves. "It's a new week y'all. Let's ride them waves like we own 'em! 🏄🏻‍♀️," she wrote in the caption.
Lee Jeffries called her a "Real life Moana! 💜." Plenty of other famous friends lit up the post with fire emojis.
"This looks so easy when you do that 😅❤️," one fan commented. "Queen of the waves 🌊 ❤️," another follower wrote. "I just don't know how you do that!🔥," said a third fan.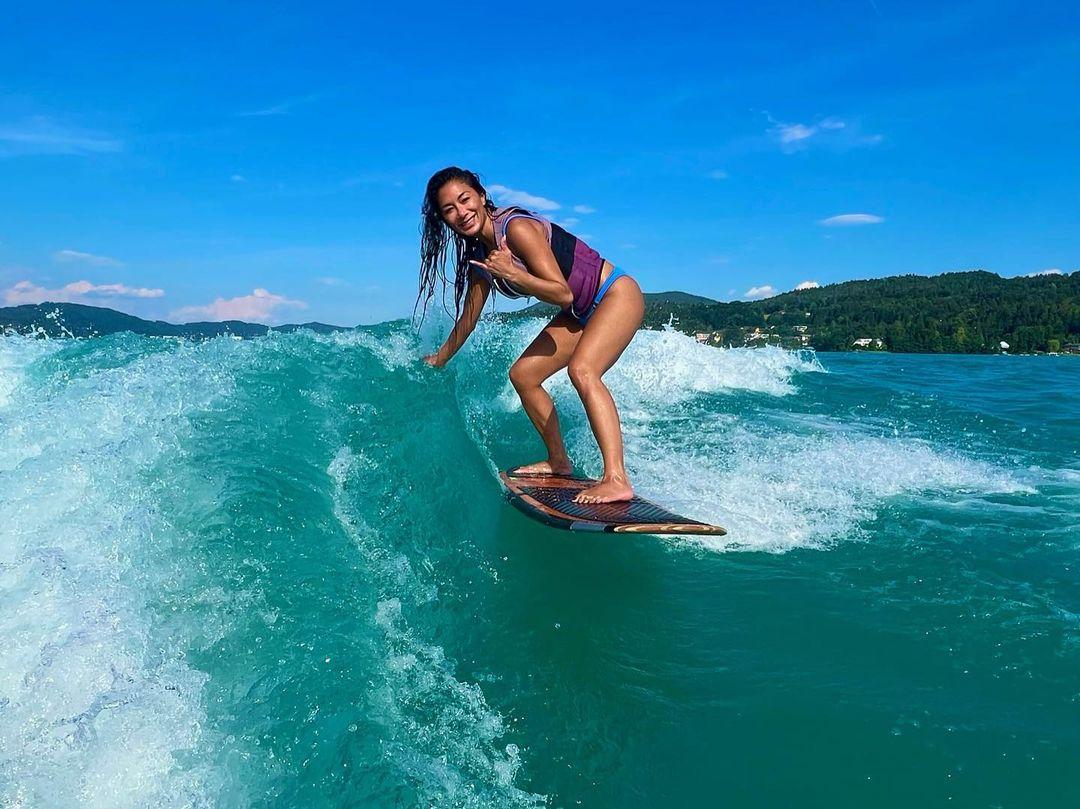 "yasss miss surfzinger!😍 get ittt!" another follower commented. "Is there anything you can't do , just amazing 💞," another fan wrote.
Fans can't see what Nicole Scherzinger is going to do next! Fans aren't quite sure what she's going to post, but whatever it is, it's no doubt going to be impressive!