Reality star Khloé Kardashian is putting her toned abs on display once again in a denim blue bikini.
The Good American founder took to Instagram on Tuesday afternoon to show off her new bikini to her 266M Instagram followers.
Khloé Kardashian Shows Off 'Stunning' Abs In A Denim Bikini
View this post on Instagram
On Tuesday, the "Keeping Up With The Kardashians" star posted a video selfie for her Instagram followers. In the short video, she has her bleached blonde hair tied back behind her and sees smoothing back the top of her hair as she checks out her own reflection on her camera screen.
In this post, Khloé is wearing a blue bikini top with matching bikini bottoms. Her fit figure is on full display and so are her chiseled abs. The muscles in her core are accentuated by the dim lighting in the shadows in the room, proving that Khloe must put some serious time in at the gym!
She kept her caption simple, writing, "Denim Swim @goodamerican."
Fans Praise Khloé's 'Gorgeous' Good America Denim Swimsuit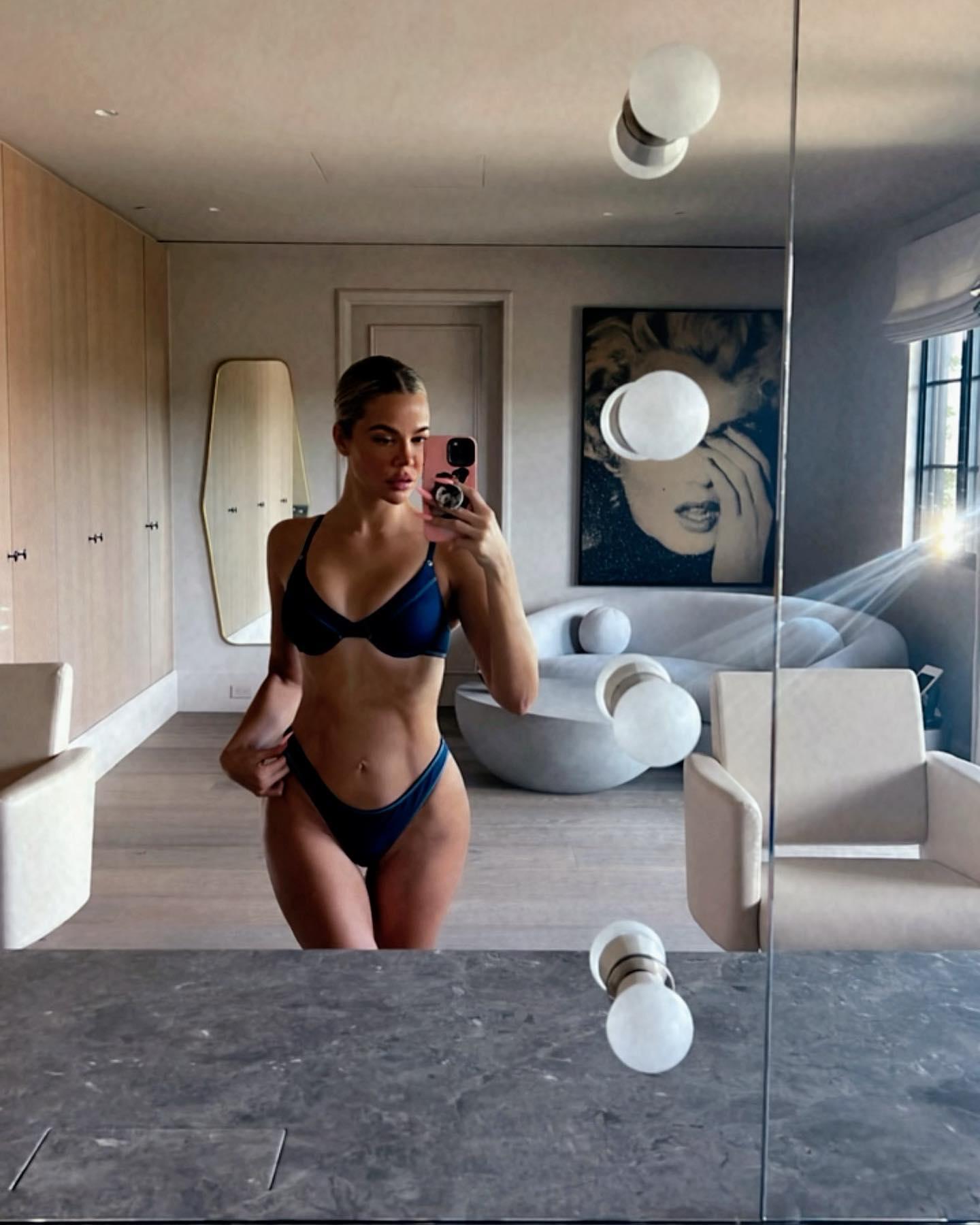 Khloé also added a photo to her Instagram post, showing off her denim bikini in the dim light as sunlight literally streamed into the room from the glass window above the couch in the background.
Victoria Helena wrote, "KHLOE !" Olivia Pierson commented, "PERFECTION 😍😍😍😍." Danielle Michelle shared, "wowzzaaaaaaa." BFF Malika Haqq wrote, "Sickening 🔥" before adding, "I want you and the suit Ma."
"Queen Khloe and body goals❤️❤️," one follower commented. "Love the swimsuit!🤍🤍," another fan wrote. "you're so beautiful 😍👏❤️," said a third fan. "Queen KoKo forever ! 👑Lots of love from Cyprus island 🇨🇾❤️❤️❤️❤️❤️❤️," another follower shared.
"Looking gorgeous Koko!!! 😍😍😍😍," another fan wrote while the Good American Instagram account commented, "Denim Queen 👑 ❤️🔥." Another fan noted, "looking good and while streaming beyoncé?! you're just perfect all around aren't you?"
Check Out Some Of Khloé's Best Bikini Posts From July 2022!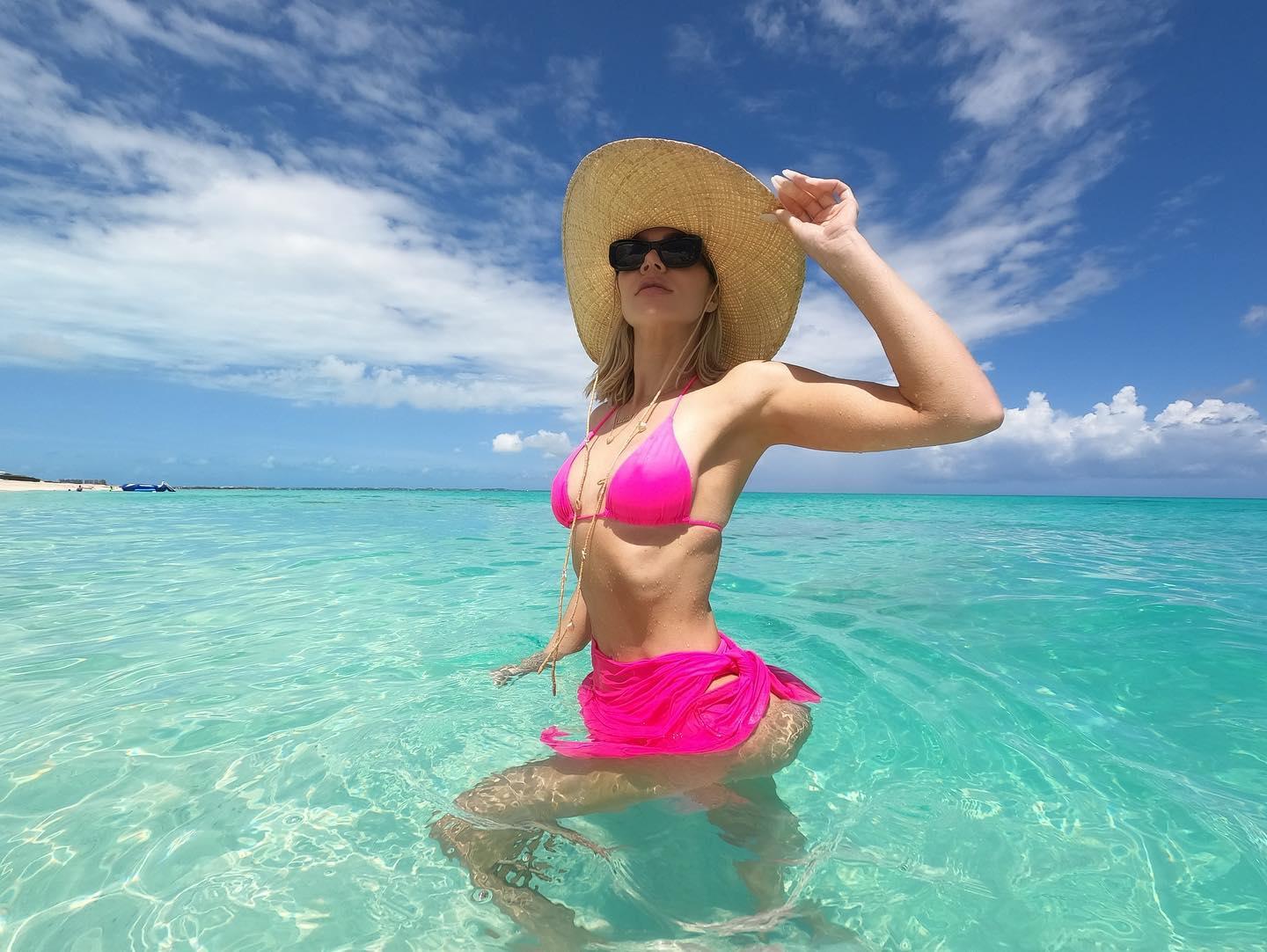 Fans who follow Khloé Kardashian on Instagram know that she has been posting a ton of bikini photos last month in a variety of styles and colors. In one post, she donned a hot pink bikini and matching skirt as she waded through the crystal clear water.
Her toned abs are on display in this shot as she accessorizes her look with dark sunglasses and a straw hat to protect her face from the glaring sun. However, it doesn't look like Khloé is worried about getting too much of a tan, because…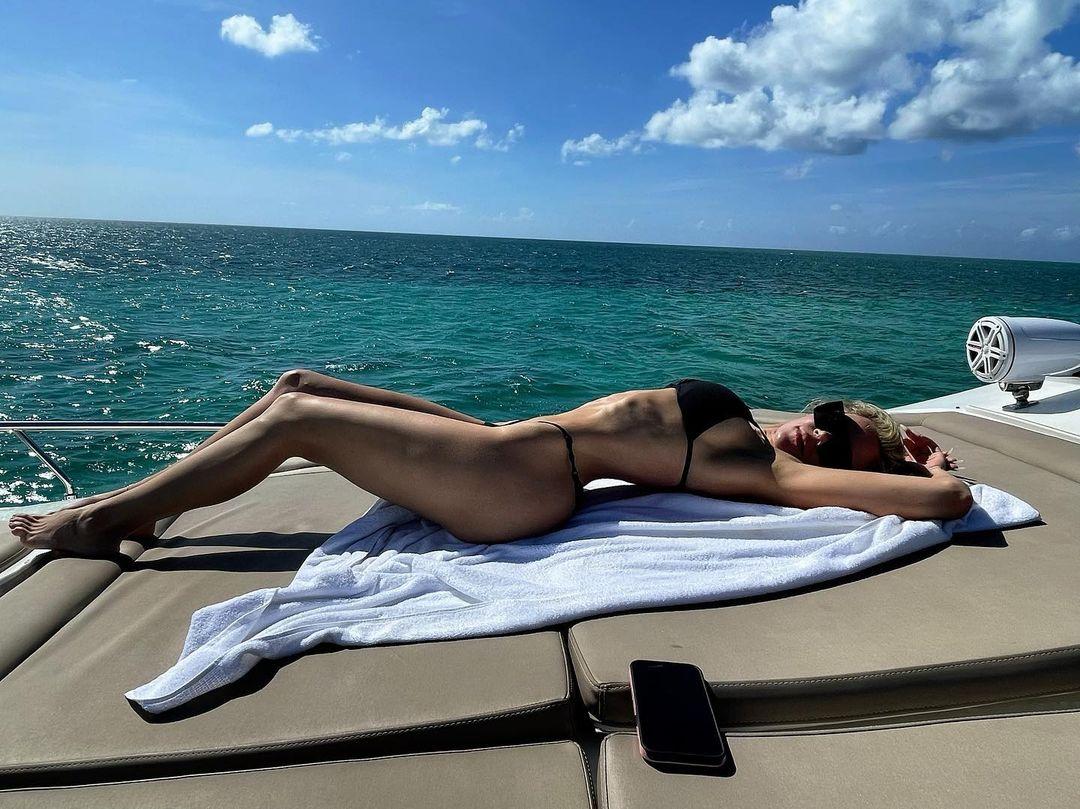 …Khloé has been doing a ton of sunbathing recently! She posted a sultry Instagram photo that showed her arching her back for the camera as she reclined on the deck of a boat on a fluffy white towel.
In this photo, Khloé has donned visor-like shades to hide her eyes from the sun and fans can practically see her rib cage as she flaunts her bikini body in a black triangle bikini. Her thong bikini bottom is so small that fans can only make out the thin strap of the fabric just above her waist.
Khloé Kardashian Also Knows How To Rock A One-Piece Swimsuit!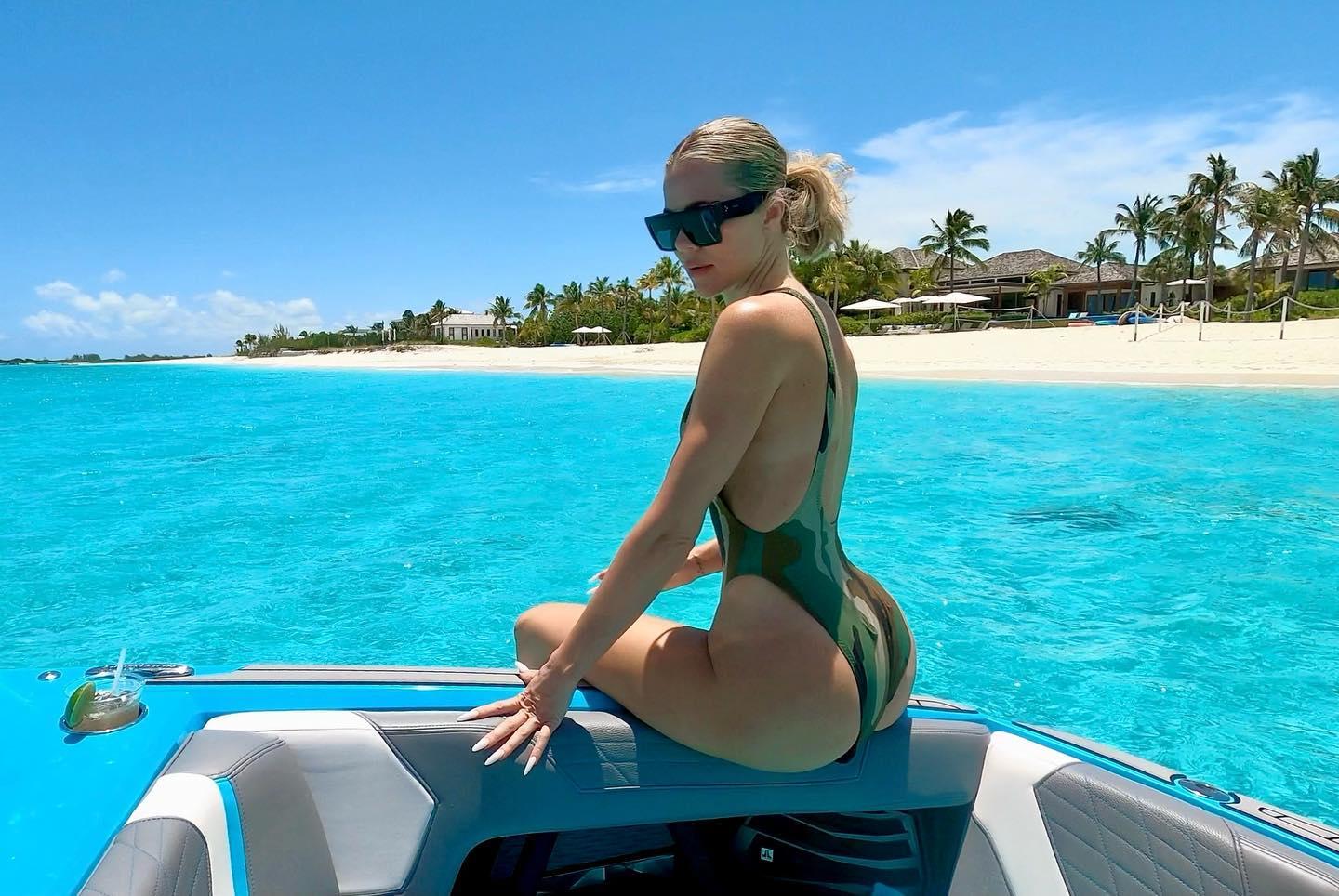 In another shot, Khloé posed in a camouflage one-piece swimsuit as she sunned her buns sitting on the edge of a boat, dangling her feet into the crystal clear water below. For this photo, Khloé wore her blonde hair tied back into a short ponytail behind her and paired her cut-out swimsuit with angular sunglasses.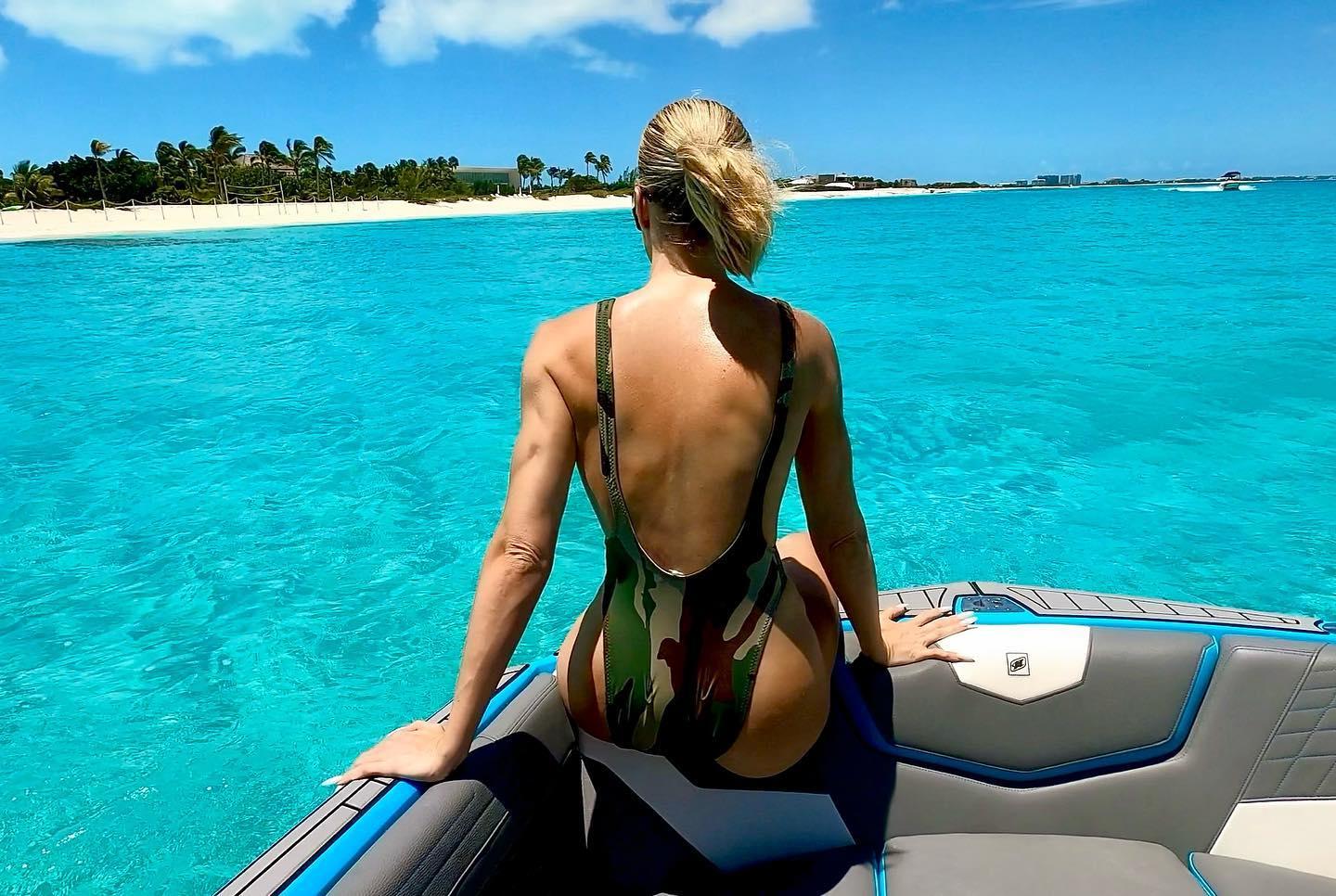 Still wearing the same swimsuit, Khloé holds on to the sides of the boat as she turns around to face the crystal clear water in front of her and the sandy shores in the distance. Khloé puts her toned back muscles on display in this shot, along with her toned arms and the rest of her fit physique.
And this isn't the first time that Khloé has put her back muscles on full display! A week before that, she posted a photo of her back in a green and blue ombre swimsuit, smoothing her damp hair back out of her face.
Believe it or not, those aren't even half of the bikini posts that Khloé has shared with her Instagram followers this summer! Fans can check out even more bikini pics by clicking here!