Model Heidi Klum is proud to see her daughter Leni Klum following in her footsteps!
On Sunday, the 18-year-old model got all dressed up in a Michael Kors dress that put her fit physique on full display.
Heidi Klum's Daughter Leni Klum Puts On A Leggy Display In Super Short Mini Dress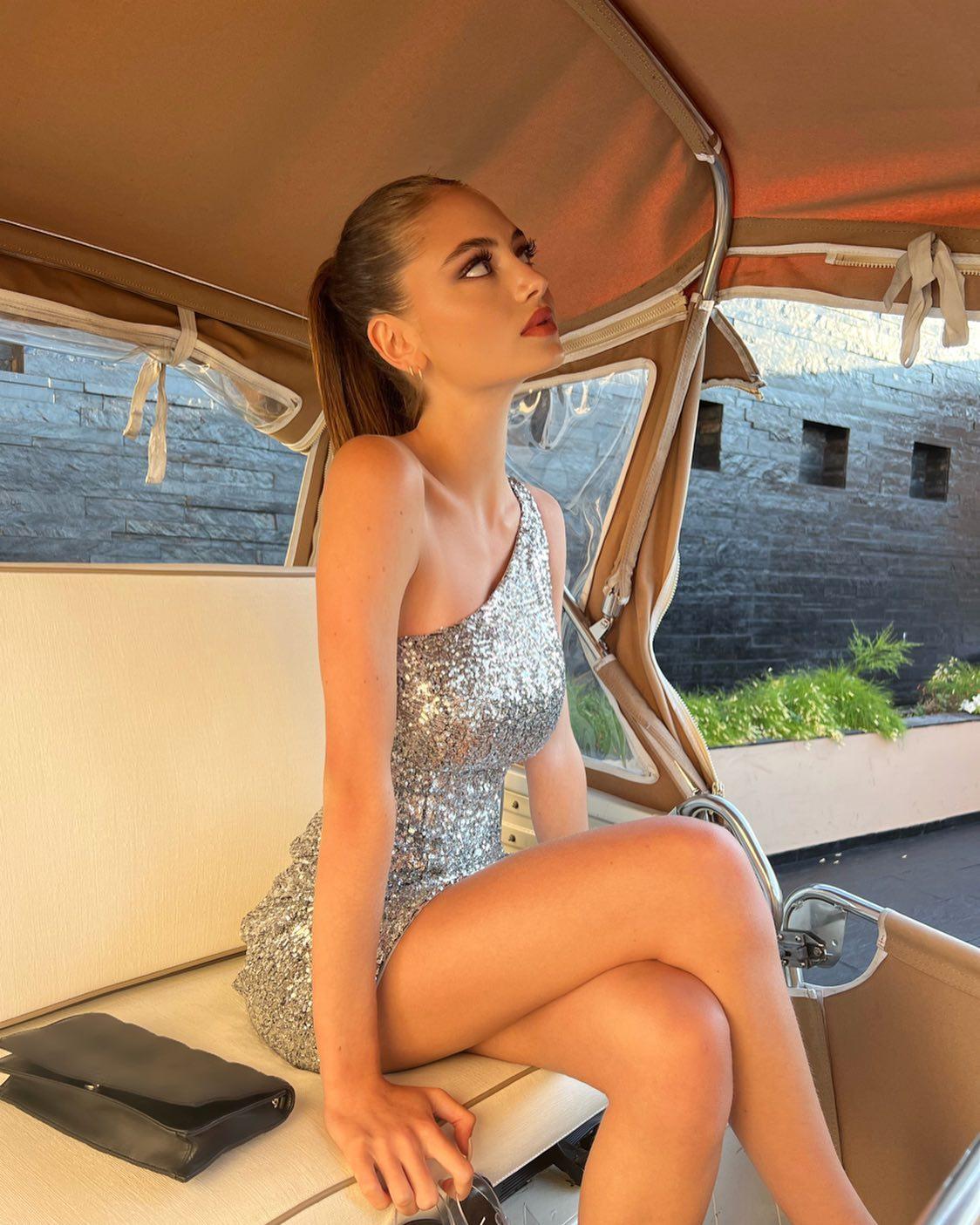 On Sunday afternoon, Leni posted only one photo to Instagram that she captioned "Best dressed in @michaelkors" along with a red heart emoji and the hashtag #mkcxcapri. The accomplished model has already appeared on several magazine covers and is following in the footsteps of her mother, Heidi Klum, 49, who used to be a Sports Illustrated Swimsuit cover model and the very first German Victoria's Secret Angel.
In the photo, Leni is sitting outside with her lean legs crossed in front of her. She is wearing an asymmetrical glittering silver dress that is slung over her left shoulder. Her long, brown hair is pulled back into a sleek high ponytail behind her as she pairs the look with mascara and a bold red lip. It looks like she is wearing small earrings, but otherwise, it looks like she chose to forego a lot of jewelry for this outfit, as she is not wearing any necklaces, bracelets, or rings that can be seen in the shot. A black clutch bag sits on the bench beside her.
Fans showered the post with emojis, especially her mom, who commented, "🤗❤️." One fan replied to her comment, writing, "mommy's best work ❤️🙌🔥." Stylist Linda Hay commented, "🤍🤍."
One follower wrote, "U look stunning !!!" Another commented, "obsessed ❤️‍🔥🥰." One fan wrote, "Love it 😍🔥" while another called her look "Hot very hot🔥." Fans also showed love for her outfit, with one fan writing, "I love you dress Leni 🤍." One follower offered that it was "🤔Maybe too sexy😉," however, another user told them to "shut up."
Heidi Klum Could Not Be More Proud Of Her Daughter!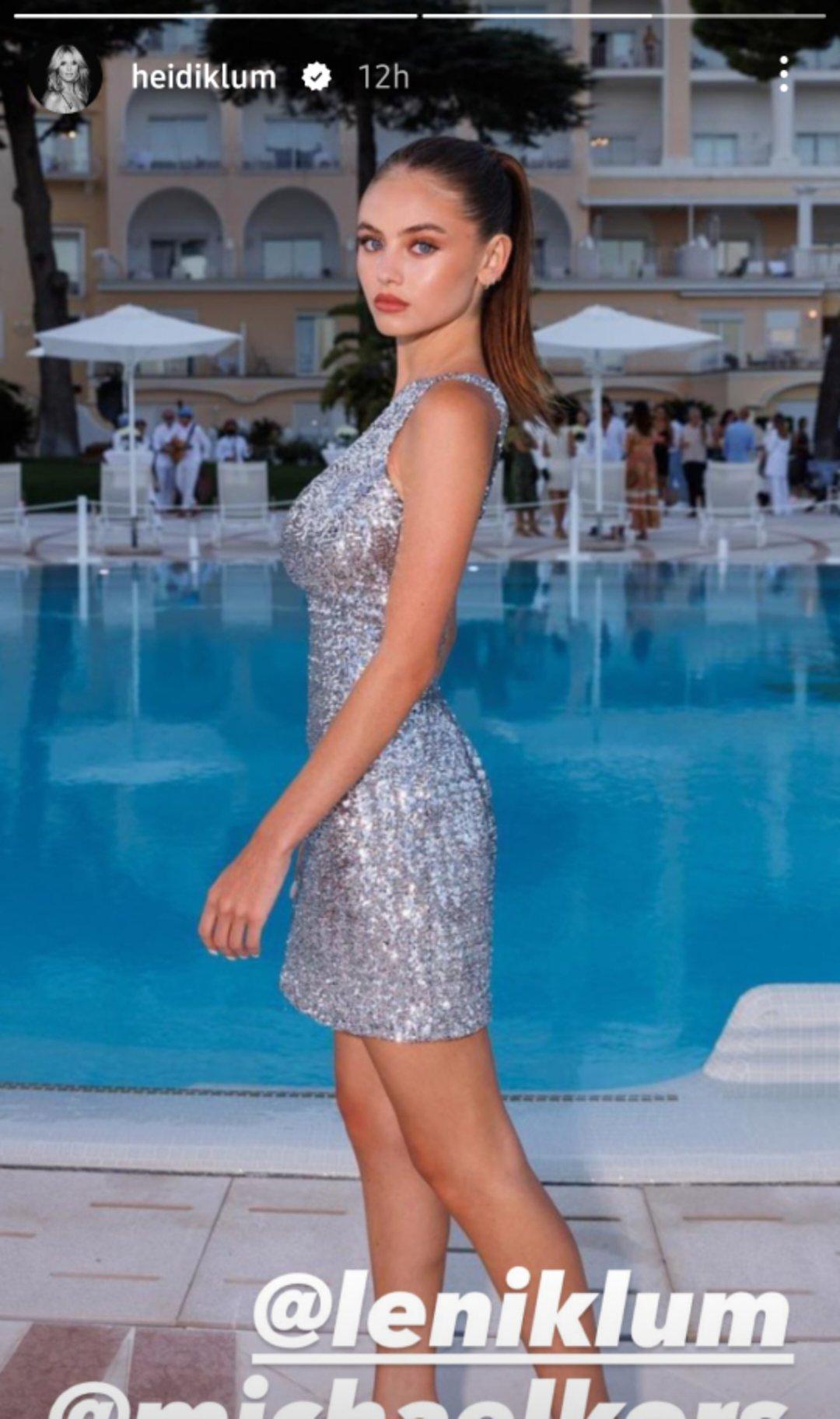 A few hours later, on Sunday night, mom Heidi Klum shared a photo of her daughter on her Instagram Stories. In the photo, Leni Klum is walking along in front of a pool. Her side profile is captured as Leni turns her head to face the camera, highlighting her angular cheekbones. The glittering silver dress stands out against the clear blue water of the pool as she pouts for the camera.
Heidi tagged the post with @leniklum and @michaelkors. This is also not the first time that Heidi has shared how proud she is of her daughter. Last week, Heidi Klum posted a 55-second video of an ad that Leni did for Superga. On July 25, Leni also took to Instagram with a series of smoldering shots.
"i'm happy to announce I'm the Superga Super-ambassador for FW22 campaign," she captioned the snaps. Although fans are glad to see her modeling career really taking off, fans are still worried about Leni and her wicked sunburn!
'a little past sun kissed'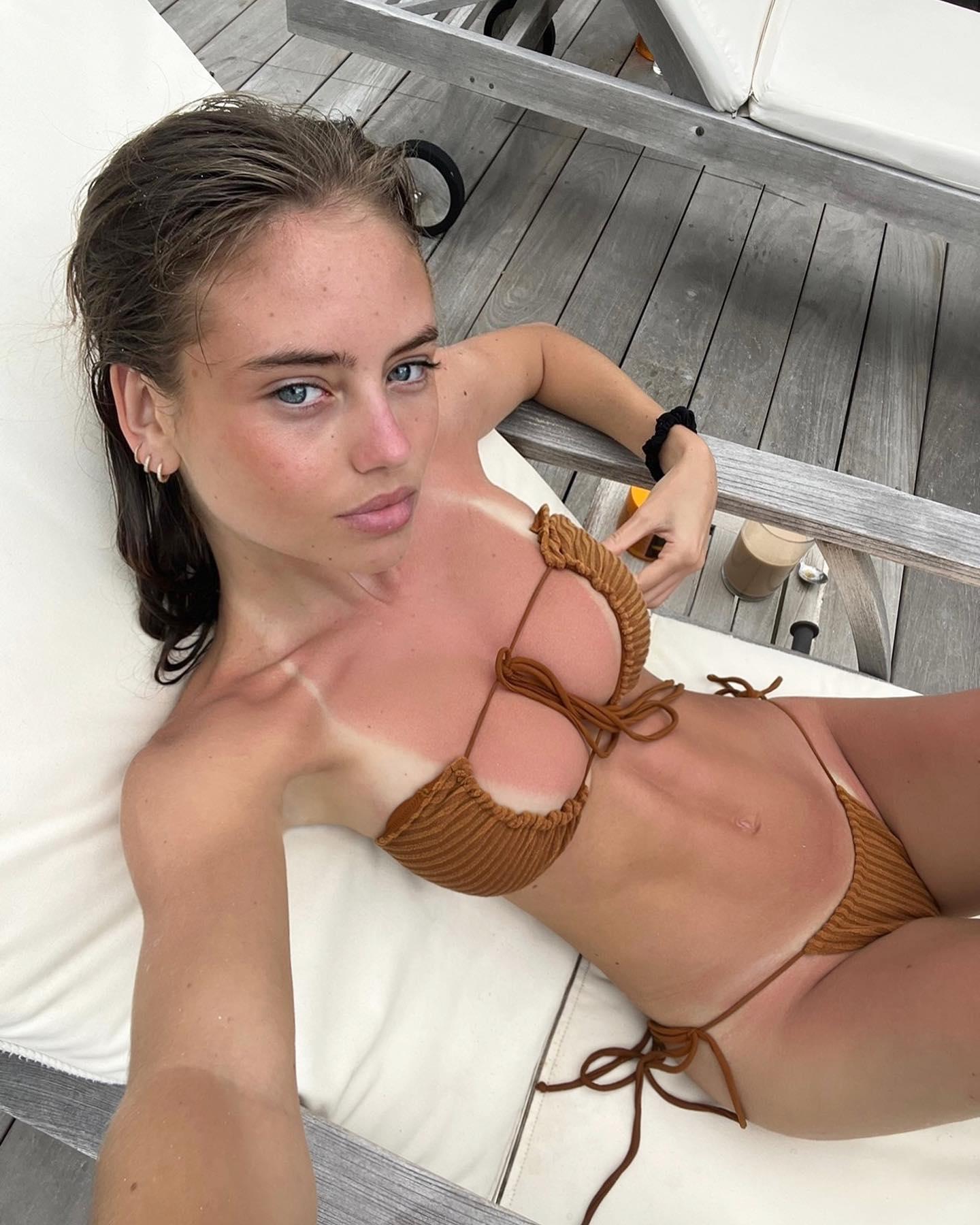 About two weeks ago, on July 23, Leni posted a photo on Instagram showing off a very painful-looking sunburn for her Instagram followers. She looks like she was wearing an open-cut ruched bikini before she took the strings of her halter top and tucked them between her chest so that fans can see the tan lines running up her neck.
The tan lines along her bikini bottoms are also visible as she sunbathed in a tiny thong drawstring bikini, with the brown drawstrings pulled high up on her waist. Although fans would usually be checking out her chiseled abs in this photo, all they can see are those crazy tan lines that it looks like Leni was able to cover up with her dress.
Stylish Linda Hay commented, "Ouch." Olivia Foxman wrote, "LEN!!! Wear your sunscreen!!!!" Celebrity hairstylist Wendy Iles commented, "Aloe Vera if you can find fresh, cut it open and rub the gel on sunburn, it will help tremendously. Been there, done that 😎."
It looks like Leni is following in the footsteps of her mother, Heidi Klum, and having way too much fun in the sun. On Saturday, the German supermodel also had a bit too much fun in the sun, posting photos of her sunbathing topless in tiny bikini bottoms. Fans can check out those snaps here.