Boston Celtics legend Bill Russell, who changed pro-basketball over the course of his career, died peacefully on Sunday with his wife Jeannine by his side. Russell was 88.
He won 11 championships, including eight consecutive titles, during his career in the NBA and served as the first black head coach of any U.S. professional team. Russell leaves a legacy behind.
Announcing Sad News on his Instagram Page
Russell's death was announced on his Instagram page on Sunday afternoon, "It is with a very heavy heart we would like to pass long to all of Bill's friends, fans & followers: Bill Russell, the most prolific winner in American sports history, passed away peacefully today at age 88, with his wife, Jeannine, by his side. Arrangements for his memorial service will be announced soon."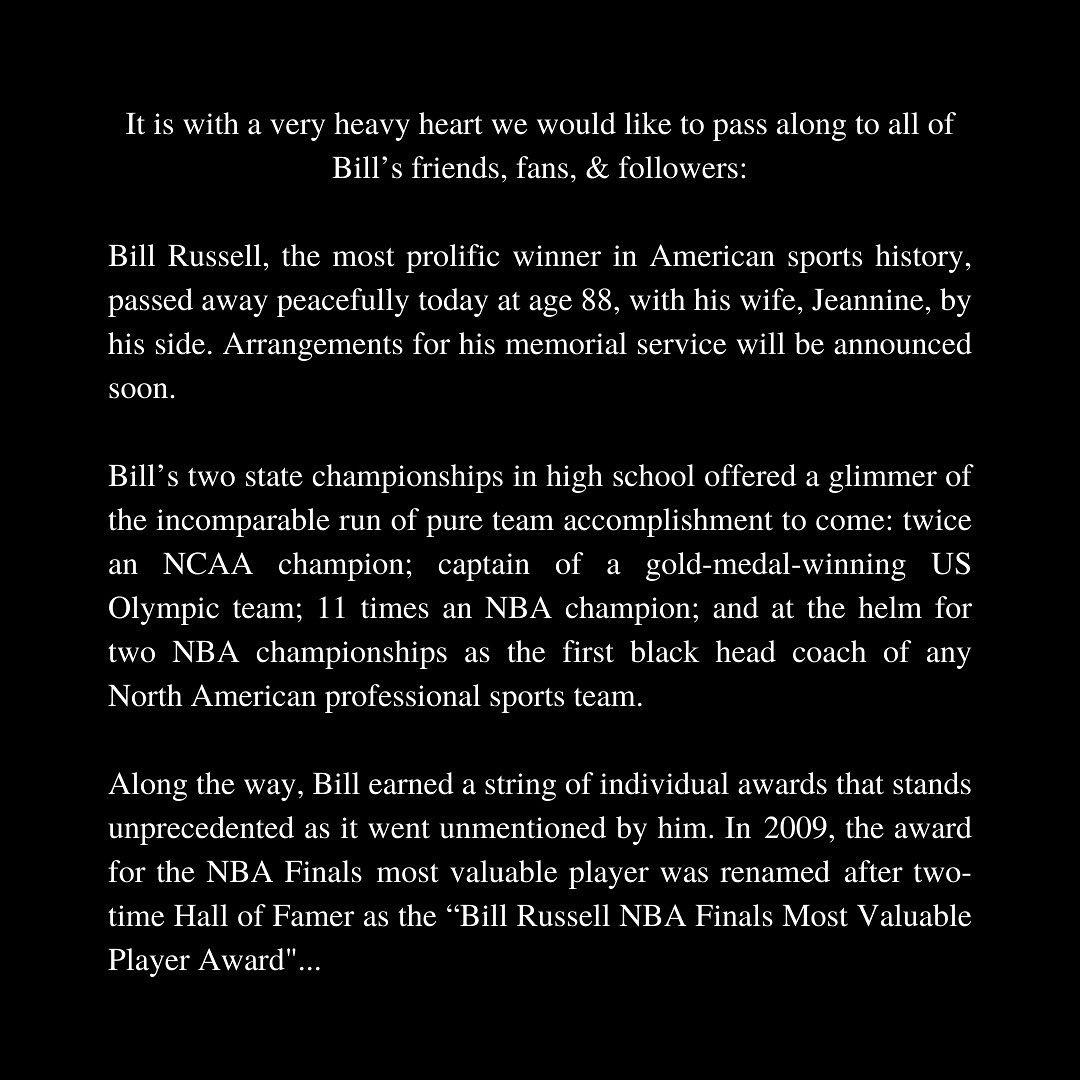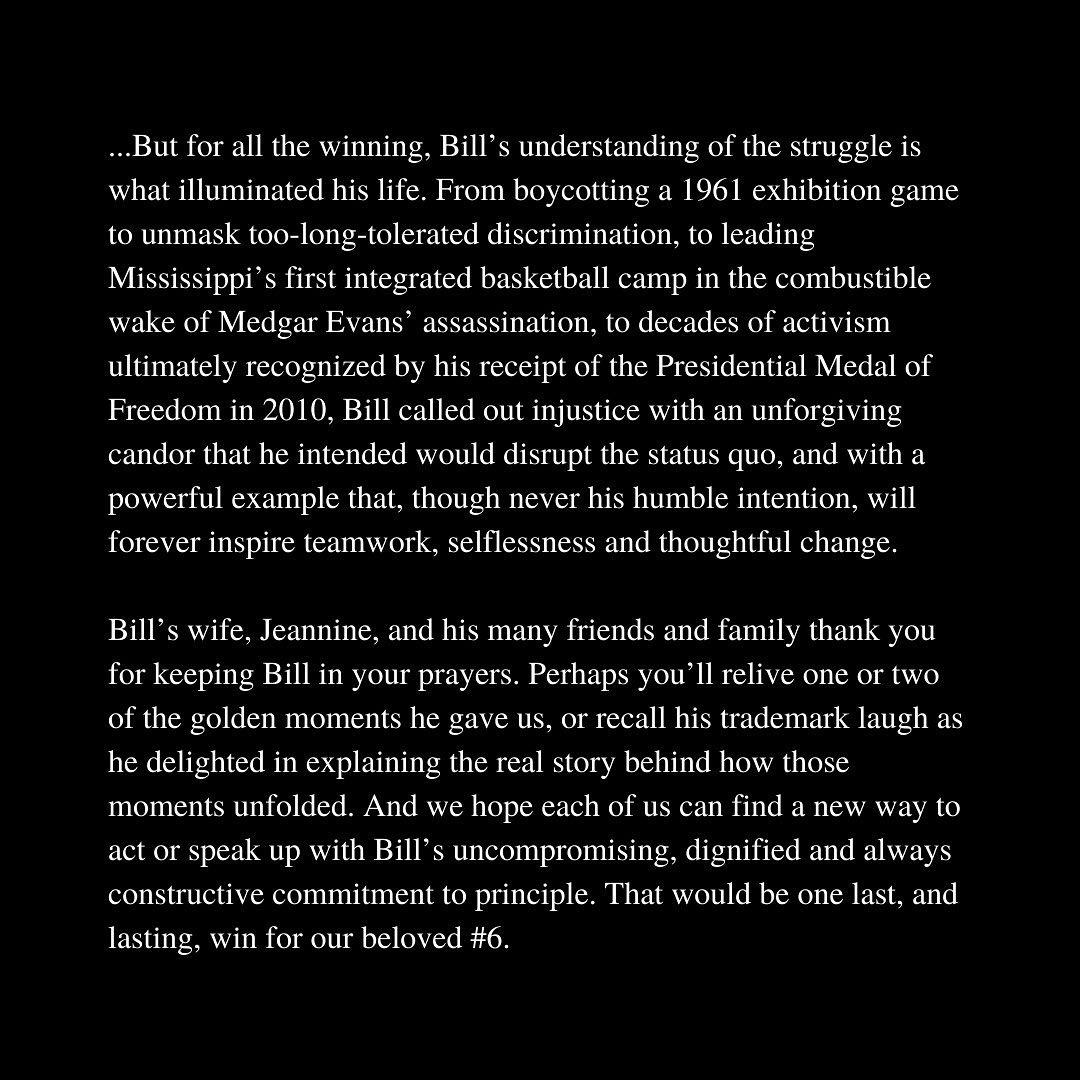 Just a few hours after the announcement was posted on social media, the comment section filled up with more than 7,000 messages of condolences, love, and support, with the post being liked more than 164,000 times. Former President Barack Obama posted a tribute to the legend on his Instagram page. "Today, we lost a giant. As tall as Bill Russell stood, his legacy rises far higher – both as a player and as a person."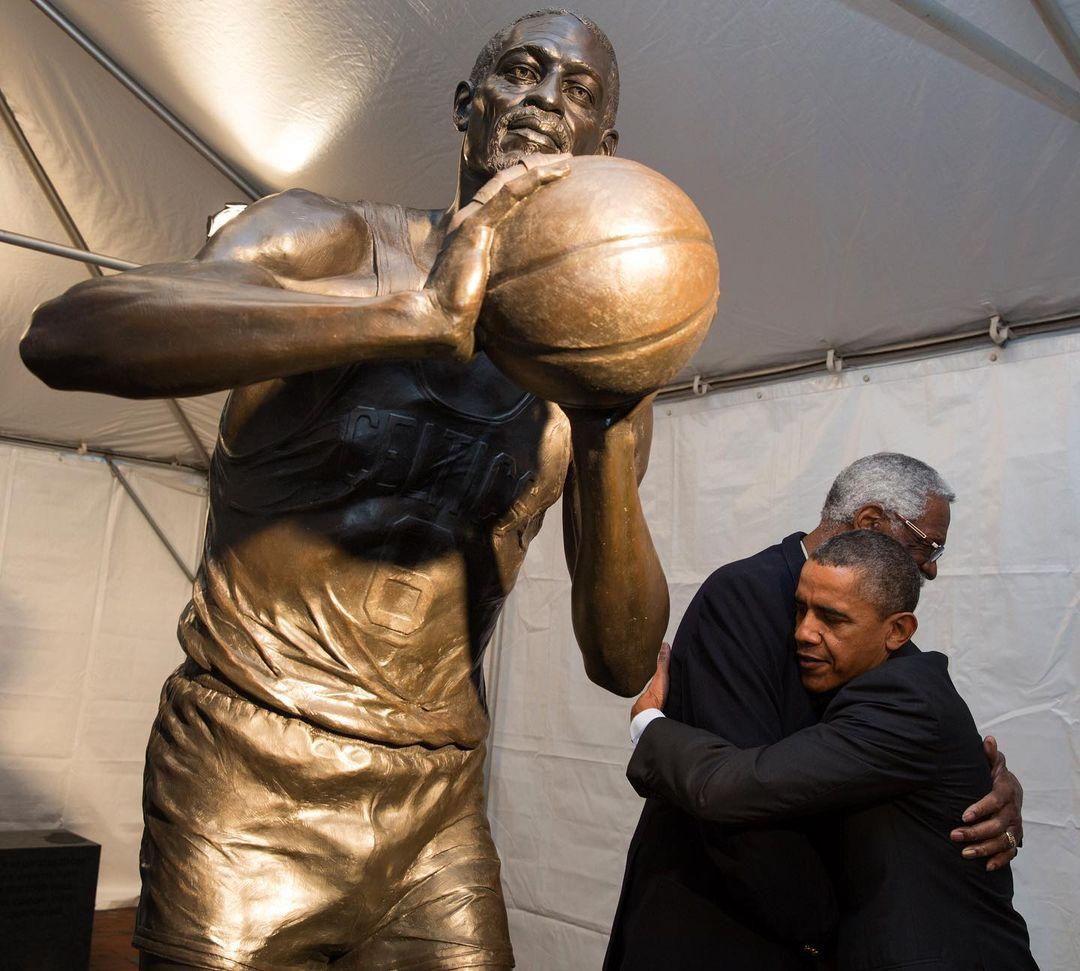 Obama went on to say, "Perhaps more than anyone else, Bill knew what it took to win and what it took to lead. On the court, he was the greatest champion in basketball history. Off of it, he was a civil rights trailblazer – marching with Dr. King and standing with Muhammad Ali. For decades, Bill endured insults and vandalism, but never let it stop him from speaking up for what's right. I learned so much from the way he played, the way he coached, and the way he lived his life. Michelle and I send our love to Bill's family, and everyone who admired him."
Being Awarded the Presidential Medal of Freedom
In 2011, Obama awarded Russell the Presidential Medal of Freedom, which is the nation's highest civilian award. He honored Russell as "someone who stood up for the rights and dignity of all men."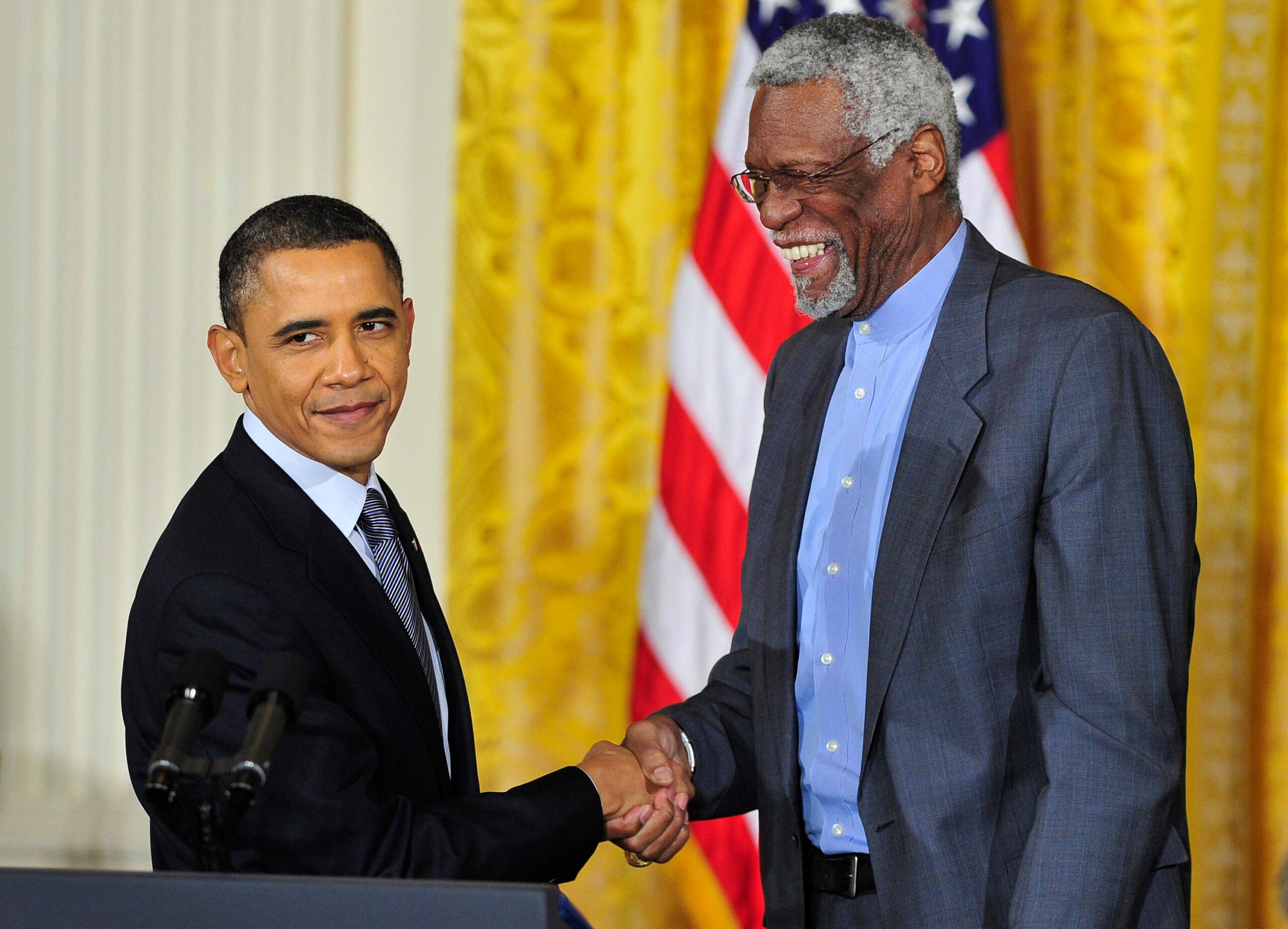 Russell will be remembered for all his hard work on civil rights issues. He took part in the 1963 March on Washington for Jobs and Freedom. Russell also sat in the front row to hear Rev. Dr. Martin Luther King Jr. deliver his "I Have a Dream" speech and was one of the prominent black athletes to support Muhammad Ali when Ali refused induction into the armed services during the Vietnam War.
His Many Basketball Accomplishments
The 6'10 player's basketball accomplishment list is also a mile long. He led the University of San Francisco to the NCAA tournament championships in 1955 and 1956, won a gold medal with the United States Olympic basketball team in 1956, led the Boston Celtics to eight consecutive NBA titles from 1959 to 1966, and was the NBA's most valuable player five times and an All-Star 12 times. He finished his career as the number two rebounder in NBA history, just behind Wilt Chamberlain.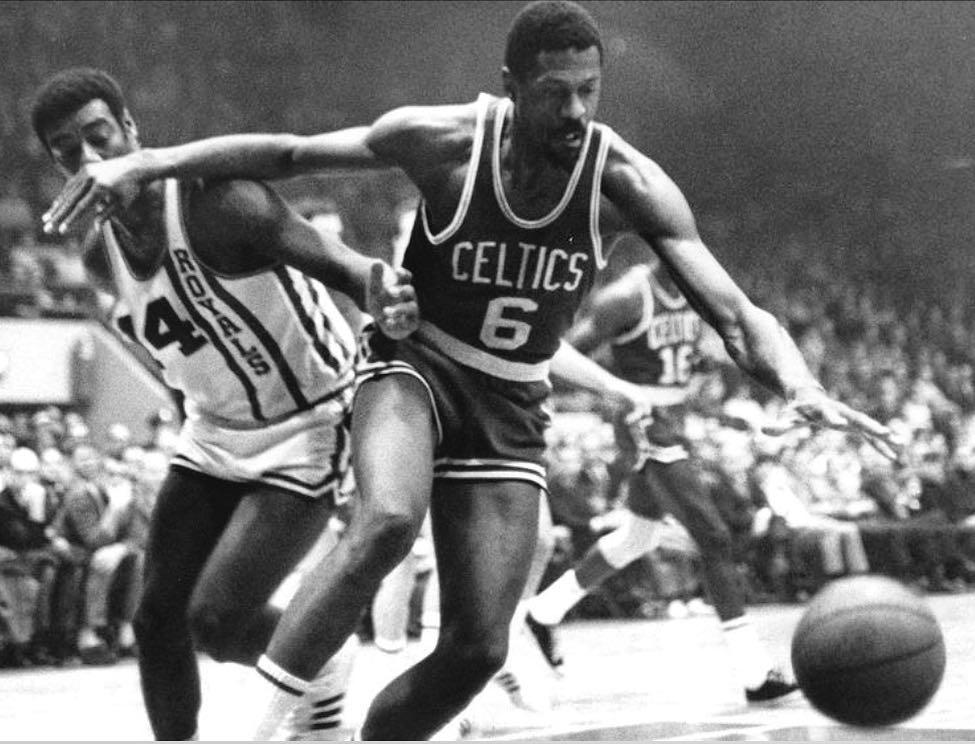 From High School Basketball to College
Russell became a starter on his high school's basketball team as a senior. A former basketball player for the University of San Francisco recognized his potential and recommended him to the coach, and Russell was given a scholarship. During his last two seasons, he teamed up with guard K.C. Jones, a future Celtic teammate, in leading San Francisco to NCAA championships. He averaged more than 20 points and 20 rebounds a game in his three varsity seasons.
Russell talked to Sport magazine in 1963 about his college career saying, "No one had ever played basketball the way I played it, or as well. They had never seen anyone block shots before. Now I'll be conceited: I like to think I originated a whole new style of play."
His Career with the Boston Celtics
When Russell joined the Celtics in 1956, he was the team's only black player. His number, 6, was retired in March 1972. Averaging 15.1 points and 22.5 rebounds per game for his career, he will always be remembered for winning most of the games he played against Wilt Chamberlain in the 1960s. Russell and the Celtics beat Chamberlain's Philadelphia Warriors in the playoffs in 1960 and 1962, the San Francisco Warriors in the Finals in 1964, the Philadelphia 76ers in the playoffs in 1965, 1966, and 1968, and the Los Angeles Lakes in the Finals in 1969. Russell became the first black man to coach an NBA team and to coach in one of the major sports leagues. He coached three seasons and won two championships.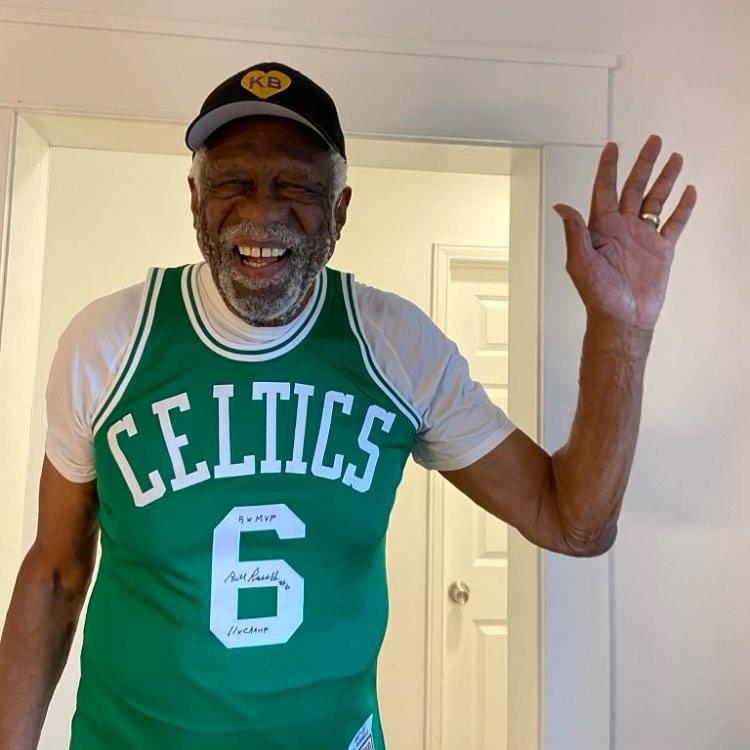 NBA commissioner Adam Silver said in a statement, "Bill Russell was the greatest champion in all of team sports. The countless accolades that he earned for his storied career with the Boston Celtics – including a record 11 championships and five MVP awards – only begin to tell the story of Bill's immense impact on our league and broader society."
Bill is survived by his wife Jeannine. He was married three times previously – Rose Swisher from 1956-1973, Dorothy Anstett from 1977-1980 and Marilyn Nault from 1996-2009. He has three children from his first marriage – Jacob, William Jr., and Karen.