John Sciulli/Getty Images
Kaley Cuoco went from virtually no sleep to the world's longest one last night.
The "Big Bang Theory" actress made headlines yesterday for sharing her jet-lagged activities on social media – if you aren't up-to-date, 34-year-old Kaley shared her "instant coffee nightmare" after discovering that the so-called "coffee machine" in her Italian hotel room was nothing more than an electric kettle and sachets of instant coffee.
Kaley's Instagram stories were grumpy central yesterday, but it's all changed. The actress has returned with some fresh content – and, apparently, some fresher coffee.
Following the "instant coffee nightmare," Kaley's crew had put a Nespresso machine in her hotel room.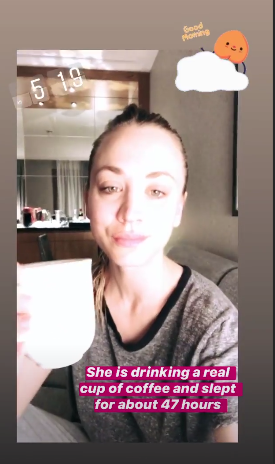 Kaley Cuoco/Instagram
Kaley's stories today showed her looking fresh-faced and stunning. The blonde was 100% makeup-free, with her long and wet hair tied back into a ponytail.
Wearing a black-piped gray t-shirt and holding a cup of coffee that wasn't disappointing her, Kaley spoke into the camera.
"I'm drinking a real cup of coffee this morning and I'm so happy," she added.
"I also slept, like, 47 hours. I legit hibrated last night," Kaley added – possibly meaning "hibernated."
The time-stamp on Kaley's stories still placed the video as an early morning one. It was 5.17 a.m.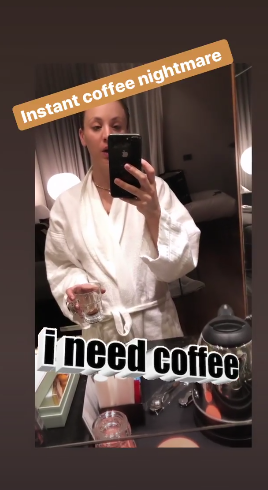 Kaley Cuoco/Instagram
Kaley's stories came with a voice narration and some text.
"Now the rest of the cast and crew will be able to tolerate me again. I AM HUMAN AGAIN," Kaley wrote.
FYI, Kaley's videos yesterday literally saw the actress lose it over what she called the "coffee fiasco." For Kaley, drinking instant coffee in Italy's capital left her personally "offended."
Kaley had been up nearly all night, also squeezing in a 3.43 a.m. workout. Hotel reception had informed her that no coffee could be served until 6.30 a.m., with coffee shops also not opening until that time.
It was instant hotel room coffee or nothing. Fortunately, the star is now better-equipped.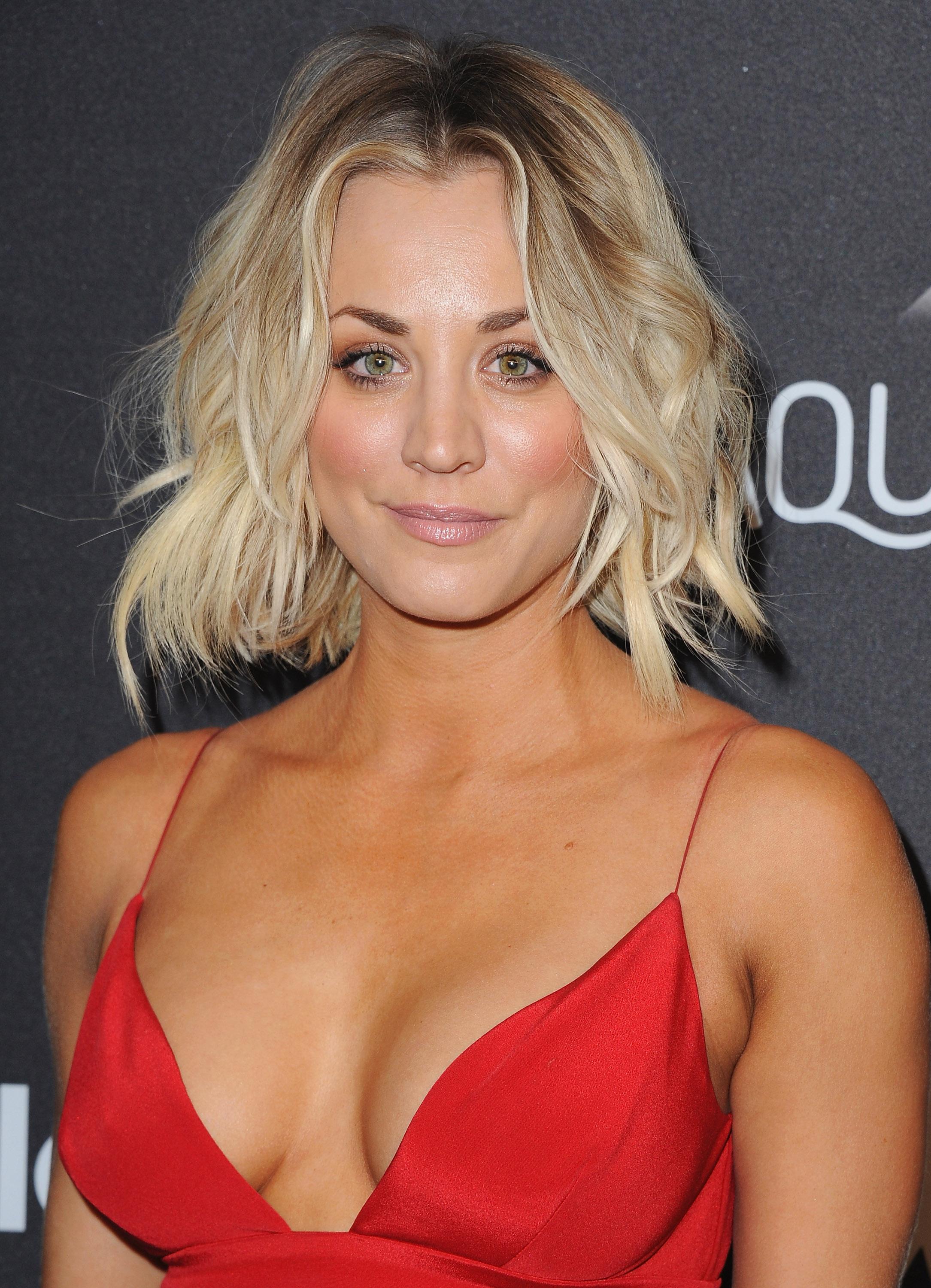 Gettyimages | Jon Kopaloff
Kaley is in Rome with the cast and crew for her upcoming TV show "The Flight Attendant." The star is both acting and producing in the series. Kaley plays Cassandra Bowden, a woman who wakes up in a Dubai hotel room (completely hungover), only to find that a dead body is lying next to her.
Kaley has been mentioning the series on her new Instagram show "A Cup of Cuoco." The impromptu morning videos offer Kaley's hilarious ramblings and musings as she reflects on her night's sleep – usually wearing a bathrobe and holding her much-loved cup of coffee.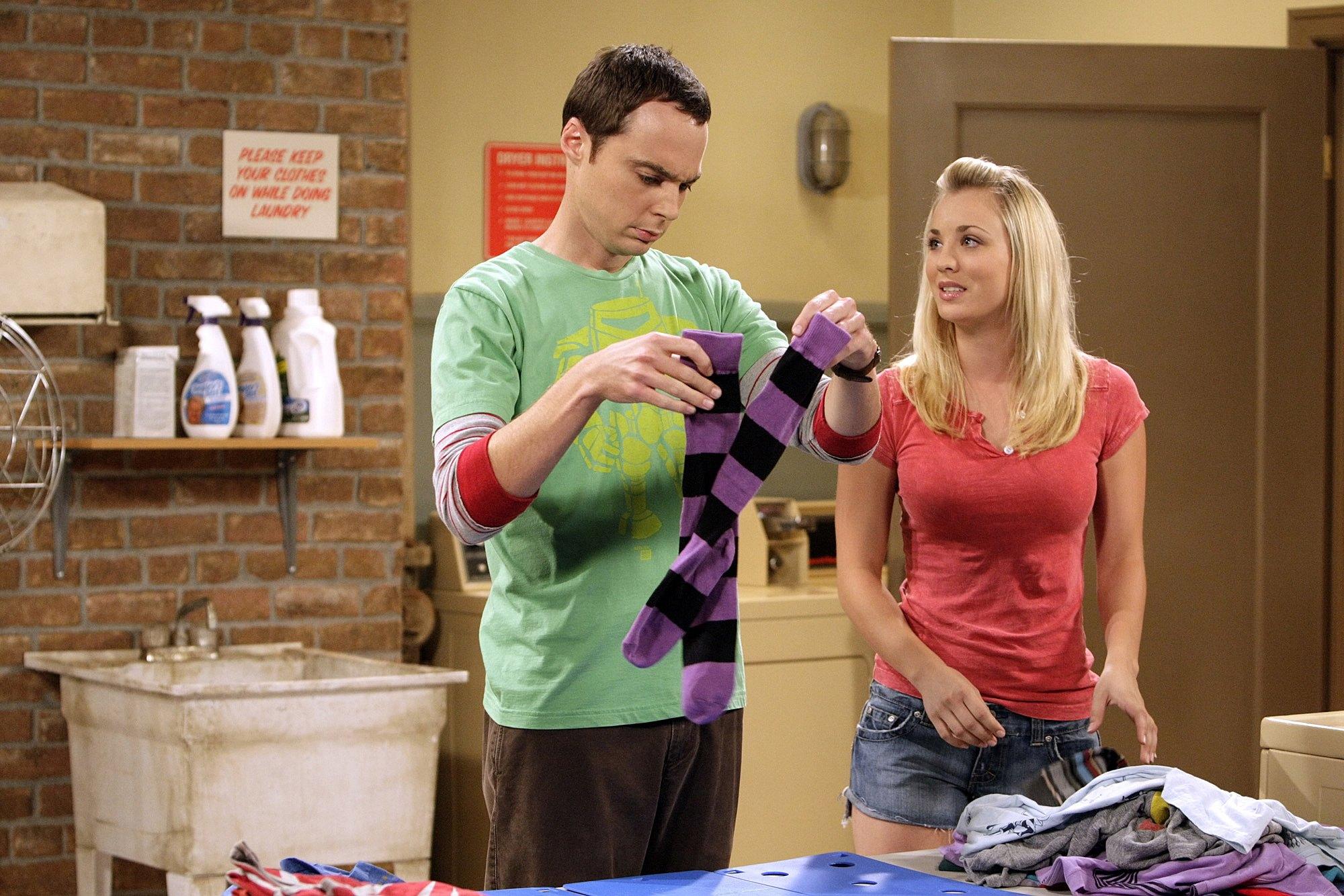 Gettyimages | CBS Photo Archive
Kaley opened up about what she'll miss the most regarding playing her "Big Bang" Penny character.
"You know, she's iconic. She's the best character I've ever played. She has every single quality. She's funny, she's [silly and] I'm sill, she's sarcastic. She loves Leonard and she loves these guys and she's a real girl," Kaley told She Knows.
"You know, we've tackled a lot of issues this year. Her even not wanting to have kids and her wanting to be a businesswoman. I don't think we've seen that a lot in television. I was really impressed that they went that path and yeah, she's a reason why I'm doing everything that I do in the future will be sent back to Big Bang," she added.
Thoughts on the low-key look? King of makes a change from the Kardashian-Jenners, right?