Brooklyn Beckham has expressed his thoughts on his wife, Nicole Peltz's new hairdo. The photographer was seen in his wife's comments after she made a brunette comeback over the weekend.
The updated look comes months after Beckham got fans fawning over the tattoo he got in honor of his wife.
Nicole Peltz's New Look Wows Brooklyn Beckham Beyond Words
Just before summer is over, Peltz opted to embrace her natural look. The 27-year-old showed off her newly dyed hair with gorgeous snaps she shared with supporters.
In one Instagram snap, she donned a gray button-up shirt and small gold hoop earrings with glossy lips. She captioned the post "back to my roots" and tagged the hair colorist responsible for her new look, Daniel Moon.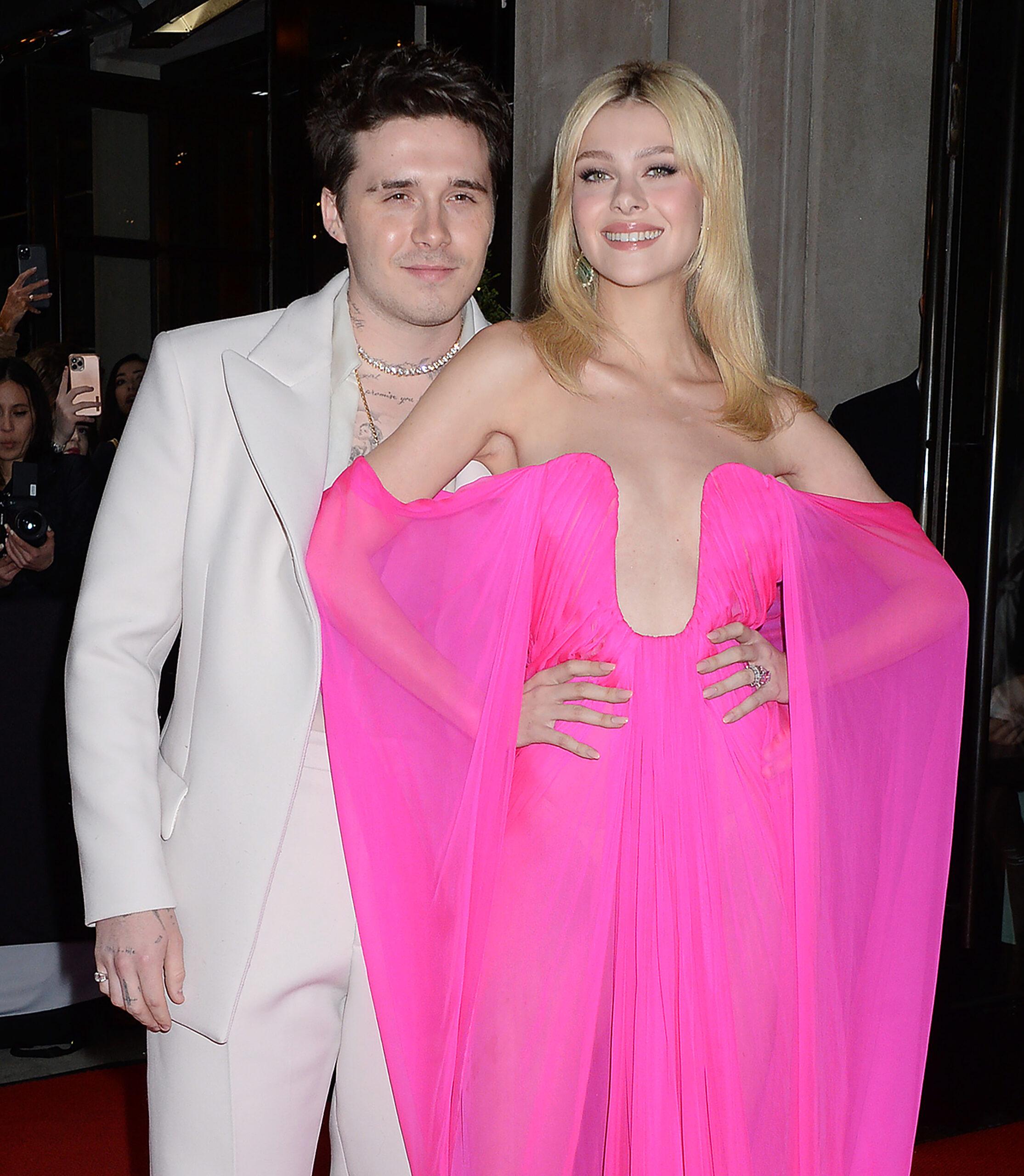 The post, which has over 51k likes, got hundreds of people, including her husband, talking in the comments. Beckham wrote, "Sexy baby xxxxx," — a sentiment that was shared by numerous others.
Actress Jessie Andrews chimed in, "I love this for you," and businessman Patrick Finnegan exclaimed, "This is a vibe!"
Peltz showed off even more of her hairdo in another post which was a close-up view of her tousled layers and parted bangs. And this time, Beckham could only get one word out, "WOW."
As for the other commenters, one welcomed the "Bates Motel" star to the "dark side," and another claimed that she looked "lovely, cute, and beautiful."
A third person gushed that Peltz was "Literally the prettiest ever," while a fourth said the new look reminded them of the "teenage Nicola."
Many other people could not wait to see more pictures and videos of the previously bleached blonde bombshell.
Beckham's Body Is A Work Of Art Dedicated To His Beautiful Wife
In May, The Blast reported that Beckham reminded fans of his love for his wife when he got a new body art in her honor. In an Instagram Story — that has since expired, viewers saw that the 23-year-old tattooed his wedding vows written in black cursive letters. 
View this post on Instagram

The tattoo started by disclosing how the actress took Beckham's breath away as she walked toward him on the altar during their $3 million wedding in Palm Beach, Florida.
After stating that "words cannot even describe" his love for his wife, the ink read, "Just looking at you I see my future and it feels like a dream. You are my world and I continue to fall more in love with you every single day."
The ink went on to gush that Peltz was "the best thing that has ever happened" to him and the person who helped him become the man he was today.
It also mentioned that their wedding day was something that he had been eager about as it meant him finally marrying his "forever babe, love, and best friend."
The eldest son of retired footballer David Beckham and model Victoria "Posh" Beckham noted that he was the luckiest man alive because he got a chance to spend the rest of his life with the beauty. 
He then promised that he would be the "best partner, the best husband, and man" to Peltz. Beckham added that he would prioritize caring for her, making her laugh, and feel safe and loved. 
The "Cookin' With Brooklyn" star finished his vows by hinting at the children he and Peltz would have in the future.
The sweetness of the tattoo reminded fans that Beckham has been dedicating body ink to the "When The Street Lights Go On" actress since they began dating in 2019.
View this post on Instagram

While one of those tattoos was a drawing of Peltz's piercing green eyes, the other ink featured cupid shooting a bow and arrow on the bottom right side of his stomach.
Beckham has also extended his love for tatts towards his in-laws as he dedicated a couple of body drawings to Peltz's late grandmother, Gina. Soon after she passed away in early 2020, the upcoming chef inked her name on his arm.
He got the body ink just in time to celebrate the "Transformers: Age of Extinction" actress' 25th birthday, and when she turned 27, Beckham added another tattoo.
The body ink read, "focused in the present, sincere towards others and trusting in our self, know that you cannot fail," and it was placed on the left side of his torso.