The ecstatic El Moussas have finally unveiled the gender of their unborn child in the most adorable way imaginable!
Tarek El Moussa and his beloved spouse of less than a year, Heather Rae Young, could not help but announce the news on Instagram with a video showing how creative the couple got for the big reveal.
Tarek El Moussa And Heather Rae Young Are Expecting A Baby Boy!
The real estate couple revealed on the social media platform "Baby boy El Moussa," with a blue heart emoji confirming the infant's gender.
Alongside the message, they made a collaborative video post of themselves with Tarek's kids and another female standing in front of a placard with "boy" or "girl" written in golden letters.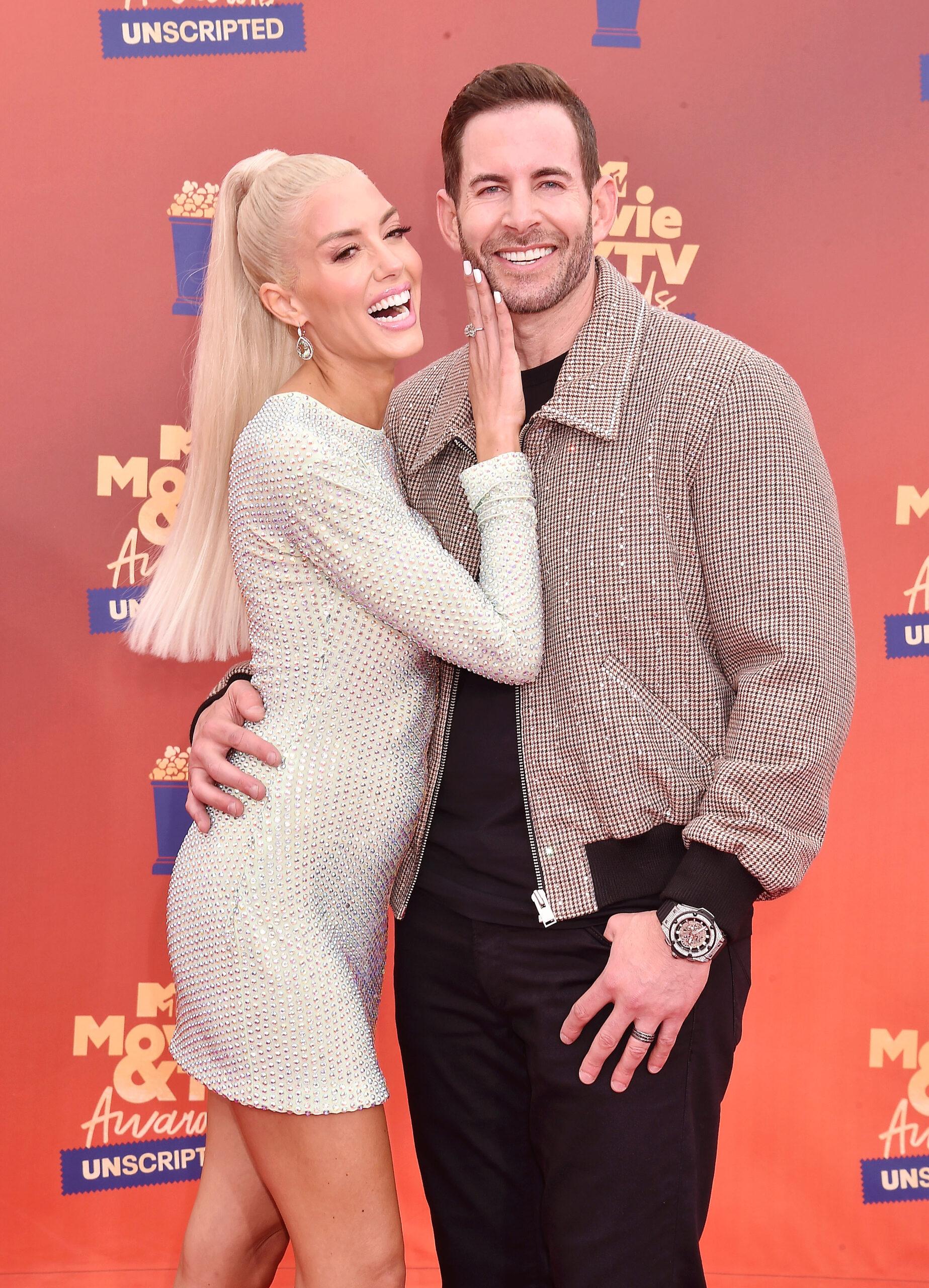 The setting looked festive, almost similar to a wedding party, as there were blue balloons around while the married pair threw confetti from a tube-like object.
Tarek and Heather could be seen joyfully declaring the gender of their unborn child by saying it was a boy as they threw the confetti. Afterward, they embraced each other and had a quick kiss.
The 40-year-old real estate investor was dressed casually for the occasion wearing dark shorts and a white shirt, while his partner looked stunning in a pretty white halter dress.
Several days before the big reveal, Heather expressed her over-excitement about finding out the baby's gender and tried to distract herself by planning the nursery.
Heather Can't Wait To Design The Nursery
According to The Blast, she admitted that she could not really plan her new project, the nursery, until she knew the gender of her child. However, she decided to go for a "neutral vibe."
The "Selling Sunset" star also revealed that she would "officially" find out the baby's gender the following day, so she had until then to keep her mind occupied with picking the right color for the nursery.
View this post on Instagram

It is no news that the El Moussas are expecting as they announced their "surprise" pregnancy on July 13 via social media, revealing that the baby would be born in early 2023.
It was admittedly a "huge shock" for the couple when they discovered their "miracle baby, as they had just gone through IVF and had "embryos on ice."
She also said, "I think when you least expect it, and there's no stress in your life, the world just brought us what was meant to be. I'm so excited that it happened like this."
The 34-year-old real estate agent once spoke about the twosome not planning to have kids initially, but her perception eventually changed with being a stepmom to Tarek's kids.
She confessed her love for being a "bonus mom" to the youngsters whom she called "incredible" and expressed her affection towards them while also stating that she pictured herself having a child with her husband.
Heather certainly wanted to create something with the man she was in love with, and fortunately for her, she seems to be on the path to achieving that, giving her supportive stepchildren a new sibling.
'The Flipping El Moussas'
Stars Did Not Plan To Have A 'Miracle Baby'
As we previously covered, Heather was open about the stages of her pregnancy journey as she detailed her experience right from her IVF treatment to conception.
She described her journey as far from normal and stated, "[We] went from having 7 frozen eggs to being told we were only supposed to get 2 follicles to then being able to get 8 to…having an all-natural pregnancy."
Heather believed life was fickle as no matter whatever one planned, what was meant to be would always be, as was apparent in her case.
View this post on Instagram

She called her unborn child a "miracle baby" and remarked that the probabilities were undeniably against her and Tarek, but all that mattered was that their baby happened.
The California-born beauty counted down to when she could hold her child, saying, "I just can't wait to hold him/her in my arms." 
She also previously revealed her husband's reaction to the news of her pregnancy, stressing how excited Tarek was to be a father.
Surprisingly, he was the one who made her get a pregnancy test despite her not being so eager as she did not believe she was with child. Fortunately, the case was otherwise, and the couple is beyond grateful.