Jennifer Lopez was waiting for tonight for a long time.
And when we say "tonight" we mean her wedding night.
Ben Affleck and JLo tied the knot in an untraditional ceremony in Sin City. The couple got married on Saturday, July 16, at a drive-through chapel in Las Vegas, NV.
Introducing Mr. & Mrs. Affleck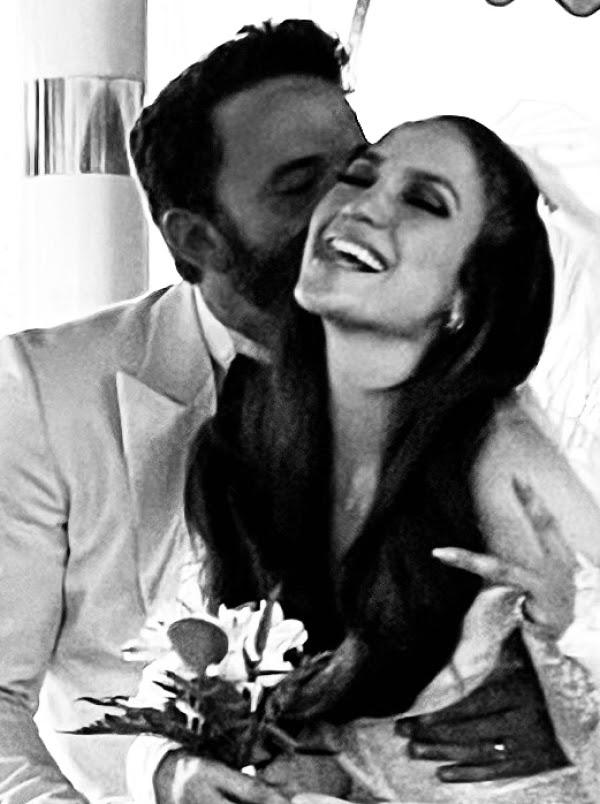 The couple got engaged in April of this year making their trip to the altar a pretty speedy one.
There is a reason for the swiftness of the nuptials.
According to Page Six, the "Let's Get Loud" singer was the one who wanted to get the big shebang over with before she changed her mind.
JLo Rushed The Wedding So She Wouldn't Get "Cold Feet"
The outlet reports, "Lopez has been ready to get married since the night that Ben proposed. She wanted to lock this down and remove any chance for cold feet ASAP!"
You'll recall the couple was first engaged in 2002 and were set to get married in 2004, but after becoming Hollywood's "It" couple, they couldn't seem to weather the media storm.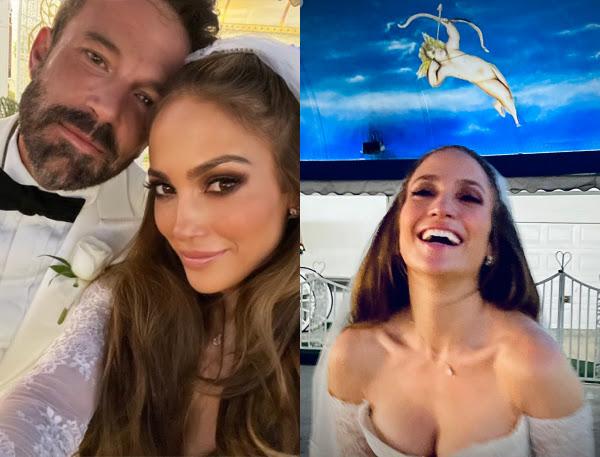 JLo shared photos and behind-the-scenes videos to her website OnTheJLo on Sunday, July 17.
The newlyweds were only joined by two of their children, JLo's daughter Emme (14) and Affleck's daughter Seraphina (13).
The couple has five children total between them. Emme has a twin brother, Max, while the "Batman" actor has a daughter, Violet (16), and a son, Sam (10).
JLo shares her children with ex-husband Marc Anthony and Affleck shares his children with Jennifer Garner.
Following their Vegas wedding, JLo celebrated with a bedroom selfie which features her seemingly topless under a big white comforter.
Celebratory Bed Selfie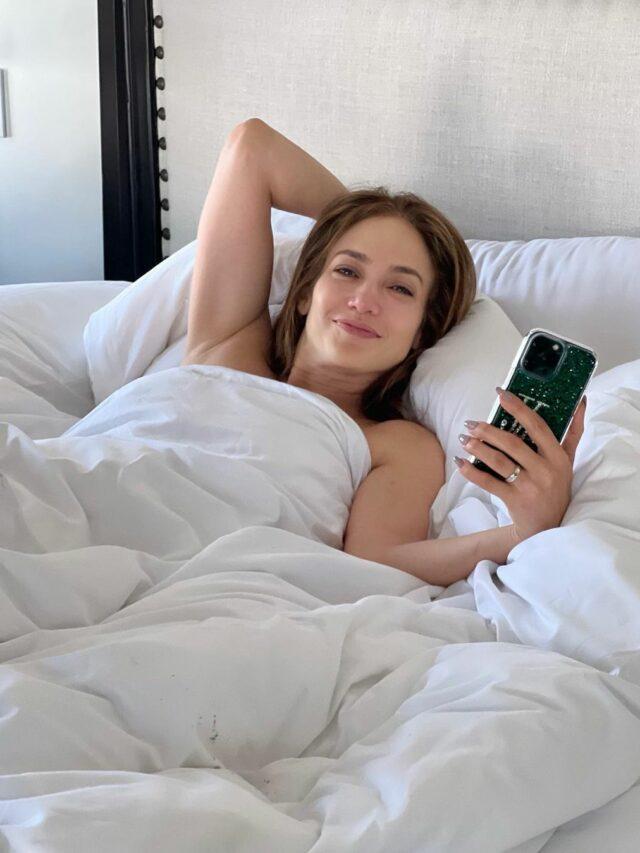 According to reports, Ben, Jen and company also celebrated with pizza and diet coke on a private jet back to Los Angeles on Sunday morning.
If you think the celebrations end there… you are sadly mistaken.
It's "Bennifer" after all, they've got nearly 20 years of celebrating to do since their first failed wedding.
A Multi-Day Celebration Is About To Go Down
In another report from Page Six, Mr. and Mrs. Affleck are planning a multi-day celebration.
A source revealed the couple will be holding a lavish multi-day party for friends and family. It appears it will also double as a birthday party for the triple threat, who turns 53 on July 24.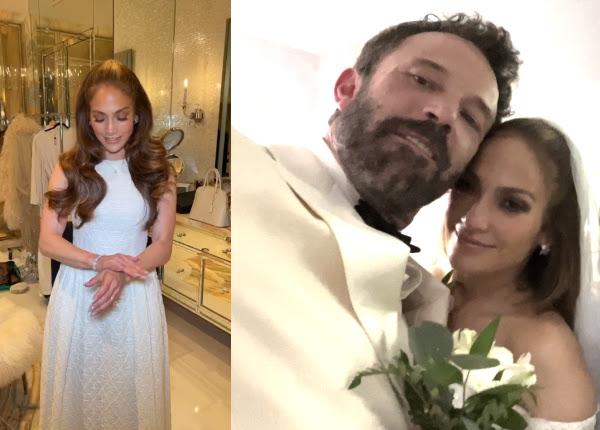 Bennifer want to do something with in the next two weeks for "everyone they love but could not invite."
JLo explained they were among the last few couples to tie the knot in the wee hours of July 15.  They were surrounded by four other couples at the chapel.
The celebrations are set to take place at Affleck's 87-acre property in Riceboro, Georgia per TMZ.
Affleck's younger brother, Casey Affleck, best friend, Matt Damon, Jimmy Kimmel and Drea de Matteo are all rumored to be on the high-profile guest list.
In addition to Affleck's Georgia estate, the celebration is expected to take place on nearby St. Simon Island located about 50 minutes away.
The island has beaches, wellness retreats and an Instagram worthy lighthouse.
On Sunday, JLo shared their wedding experience to her website.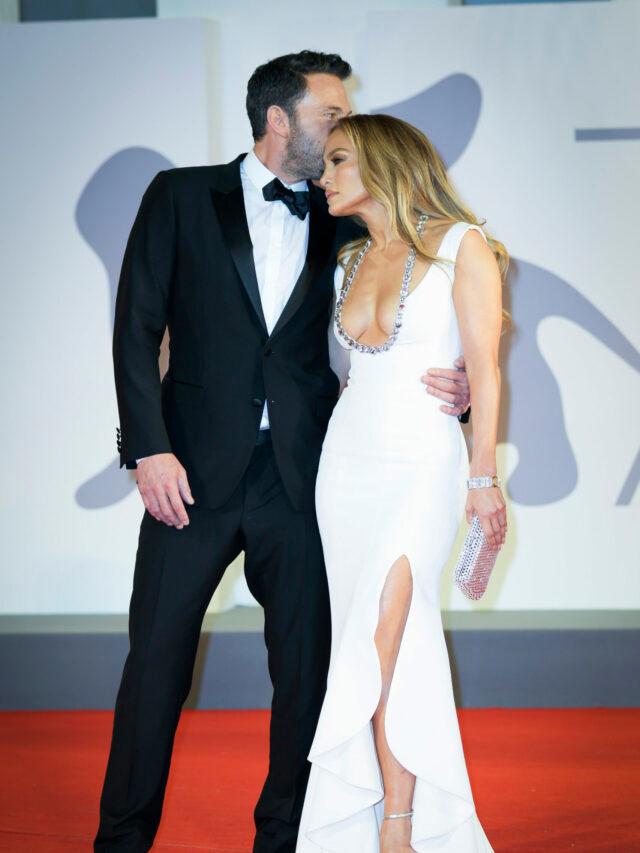 She described the night calling it "exactly what we wanted.""Last night we flew to Vegas, stood in line for a license with four other couples, all making the same journey to the wedding capital of the world," she wrote. "Behind us two men held hands and held each other. In front of us, a young couple who made the three-hour drive from Victorville on their daughter's second birthday—all of us wanting the same thing— for the world to recognize us as partners and to declare our love to the world through the ancient and nearly universal symbol of marriage."
The newlyweds barely made it to the wedding chapel before it closed. Unfortunately, they were unable to get an Elvis impersonator hired for their big night.
Despite the subtleness of the wedding and lack of fanfare, JLo said this was their dream wedding.
"They were right when they said, 'all you need is love.' We are so grateful to have that in abundance, a new wonderful family of five amazing children and a life that we have never had more reason to look forward to," she wrote. "Stick around long enough and maybe you'll find the best moment of your life in a drive through in Las Vegas at twelve thirty in the morning in the tunnel of love drive through, with your kids and the one you'll spend forever with. Love is a great thing, maybe the best of things-and worth waiting for."