Jennifer Lopez is on cloud nine and has no intention of coming down anytime soon! The triple threat entertainer is officially a married woman after she and Ben Affleck exchanged their vows in a secret ceremony.
The newest Mrs. in town seemingly gave fans a glimpse of how her wedding night went in an Instagram post, and JLo's happiness is undoubtedly evident for all to see.
Jennifer Lopez's First Instagram Post As A Mrs
On Sunday evening, following the news that she and Affleck had tied the knot, the "Marry Me" actress made her first post as a married woman.
JLo shared a steamy bedroom photo of her seemingly naked under white sheets. Her right hand was raised to rest behind her head while her left hand flashed her silver wedding band while holding up her phone.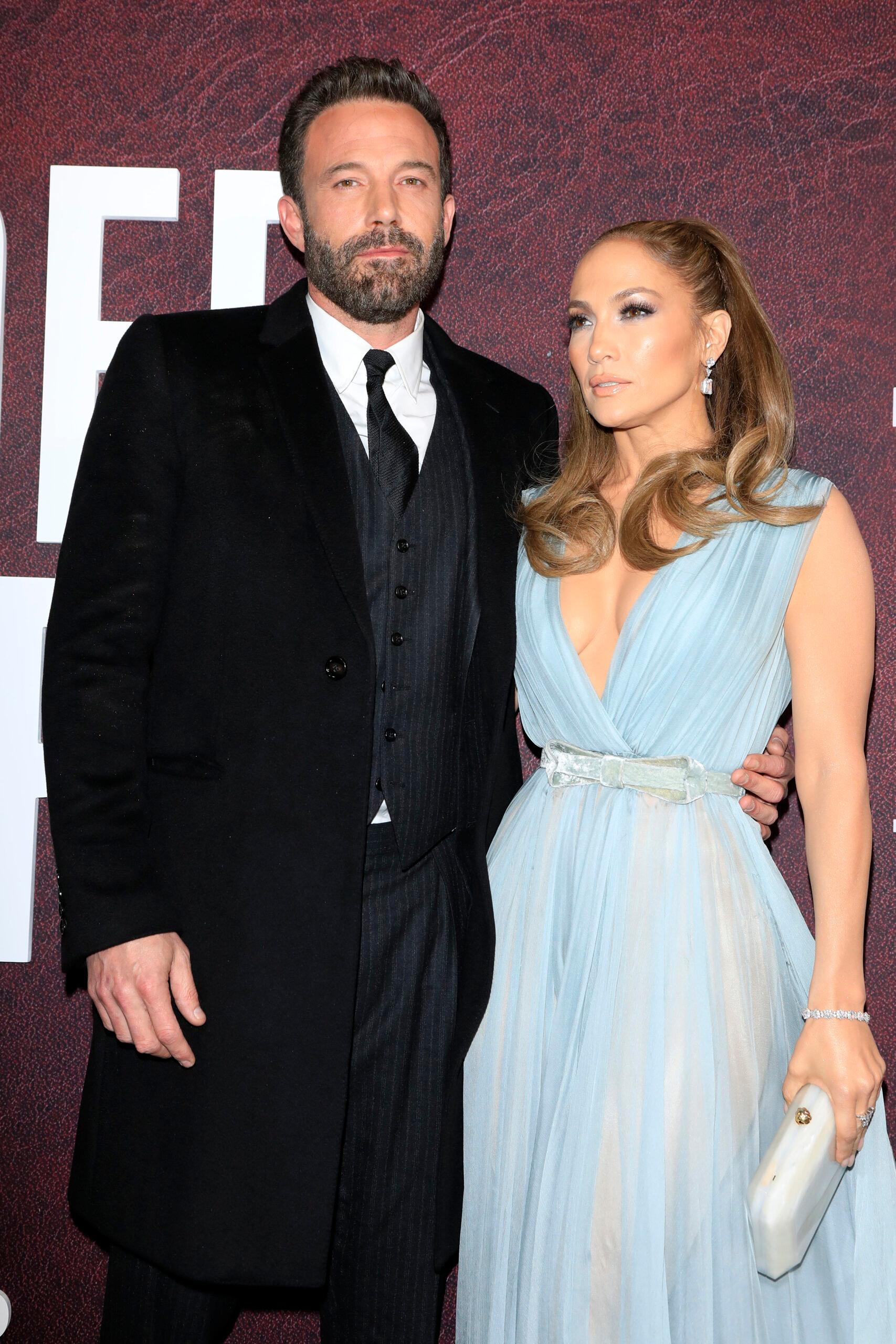 JLo's nude nails and clear skin perfectly complemented the latest special addition to her ring collection.
The "Love Don't Cost A Thing" songstress rocked a makeup-free look with her honey blonde tresses looking messy, probably indicating that she just woke up.
She smiled sweetly at the camera, her joy radiating brightly through her blushing cheeks and squinted eyes. Hubby Affleck was nowhere in sight but it's possible he was responsible for taking the heartwarming photo.
JLo left a cheeky caption that read, "Sadie! #iykyk," before urging her followers to go to her website OnTheJLo for all the "deets" on their wedding.
Fans and colleagues drooled over the post, giving it almost 1.5 million likes in the space of 13 hours. The comments section was bombarded with well wishes and congratulations to the new couple.
Hoda Kotb of the "Today" show wrote, "Love is patient ❤️❤️ and right on time. Congrats my darling."
One fan wrote, "so happy baby ❤️ ❤️ Your smile always tells me all," while another comment read, "You are glowing Mrs. Affleck 😍😍😍."
This user gushed, "My gorgeous baby. I'm so happy for you! You both deserve all the happiness! I love you both so much," while this fan added, "ohhh we know and we can't be more happy for you both ❤️ Congratulations! The smile says it all @jlo."
Have You Met Mrs. Jennifer Lynn Affleck?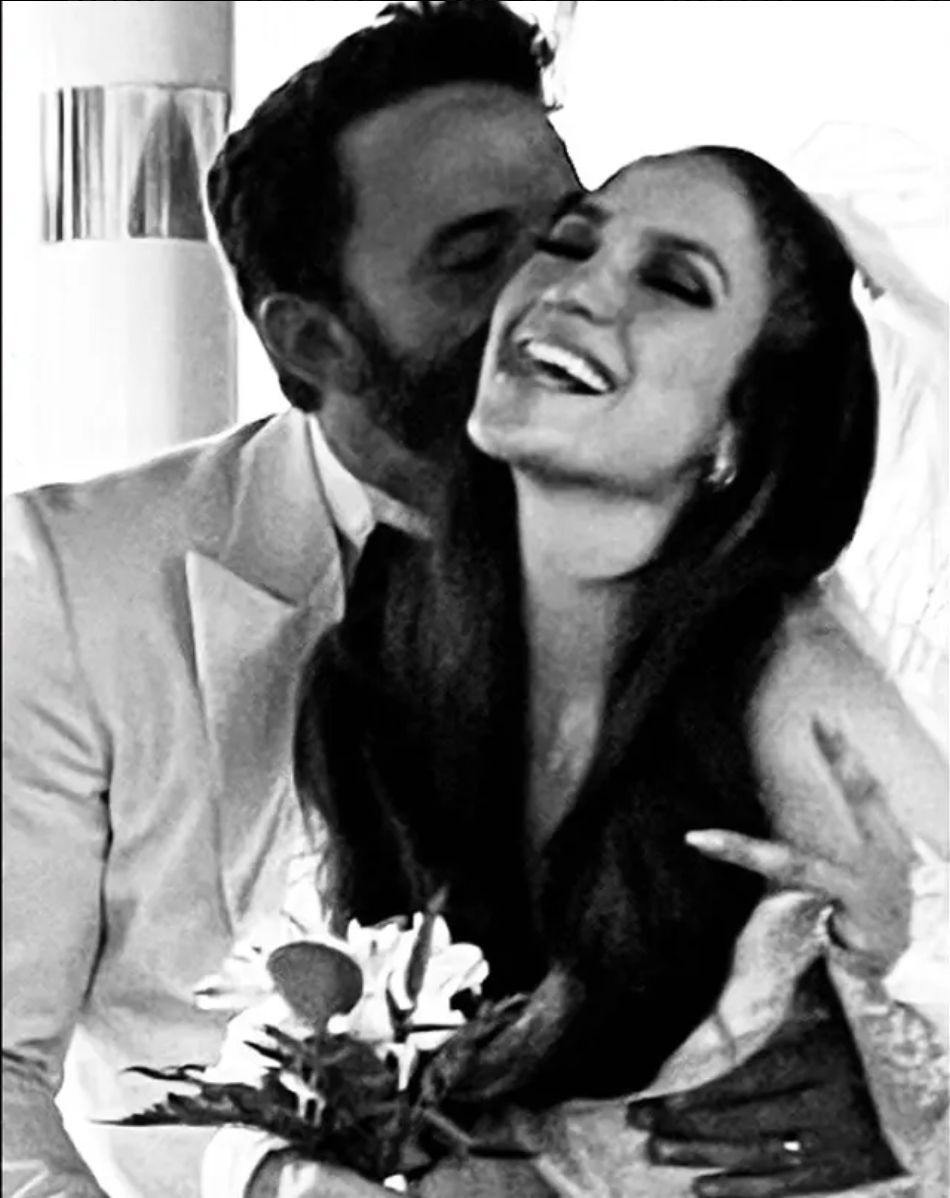 The power couple who first became an item in the early 2000s finally got hitched over the weekend. According to the marriage certificate obtained by The Blast, Affleck and JLo legally became husband and wife on Saturday, July 16th, in Clark County, Nevada.
The "Hustlers" star requested to change her surname from Lopez to Affleck in the documents. JLo then gave exclusive details of her wedding to subscribers of her fast-growing newsletter OnTheJLo.
She released exclusive photos and videos from her big day, including a clip of JLo wearing her gorgeous wedding dress before the ceremony and gushing about how "amazing" she looked.
The "Justice League" actor, on the other hand, looked dapper in a white tuxedo as she showed off his super simple and small men's bathroom. It's obvious the couple was so keen on keeping things small and intimate for their special day.
In the newsletter, Lopez bore her heart out, writing, "We did it. Love is beautiful. Love is kind. And it turns out love is patient. Twenty years patient."
She told the story of their wedding day, writing, "Exactly what we wanted. Last night we flew to Vegas, stood in line for a license with four other couples, all making the same journey to the wedding capital of the world. Behind us two men held hands and held each other. In front of us, a young couple who made the three hour drive from Victorville on their daughter's second birthday—all of us wanting the same thing— for the world to recognize us as partners and to declare our love to the world through the ancient and nearly universal symbol of marriage."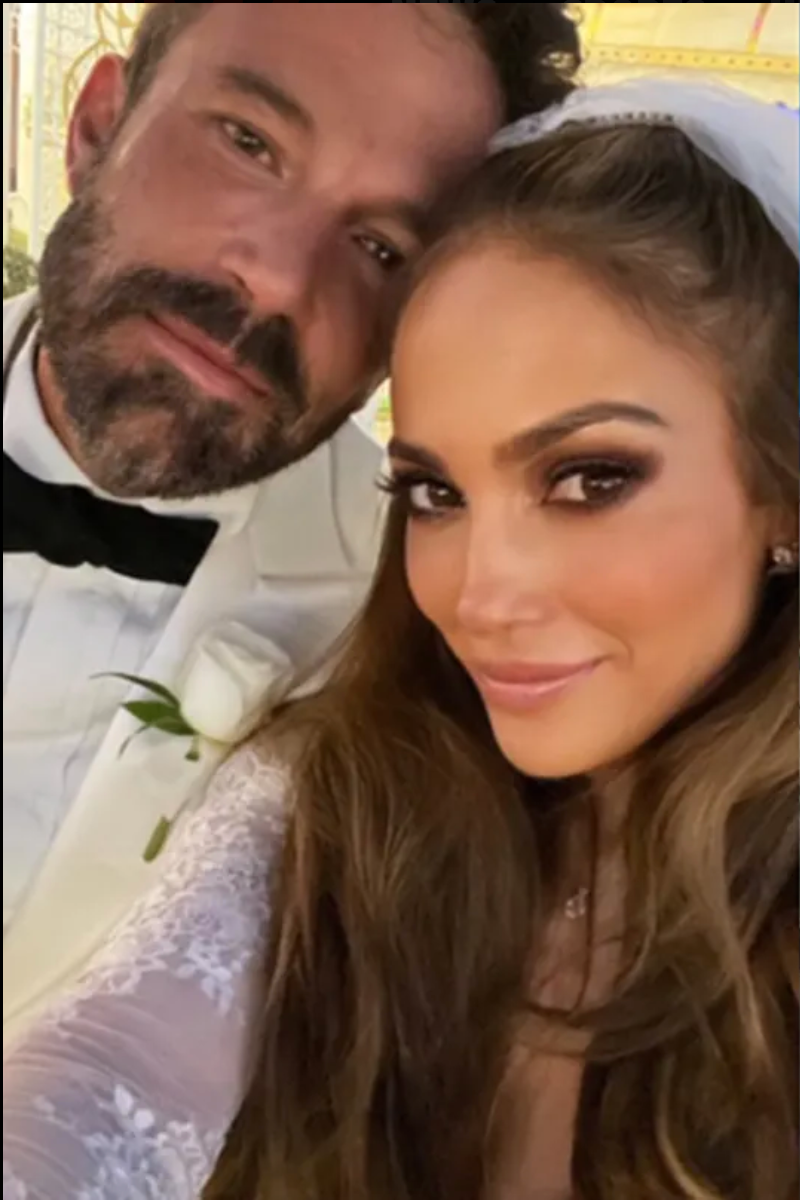 The highly-anticipated wedding almost didn't happen as the lovebirds arrived late to the chapel, at midnight. Luckily, fate was on their side and the chapel stayed open for a few more minutes.
"So with the best witnesses you could ever imagine, a dress from an old movie and a jacket from Ben's closet, we read our own vows in the little chapel and gave one another the rings we'll wear for the rest of our lives," JLo gushed.
The Wedding Almost Didn't Happen!
Despite the small hiccup with their late arrival and the simplicity of the ceremony, the JLo Beauty founder described it as "best possible wedding we could have imagined."
She added, "When love is real, the only thing that matters in marriage is one another and the promise we make to love, care, understand, be patient, loving and good to one another. We had that. And so much more. Best night of our lives. Thank you to the Little White Wedding chapel for letting me use the break room to change while Ben changed in the men's room."
View this post on Instagram

JLo concluded her heartwarming newsletter, "Stick around long enough and maybe you'll find the best moment of your life in a drive-through in Las Vegas at twelve thirty in the morning in the tunnel of love drive through, with your kids and the one you'll spend forever with. Love is a great thing, maybe the best of things-and worth waiting for"